I shopped savvy using Walmart Saving Catcher, as part of a sponsored post for Crowdtap #WMTSavingsCatcher.
Saving money is a goal I'm sure most of us can relate to, especially with the holidays right around the corner. We all spend more money this time of year, and finding the best deal is something many people strive for, especially for higher priced items. But saving money on the lower priced items can add up too, and the most savvy shoppers aim to do that as well.
But all of that can take a lot of time and effort, and while it is definitely worth it in the long run, there is an easier way.
Walmart Savings Catcher will do your comparison shopping for you!

Walmart Savings Catcher is so easy to use! You can use it online or through an app on your smartphone. Simply shop like you normally would, scan your receipt into the app (within 7 days of shopping) or enter the receipt number online, and Savings Catcher will scan local competitor prices for the same items. If Savings Catcher finds a lower advertised price, you will get an eGift Card for the difference.

I just entered the receipts I got this weekend from my shopping trip and I am waiting for my savings to appear. It can take a couple of days for the price comparison. I can't wait to see how many reward dollars I end up with!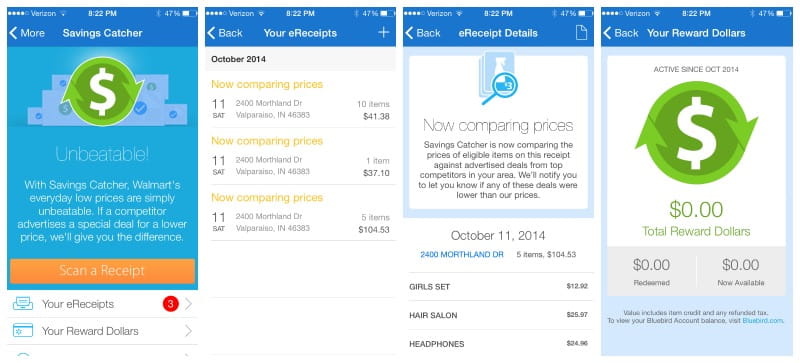 This takes the guesswork out of shopping, makes sure you get the best price possible, and saves you time. No more scouring the sales ads to find the best price. No more shopping at multiple stores costing you time and gas. No more wondering if you got the best possible price.
Walmart Savings Catcher is going to be a huge time saver and money saver for my holiday shopping, but it's also a great tool for my weekly shopping as well.
Think of all of the things you can buy at Walmart that Savings Catcher can price compare for you:
Groceries
Paper products
Cleaning supplies
Clothing
Greeting cards
Bath & body items
Toys
Small appliances
Bathroom essentials
And so much more!
You can redeem your Savings Catcher Reward Dollars when you have as little as $5 in your account, but I think I will let mine accumulate because I have my eye on a flat screen TV for our family room.
Enter to win a $2,000 Walmart shopping spree!
Have you used Walmart Savings Catcher? Try it out and share the buzz, it's that easy! By spreading the word you'll be entered to win a $2000 shopping spree at Walmart… and so will your friends! Enter this amazing contest here: Walmart Savings Catcher contest.
Do you use Walmart Savings Catcher? What do you think you will use your Reward Dollars for?
Join our newsletter!
Subscribe to get updates and great stuff via email including subscriber-only goodies like free printables and giveaways.