Carnitas, a traditional Mexican dish made with slow-cooked pork, is a versatile and flavorful ingredient that can be used in a variety of recipes. Whether you're craving tacos, burritos, or even pasta, carnitas can add a rich and savory depth of flavor.
In this round-up, we've gathered 20 of the best recipes with carnitas that are sure to satisfy your hunger and your taste buds. Get ready to enjoy a fiesta of flavors with these delicious and easy-to-make dishes!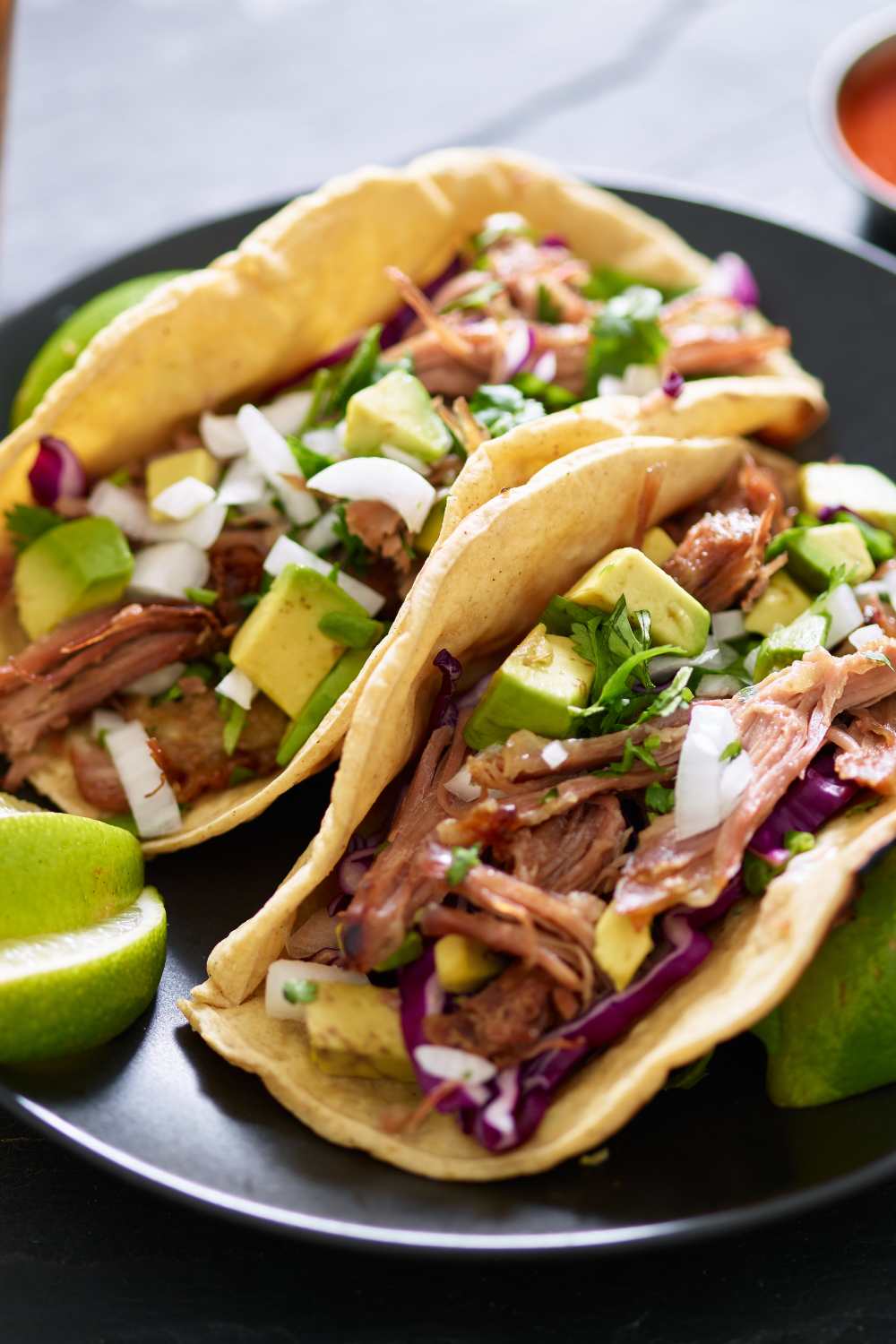 What Part Of The Pig Is Traditionally Used For Carnitas?
The best part of the pig to use for carnitas is the shoulder, specifically the shoulder blade. This cut of meat is marbled with fat and connective tissue, which makes it perfect for slow cooking. As the pork simmers, the fat melts and flavors the meat, resulting in tender, juicy carnitas that is bursting with flavor.
What's The Best Way To Cook Carnitas?
The best way to cook carnitas is low and slow. Traditionally, the pork is simmered in lard or oil for several hours until it becomes tender and falls apart. This method can be replicated at home in a Dutch oven, slow cooker, or Instant Pot. Whichever method you choose, be sure to season the pork with traditional Mexican spices and seasonings, such as cumin, oregano, garlic, and lime juice.
Can You Use Chicken Or Beef Instead Of Pork For Carnitas?
While pork is the traditional meat used for carnitas, you can certainly use chicken or beef instead. Chicken carnitas is a popular alternative, and are typically made with boneless, skinless chicken thighs. Beef carnitas can be made with beef chuck or brisket, and are often cooked in a similar manner to pork carnitas. Regardless of the meat you choose, be sure to season it well and cook it low and slow for maximum flavor and tenderness.
20 Recipes With Carnitas
Saddle up and get ready for a ride through the flavors of Mexico with these 20 delicious recipes featuring carnitas:
These Pork Enchiladas with Homemade Enchilada Sauce are a true flavor explosion! This Mexican-inspired dish is the perfect way to enjoy juicy carnitas. After making your own homemade enchilada sauce, which is loaded with smoky and spicy flavors, you'll assemble the enchiladas by stuffing tortillas with the carnitas and shredded cheese, then baking them until bubbly and golden brown.
These enchiladas are a great crowd-pleaser for any occasion, garnish with cilantro and serve with your favorite toppings, such as avocado, sour cream, and salsa.
Creamy Pork Carnitas Pasta is a decadent and flavorful meal that combines tender seasoned pork with colorful peppers and creamy pasta. With a little bit of spice and a lot of creamy goodness, this pasta is sure to be a crowd-pleaser.
Start by preparing the seasoned pork according to package directions and cooking the pasta until it's al dente. In a skillet, saute the sliced peppers until tender, then make the creamy sauce by whisking together heavy cream, sour cream, parmesan cheese, chili powder, cumin, and paprika. Add the pork and peppers to the sauce and toss until coated and heated through. Serve this delicious pasta dish with optional toppings like chopped cilantro, avocado, and diced tomatoes.
This hearty and comforting carnitas stew is perfect for a cozy dinner at home. Loaded with tender cooked pork, a variety of beans, and smoky spices like smoked paprika and cumin, it's a delicious and filling meal that will satisfy your hunger. The addition of chipotle in adobo adds a nice kick of heat, balanced by the sweetness of the bell pepper and the tanginess of the lime juice. Serve with optional toppings like fresh cilantro, shredded cheddar cheese, or a squeeze of lime juice for an extra burst of flavor.
Indulge in a delicious twist on classic mac and cheese with this BBQ carnitas mac n' cheese recipe. Cheesy shells are smothered in a mouth-watering blend of cheddar and mozzarella cheese sauce that's seasoned with nutmeg, cayenne pepper, and Dijon mustard. The dish is then elevated by the addition of smoky and sweet BBQ carnitas that will make your taste buds dance.
This recipe is perfect for busy days as it can be easily made with precooked carnitas. Top with a drizzle of BBQ sauce and bake for a few minutes for an irresistible dish that's sure to be a hit with the whole family.
Get ready for a hearty, comforting dinner with this Carnitas Tamale Pie. Based on the popular Chicken Tamale Pie, this recipe swaps out the chicken for leftover carnitas, making it a delicious way to use up your leftovers.
The crust is made with a cornmeal mixture that's just a little bit mushy, creating a tamale-like base. Once baked, poke holes in the crust and top with enchilada sauce, followed by the carnitas and cheese. Bake again until everything is heated through, bubbly and the cheese is melted. Top it off with fresh cilantro and enjoy a flavor explosion in every bite.
Made with shredded pork, cream cheese, tomatillo sauce, and Monterey jack cheese, this Carnitas Casserole Verde is layered with warm corn tortillas, making it a hearty and comforting meal. To add a kick of heat, the recipe calls for a jar of salsa verde, which you mix with cream cheese before layering it with the tortillas and the pork. Once baked, top with fresh cilantro and serve it warm.
Carnitas Soup is just what you need if you're searching for a soup that's not only flavorful but also soothing. It's a hearty and satisfying soup that's packed with flavor, thanks to the combination of chicken stock, diced potatoes, slow-cooked carnitas, store-bought or homemade salsa verde, and ground cumin.
This soup can be made on the stovetop, slow cooker, or Instant Pot. Once ready, top it with fresh arugula, chopped cilantro, sliced avocado, jalapeños, and/or grated pepper jack cheese for an extra layer of flavor and texture.
Quick Pork Carnitas Tacos are a flavorful and easy Mexican-inspired meal. The juicy pork is seasoned with citrus and spices, giving it an amazing taste. The pork tenderloin is cut into small bite-sized pieces, seasoned with salt and pepper, and then cooked in a skillet with onions and garlic until it is cooked through.
The pork is then seasoned with brown sugar, oregano, chili powder, and cumin. Orange juice and lime juice are added to the skillet and cooked with the pork until it is coated in a tangy sauce. The pork carnitas can be served in low-carb flour tortillas, over rice, in a salad, or with toppings like diced avocado, pico de gallo, and cilantro.
Carnitas Tortilla Soup is a savory and comforting soup perfect for any season. The soup features tender shredded carnitas mixed with charred corn, black beans, and fire-roasted tomatoes in a savory broth of chicken stock, onions, garlic, and jalapeños. Flavored with cumin and chili powder, the soup is garnished with crispy tortilla strips, creamy avocado, crumbled cotija cheese, and a squeeze of lime for a deliciously tangy finish.
Instant Pot Southwestern Pork Stew is a hearty and flavorful dish that is perfect for a quick and easy dinner. The dish features juicy pork tenderloin cooked in a savory mixture of chicken broth, salsa verde, and spices including chili powder, garlic, and cumin.
The addition of black beans, corn, and diced tomatoes with green chilies adds a nice textural element to the dish. Cooked in the Instant Pot, this recipe requires only 5 minutes of hands-on time and can be on the table in under 30 minutes. Serve with warm cornbread to soak up all the delicious flavors.
Indulge in the irresistible flavors of these slow-cooker pork carnitas burrito bowls! Tender, juicy, and flavorful pork is slow-cooked to perfection with aromatic spices and herbs. The pineapple-cucumber salsa adds a refreshing touch to the dish with a sweet and tangy taste.
Serve the savory pork and salsa over a bed of rice and top with creamy avocado, fresh tomatoes, cilantro, and sour cream to create a balanced and mouthwatering meal. Whether you're craving a filling lunch or a hearty dinner, these burrito bowls are the perfect solution!
Carnitas Mac and Cheese is a perfect comfort food that blends two delicious worlds: Mexican and American. The dish features tender and juicy pork shoulder slow-cooked to perfection with aromatic spices, onions, garlic, jalapenos, and fresh orange juice.
Once the pork is cooked, it's shredded and mixed with a creamy and slightly spicy cheese sauce made from sharp cheddar cheese, Velveeta processed cheese, and Rotel. The result is a heavenly, cheesy mac and cheese with a zesty kick that will leave you craving for more.
Carnitas Nachos are a perfect way to enjoy a classic Mexican dish with a fun twist. These nachos are loaded with tender, juicy pork carnitas and topped with a variety of flavorful ingredients. The best part is that they are super easy to make on a sheet pan in just minutes. Serve them as a filling appetizer, snack, or even a meal! Customize your toppings with some sour cream, pico de gallo, fresh jalapeno slices, and guacamole to make them even more delicious.
With a blend of spices like cumin and paprika, this soup packs a punch of flavor that will satisfy your craving for Mexican cuisine. Tender Low Carb Pork Carnitas are added to the soup along with tomato puree and chicken stock, making it a hearty and filling meal. Top with shredded cheddar cheese, diced avocado, cilantro, and sour cream to take this soup to the next level. It's a healthy, delicious, and easy recipe that you can make in no time!
Pork Carnitas and Tomatillo Soup is an excellent way to warm up on a cold day. The boneless pork shoulder is rubbed with a mixture of olive oil, brown sugar, and carnitas seasoning, and then cooked in a slow cooker until it's tender and falls apart. The combination of vegetable stock, salsa verde, green chiles, onion, and orange juice provides a zesty and bright flavor. Add drained corn and black beans to the mix, and you've got a soup that's as nutritious as it is flavorful.
These quick and easy Carnitas Quesadillas are the perfect way to use up leftover pork! With only four simple ingredients, this recipe is perfect for a quick and satisfying lunch or dinner.
The tortillas are filled with juicy carnitas and topped with melted cheddar cheese and fresh salsa, giving them a delicious burst of flavor. Once the tortillas are perfectly browned and crispy, they're folded over and sliced for easy serving. These quesadillas are sure to become a go-to favorite in your recipe collection!
Carnitas Empanadas with Avocado Crema are the perfect party food or appetizer for any occasion! The homemade empanada dough is soft and flaky, perfectly enclosing the succulent and juicy carnitas.
You can use a premade pie crust if you're short on time, but the homemade dough is simple and foolproof. The avocado crema adds a creamy, zesty flavor that pairs perfectly with the carnitas. They're easy to assemble and bake, and they're sure to be a crowd-pleaser at your next gathering!
Take your taste buds on a culinary adventure with this mouthwatering Skillet Rice and Beans with Carnitas recipe. This quick and easy dish features tender and juicy pork carnitas served on top of a bed of fluffy, instant brown rice and savory pinto beans, all flavored with a zesty blend of salsa, oregano, and cumin.
Top it all off with your favorite toppings, like a dollop of sour cream, a sprinkle of cheese, or a spoonful of creamy avocado, and you've got a delicious and satisfying meal that's perfect for any night of the week.
Creamy Taco Soup is just what you need to warm up on a chilly day. The combination of taco spices, beans, and corn in a creamy broth will make your taste buds dance with joy. And the best part? It's so easy to make - just brown the beef, add all the ingredients, and let it simmer for a few minutes.
The cream cheese adds a rich and velvety texture to the soup, making it even more indulgent. Don't forget to top it off with your favorite toppings like grated cheddar, avocado, cilantro, or tortilla strips to add some crunch and extra flavor. It's a crowd-pleaser and a perfect meal for any night of the week. Enjoy!
Pulled Pork Rigatoni recipe is a delicious and easy way to use up leftover pulled pork! The combination of savory mushrooms, flavorful onions, and tangy red wine, combined with juicy pulled pork and tangy tomatoes, makes for an absolutely irresistible sauce that perfectly coats every inch of the rigatoni.
And let's not forget about the shredded parmesan cheese and fresh parsley on top! This pasta dish is perfect for a cozy night in or a dinner party with friends. Give it a try and see how quickly it becomes a new favorite in your recipe book!