My son has been reading the Captain Underpants series of books for a few years now. He inherited them from his older cousin and has always seemed to enjoy them.
You know, the read them over and over kind of enjoying them. The quote scenes from them kind of enjoying them.
The latest book in the Captain Underpants series – Captain Underpants and the Revolting Revenge of the Radioactive Robo-Boxers  (written by Dav Pilkey) is now available!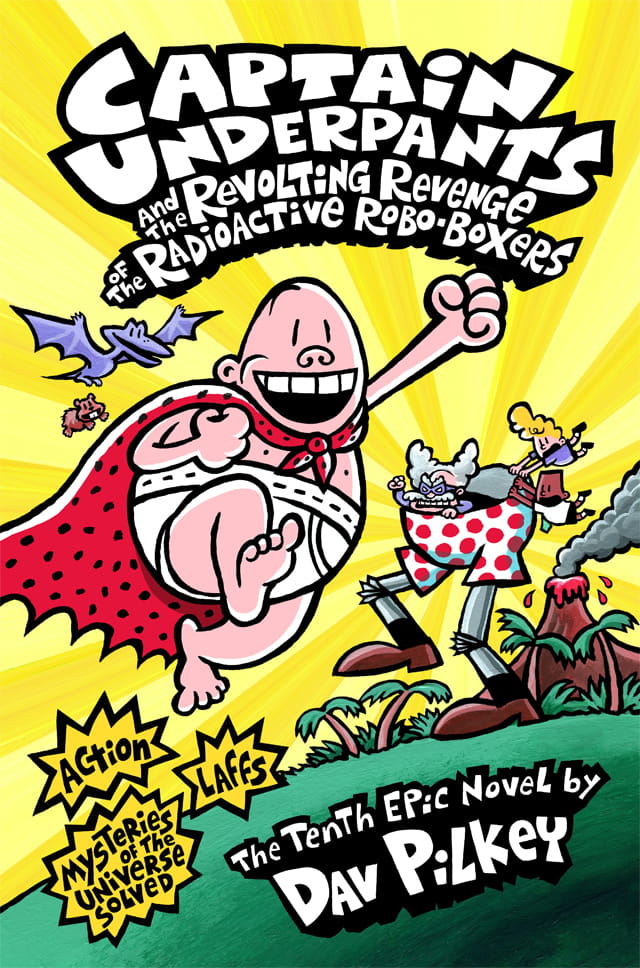 A couple of weeks ago my son brought home a Scholastic Book order form and asked me to order the new Captain Underpants book. Coincidentally, we were sent a copy of the book to review so I was able to present the book to him right them and there. He was pretty excited!
Take a look at our video review of the book:
Obviously you have to set aside some our your grown-up tendencies to appreciate some of the humor, but it really is just goofy kid stuff. He giggles but he doesn't take that kind of talk away from the book and use it in his normal conversation. I think because the books are geared for ages 7 and up, it's not a problem.
My son is a fantastic reader and getting him to read is not a problem, but I do like the way these books inspire his imagination. They author is not afraid to use big words and the story lines are extremely creative and fun. One other thing I like about the Captain Underpants books is the paper the hardcover is printed with. It's kind of a glossy paper and the cover is durable and despite him carrying the book around for weeks in his backpack it still looks like new. The pages aren't torn. The cover isn't bent. Which means the book will withstand a lot and last long enough to be handed down to his sister in a couple of years.
For more information about the book:
About:
A world without UNDERPANTS?!!!

When we last saw our heroes, George and Harold, they had been turned into evil zombie nerds doomed to roam a devastated, postapocalyptic planet for all eternity. But why, you might ask, didn't the amazing Captain Underpants save the boys from this frightening fate? Because Tippy Tinkletrousers and his time-traveling hijinks prevented George and Harold from creating Captain Underpants in the first place! Now, having changed the course of human history forever, they'll have to figure out a way to CHANGE IT BACK.

Could this be the end for Captain Underpants?!!

For fans ages 7 and up.
Links:
Captain Underpants Mobile App:
In addition to the book, Captain Underpants has an app!
Calling all fans of the Captain! Get ready for all the action, thrills and "laffs" you've come to know and love in the Captain Underpants books with The Adventures of Captain Underpants App!  Experience the book like never before, for the first time in FULL COLOR!

Join George, Harold, and the Captain to defeat Dr. Diaper and save the world!  The Washington Post online raves: "If you have grade school kids in the house, you may never see your tablet again." ­

Get the App on iTunes
My son is obviously a Captain Underpants expert, and I admit I enjoyed learning more about the characters from him. We haven't downloaded the app yet, but I promised him we would. The character and the books have been a part of our family for awhile now, and likely will be for years to come.
What do your kids read? Have they read any of the Captain Underpants series?
This is a sponsored post for the product shown. Opinions expressed are my own.
Join our newsletter!
Subscribe to get updates and great stuff via email including subscriber-only goodies like free printables and giveaways.