The answer is yes, you can put aluminium foil in an airfryer to cook your favorites meals. It's great for easy clean-up and prevents food from sticking to the air fryer basket. Tin foil is handy with fatty foods to catch the juices that would otherwise drip onto the bottom air fryer tray.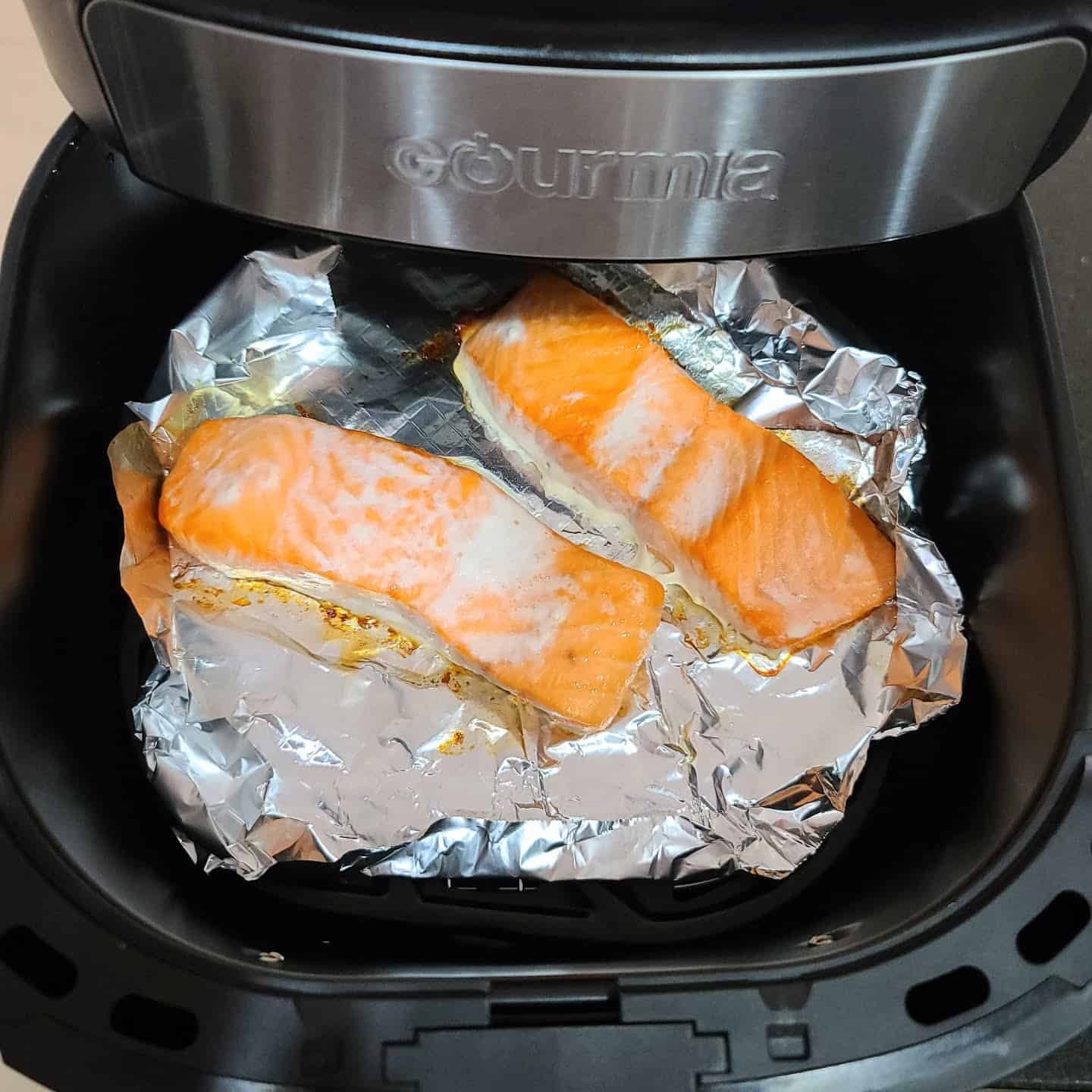 Contents
Air fryers are a relatively new kitchen appliance that is quickly becoming popular, and like with any new appliance, there are many questions on how to use it and what you can use with it, like can you put foil in an air fryer.
Unlike, microwaves where it's not safe to use foil during cooking, air fryers are more forgiving with aluminum foil. And it makes cooking foods easier and cleaner.
Air fryers use circulated hot to air cook food, so it's safe to use aluminum foil and parchment paper for cooking purposes because the air fryer temperature doesn't reach that of microwaves.
If you have an air fryer and use it a lot, you will be glad to know that you can safely put aluminum foil in it to cook lots of easy air fryer recipes, like crispy chicken tenders, mushrooms, fries, prawns, and garlic bread.
📖 Benefits of using tin foil
The tin foil helps keep the juices and flavorings from food, creating better flavor as the foil acts as a vessel to cook the food and juices together.
It creates better heat distribution.
Clean-up is a breeze with foil. You can wrap food in it or place it under the food while it cooks so all the fat and juice sit in the foil and not on the bottom of the air fryer.
The foil prevents food from sticking to the basket.
Quickly shake the basket and turn the food with foil on the bottom to create a non-stick base.
🔪 How to safely use aluminum foil in the air fryer
Step 1: Cut a piece of foil.
Roll out the foil until it covers the basket more than an inch, and cut the foil. You can cut more and fold the foil twice or three times to create a stronger layer for light weighing foods.
Step 2: Place foil inside the air fryer basket.
Place the piece of tin foil on the bottom of the air fryer basket, leaving enough room around the edge for hot air.
Step 3: Add food on the foil, but don't overcrowd the basket.
Once the foil is in place, you can add your food ready for air frying. Don't over stack your food as it will not cook evenly.
It's best to cook in batches if you have a lot of food to air fry. Single lay the food for crispier results or fill it ⅓ full, and shake it during cooking, so the hot air circulates.
💭 Air fryer cooking tips with foil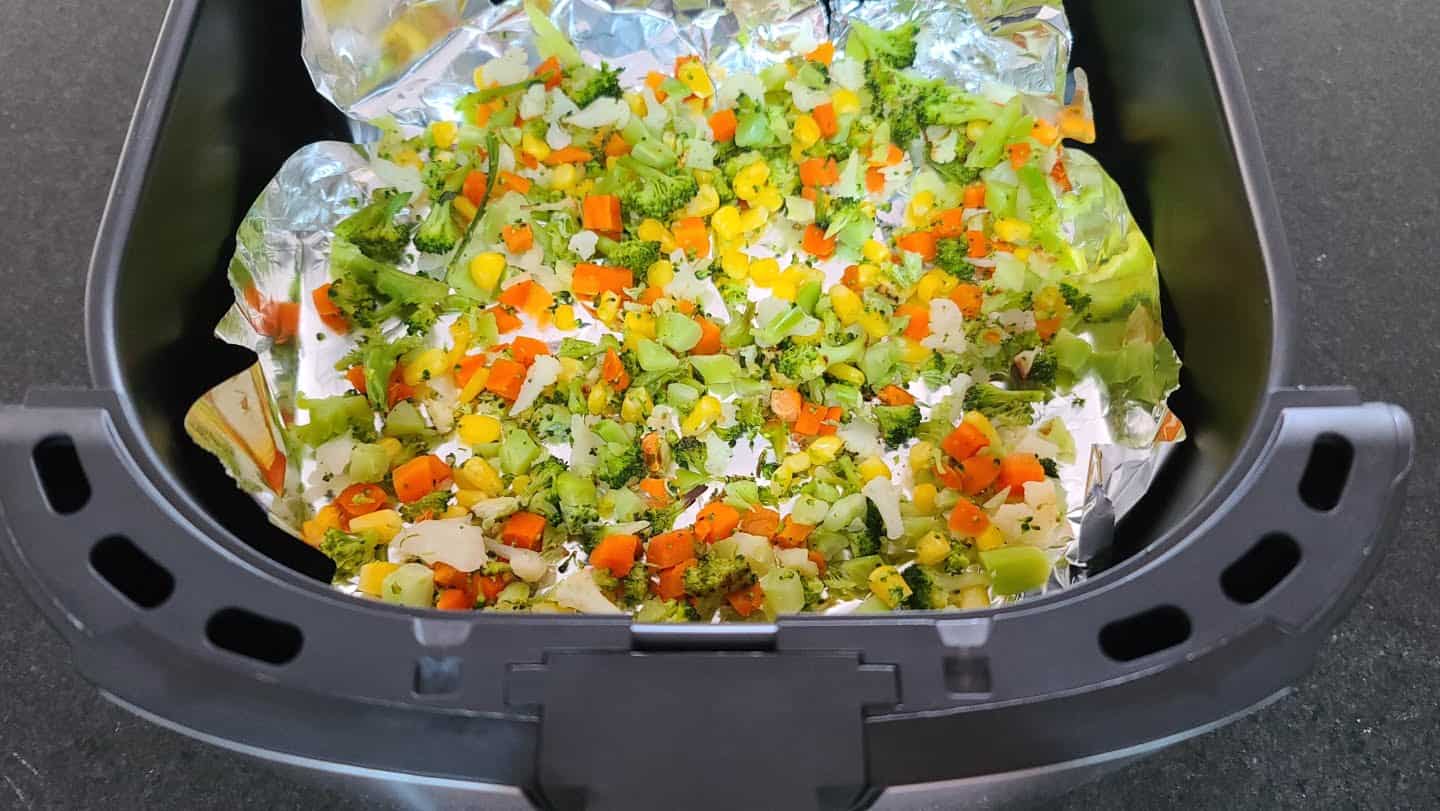 Avoid acidic foods
Food with high acidities like lemons, vinegar, and some sauces create a reaction with foil during cooking that causes small parts of foil to stick to the food, which is not good for your health.
Weigh the foil down with heavy food
To prevent the foil from blowing around in the air fryer, make sure to weigh it down with heavy food. Chicken, vegetables, beef, and pork are the best for this, and avoid using tin foil for air fryer tortilla chips because the foil and the tortillas will blow around.
Use less foil for best results.
If you use too much foil, you prevent or limit the hot air circulating. Ensure the foil is not trapping all air vents by leaving space around the edge of the basket.
Don't use foil on the bottom of the air fryer container
Make sure to place the foil in the air fryer properly in the basket and not on the bottom container.
You may be tempted to catch any juices from falling by putting aluminum foil in the bottom container of the air fryer, but doing so will block air circulation and possibly damage your air fryer.
Don't poke holes in the foil
It may seem like a good idea to poke holes through the aluminum foil to create airflow, but doing so will allow any juices to seep through and dirty the air fryer.
🥗 Food to cook in the air fryer with aluminum foil
Using foil in the air fryer is a life hack to make cleaning a breeze and a base for food. You can use tin foil in most air fryers, although some machines don't allow the use of foil, so be sure to check the air fryer manual first.
If you're an air fryer newbie, you may be looking for some easy air fryer recipes to get you started and what you can and can't cook in it. Although you can let the air fryer work its magic with most ingredients, there are some foods to stay away from if you want to keep it clean and working.
Foods to avoid:
Acidic food - As previously mentioned, acidic foods create a chemical reaction with foil in the cooking process, which causes the foil to stick to the food.
Battered food - It creates too much mess, and the batter doesn't crisp instantly as we are accustomed to expecting with fried food.
Cheese - You may be tempted to air fry camembert for fondue, but it will melt all over the place. The best way to use cheese in the air fryer is by sprinkling it on top of cooked fries, tenders, or mushrooms for 2 minutes, with foil underneath to catch any melted cheese.
Pasta/rice - Air fryers do not cook grains, pasta, or rice because they need moisture. The circulating hot air is not enough on its own to thoroughly cook them.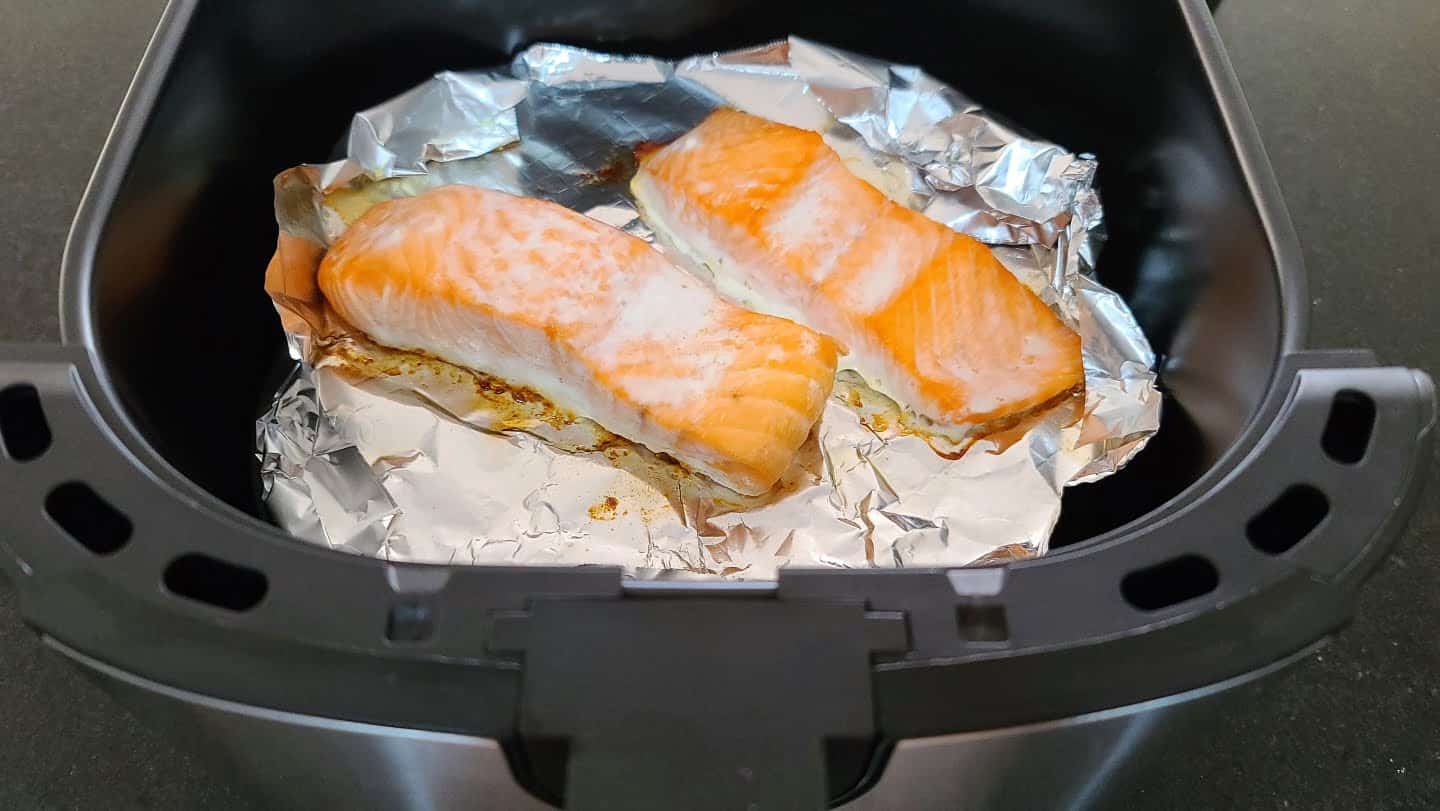 Food that works
Vegetables - Most vegetables taste great air-fried. My favorites are mushrooms, french fries, sweet potato cubes, and cauliflower.
Breaded food - Air fryers create a perfect golden crust for breaded recipes like chicken tenders, pork chops, or prawns.
Meat - Steak, chicken, turkey, pork, it all cooks easier in the air fryer.
Fish - A nice salmon or tuna fillet on top of aluminum foil tastes amazing air fried.
🙋 Frequently asked questions
Can you use parchment paper in the air fryer?
Yes, you can use wax paper the same way as the aluminum foil in the air fryer. Place the paper in the air fryer basket with the food on top to hold it down so it doesn't blow and get stuck in the heating element.
Does using aluminum foil in the air fryer give your food a metallic taste?
No, aluminum foil doesn't give food any metallic taste when used in an air fryer. The only time aluminum foil will stick to your food and give it a metallic taste is with acidic ingredients.
Are there any health risks to using aluminum foil?
No, aluminum foil has a low toxicity level and is safe to use for cooking.