Cranberries take center stage in these 15 delectable cake recipes that will make your taste buds dance with joy.
From moist cranberry bundt cakes to fluffy cranberry cupcakes, this roundup explores the versatility of this tart and tangy fruit.
Discover delightful cranberry desserts to impress your guests or simply satisfy your sweet tooth.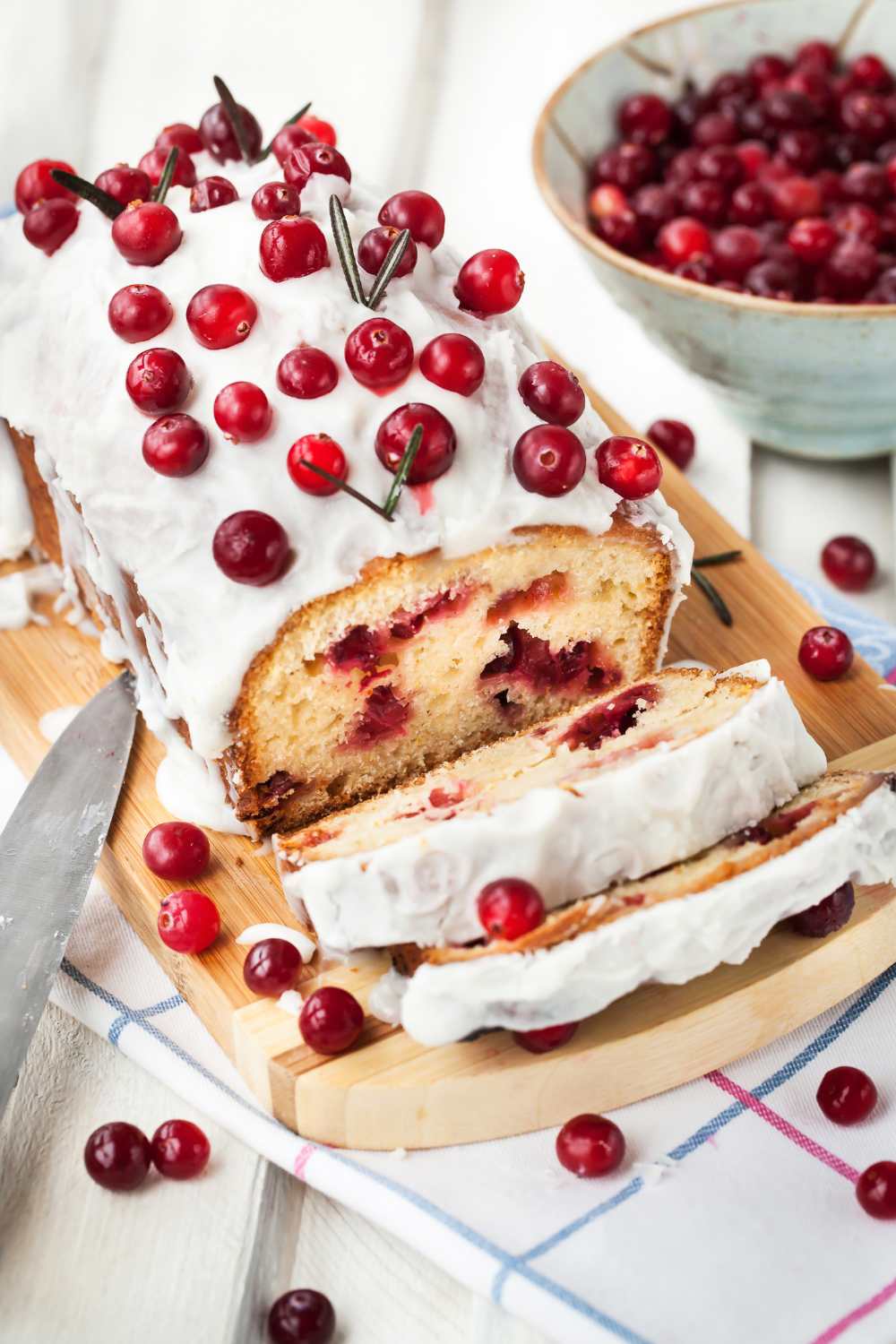 Embark on a cranberry-infused journey with these 15 tantalizing cake recipes, where tart meets sweet in delightful harmony:
This elegant Cranberry Bundt Cake is a delightful blend of fresh cranberries and citrusy orange zest, enveloped in a soft and fluffy cake batter. The sweet and tart flavors harmonize perfectly, creating a satisfying balance that shines through in each bite.
Baked to golden perfection in just under an hour, it's a warm, inviting centerpiece for your dinner table. When fully cooled, the cake is drizzled with a tangy orange glaze, amplifying the citrus notes and adding an extra layer of sweetness. A touch of sugared cranberries on top adds a festive charm, making this recipe perfect for the holiday season.
This delightful Cranberry Upside-Down Cake is a winter wonderland of flavors. The tartness of fresh or frozen cranberries, caramelized in brown sugar and butter, forms a succulent base that's complemented by a soft, fluffy cake. The aromatic blend of cinnamon, ginger, and cloves offers a warm, spicy undertone.
Baked for about 55 to 60 minutes, this recipe yields a beautiful, bronzed cake with an enticing cranberry top layer that's equally beautiful and delicious. When cooled and inverted, the jewel-like cranberries form a ruby red crown, making this a showstopper dessert sure to impress.
This extravagant White Chocolate Cranberry Layered Cake is a feast for the eyes and the palate. The combination of tart cranberry filling and rich, creamy white chocolate coconut filling layered between soft almond cakes makes for a multi-textured dessert that delights with every bite.
Toasted almonds bring a delightful crunch, while the sparkling sugared cranberries add a festive sparkle. It's a labor of love, taking a few hours to create, but the end result is a beautiful, mouthwatering cake that's as impressive in flavor as it is in appearance.
This Spiced Cranberry Coffee Cake delivers a vibrant, warming treat perfect for cold weather. Featuring a moist, tender crumb laced with tart cranberries and a hint of zesty orange, this coffee cake offers a pleasing contrast of flavors.
Baked to a golden brown in about 45 to 50 minutes, the cake gets a final touch with a drizzle of sweet icing and a sprinkle of chopped walnuts for added crunch. The result is a comforting cake with a balance of sweetness and tanginess that pairs perfectly with your morning coffee or evening tea.
This Cranberry Lemon Pound Cake captures the essence of bright, zesty lemon and tart, juicy cranberries in a dense yet tender cake. Baked for about 50 to 60 minutes, the cake has a beautiful golden exterior and a moist, flavorful interior.
The tangy citrus notes complement the sweetness of the cake while the cranberries provide a burst of flavor and a pop of color. Simple yet elegant, this pound cake is a delightful treat that brings sunshine to any table.
Dive into the vibrant layers of this Cranberry Almond Cake, where a sumptuous mix of tart cranberries and nutty almond flavors intertwine. Prepared with fresh cranberries and a dash of almond extract, this cake offers a harmonious blend of textures.
The cake bakes for a perfect 50 minutes, revealing a splendidly moist inside and a crisp almond layer on top. Serve it at room temperature for the perfect balance of flavors in every slice.
Experience the irresistible fusion of warm spices and citrus zest in this Gingerbread Bundt Cake. Infused with molasses and brewed coffee, this recipe renders a deeply rich flavor.
Fresh cranberries rolled in sugar add a sweet-tart bite, while the lemon glaze provides a refreshing finish. From start to finish, this flavorful dessert requires about 60 minutes and its dazzling aesthetics make it perfect for sharing at festive gatherings.
Revel in the delightful blend of sweet and tart with this Cranberry Buttermilk Upside Down Cake. Fresh cranberries are caramelized with a mixture of butter and cinnamon, creating a luscious base for this upside-down delight.
The buttermilk adds a tender crumb to the cake, making each bite soft and moist. With a baking time of about 45 minutes, this upside-down surprise will surely win hearts.
Enjoy the light and airy texture of this Raspberry Cranberry Chiffon Cake. This cake combines the sweet notes of raspberries with the tartness of cranberries, offering a delicious burst of flavors.
The raspberry icing, made with fresh berries, adds a delightful sweetness. This cake takes about 50 minutes to prepare and bake. Topped with reserved raspberries, it's a lovely centerpiece for your dessert table.
Sink your teeth into the luxurious depth of the Dark Chocolate Cranberry Bundt Cake. This bundt cake's rich chocolate base is peppered with tart cranberries, and a homemade chocolate ganache amplifies the chocolaty delight.
The cake takes around 70 minutes to bake, developing a moist crumb and deeply satisfying flavor. Paired with a fresh cranberry sauce, it makes for a delicious contrast between sweet and tart.
With a harmonious fusion of tangy cranberries and sweet vanilla, this Cranberry-Vanilla Bean Cake with Lemon Cream Cheese Frosting is sure to win your heart. Its impressive layers are filled with vibrant cranberry filling, the buttery cake being a perfect counterpoint to the citrusy lemon frosting.
This dessert radiates elegance, yet only needs around 60 minutes of your time in the kitchen. Perfect for those with a penchant for balance, it truly is an embodiment of the sweet-and-sour symphony!
Cranberry-Carrot Layer Cake is a celebration of hearty flavors and earthy textures. Moist carrot cake generously speckled with tart dried cranberries is enrobed with a creamy, zesty cream cheese frosting.
The cake captures the essence of homemade comfort in its modest yet captivating layers, a recipe that takes around 40-50 minutes to conjure up. This heartwarming dessert shines in its simplicity, presenting a delightful spin on a timeless classic.
The lime and Dried Cranberry Bundt Cake recipe is a delightful blend of tangy lime and sweet cranberries. The lime zest gives this moist bundt cake a vibrant, refreshing twist, and the dried cranberries add a burst of fruity sweetness.
This cake offers a delicious balance of flavors and an interesting textural interplay. This vibrant and easy-to-make bundt cake, ready in about 60-70 minutes, is a sure delight for those who appreciate the beauty of contrasts.
The Cranberry Ricotta Cake is a delightful combination of fluffy ricotta and tart cranberries. This cake promises an intriguing texture, the creamy ricotta playing a starring role.
The addition of fresh cranberries brings a lovely tartness, contrasting the cake's sweetness beautifully. This recipe can be assembled and baked in approximately 65-75 minutes. A lightly dusted layer of powdered sugar on top provides a pretty finish, making this cake as pleasing to the eye as it is to the palate.
Cranberry Eggnog Coffee Cake is a festive recipe that brings together the richness of eggnog and the tartness of cranberries. This recipe introduces a delightful twist to your regular coffee cake, making it perfect for holiday breakfasts or mid-day snacking.
Featuring a crumbly streusel topping and a delightful eggnog glaze, this cake is a showstopper. Despite its gourmet appeal, it requires only about 35-45 minutes to prepare and bake, making it an excellent choice for impressing guests or simply treating yourself.
Can I use frozen cranberries in these cake recipes?
Yes, you can absolutely use frozen cranberries in these cake recipes. Simply thaw them before incorporating them into the batter. Frozen cranberries work well in cakes as they retain their tartness and add a burst of flavor to every bite. So go ahead and embrace the convenience of using frozen cranberries for your delightful cranberry cakes!
What is the best way to store cranberry cakes?
To ensure the freshness and longevity of your cranberry cakes, it is best to store them in an airtight container at room temperature or in the refrigerator. If storing at room temperature, make sure the container is sealed tightly to prevent air exposure.
For longer storage, refrigeration is recommended, which helps to maintain the moisture and texture of the cake. Remember to allow the cake to cool completely before storing and consuming it within a few days for the best taste and quality.