Cinnamon is an adaptable spice that works well in both sweet and savory applications, complements a wide range of ingredients, and enhances the taste of baked products.
We've selected 15 of our favorite cake recipes that use cinnamon's delightful taste, from the traditional coffee cake to more unique takes like apple cinnamon and chocolate cinnamon.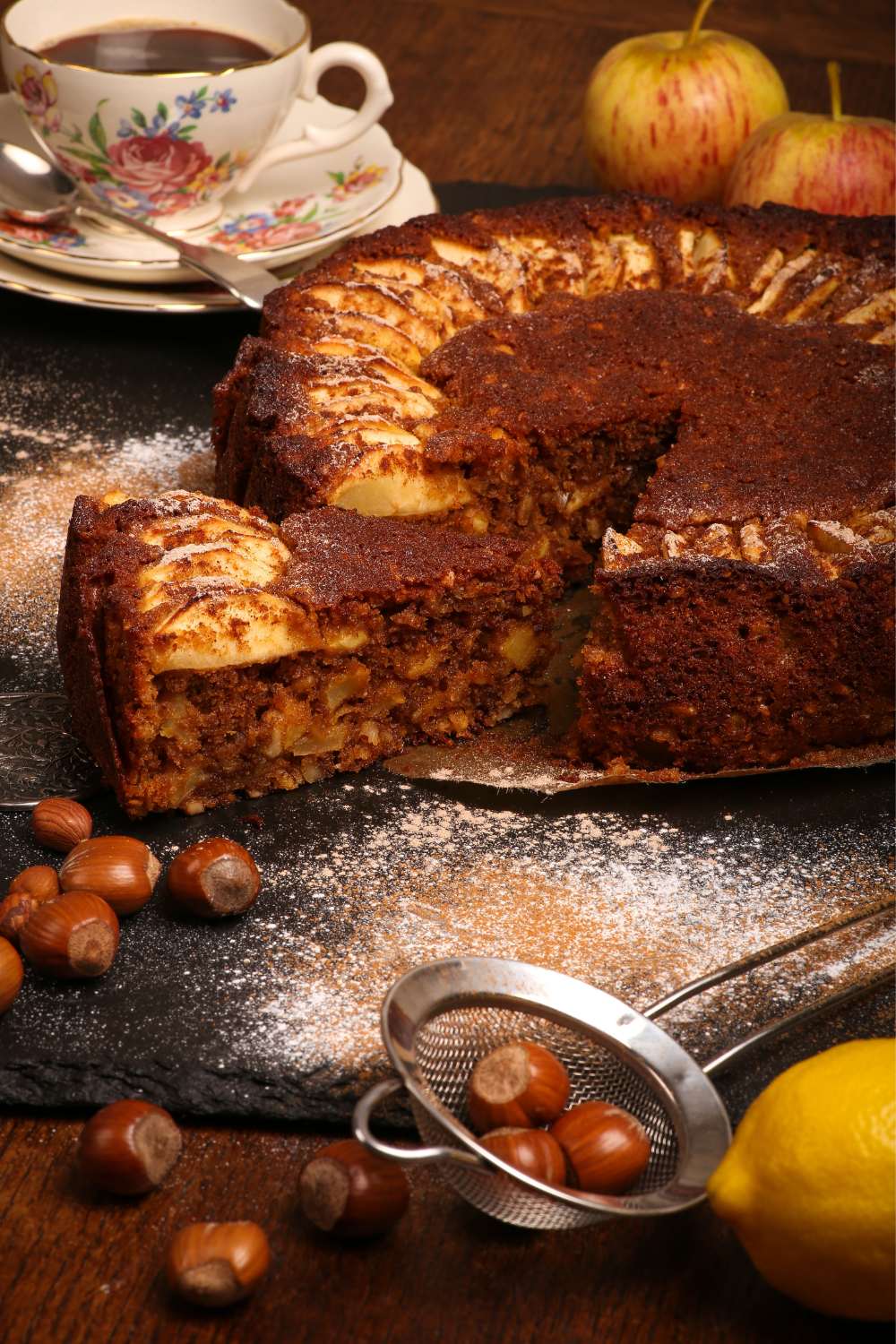 Can I Use Ground Cinnamon Instead Of Cinnamon Sticks In These Recipes?
Yes, you can use ground cinnamon instead of cinnamon sticks. However, be sure to adjust the amount accordingly. Generally, 1 teaspoon of ground cinnamon is equivalent to 2 cinnamon sticks. Using ground cinnamon may also result in a more intense cinnamon flavor in your cake recipe.
Can I Substitute Cinnamon With Another Spice In These Recipes?
While cinnamon is a unique and integral ingredient in these cake recipes, you can try using other spices like nutmeg, allspice, or cardamom as a substitute. Keep in mind that the substitution may change the overall flavor of the cake. Additionally, it's always best to use fresh spices, as they contain more nutrients and flavor than older ones. Remember to experiment and have fun while keeping your cakes healthy and delicious.
15 Cake Recipes With Cinnamon
From fluffy cinnamon roll cakes to luscious apple cinnamon cakes, these 15 delicious cake recipes will spice up your dessert game:
This Cinnamon Coffee Cake recipe is a delightful treat perfect for any time of day. The moist and fluffy cake is infused with the warm spice of cinnamon and features a decadent crumb topping sure to satisfy your sweet tooth. The cinnamon swirl running through the cake is a lovely surprise that adds to the cake's texture and flavor.
With simple ingredients like butter, sugar, vanilla, and flour, this recipe is easy to make and produces a deliciously comforting treat perfect for sharing with friends and family. Try it warm with a cup of coffee for a truly indulgent experience.
This Homemade Cinnamon Roll Cake is a delicious variation on the traditional cinnamon roll, containing all the same warm spices and gooey filling, but in cake shape, and is sure to please your senses with its sweet scent and toasty aromas. The cinnamon filling is swirled throughout the cake, making it moist and airy.
The rich glaze sweetens everything up just enough and unifies the dish. This dish may be prepared quickly and enjoyed by everyone in the family or a group of guests. Serve it for dessert or brunch when you want the warm, familiar flavor of cinnamon buns. This exquisite dessert is perfectly served warm with coffee or tea, or at room temperature.
If you're looking for a dessert that will make you feel all warm and fuzzy inside, go no further than this Cinnamon Apple Crumb Cake. Ample amounts of cinnamon streusel crumb and tart apple bits make each mouthful of this delicate cake an absolute delight.
The cake's glaze provides the proper amount of sweetness without overpowering the cake's naturally light and airy texture and crunchy topping. This is a basic dish that only requires a few common ingredients. It's as impressive as a breakfast, brunch, or dessert dish. The acidity of the apple cider sauce complements the sweetness and spice of the rest of the dessert perfectly.
The Carrot Cake Loaf with Cream Cheese Frosting is about to take your taste on a trip to dessert paradise. The cake is sweet and acidic, thanks to the combination of shredded carrots, crunchy walnuts, and toasty spices. The cream cheese frosting is the icing on the cake that really makes it special.
If you want to wow your friends and family with a delicious cake, go no further than this simple recipe. Enjoy its delicious taste at any time of day, whether as a dessert, snack, or morning delight. This Carrot Cake Loaf is full of homey, soothing tastes, making it a hit with everyone.
The combination of cinnamon and walnuts in this coffee cake is like a symphony of taste. It's a perfect marriage of sweet, nutty, and cinnamon goodness that will make your senses sing with joy. The walnut topping, which is both crumbly and crunchy, is a wonderful complement to the soft, moist cake.
This cake is perfect for every occasion, whether you're having coffee in the morning or dessert at night. Moreover, the greatest thing is… You don't have to be a professional baker to wow your guests with this delicious treat. Have a piece (or two) of this delectable cake and bask in the glory of your own good taste.
This Chai (Spiced Tea) Bundt Cake will take you away to a warm and inviting teahouse. Black tea, cinnamon, cardamom, ginger, allspice, and black pepper give this cake a warm, comforting aroma. The perfect harmony of all-purpose flour, baking powder, and softened room-temperature butter creates a cake that is both tender and airy.
The black tea flavor comes through in the silky glaze consisting of butter, powdered sugar, vanilla, and milk. This mouthwatering creation would be perfect if only dusted with cinnamon. This cake is wonderful for a warm and satisfying dessert or a relaxing afternoon tea.
Cinnamon's warm and soothing taste is nicely interwoven throughout the light and airy cake layers, and the frosting's sweet and creamy cinnamon flavor is the ideal finishing touch. A cinnamon connoisseur's dream come true! This cake, baked to perfection, is tender and flavorful.
It doesn't matter what time of day you eat this cake because of how light and fluffy it is. Have a piece for breakfast with your coffee in the morning, or save it for dessert after supper.
The warm aromas of cinnamon and nutmeg complement the rich buttery texture of this delicious cake to provide the ideal treat for a relaxing day at home. This cake is guaranteed to be a hit because of its sweet, melt-in-your-mouth topping.
This cake's appealing flavor comes from the mix of cinnamon and sugar, which gives it a sweet and somewhat spicy taste. Everyone will love this cake, whether you pair it with coffee or tea.
Enjoy the comforting spice of cinnamon in this sour cream coffee cake. This cake is the epitome of a Sunday morning delight, with a crisp cinnamon streusel topping and a light, airy cake. The cake has a warm, spicy scent because of the mix of nutmeg and cinnamon.
Everyone loves this cake because the buttery sweetness is wonderfully tempered with the tart sour cream. Whether you're a cinnamon aficionado or just looking for a new coffee cake recipe, this one won't disappoint.
This Cinnamon Pear Upside Down Cake is a true delight for any dessert lover! The perfect blend of cinnamon and juicy pears makes this cake a must-try. With its moist and tender texture, it's hard to resist. The cake batter is easy to make, and the caramelized pear topping adds a sweet twist.
Make sure to take the time to arrange the pear slices on top of the brown sugar mixture. Once baked and inverted, the result is stunning. Serve warm with a dollop of whipped cream or a scoop of vanilla ice cream for an extra decadent treat.
Enjoy a slice of this honey cake as a warm and comforting midday treat. A soothing delicacy that your taste buds will enjoy, thanks to the sweet scent of honey and the hint of cinnamon.
This dish's simplicity and elegance will leave your visitors impressed. Olive oil and honey give the cake its distinctive and wonderful taste while also contributing to its light and airy texture. That being said, why hold off? Make this delicious honey cake and enjoy it to the fullest!
If you're a fan of pumpkin and crumb cake, then this pumpkin crumb cake recipe is a must-try! The cake is infused with pumpkin puree, cinnamon, nutmeg, ginger, and cloves to give it a cozy autumn feel. The crumb topping made from a mixture of flour, sugar, and melted butter adds a sweet and crunchy texture to the cake.
The cake itself is soft and moist, with a delicate crumb texture that pairs well with a cup of coffee or tea. Whether you're having a quiet night in or a big get-together in autumn, this pumpkin crumb cake is the ideal dessert.
Craving a warm and comforting coffee cake, but want a healthier option? This almond flour coffee cake is exactly what you need! Made with super fine almond flour and tapioca flour, this cake has a moist and fluffy texture that pairs perfectly with the nutty crunch of chopped pecans.
The cinnamon and sea salt in the batter adds a subtle warmth and depth of flavor that will make you want to savor every bite. And let's not forget about the irresistible cinnamon pecan crumble on top! Indulge guilt-free with this delicious and wholesome coffee cake.
With this Cinnamon Streusel Cake, you may savor the ideal combination of cinnamon's sweet flavor and buttery texture. The delicious streusel topping, which is a blend of cinnamon, flour, and brown sugar, is a delightful addition to the light and airy cake that has been prepared.
Since sour cream was used in the recipe, the cake has a silky and supple consistency, which you will find to be quite appealing. It doesn't matter whether you're a fan of cinnamon or if you're simply seeking a tasty cake — this recipe will not disappoint!
The cream cheese frosting on this cinnamon zucchini cake is the icing on top of a cake that has just the right amount of spice. The thick and creamy cream cheese frosting pairs well with the soft and delicate cake, which is created with fresh zucchini and fragrant cinnamon.
The combination of the creamy cheese and the spicy cinnamon makes each mouthful a sensory treat. This cake is perfect for a party or as a midday snack with some coffee. If you want to add a little something extra, try finishing it off with some cinnamon and sugar.