Cabbage and bacon unite in these 15 flavorful recipes, showcasing the dynamic duo's perfect pairing.
From hearty stews to crispy side dishes, this roundup celebrates the versatility of cabbage and the irresistible allure of smoky bacon.
Whether you're seeking comfort food inspiration or looking to add a twist to your weeknight meals, these cabbage and bacon recipes will delight your palate and elevate your culinary adventures.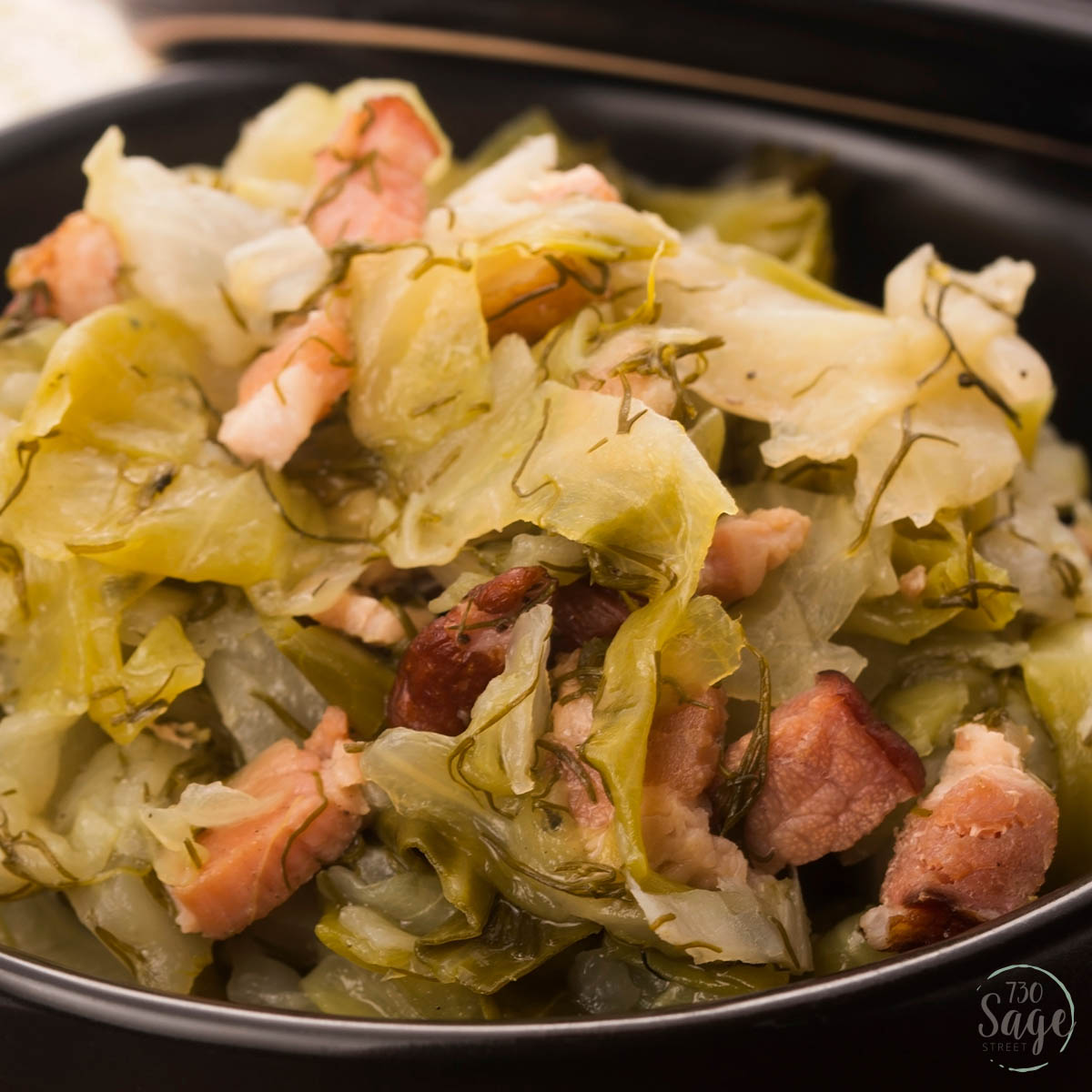 Prepare to embark on a smoky and savory adventure with these 15 cabbage recipes infused with irresistible bacon magic:
Experience a new breakfast symphony with this delightful Bacon Cabbage Quiche. Layers of crisp bacon, caramelized red onions, and tender cabbage enveloped in a flaky, buttery crust promise a harmony of texture and flavor.
Cheese lovers will appreciate the subtle touch of cheddar adding depth to the smoky and sweet notes. This quiche, requiring around 150 minutes from start to finish, could be your new favorite brunch mainstay. Serve it alongside a fresh, zesty lemon wedge to add an unexpected but pleasant citrusy punch.
Comfort food gets a hearty and flavorful upgrade in this Potato and Cabbage Soup with Bacon. Made with russet potatoes and green cabbage, it achieves a perfect balance between creamy and fresh.
The delightful crunch of bacon adds a salty and smoky contrast to the velvety texture of the soup. Easy to prepare in just under 30 minutes, this soup warms you from the inside out. Best served with a sprinkle of chopped parsley for an added pop of color and freshness.
Experience a fresh take on roasted vegetables with these Roasted Cabbage Steaks topped with Bacon. Oven-roasted cabbage rounds turn irresistibly crispy and develop a deep, sweet flavor that complements the smoky, savory bits of bacon.
Using just a few ingredients and minimal prep, this dish comes together in about 40 minutes. It's a unique, low-carb side dish that can be paired with a variety of mains for a complete meal.
Venture into the flavors of Hungary with this hearty Haluski recipe - a delightful mix of noodles, cabbage, and bacon. Thin slices of cabbage sautéed with onions until tender, then tossed with crispy bacon and pasta, offer a unique blend of textures and tastes.
Requiring about 25 minutes from start to finish, it's a quick and satisfying meal. Don't forget to garnish with a sprinkle of fresh chopped parsley for an added vibrant touch.
Introduce your palate to a world of creamy, cheesy, and hearty goodness with this Creamy Cabbage Gratin. Lush layers of coarsely chopped cabbage, earthy mushrooms, and crispy bacon strips are coated in a velvety, cheese-infused sauce and topped with walnut pieces for a surprise crunch.
This gratin, which takes about 90 minutes to prepare, offers a decadent side dish or a satisfying main course. Serve warm for the full comfort food effect.
Embrace a hearty meal with these German-inspired cabbage rolls. Each leaf of cabbage cradles a robust mixture of ground beef, bacon, and seasonings, all simmered in a savory beef broth.
The final touch of cream adds an opulent feel to the sauce. It's a labor of love, taking around 60 minutes, but the satisfaction derived from every bite makes it all worthwhile. Paired with potatoes, it brings forth an inviting, warm dish that promises to satiate your craving for comfort food.
This simple yet delectable dish combines cabbage and bacon, prepared in under 30 minutes, promising a satisfying meal for your weeknight dinners. The smoky bacon melds with the caramelized cabbage, whilst the inclusion of parsley and garlic elevates the flavor.
With the additional touch of a vegetable stock deglaze, this dish boasts a comforting combination of textures and flavors. Serve immediately, and enjoy the perfect harmony of this rustic, homey skillet delight.
A recipe that showcases the unique pairing of cabbage and bacon, all wrapped up in a hearty parcel of flavors and cooked to perfection in under 40 minutes. Parmesan cheese and garlic powder are sprinkled on the bacon, enhancing its smoky aroma.
Once baked, the cabbage becomes tender and infused with the bacon's savory essence, providing a side dish that's not just visually enticing but incredibly flavorful too.
This dish brings you a kaleidoscope of flavors, combining the earthy sweetness of cabbage, the umami depth of bacon, and the aromatic zing of spices. With a braising time of about 40 minutes, this side dish is perfect for any main.
Tossed in olive oil and seasoned with a variety of spices, this dish offers a satisfying contrast of textures. The finishing touch of fresh dill adds a pop of freshness that enhances the overall taste.
This enticing, layered pie offers an amalgamation of textures and flavors. The base is filled with diced baked ham, topped with boiled cabbage, a luscious parsley sauce, and finished with a golden layer of mashed potatoes.
In about 70 minutes, the pie transforms into a bubbling, creamy delight, presenting a medley of comforting flavors and warmth that promises to be a memorable meal experience.
A pizza experience that takes a departure from the norm, this recipe integrates robust flavors of bacon, cabbage, and a unique parsley cream sauce. The intriguing meld of grilled honey ham, seared miso cabbage, and roast potatoes offer a delightful mix of textures and tastes.
Preparation takes 4 hours and 40 minutes, rewarding you with an exquisite pizza masterpiece that's an ideal St. Patrick's Day treat.
Spend 6-9 hours of cooking time to create a comforting, hearty meal brimming with flavors of corned beef, bacon, and cabbage.
This slow-cooker recipe offers a smooth combination of textures with the tenderness of corned beef and a lively crunch from the cabbage. Infused with stout beer and beef stock, every morsel delivers a flavor punch.
This recipe offers a scrumptious fusion of fried cabbage, crisp bacon, and ramen noodles, delivering a medley of tastes and textures in a time frame of about 20 minutes.
Sprinkled with Parmesan and a hint of lemon, this quick, easy-to-make dish is an ideal weeknight meal.
This warm salad delivers a satisfying blend of sauteed bacon and mushrooms, mixed with fresh cabbage and blue cheese crumbles.
A 30-minute endeavor, it has an earthy, tangy flavor enhanced with a honey mustard dressing, creating a symphony of flavors that's both unique and comforting.
This dish provides a flavorful twist on traditional slaw, requiring just 20 minutes to prepare.
Smoked bacon and a trifecta of veggies - cabbage, onion, and carrot - all stir-fried in bacon grease, make this a warm, savory side dish or a light main meal. It's a delicious way to enjoy these everyday ingredients in a whole new light.
Can I substitute turkey bacon for regular bacon in these recipes?
Yes, you can definitely substitute turkey bacon for regular bacon in these cabbage recipes. Turkey bacon offers a leaner and healthier alternative while still providing a smoky flavor. It pairs well with cabbage, adding a delightful savory element to the dishes. Feel free to experiment and adjust the cooking time as needed to achieve the desired texture and taste.
Can I use different types of cabbage in these recipes, such as red or Savoy cabbage?
Absolutely! These cabbage recipes with bacon are versatile and can be prepared with different types of cabbage, including red cabbage or Savoy cabbage. Red cabbage brings vibrant color and a slightly peppery flavor, while Savoy cabbage offers a delicate and tender texture. Both varieties work wonderfully with the smoky richness of bacon, adding depth and complexity to the dishes. Don't be afraid to explore different combinations and discover your favorite cabbage and bacon pairing!