My husband and I bought our first home in 2002.
Without ever seeing it.
We were living in California and moving back home to Illinois. We had family and friends walk through the house for us in preparation for buying it. Because we were so far removed from the situation, we didn't pay a whole lot of consideration to the possibility of identity theft. We sent valuable documents through the mail. We sent personal information via email. We did what we needed to do to get the house purchased.
We were young, excited and focused on the end result.
It doesn't look like much but when you are a young married couple, the little yellow house in desperate need of some updating is a dream come true.
But that dream can easily turn into a nightmare if you aren't careful. Identity theft is a serious issue and can occur when you least expect it because of a simple thing that you do without even thinking about it.
LifeLock is dedicated to helping people be proactive to keep them safe from identity theft.
Below are 5 tips to help you be as safe as possible when buying a new home:
Don't leave paid bills in the mailbox for the mail carrier to pickup, drop them off at the post office. Leaving them in the mailbox is an open invitation for identity thieves.
If you are hiring movers, keep important, sensitive information with you rather than packing it on the moving truck.
Do not respond to emails regarding the purchase with sensitive personal information. Plenty of phishing schemes occur through email and it may look like you are dealing with your bank, but they will not conduct business with you over email. Neither will the IRS.
Change the locks or have them re-keyed before any of your personal items are kept in your new house. Previous owners could have given spare keys to any number of people and there is no way of knowing if someone has access who shouldn't have.
Closely monitor your credit or debit card bills for unauthorized purchases. Moving is such a chaotic time and it's a lot easier to miss things. You are not only distracted but likely buying more than usual for your new home. Keep a close watch on those accounts.
Those are just a few ways you can be proactive about identity theft and keep yourself as safe as possible.
For more information about buying a new home check out the LifeLock for Life Sweepstakes on Facebook. Not only will you get great tips to help protect you when buying a new home, you will be entered to win prizes that include a $1,000 VISA gift card and 1-year LifeLock memberships.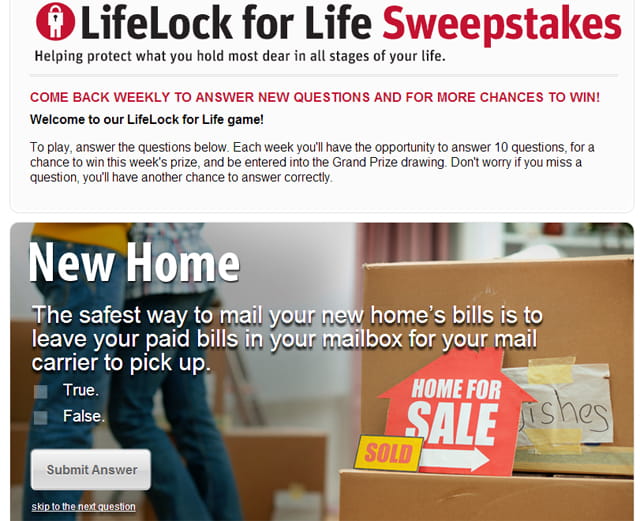 And by-the-way, our little yellow house was a great start for our growing family. We loved that house, fixed it up, made it our own and enjoyed our time there. We have since moved on to another state, but I will never, ever forget our first house.
Do you have a first home? What was it like?
Still dreaming about your first home? What is one feature you absolutely can't live without?
Note: I have received compensation for my participation as a LifeLock Ambassador. All opinions are my own.
Join our newsletter!
Subscribe to get updates and great stuff via email including subscriber-only goodies like free printables and giveaways.