Brussels sprouts are a healthy and tasty veggie that gets a poor reputation but wins over eaters when served with bacon.
Everything is better with bacon, and this collection of 15 recipes for Brussels sprouts with bacon will make you fall in love with this cruciferous vegetable all over again. Prepare to enjoy the savory smoke and salt in every mouthful.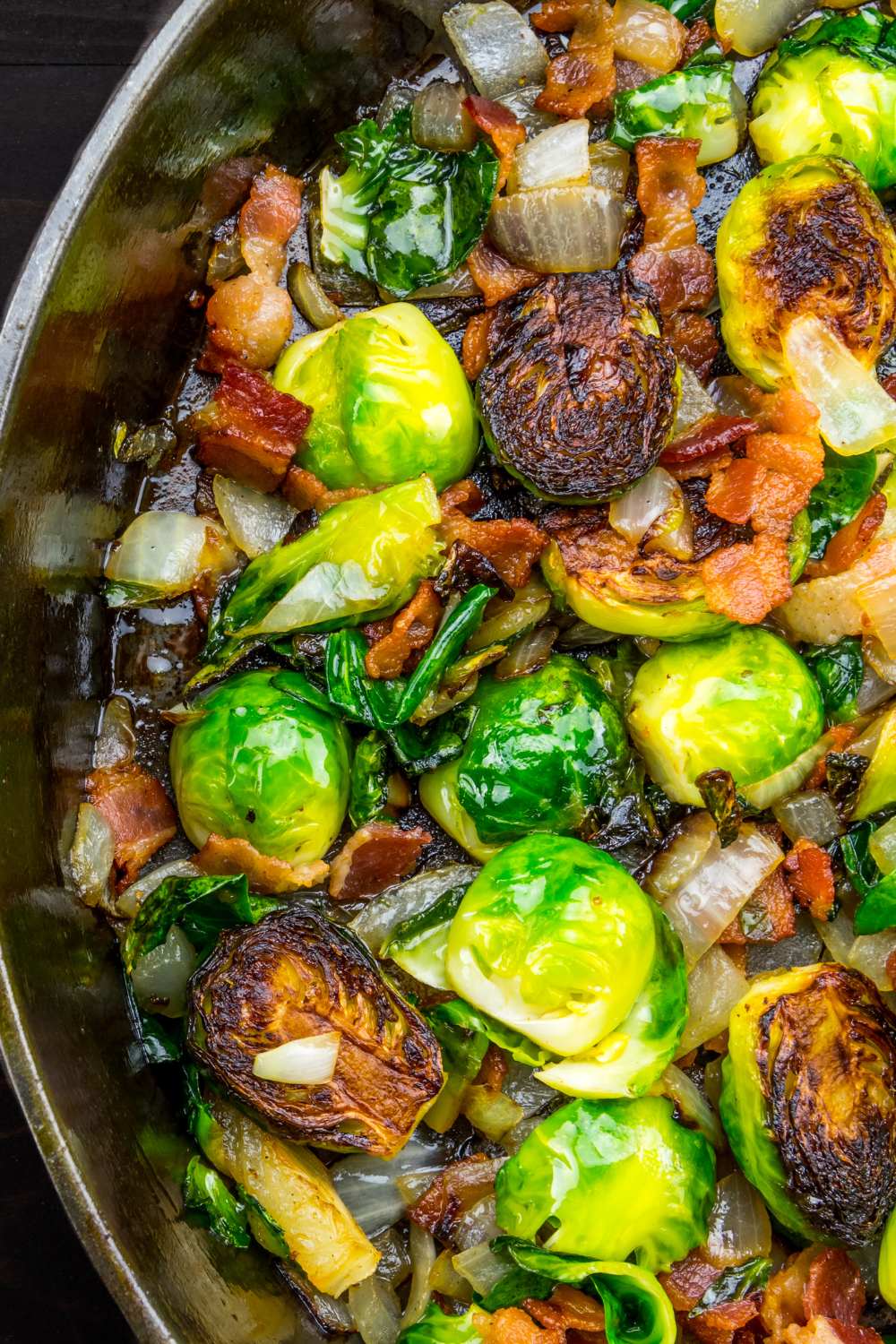 How Do I Clean And Prepare Brussels Sprouts Before Cooking Them?
To clean Brussels sprouts, rinse them thoroughly under cold running water and trim off the ends. If the outer leaves are wilted or discolored, remove them. You can also cut the sprouts in half or leave them whole. To make them tender, blanch them in boiling water or steam them until they are cooked to your liking.
Can I Make Brussels Sprouts With Other Types Of Meat Instead?
Yes, you can substitute bacon with other types of meat like prosciutto or pancetta. Alternatively, you can use smoked tofu or tempeh as a vegetarian or vegan option. These options add a salty, savory flavor to the dish while keeping it healthy and delicious. You can also experiment with different seasonings and spices to create your own unique flavor profile.
15 Brussel Sprout Recipes With Bacon
From roasted to fried, these 15 Brussel Sprout Recipes With Bacon will please even the pickiest eaters:
This recipe for roasted Brussels sprouts packs a flavorful punch thanks to the addition of crunchy walnuts and sweet dried cranberries. Nevertheless, there's more to come! To amp up the taste, throw in some diced bacon.
A nutritious and filling supper, all in one tasty bowl, made from these ingredients. Enjoy this healthy meal every day of the week; it's excellent for you.
With these Awesome Bacon Wrapped Brussels Sprouts, it's time to go on a taste adventure! Bacon, salt, pepper, and a sweet glaze made from maple syrup and brown sugar encase these adorable tiny vegetables.
The bacon becomes crisp and crispy while the sprouts get soft and caramelized while roasting. This recipe is appropriate for every gathering, from a casual family meal to an elegant cocktail bash. Serve them hot and watch them go; this simple dish is sure to please your taste senses.
With this Creamy Parmesan Brussels Sprouts Gratin with Bacon, you'll be taken to a flavor paradise. Your taste senses will be singing for joy when you bite into these crisp, blanched Brussels sprouts covered in a creamy, delicious Parmesan cheese sauce.
Melted mozzarella cheese gives a gooey, bubbling finish, while the dish's salty crispness comes from diced bacon. This gratin, whether served at home or at a formal dinner party, will satisfy even the pickiest of diners. You have earned every bite of this rich comfort food.
Get ready for a sweet and savory treat with these Maple Bacon Brussels Sprouts. They are cut in half and coated in a delicious mixture of olive oil, maple syrup, and spices. They are then roasted to perfection with thick-cut bacon pieces for extra flavor and texture.
The pine nuts, roasted to perfection and seasoned with salt and pepper, complete this dish with a nutty bite. Indulge in this mouthwatering meal that is guaranteed to fulfill your demands; it is appropriate for any occasion, whether you are searching for a great side dish for dinner or a crowd-pleasing snack for your next party.
Keep your sense of taste in check because this Warm Brussels Sprouts Salad is going to take you on an adventure! The first stop is the dressing, which is tart and sweet thanks to the combination of fresh lemon juice, maple syrup, and Dijon mustard. Then, we have the salty, savory, and nutty crunch of bacon pieces and roasted hazelnuts.
The next stop is a plate of wonderfully sautéed Brussels sprouts in olive oil; they're soft and have a pleasant bitterness, and the shaved Parmesan on top rounds out the dish with a creamy, rich texture that pairs well with the other ingredients. Join me on this tasty and healthful voyage, and if you're feeling daring, toss in some dried cranberries or cherries for a burst of flavor.
An excellent variation on the traditional carbonara pasta, this Linguine Carbonara with Bacon and Crispy Brussels Sprouts is full of flavor and texture. Before being mixed with a rich egg and Parmesan cheese sauce, linguine is cooked until al dente.
Add some crunch and sweetness to the meal with some crispy bacon and sautéed Brussels sprouts. This recipe works as well for a quiet weekday meal or a fancy dinner party. What are you waiting for? Get into this delicious pasta right now!
Balsamic-glazed Brussels sprouts with bacon is a recipe that will transport your sense of taste to Italy with its delicious blend of sweet and salty aromas. Sweetened with dried cranberries and Balsamic reduction, this meal has savory elements like bacon and salty Brussels sprouts.
This dish may be prepared quickly and is perfect for busy weeknights. It's great for parties and get-togethers with loved ones. Don't be afraid to attempt this dish and enjoy authentic Italian cuisine right in your own kitchen.
Brussels sprouts and bacon are a match made in heaven, but why stop there? This Brussels Sprouts Slaw with Bacon and Apple takes things to the next level with a crunchy, nutty twist.
Pecans and apples add an extra layer of sweetness and texture to the mix, while a tangy, slightly sweet vinaigrette brings it all together. Perfect for a light lunch or as a side dish, this slaw is a great way to switch things up and impress your guests with a creative take on a classic combination.
What could be more relaxing than a steaming cup of Brussels sprouts soup with crispy bacon and chestnut while you relax in a warm log cabin in the snowy woods on a cold winter day? With the addition of bacon, mashed potatoes, and nutmeg, this dish elevates the lowly sprout to new heights.
The house is filled with the smell of roasted chestnuts and sizzling bacon as you prepare your meal. And when you do eat that first mouthful, you'll be whisked away to a place of warmth and happiness. Just perfect for a cold day, or any day you might need a little more warmth and comfort.
Get ready to take a trip to Asia with this Bacon Brussels Sprouts When cooked in a skillet with bacon, brussels sprouts, and garlic, leftover brown rice takes on a whole new flavor profile and texture.
Green onions and soy sauce amp up the taste, while sesame oil brings out the color. Add a delicious finishing touch with a cooked or poached egg and some chile garlic paste. The combination of flavors in this meal is so perfect that your taste buds will do a happy dance.
Risotto with bacon and Brussels sprouts is the ultimate comfort meal, so prepare to indulge on those winter nights when you need something heavy to warm you up. Deglazing with dry white wine creates a rich and aromatic foundation from sautéed onions and Arborio rice.
Add some properly roasted Brussels sprouts and crispy bacon for a blast of smoky and earthy tastes. For the smoothest possible finish, sprinkle on some Parmesan cheese and add some cold butter. We guarantee that this dish will have you begging for more.
This quiche dish will surprise you with its unexpectedly delicious blend of tastes, especially considering that few people realize Brussels sprouts have such a wide range of potential uses.
A mix of Gruyere and Parmesan cheeses, both creamy and nutty, sits over a flaky pie crust that holds roasted brussels sprouts, bacon, and caramelized onions. Then, of course, there's the rich, custardy egg-and-cream base. Your taste buds will have a shindig! Even the pickiest eaters will love this quiche, which works as well for breakfast or supper.
Whoever said Brussels sprouts couldn't be fun clearly hasn't tried these grilled bacon-wrapped Brussels sprouts, which will undoubtedly be the talk of the party. These sprouts start off by being marinated in a delectable blend of soy sauce and garlic powder before being skewered with bacon and grilled to a perfectly crispy consistency.
These skewers, which are ideal for serving as an appetizer at your next barbecue, will have your guests pleading with you for the recipe. Prepare yourself for a flavorful onslaught in each and every mouthful when you light up the grill.
Brie quesadillas with bacon, beer-glazed onions, and brussels sprouts will take your taste senses on an adventure they will never forget. Bacon, Brussels sprouts, Brie cheese, and beer-glazed onions are just some of the ingredients that make this meal a veritable taste bomb.
Did we not mention the sprinkling of maple syrup? Yum! Everything is rolled up in a warm, crunchy tortilla. Make these quesadillas for your next lunch or dinner gathering, and you'll be the hit of the party.
Let's whisk away to Italy with this scrumptious Brussels Sprout Frittata with Bacon & Parmesan! Imagine your kitchen filled with the irresistible aroma of caramelized sprouts, crispy bacon, and golden onions. With a hint of maple syrup to balance the savory flavors, this frittata is a perfect brunch or breakfast-for-dinner treat.
Don't forget to sprinkle extra Parmesan and fresh thyme over the top to elevate this dish to a whole new level. Trust me, this frittata will make you feel like a culinary genius!