February is National Children's Dental Health Month and I wanted to take a few minutes to share some insight into toothpaste ingredients. Most name-brand commercial toothpastes are filled with things that are easy to over look. While we scour food labels for unhealthy ingredients, we continue to brush our teeth with products filled with those same things.
Which you can avoid with Tom's of Maine.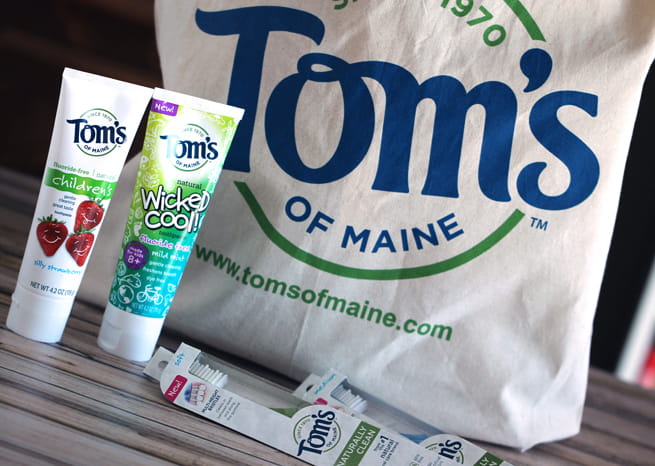 Tom's of Maine says "Our commitment to our customers is also defined by the ingredients we avoid and the ingredient choices we offer."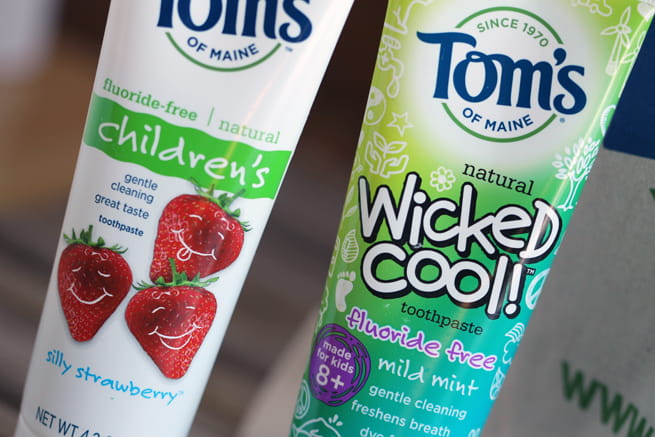 Below are the ingredients you won't find in Tom's of Maine, many – if not most – of which can be found in name brand children's toothpastes.
ARTIFICIAL COLORS
ARTIFICIAL FLAVORS OR FRAGRANCES
ARTIFICIAL PRESERVATIVES (EDTA, FORMALDEHYDE, PARABENS, ETC.)
ANIMAL INGREDIENTS
ETHYLENE GLYCOL
GLUTEN
GRAPEFRUIT SEED EXTRACT
PARABENS
PEROXIDES
PHTHALATES
SACCHARIN OR OTHER ARTIFICIAL SWEETENERS
Don't know what half of those are? Yeah, me either. That alone should send up a red flag.
In order to help raise awareness about the importance of oral health, Tom's of Maine wants to help show your children that brushing can be fun through their free downloadable coloring and activity book, "Brushing Fun". In addition to being a fun activity for your kids, "Brushing Fun" supports Oral Health America, a national nonprofit dedicated to oral care and prevention.  With each free coloring book download, Tom's of Maine will donate 10 tubes of its Wicked Cool! natural toothpaste (up to 200,000 tubes) to children in OHA's  Smiles Across America program!
Also, stay tuned to that page because shortly parents will be able to show off their kid's  creativity and inspire others to get involved by sharing a photo of a completed page from the coloring book on Facebook or Instagram  using #NaturalSmiles. A weekly drawing of all eligible entries will determine five winners to receive a Tom's of Maine natural oral care prize pack and a $100 Utrecht Art Store gift card to foster their child's creativity. Keep checking back here for the sweepstakes launch: Tom's of Maine Brushing Fun book.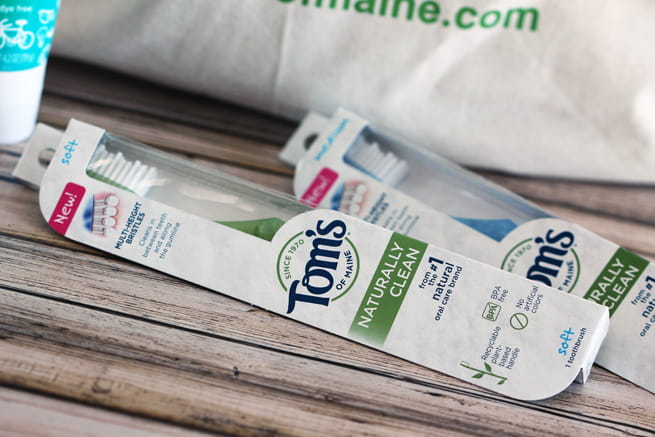 Find more Information About Tom's of Maine and Oral Health America:
Tom's of Maine on Social Media
Link to Oral Health America social media channels
Additional Background on Tom's of Maine:
Tom's of Maine Silly Strawberry toothpaste is the first and only natural kid's toothpaste to receive the American Dental Association's Seal of Acceptance for its proven effectiveness. With no artificial dyes or sweeteners, Tom's of Maine Silly Strawberry toothpaste gets its naturally sweet flavor from real strawberry juice.
New this year, Wicked Cool! is Tom's of Maine's first natural toothpaste designed for kids ages 8 and over. This mild mint-flavored toothpaste fights cavities, strengthens enamel and freshens breath and is great for kids who want a more "grown up" toothpaste but find the adult mint versions "too spicy".  Plus, it's ADA-accepted, dye-free and never contains any artificial sweeteners or flavors.
Kids love the taste of Tom's of Maine Juicy Mint Children's Anticavity Fluoride Rinse. Used regularly with fluoride toothpaste, rinsing provides additional cavity protection over brushing alone. It offers the same strong cavity protection as conventional brands without artificial colors, flavors or preservatives.
Tom's of Maine gives 10% of its profits back to organizations that support human and environmental goodness.
About Oral Health America
OHA's mission is to change lives by connecting communities with resources to increase access to oral health care, education and advocacy for all Americans, especially those most vulnerable. For more information about Oral Health America, please visit http://oralhealthamerica.org/
Enter to Win a Tom's of Maine Natural Kids Oral Care Kit
Kit will include:
Tom's of Maine Tote made from Recycled Tom's toothpaste tubes
Wicked Cool!™ Flouride Free Anticavity Toothpaste
Silly Strawberry Flouride Free Anticavity Toothpaste
2 – Naturally Clean Toothbrushes
Giveaway Terms
Giveaway Ends: February 28, 2014 at 11:59pm CST
You may enter this contest daily.

OFFICIAL RULES: No purchase necessary to enter or win this giveaway. Entering this promotion is considered acceptance of these terms. Limit one daily entry per email address. Entry open to anyone 18 years of age and over and is limited to the USA. Giveaway ends on February 28, 2014 at 11:59pm CST.  Winner will be chosen at random from all eligible entries and will be notified by email. Winner will have 48 hours to respond, contest host is not responsible for spam filters. Please add kim@theysmell.com to your trusted email filter.  Prize provided by Tom's of Maine.
Join our newsletter!
Subscribe to get updates and great stuff via email including subscriber-only goodies like free printables and giveaways.