Prepare to have your pasta needs satiated with these 15 tasty broccolini recipes, ranging from a rich Alfredo to a zippy lemon garlic sauce.
Broccolini is a nutrient-dense vegetable that can be used in place of or in addition to traditional pasta ingredients.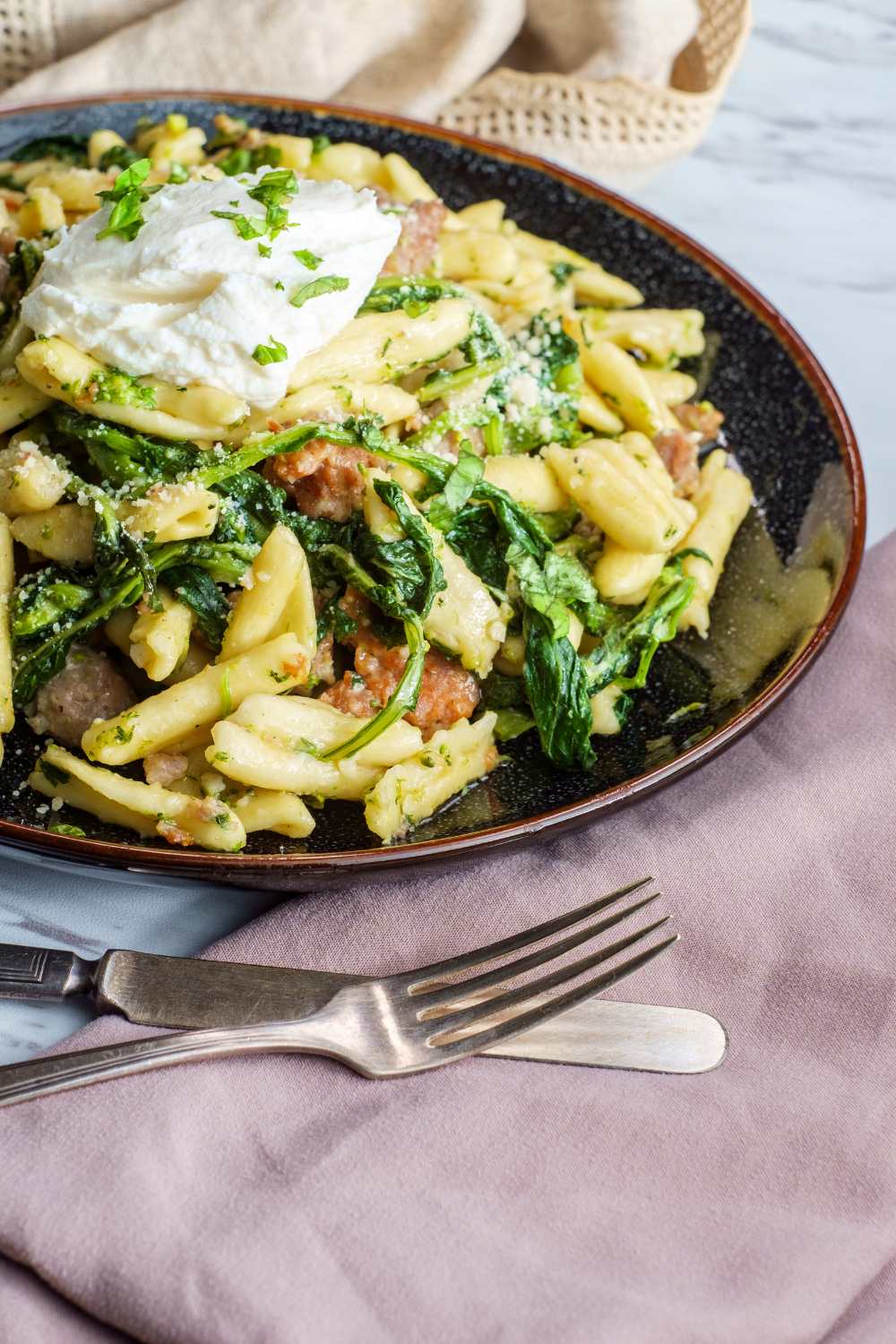 Can I Use Broccolini Instead Of Broccoli In Most Recipes?
Yes, broccolini can be used as a substitute for broccoli in most recipes. Broccolini is a hybrid vegetable that has a milder and sweeter flavor than broccoli. It's also higher in vitamin C and calcium, making it a healthy addition to any dish. When substituting broccoli with broccolini, keep in mind that the cooking time may vary slightly.
How Can I Make Sure My Broccolini Is Cooked Properly In These Recipes?
To ensure that broccolini is cooked properly in these recipes, it's important to blanch it before adding it to the dish. Blanching involves boiling the broccolini for 1-2 minutes and then immediately transferring it to an ice water bath. This will stop the cooking process and help to retain the bright green color and crisp texture. When adding broccolini to pasta dishes, it's important to not overcook it, as it can become mushy and lose its nutritional value.
15 Broccolini Recipes With Pasta
With 15 broccolini pasta dishes in a range of sauces and preparations, there's a healthy and tasty alternative for any pasta enthusiast:
Get ready for a delightful journey to Italy with this scrumptious Orecchiette with Almond Pesto and Broccoli Rabe recipe! Inspired by Giada Entertains, this dish combines the nutty goodness of roasted almonds with the freshness of basil and the irresistible creaminess of Parmigiano Reggiano cheese.
You'll fall in love with the perfect balance of tender orecchiette pasta, hearty broccoli rabe, and melt-in-your-mouth fresh mozzarella. Pro tip: Reserve some pasta water to create a silky, mouthwatering sauce.
Continuing our pasta adventure, let's sail from Italy to America for a Garlicky Broccolini Pasta that's perfect for busy weeknights! This easy-to-make dish, from The Gracious Pantry, brings together wholesome whole-grain pasta, crunchy broccolini, and a generous helping of minced garlic.
In just 20 minutes, you'll have a delicious and nutritious meal that will remind you of the delightful flavors of the Orecchiette with Almond Pesto. For an extra touch of indulgence, sprinkle some Parmesan cheese on top – you won't be disappointed!
Let's keep exploring the world of broccolini pasta with a vibrant Roasted Broccolini Pasta dish! This scrumptious recipe takes a slightly different approach by featuring perfectly charred broccolini and linguine, all tossed together in a garlic-infused olive oil sauce with a hint of spiciness from crushed red pepper flakes.
Just like in our Garlicky Broccolini Pasta, Parmesan cheese makes a delightful appearance, adding richness to the dish. The star of the show? Crispy toasted breadcrumbs and a zesty squeeze of lemon juice that elevates the meal to new heights.
Venturing into the realm of Asian fusion, our Broccoli and Mushroom Fettuccine with Miso Cream Sauce offers a mouthwatering twist on traditional pasta dishes. With the earthy goodness of broccoli and shiitake mushrooms, this recipe takes a delicious detour from our previous Italian and American inspirations.
The star of this dish is the velvety miso cream sauce, a delightful blend of rich flavors and tangy lemon that complements the fettuccine beautifully. Just like in the Roasted Broccolini Pasta, lemon juice adds that perfect zesty touch, making every bite a delightful fusion of East and West. Savor this exquisite pasta experience!
Our pasta odyssey continues with the delightful Roasted Broccolini & Pasta with Goat Cheese. This dish is a beautiful medley of al dente spaghetti, juicy cherry tomatoes, and perfectly roasted broccolini, reminiscent of the flavors found in our Roasted Broccolini Pasta.
The goat cheese, however, is what sets this recipe apart, adding a rich, tangy creaminess that will make your heart sing. Seasoned with garlic powder, salt, and pepper, this dish is a perfect choice for a cozy dinner or a laid-back gathering with friends. Enjoy this delicious, comforting pasta experience that bridges the gap between our previous creations.
Embark on a journey of simplicity and flavor with our Easy Creamy Broccoli Pasta. This dish masterfully combines tender linguine, vibrant broccoli florets, and a luxurious, smooth ricotta sauce that echoes the creaminess found in our Miso Cream Sauce.
While it shares the bright essence of lemon with the Roasted Broccolini & Pasta with Goat Cheese, it offers a unique twist with its delightful breadcrumb topping. Pine nuts and Parmesan add a pleasant nuttiness, making this pasta a versatile and crowd-pleasing addition to our broccolini pasta collection. Enjoy this comforting, easy-to-make dish that beautifully links the flavors of our pasta journey!
Savor the unique flavors of Green Olive Linguine with Broccolini & Breadcrumbs, a delightful addition to our broccolini pasta collection. This recipe stands out with the tangy green castelvetrano olives, chives, and lemon zest, while the breadcrumbs add a pleasing crunch.
With charred broccolini and Parmesan cheese, this pasta harmoniously blends different elements for a satisfying meal. Enjoy this linguine as another enticing way to explore broccolini pasta dishes.
Experience a delightful fusion of seafood and broccolini pasta with this Shrimp Scampi with Linguini and Broccoli Rabe recipe. Succulent shrimp and tender broccoli rabe come together with a garlicky butter sauce, while white wine and lemon juice add a touch of tanginess. The pasta and parmesan cheese round out the dish, making it a wonderful option for seafood lovers looking for a satisfying meal.
Prepare to twirl your fork in joy as you dig into this Sun Dried Tomato Pasta, a dish that combines angel hair pasta with lemon zest and sun-dried tomatoes. This dish will whisk you away to an Italian summer night, as the fragrant garlic and red pepper flakes mingle with broccoli florets, all soaked in a tantalizing vegetable broth and white wine sauce.
Don't forget the crowning glory – a sprinkle of fresh lemon zest to brighten the flavors! Perfect for when you're craving some sunshine on your plate.
With this delicious Penne with Gorgonzola and Prosciutto, we're venturing into the realm of gluten-free pasta pleasures and continuing our pasta adventure. Satisfy your cravings while treating yourself to a healthier alternative. Relish the blend of tender broccolini, rich Gorgonzola, and savory prosciutto tied together with a touch of nutmeg and cayenne pepper.
Toasted walnuts add a delightful crunch, making this dish a symphony of textures and flavors. This gluten-free penne will definitely make you feel like you're dining in a cozy Italian bistro, all while keeping your diet in check!
With this scrumptious Rigatoni with Broccolini and Sausage dish, you may embark on a gastronomic adventure to the very center of Italy. Experience the harmonious dance of flavors as the succulent Italian sausage, vibrant broccolini, and aromatic garlic come together in every bite.
The gentle heat of chili flakes perfectly complements the luscious whipped ricotta and Parmesan cheese sauce, creating a dreamy, creamy finish. As a delightful contrast, the toasted panko breadcrumbs add a subtle crunch. This delectable pasta dish is sure to transport you to the rolling hills of Tuscany as you savor each forkful.
Get ready to cozy up with this soul-warming Chicken and Broccoli Alfredo that brings comfort food to a whole new level! The tender rotini pasta and nourishing broccoli florets unite with succulent chicken in a heavenly, velvety sauce.
The rich blend of chicken broth, milk, and heavy cream is elevated by the hint of garlic powder and freshly grated Parmesan, making every bite simply irresistible. Finished with a sprinkle of fresh parsley, this dish is the ultimate crowd-pleaser. Trust us, you won't be able to resist seconds of this creamy, dreamy Alfredo.
Take a guilt-free trip to Italy with this lighter take on a classic - Skinnyish Broccoli Carbonara. Savor the wholesome goodness of whole-wheat spaghetti and nutrient-packed broccoli florets, combined with the irresistible crunch of crispy pancetta.
The aromatic garlic and a luscious, velvety sauce made from Parmesan, eggs, and pasta water create an indulgent yet lighter experience. Feel free to savor each delightful bite without a worry, as you enjoy this reimagined Italian classic that brings together the best of both worlds - delicious and nutritious!
Welcome to the vibrant, fresh world of Linguine with Broccoli and Red Peppers, where simplicity and flavor go hand in hand. This wholesome dish brings together perfectly al dente linguine, tender steamed broccoli, and succulent red bell pepper slices, all harmoniously sautéed in a fragrant garlic-infused olive oil and butter sauce.
A touch of garlic salt and a generous sprinkle of Parmesan cheese tie everything together, creating a delightful medley of flavors. This colorful and nutritious pasta dish is the perfect way to celebrate the beauty of fresh ingredients in true Italian fashion.
This recipe for Lemony Broccolini Pasta is simple to prepare and great for a quick evening meal. Pasta shapes such as rotini or fusilli are mixed with sautéed vegetables such as zucchini, onion, and broccoli florets, then tossed in a sauce made from capers, sundried tomatoes, garlic, red chili flakes, and lemon juice.
To top it off, sprinkle in salt and pepper and some Tuscan or Italian spice. With a pinch of freshly grated lemon zest on top, this meal becomes a crowd-pleaser fit for any celebration.