Broccoli, a cruciferous vegetable rich in vitamins and minerals, is transformed into a delectable salad by the addition of crisp bacon. The following collection of 15 dishes is guaranteed to delight any broccoli and bacon fan. From the traditional to creative takes with fruity vinaigrettes and everything bagel spice, these salads are excellent for every meal of the day.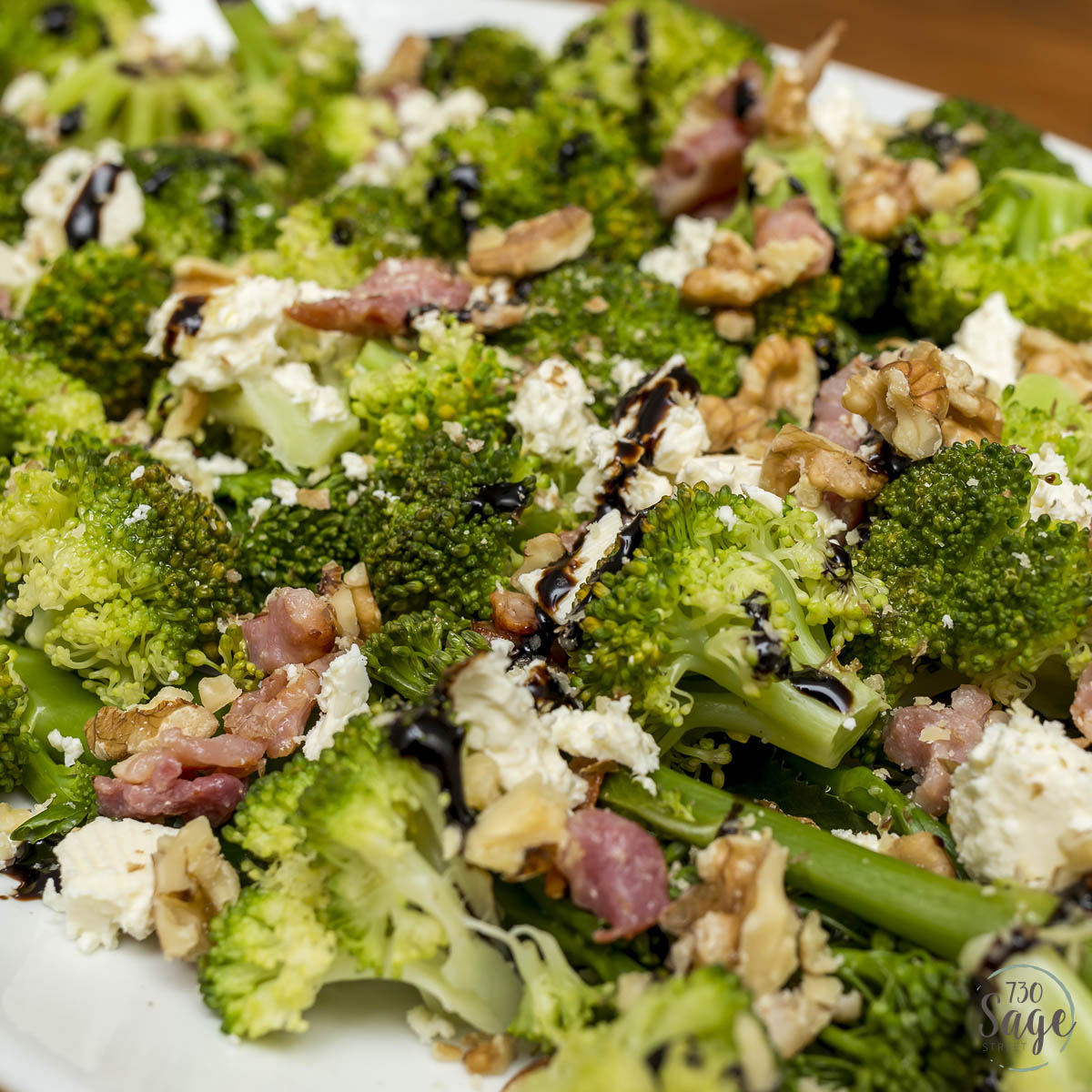 These 15 Broccoli Salad Recipes With Bacon will show you how to take healthy eating to the next level. From savory to sweet, these salads are sure to be crowd-pleasers:
Prepare to satisfy your cravings with this tried-and-true bacon broccoli salad dish. This salad combines chopped broccoli, sliced red onion, diced raisins, and crumbled bacon with the crunch of sunflower seeds and the salty tang of bacon. Mayonnaise, sugar, and vinegar make a delicious dressing that brings the whole dish together.
This salad is ideal for any get-together or potluck; just let the flavors blend by chilling it in the fridge overnight, then serve it cool and watch it go in no time!
If you're looking for a meal to amaze your friends and family, go no further than Liz's roasted broccoli salad. The feta cheese and the lemon zest complement the savory roasted broccoli with bacon and shallots.
The handmade sourdough croutons are essential for a satisfying crunch. Garnish with freshly grated garlic, salt, pepper, and olive oil, then toss everything together. Serve this salad warm, cold, or at room temperature and it will still be delicious.
This recipe for broccoli slaw is not your typical side dish. For a light and crunchy foundation, we combine sliced brussels sprouts and broccoli slaw with diced Honeycrisp apples, chopped walnuts, and red onion. The dressing is what really sets this salad apart; it's a velvety mixture of red wine vinegar, Dijon mustard, sugar, and prepared horseradish.
Don't leave out the smokey and flavorful addition of coarsely chopped bacon in this delicious slaw. Mix all the ingredients together and refrigerate for at least an hour for the best possible blend of textures and flavors; you'll want more, we promise!
Get ready for a flavor-packed broccoli bacon ranch pasta salad that's perfect for any gathering! Broccoli florets that have been blanched and diced are tossed with cooked pasta shells, bacon bits, cherry tomatoes, sharp cheddar cheese shreds, sugar snap peas, and sweet cooked bacon.
A ranch dressing composed of mayonnaise, milk, and dry Ranch mix brings the whole dish together. The quantity of dressing should be adjusted to suit individual tastes. This simple and delicious salad will quickly become a household favorite when served chilled to friends and family.
This bacon blue cheese broccoli salad is a must-make for any flavor-seeker. The salad's base is a combination of blue cheese crumbles and chopped broccoli. The red onion is sliced for color and flavor. Everything comes together in a creamy and subtly sweet dressing prepared from mayonnaise, apple cider vinegar, and sugar.
Yet the crunchy texture and savory flavor come from the crispy bacon crumbles and nutty sunflower seeds. This salad may serve as a side or a light meal, but you'll want to enjoy every mouthful.
Prepare yourself for a tropical spin on the traditional broccoli salad with the addition of pineapple and bacon. Tossed with pieces of cheddar cheese and bits of crispy bacon, this salad consists of chopped broccoli, red onion, juicy fresh pineapple, and sweet red grapes.
Toasted nuts give a nutty taste and crunch, while a dressing prepared with mayonnaise, white wine vinegar, and honey mustard brings everything together. The dressing gets an additional dose of decadence with the addition of rendered bacon fat (optional). If you're looking for a refreshing and filling summer salad, look no further.
This healthy broccoli salad has a great mix of flavors and textures. The blanched broccoli gives it a nice crunch, and the toasted sunflower seeds and raisins give it a nutty and sweet taste. The bacon and red onion dices give it a flavorful and somewhat spicy flavor.
The dressing is acidic and somewhat sweet, prepared with avocado oil mayo, maple syrup (or apple juice), and vinegar. This meal is excellent and healthful whether served cold or at room temperature.
The Broccoli and Quinoa Salad strike a wonderful chord between protein and vegetables, and the added sweetness is a welcome bonus. First, prepare the quinoa by cooking and cooling it. Meanwhile, get the bacon nice and crispy so you can crumble it. After the quinoa has cooled, mix it with broccoli, apple, onion, celery, and crumbled bacon.
Mayonnaise, balsamic vinaigrette, and honey make a delicious dressing that you can use to finish off the salad. Refreshing, nutritious, and satiating, this dish is best enjoyed when served cold for lunch or supper.
This Broccoli Salad with Bacon has the ideal balance of crispiness and smoothness in every bite. This salad's ideal texture is a result of the combination of broccoli, shredded carrot, and finely sliced red onion. The delicious flavor is enhanced by the addition of shredded cheddar cheese and genuine bacon chunks.
The mayonnaise, red wine vinegar, and sugar dressing go well with the salad. For optimal taste, chill the salad in the fridge for at least two hours before serving. This salad is great as a side dish or main course throughout the warmer months.
Prepare yourself for a flavor explosion with this Bacon Ranch Broccoli Salad! It's like a party in your mouth with the perfect combination of crispy bacon, fresh broccoli and cauliflower, sweet frozen peas, and creamy Colby jack cheese.
Topped with a tangy and savory dressing made with sour cream, mayo, and dry ranch mix, this salad is sure to please. Perfect for a summer BBQ or a weekday lunch, this salad is a crowd-pleaser that you'll come back to again and again.
Be ready for a sensory overload with this Curry Broccoli Salad, which has a mix of textures and flavors thanks to the inclusion of bacon, fresh broccoli florets, sweet dried cherries, and crunchy sunflower seeds.
The mayonnaise, cider vinegar, and sugar in the creamy curry dressing create the perfect balance of savory and sweet. This salad is perfect as an accompaniment to a meal or as a light lunch on its own.
This healthful and delicious salad of shaved broccoli, apples, and bacon in a tarragon dressing is sure to please. Crisp applewood-smoked bacon is sprinkled over a salad of thinly sliced broccoli and apple wedges drizzled with a tart and creamy tarragon dressing.
This salad is a great way to increase your intake of healthy greens and fruits, and it goes well with any meal. Chilling it in the fridge for three hours will allow the flavors to blend, making it taste even better.
Broccoli salad with bacon is the answer to your search for a healthy and satisfying meal. A tangy and sweet vinaigrette prepared from mayonnaise, sugar, and vinegar is mixed with crunchy chopped broccoli, crispy bacon, sweet raisins, and salty sunflower seeds.
This salad, with its harmonious blend of tastes and textures, is guaranteed to be a hit at any social event. Serve as a filling side dish or top with your favorite protein to make it a dinner.
As the name suggests, this broccoli salad is jazzed up with everything bagel spice to give it a unique and delicious flavor. The crispy bacon and tangy goat cheese balance perfectly with the crunch of broccoli and sunflower seeds. The dressing, made with Greek yogurt and apple cider vinegar, is creamy with a slight kick of seasoning.
It's a refreshing and healthy salad that's perfect for a summer day or as a side dish to any meal. So, whether you're a fan of everything bagel or not, you'll definitely enjoy this salad.
This salad is a burst of sweet and savory flavors, perfect for a light lunch or a side dish for dinner. The crunchy broccoli florets are paired with a mix of dried berries, roasted sunflower kernels, sliced almonds, and crumbled bacon for a satisfying crunch. The red onions add a bit of sharpness, while the fresh raspberries in the vinaigrette provide a burst of sweetness.
The tangy raspberry vinaigrette, made with fresh lemon juice, white wine vinegar, and olive oil, ties all the flavors together. For a creamier dressing, you can whisk in a bit of non-fat yogurt. This salad can be made ahead of time and chilled in the fridge for even more flavor.
Can I Use Turkey Bacon Instead For These Salads?
Yes, you can use turkey bacon as a healthier alternative to traditional bacon. It is a leaner meat and has fewer calories and less fat. Turkey bacon can be cooked and crumbled just like regular bacon and will still add the same savory flavor to the broccoli salad.
Can I Use Frozen Broccoli Too?
Yes, you can use frozen broccoli in these salads. Frozen broccoli is a great option for convenience and is just as healthy as fresh broccoli. To use frozen broccoli in a broccoli salad recipe, simply thaw it out in the refrigerator and chop it into bite-sized pieces. It may be slightly softer than fresh broccoli, but it will still taste delicious in the salad.