Start your day happy with these easy breakfast recipes with few ingredients! The most important meal of the day does not have to be stressful or time-consuming, and these recipes prove that right!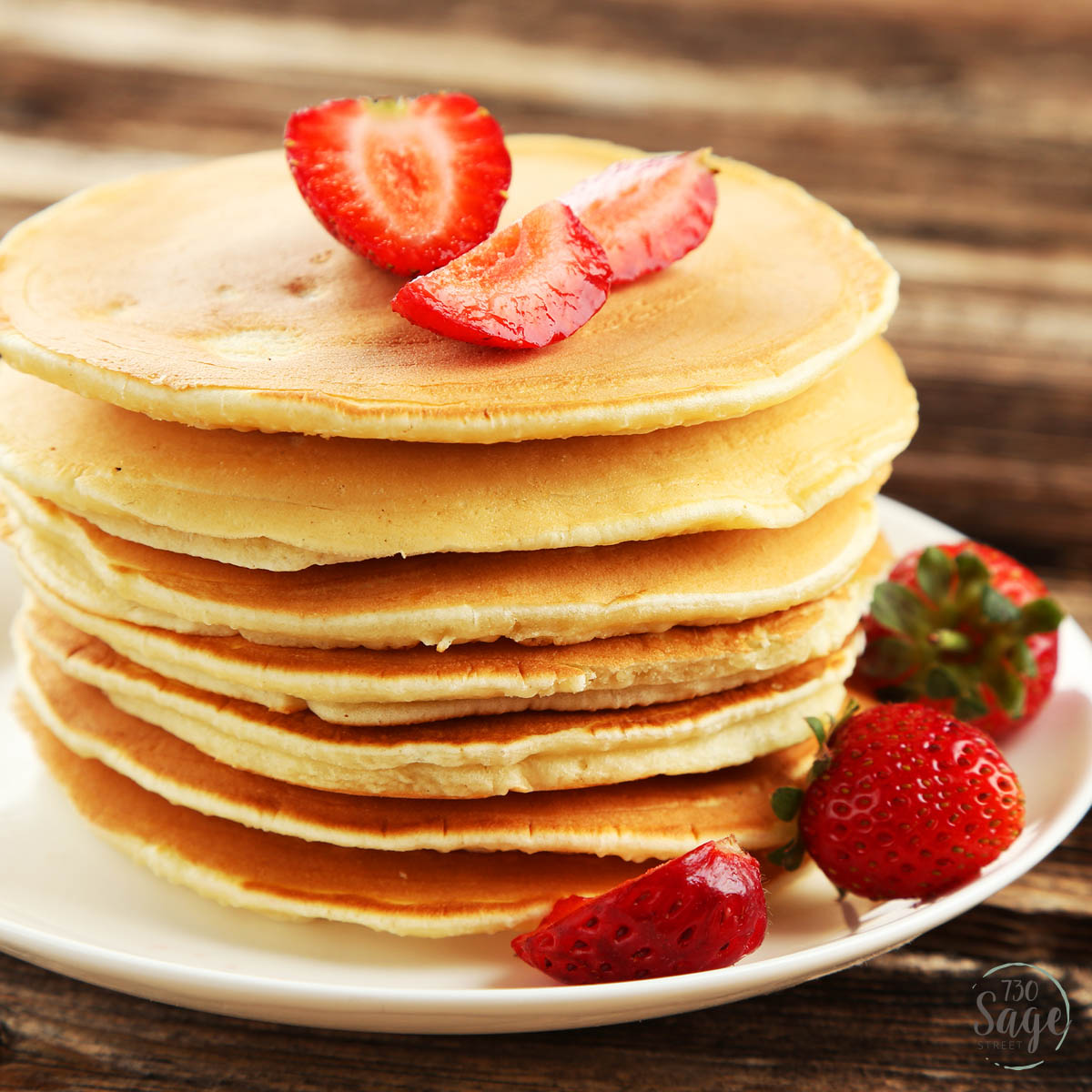 You can make the most delicious breakfast with as few as three ingredients to kickstart your day.
From super simple scrambled eggs to fluffy pancakes, you're going to have a surplus of breakfast ideas to last all seasons.
We start our easy breakfast ideas with the flavorful breakfast casserole with ham. You can never go wrong with this classic morning treat with a cook time of 35 minutes!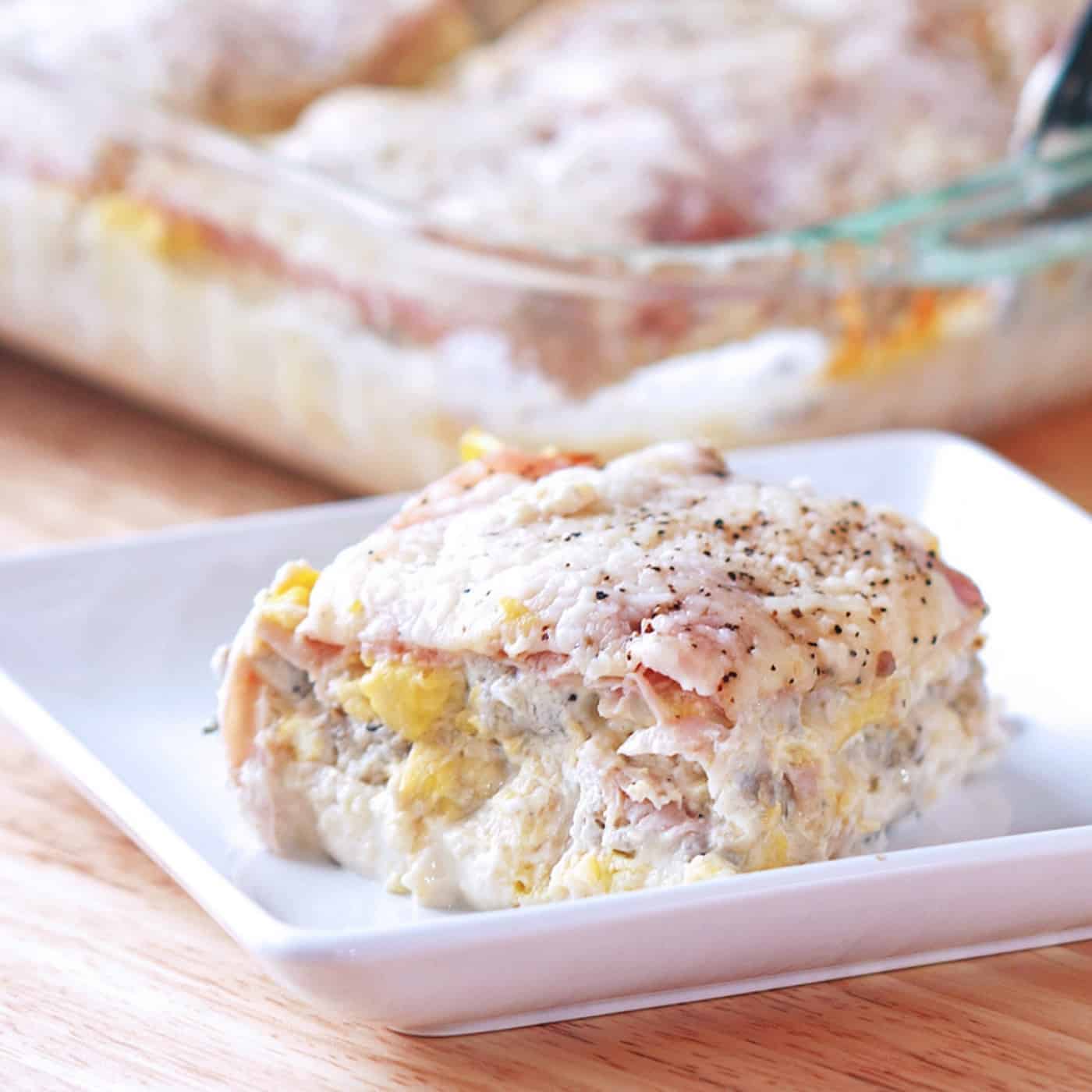 This low-carb recipe combines cream cheese, sausages, eggs, cheese, ham, and seasoning to give you the perfect meal.
You can customize the dish as much as you want to incorporate other ingredients of your choice.
Bake the casserole for 30 - 40 minutes till golden brown, and add your preferred toppings to enjoy.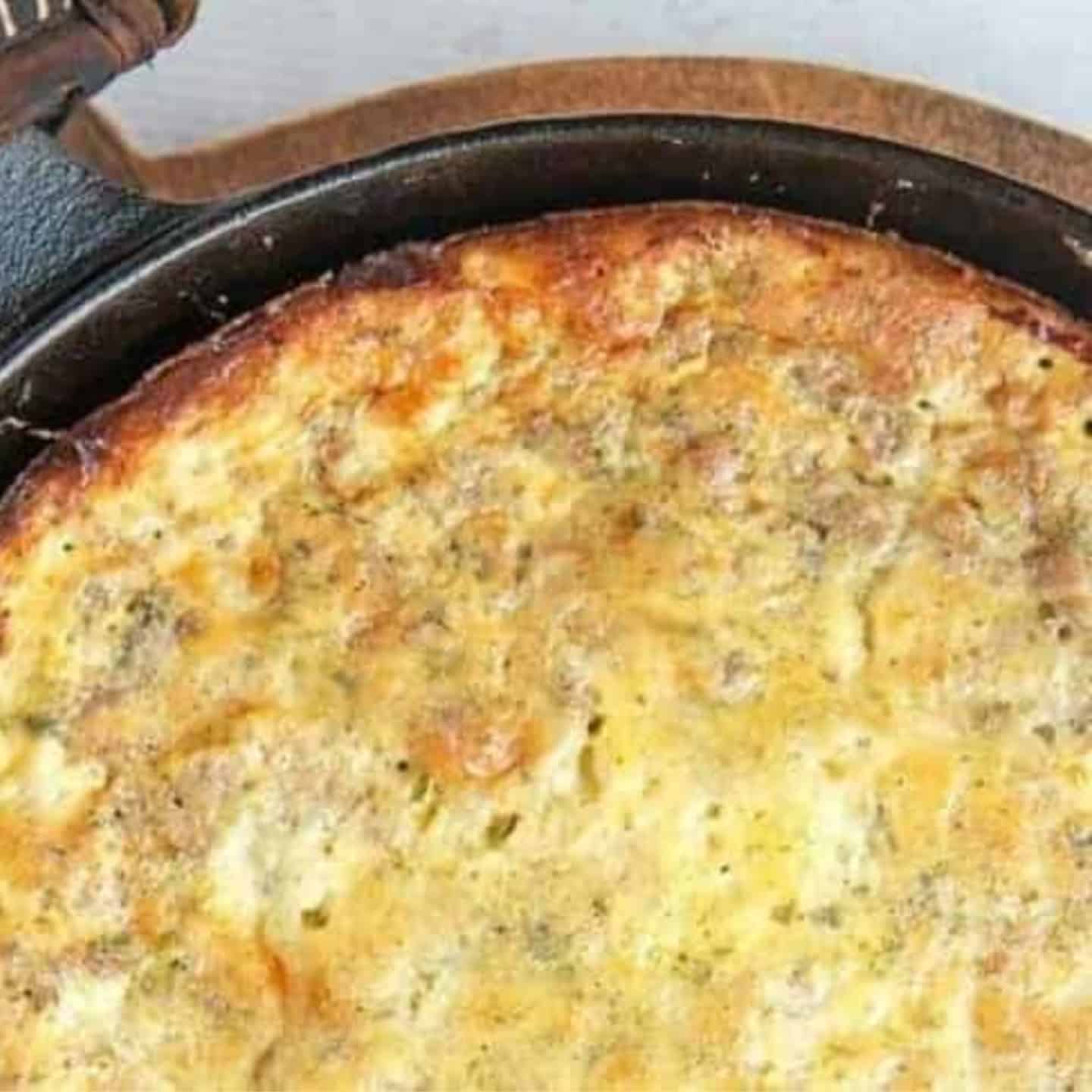 2. Breakfast Quiche
You'll enjoy this low-carb meal for its versatility to accommodate absolutely whatever you want.
This recipe uses sour cream, ranch seasoning, eggs, cheddar cheese, and Italian sausage to give you a hearty breakfast.
It takes about an hour to cook, but the time is absolutely worth the flavors it brings to your palate.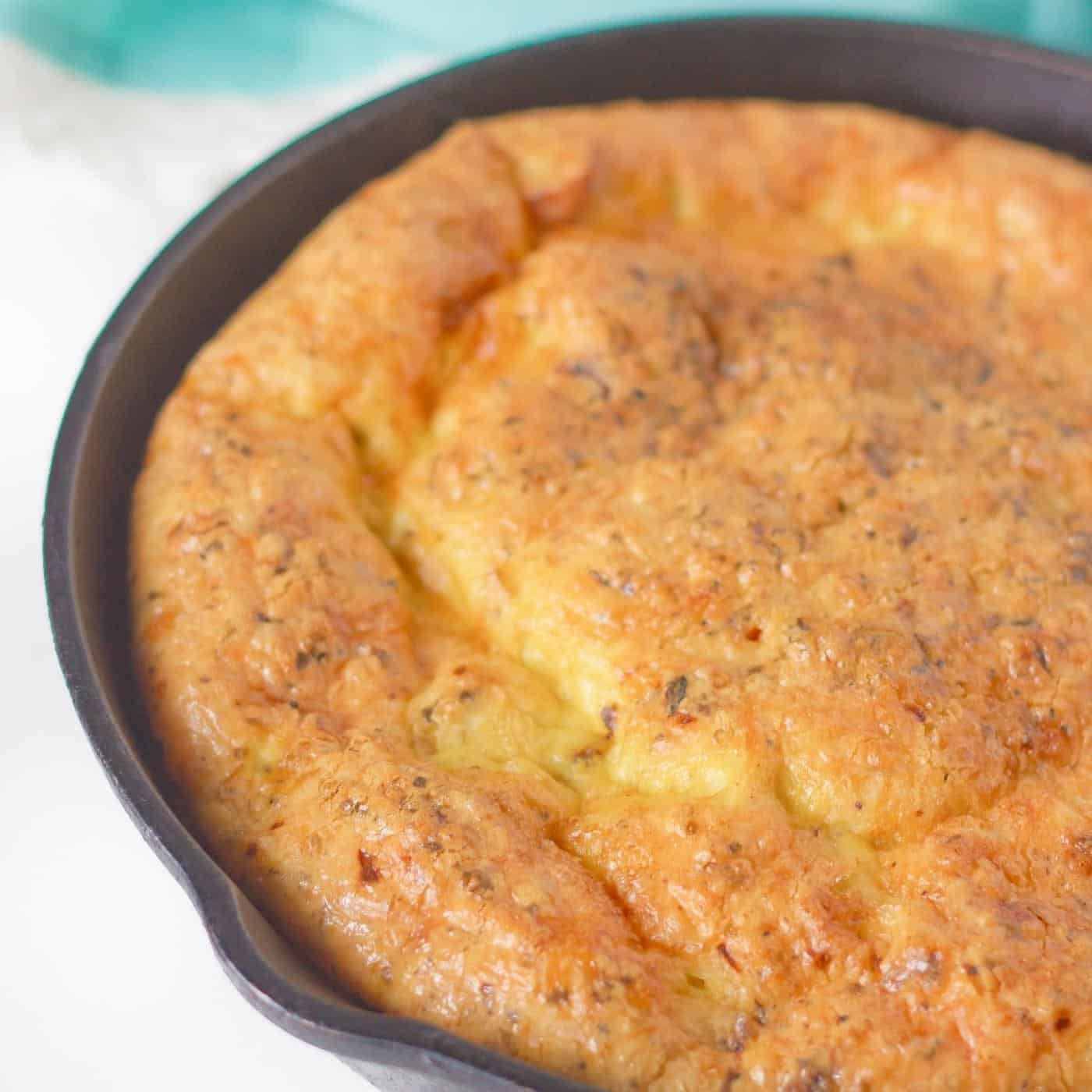 If the above breakfast Quiche sounds enticing, then you will love this crustless version even more.
Its ingredients include chicken breast, eggs, mozzarella cheese, garlic powder, onion powder, red pepper flakes, oregano, and black pepper.
Add salt to taste and bake till it's firm and golden brown before serving.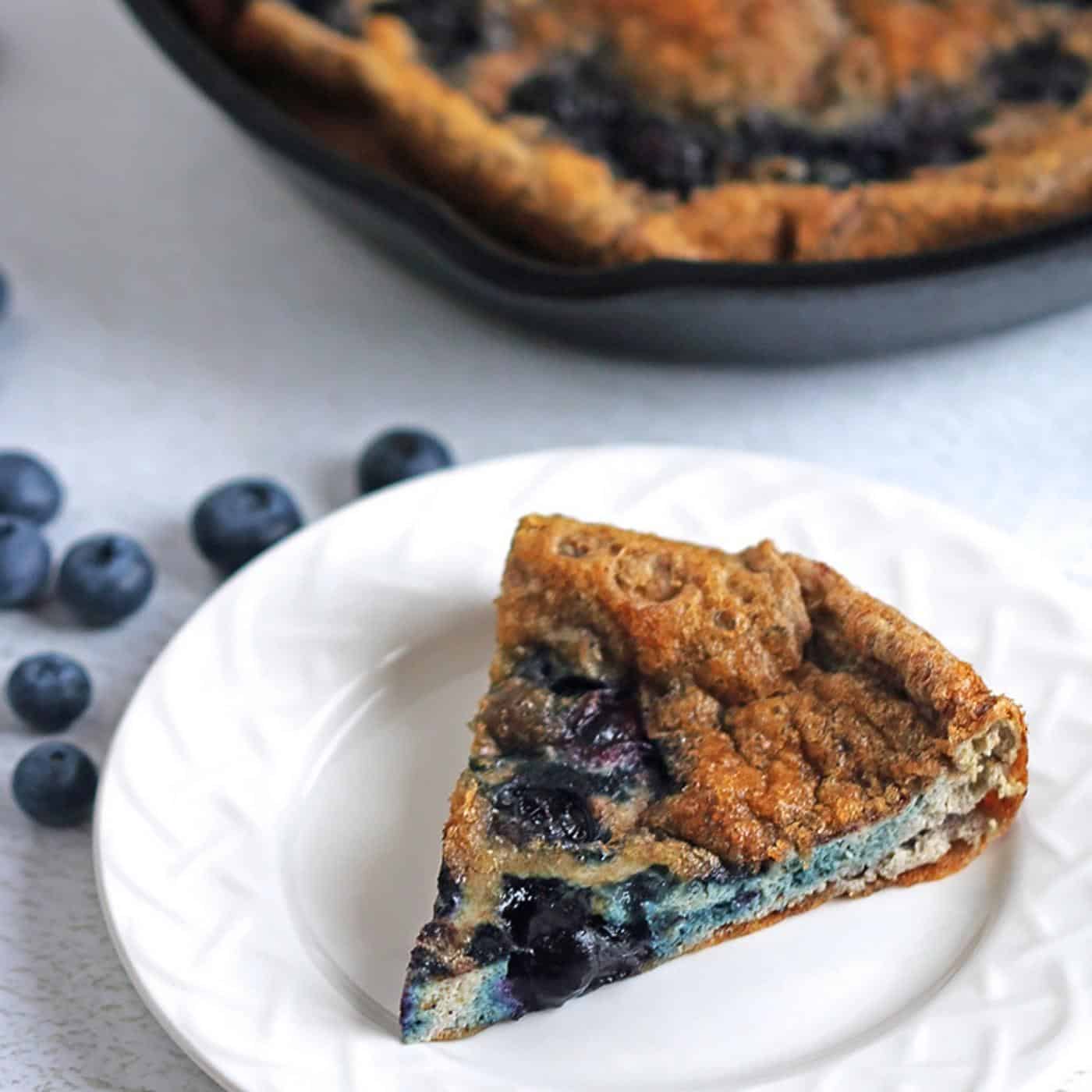 Start your day right and refreshed with this sic-ingredient breakfast recipe.
It's a delicious meal of fresh blueberries, cinnamon, vanilla, softened butter, coconut oil, and eggs.
Bake till the top is lightly brown, and top with more blueberries to enjoy.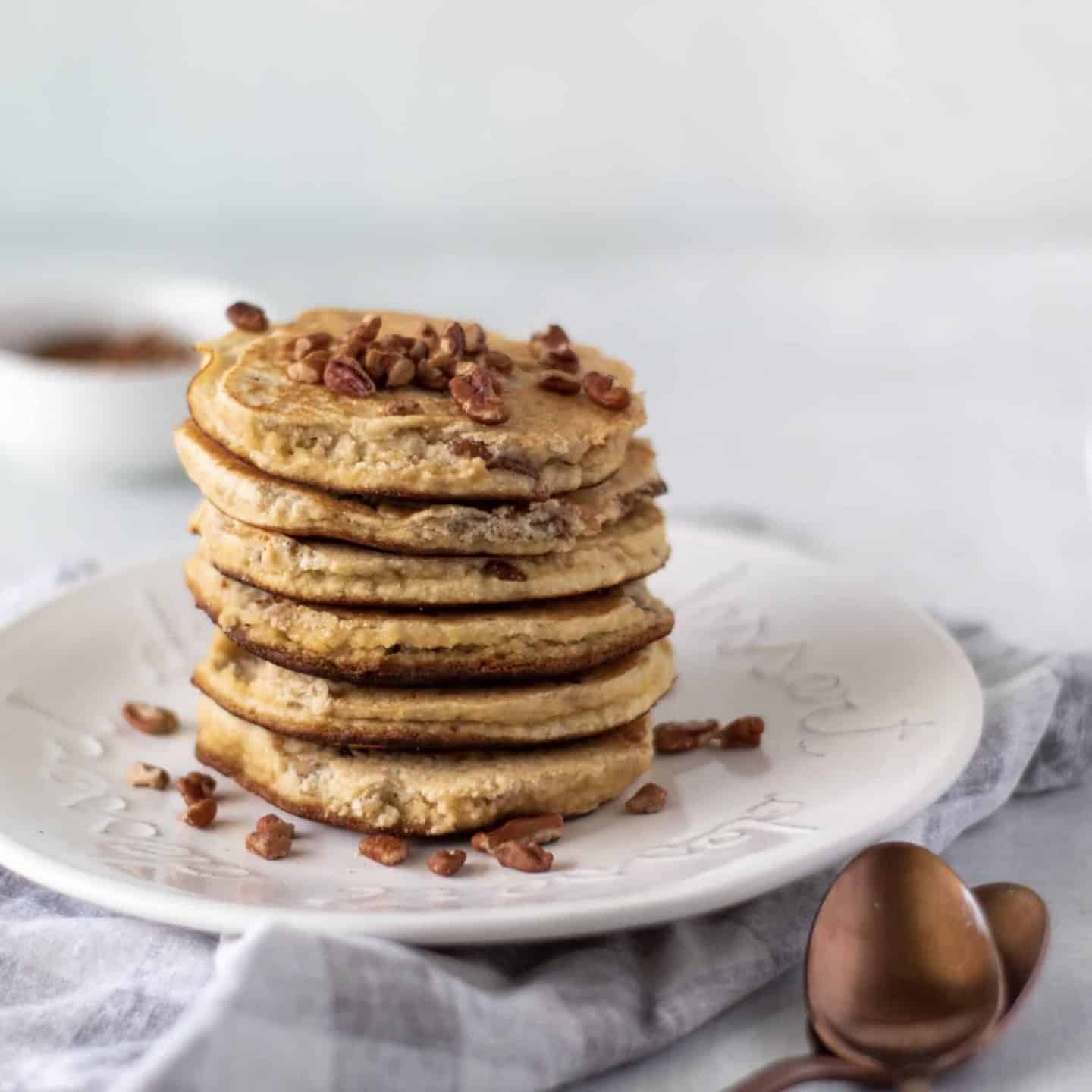 5. Keto Pancakes
These fluffy and delicious pancakes are made with almond flour and can be eaten with a variety of your favorite toppings.
The fluffy pancakes are made with almond flour, almond milk, pecans, baking powder, ricotta cheese, eggs, and vanilla extract.
Cook with butter and top with whatever appeals the best to your taste buds.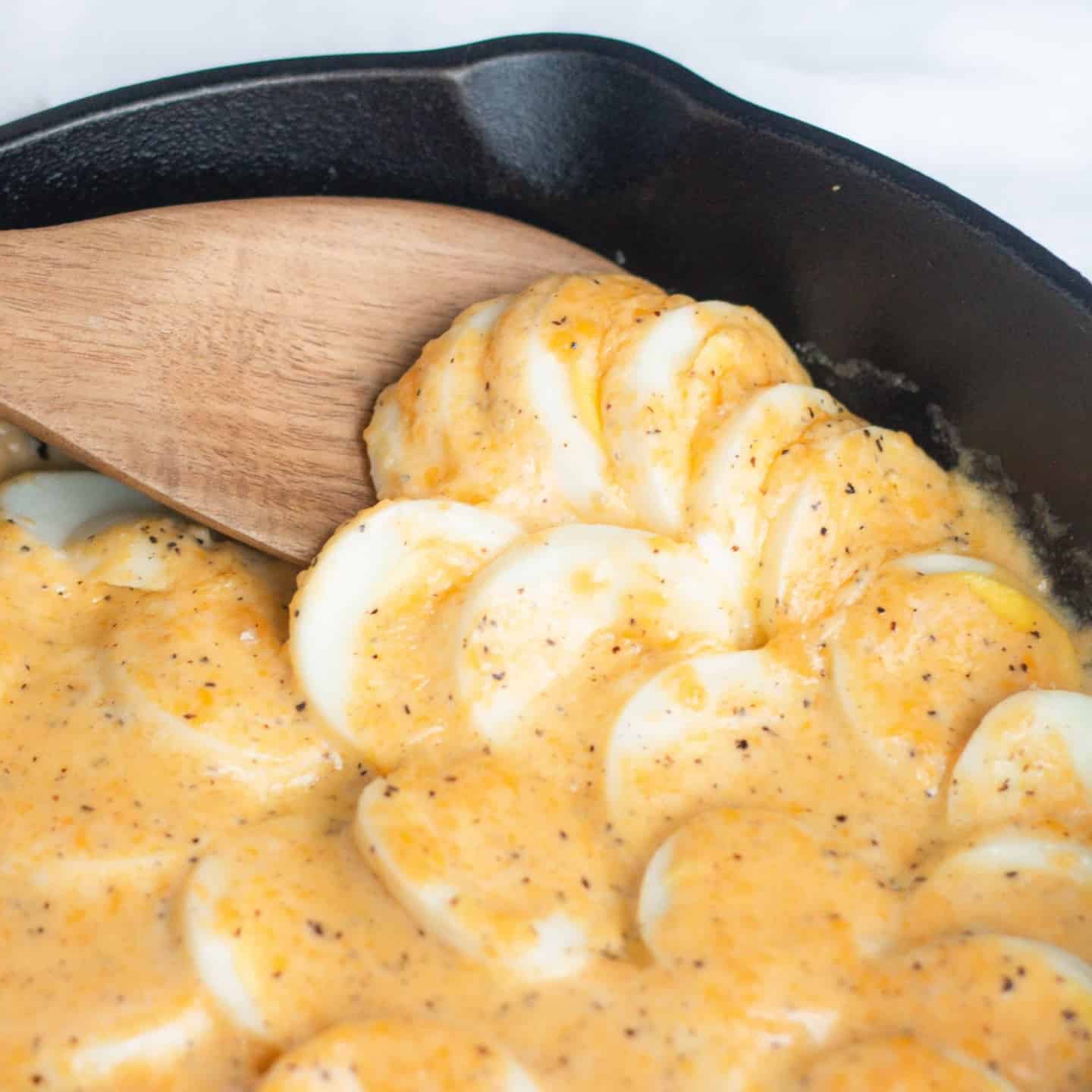 When it comes to easy recipes for breakfast, this delicious meal is the go-to option for busy mornings.
It doesn't use potatoes but hard-boiled eggs and a creamy cheese sauce.
Cook your seasoned eggs in the creamy sauce for only 15 minutes, and serve to eat.
7. Turkey and Cheese Frittata
This is the perfect customizable dish you can have for breakfast in under 30 minutes!
It's a simple dish of turkey baked in whisked eggs and seasonings. Sprinkle parmesan and cheddar cheese on the simple dish and bake till it's brown.
Serve hot, and enjoy.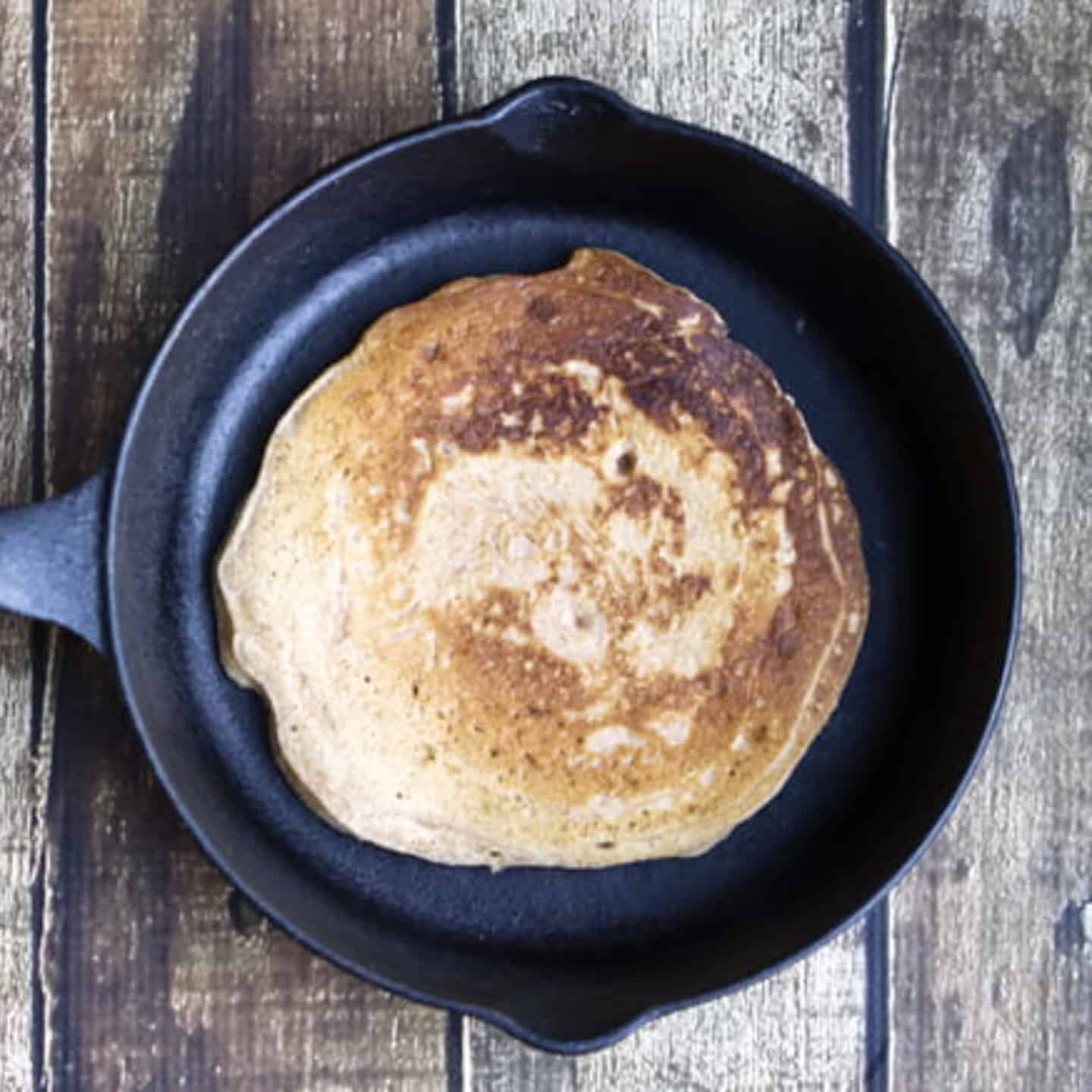 8. Grain-Free Maple Cinnamon Pancakes
Get your cast iron skillet to make the most fluffy and flavorful pancakes in twenty minutes.
The delicious meal takes only a handful of ingredients, including arrowroot, coconut flour, whole milk, almond flour, maple syrup, vanilla extract, and eggs.
Drizzle the pancakes with more maple syrup to enjoy!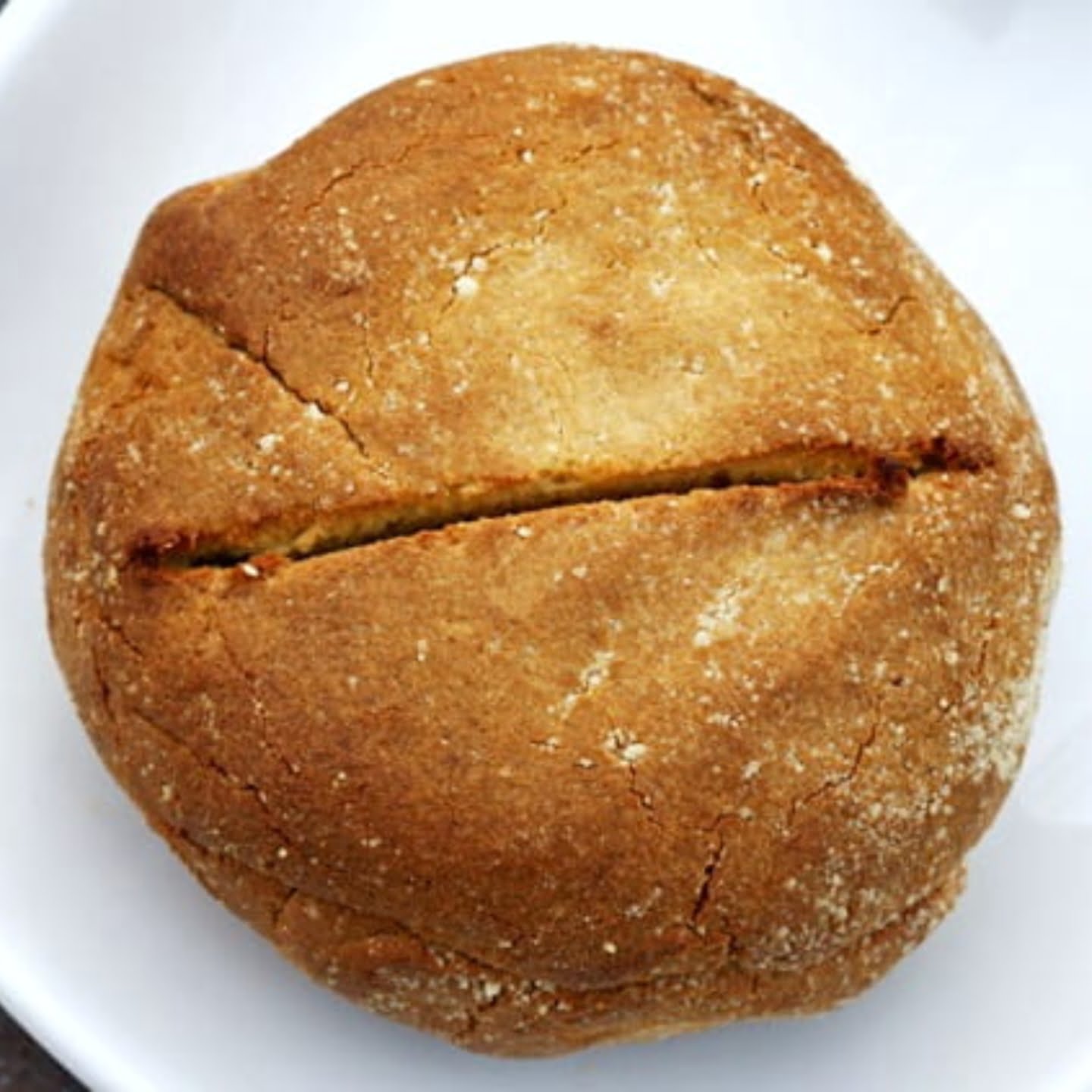 9. Rustic Grain-Free Paleo Bread
This rustic bread is your top choice if you want a flavorful and healthy breakfast. I
It's one of the 5-ingredient breakfast recipes that call for melted butter, raw honey, coconut flour, eggs, and almond flour.
Your bread should be ready to serve and eat within 30 minutes of baking.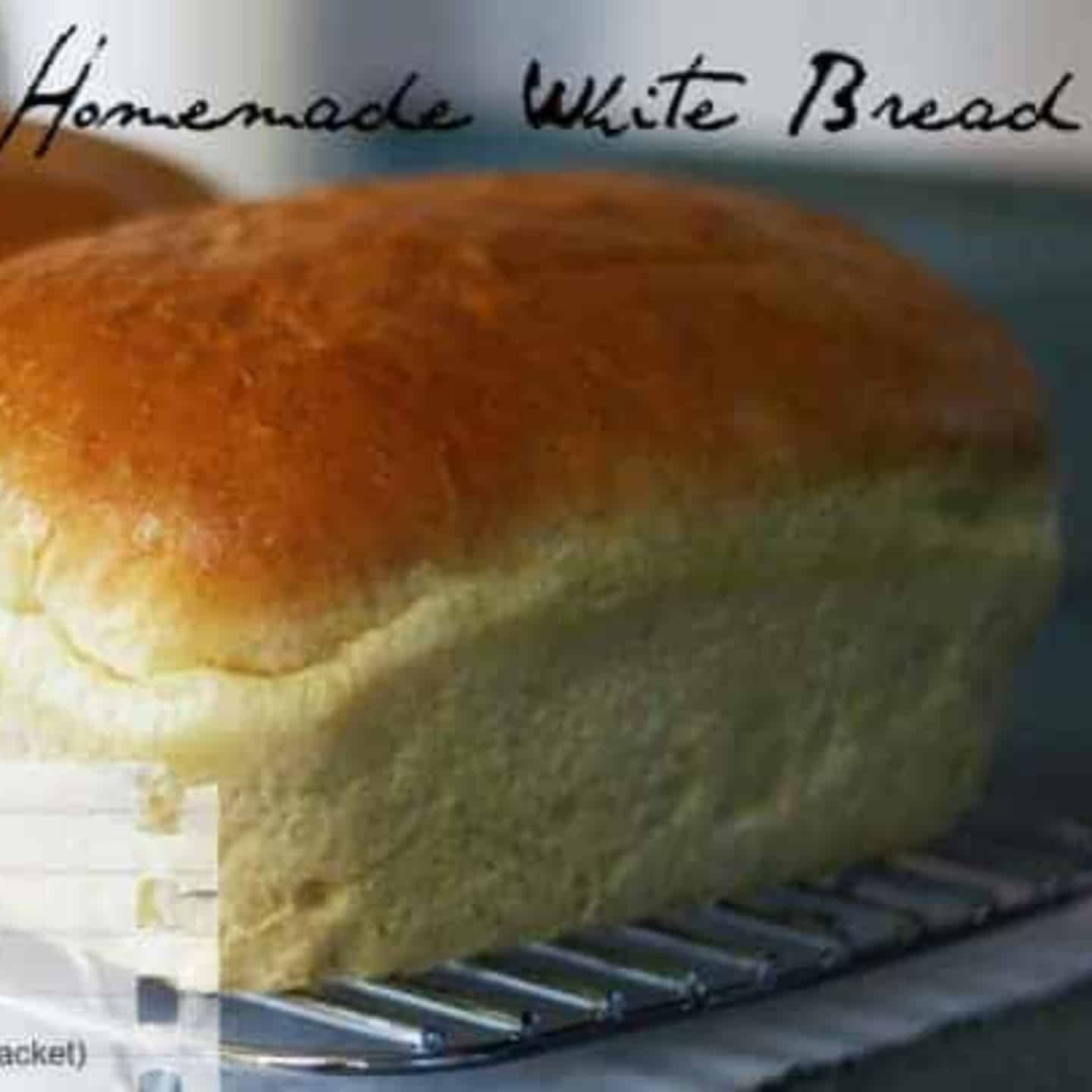 Bread remains one of the best breakfast staples to start your day with.
This recipe gives you soft, fluffy, and moist white bread to enjoy alone or pair with your favorite spread.
It requires only six ingredients and bakes to perfection within 20 - 30 minutes.
This super healthy breakfast meal keeps you energized, refreshed, and fulfilled throughout the day.
It takes only ten minutes to make, requiring rolled oats, ripe bananas, chia seeds, sea salt, milk, and peanut butter.
Top the delicious peanut butter oatmeal with some more sliced bananas to enjoy.
No other breakfast dish is as elegant, delicious, and easy to make as French toast. Within 15 minutes, you can turn a few pantry ingredients into this delicious meal.
These ingredients include eggs, whole milk, cinnamon, Brioche bread, unsalted butter, and ground cinnamon.
Top the French toast with maple syrup, berries, and powdered sugar to serve.
Hot, fluffy, and delicious, this scrambled egg recipe will be your new favorite light breakfast option.
These scrambled eggs can be made in ten minutes with large eggs, whole milk, butter, salt, and pepper to taste.
Serve with sauteed mushrooms, avocado slices, tomato, fresh herbs, or your favorite veggies to enjoy.
Perfect on avocado slices, toast, or on a salad, poached eggs are the ultimate definition of a light breakfast.
It's a two-ingredient dish, requiring eggs and vinegar to add to your water for boiling.
This dish takes a total cook time of ten minutes to prepare and pair with a staple.
These three-ingredient pancakes are grain and dairy-free, serving as the perfect cozy breakfast on a cold morning.
The three ingredients required include coconut flour, ripe bananas, and large eggs.
Use coconut oil for frying, and top the pancakes with a syrup of your choice.
A super quick and delectable breakfast opinion is this delicious egg McMuffin. It requires only five ingredients and 15 minutes to prepare.
These ingredients include English Muffins, softened butter, Canadian bacon, cheddar cheese, and eggs.
Serve warm with your favorite toppings, and enjoy.
The texture and flavor of these sweet potato hash browns are why they're the perfect option for a simple breakfast.
Grab your breakfast skillet to pan-fry a mix of shredded potatoes, eggs, salt, and pepper.
Serve with bacon and runny eggs to enjoy!
This hot cereal mix combines a host of delicious ingredients to make you the perfect meal to begin your day.
These ingredients include rolled oats, brown rice, quinoa, flaxseeds, wheat germ, coconut flakes, and sliced almonds.
It takes only ten minutes to prepare, and you can add a sprinkle of salt and pepper to taste.
If you want to start your day with something sweet, get your waffle iron out to make these amazing waffles.
They're an absolute delight, requiring just four ingredients, including yellow cake mix, eggs, vegetable oil, and water.
Cook according to the waffle iron instructions and serve warm with butter. The sweetness of these waffles will make you crave more of our easy sweet snacks with few ingredients!
Crepes serve amazingly as breakfast and light lunch, giving you sweet or savory flavors, depending on what you serve them with.
They're made with whole milk, kosher salt, all-purpose flour, and unsalted butter.
Serve with whipped cream or powdered sugar if you want a sweet flavor or with ham and cheese for savory.
If you love avocado fruit, you can turn it into a delicious and healthy breakfast for your family.
The dish takes only 20 minutes to make, and if you love runny eggs, you're in for a treat.
You'll need an avocado, egg whites, yolk, salt, and olive oil. Garnish the dish with chopped mint to enjoy.
This version of the fried egg will always be a favorite breakfast option for many families. It's a super simple dish to make that goes with a variety of sides to give your day the perfect start.
This recipe calls for eggs, extra virgin olive oil, sea salt, and freshly ground black pepper.
Serve hot with avocado toast, bacon, or baguette slices to enjoy.
Of course, our easy breakfast ideas will not be complete with an energizing smoothie to set the day's mood. This smoothie is creamy, smooth, and guaranteed to leave you satisfied for the most part of the day.
To make this smoothie, you need bananas, frozen cauliflower, chia seeds, coconut milk, and chopped mangoes.
Add sweeteners as you wish, serve immediately, or chill for 24 hours.
Satisfy your sweet craving with this protein-packed smoothie!
The smoothie recipe calls for Greek yogurt or cottage cheese, frozen banana, peanut butter, almond milk, honey or maple syrup, and mini chocolate chips.
Top with more banana slices, peanut butter, or whipped cream to serve.
This chunky Monkey toast ranks high on our list of breakfast ideas, as it's loved by both kids and adults.
It's a super simple breakfast meal you can assemble in just five minutes, with ingredients including toasted bread, Nutella, chopped banana, and chopped walnuts.
Spread the bread with Nutella, add the other ingredients, and sprinkle cinnamon to enjoy.
Take this smoothie post-workout and feel refreshed for the rest of the day!
The 5-minute smoothie is made with raspberries, pitted peaches, Greek yogurt, and almond milk.
Add honey or agave as a sweetener and a few ice cubes to enjoy it cold.
As the name of the dish suggests, you'll have a load of fruits for breakfast! It's a refreshing dish that can serve as breakfast, dessert, and even lunch.
Get pineapples, fresh ginger, Greek yogurt, mango, kiwi, granola, sugar, and water to get this ready in less than 15 minutes. Top with more fruits to enjoy.
If you want more recipes to enjoy as desserts, see our easy desserts with few ingredients.
This vegan-friendly pudding has all the nutrients and flavors to help you start your day in the best way possible.
The ingredients in the pudding include cashews, maple syrup, honey, cocoa, cocoa nibs, chia seeds, sea salt, and vanilla extract.
Top with your favorite fruits to enjoy.
With just five ingredients, you can enjoy the best savory flavors possible from a simple breakfast dish. You can prepare it in 30 minutes, and it incorporates leftover ham to make the easiest dish possible.
Other ingredients in this dish include scrambled eggs, chopped broccoli, cheddar cheese, diced ham, and salt & pepper to taste.
Garnish with your favorite toppings to enjoy.
The refreshing ingredients in this smooth bowl have amazing tastes that make it perfect to kickstart your mornings.
These ingredients include bananas, orange juice, kale, and shredded kale. Top with fruit slices, granola, and chia seeds to serve. Enjoy more of these with our list of easy no-bake dessert recipes with few ingredients.
Top the waffles with jam and bake for 20 minutes till it's cooked through. There's more to do with your waffle maker with these easy mini waffle maker recipes.
With only 20 minutes needed, you'll enjoy these waffles with the sweet flavors it brings to your palate. You only need the addition of peanut butter to your waffle batter to get the dish started.
Top the waffles with jam and bake for 20 minutes till it's cooked through. There's more to do with your waffle maker with these easy mini waffle maker recipes.
Have the healthiest and most refreshing smoothie with just five ingredients in this recipe. These ingredients include coconut milk, avocado, apple, baby spinach, and berries.
You can choose to add almond butter to the milk to make your smoothie creamier and tastier.
These cinnamon rolls take only three ingredients and about 20 minutes to prepare.
The ingredients required include frozen cinnamon rolls, salted butter, and vanilla pudding.
Drizzle vanilla pudding over the cinnamon rolls to serve and enjoy.
With three ingredients and nine minutes required, you can have the tastiest Quesadilla for breakfast!
The recipe calls for a whole wheat Tortilla, banana, and chocolate almond butter.
Bake the quesadilla till it's golden brown to enjoy.
These Nutella Croissants are absolutely delicious and will put you in a happy mood for the rest of the day. The best part? To prepare, you only need three ingredients, including store-bought puff pastry, Nutella, and egg.
Bake for about 20 - 25 minutes till the croissants are golden and flaky to serve.
Easy Breakfast Recipes With Few Ingredients Takeaway
With these easy breakfast ideas, you never have to worry about what to make to get your day started again! Simply go to your pantry, fetch the ingredients, and have a yummy breakfast meal on your table in less than 30 minutes. You can check out our easy recipes to make in your food processor for more super easy dishes!