Start your mornings with these 15 scrumptious breakfast casserole recipes featuring bread as a key ingredient. This versatile collection combines the goodness of fresh produce, proteins, and rich flavors, elevating breakfast to an irresistible level. Get ready to explore a world of culinary delights with easy-to-make, crowd-pleasing dishes perfect for both lazy weekends and hectic weekdays.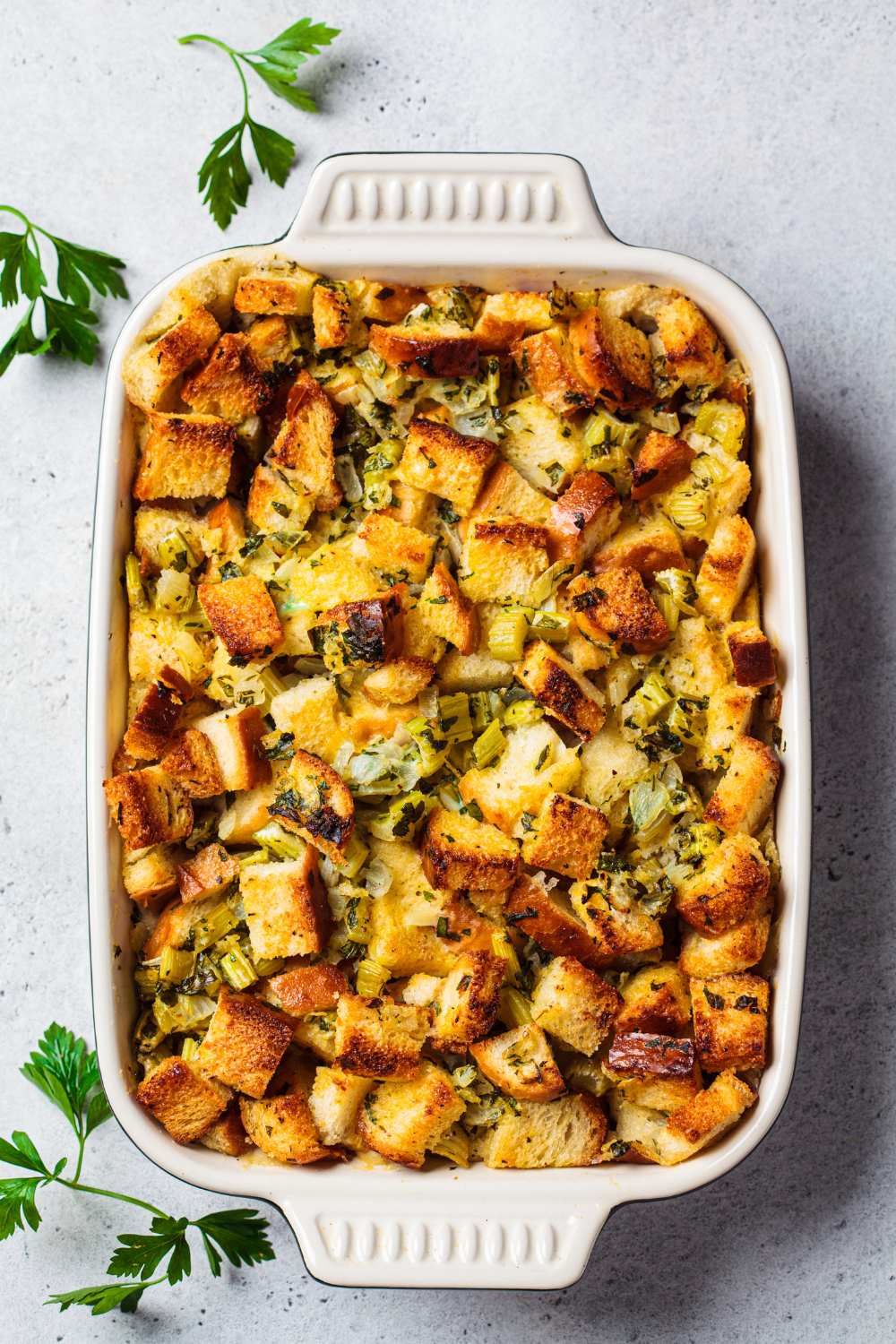 Can I use Gluten-free Bread For These Recipes?
Yes, you can definitely use gluten-free bread in these breakfast casserole recipes! Here are five varieties to try:
Schar Artisan White Bread: A light and airy bread that's perfect for soaking up custard in a sweet breakfast casserole.
Canyon Bakehouse Mountain White Bread: This bread has a great texture and flavor that's perfect for savory breakfast casseroles.
Udi's Gluten-Free Whole Grain Bread: A hearty bread that's perfect for breakfast casseroles with lots of veggies and savory flavors.
Trader Joe's Gluten-Free Whole Grain Bread: This bread has a nutty flavor and works well in sweet or savory breakfast casseroles.
Glutino Gluten-Free Multigrain Bread: This bread has a chewy texture and a nutty flavor that's perfect for breakfast casseroles with lots of texture and flavor.
15 Breakfast Casserole Recipes With Bread
Savor 15 cozy bread-based breakfast casseroles; delightful, heartwarming breakfasts await:
Start your day with a burst of flavor and a cheesy surprise with this delicious Cheesy Sausage Overnight Breakfast Casserole. The recipe is simple: combine cubes of sourdough bread with all-natural pork sausage, maple syrup, and sharp cheddar cheese.
Then, pour a mixture of eggs, half-and-half, Dijon mustard, and salt over the top, and let it chill overnight. In the morning, bake for an hour and a half, and finish with a sprinkle of scallions and fresh parsley. Each bite is a perfect balance of warm and savory, with a hint of sweetness from the maple syrup.
The Ham and Spinach Breakfast Strata is an excellent choice for a flavorful breakfast. Crusty bread, spinach, sliced ham, mozzarella, and parmesan cheese are combined with eggs, garlic, sage, salt, and pepper to create this delectable dish. Put it in the fridge the night before, then into the oven for half an hour, and it will be ready in the morning.
You'll have a morning masterpiece that's golden, bubbling, and cheesy. You may wow your visitors with this dish, or just eat it with your loved ones on a Sunday morning.
Overnight Blueberry French Toast Bake is a delightful way to start the day; it's made by soaking day-old bread in an egg, milk, cinnamon, vanilla, and maple syrup combination and then topping it with fresh blueberries. Put it in the fridge the night before, then bake it for an hour in the morning to get it nice and crispy.
Cook fresh blueberries in a mixture of sugar and cornstarch until the sauce thickens and the blueberries burst, then use this as a garnish. Enjoy the wonderful aromas of this breakfast dish by drizzling the sauce over the warm French toast bake. Ideal for sharing with friends and family or serving as a party appetizer.
Welcome, to a cozy morning with this delightful Apple-Cinnamon French Toast Casserole. Imagine waking up to the heavenly aroma of cinnamon, apples, and warm bread wafting through the house. This casserole is a perfect harmony of fluffy brioche bread soaked in a rich, spiced custard, and mingled with sweet, tender apple cubes.
The cinnamon-sugar topping adds a delightful crunch, making each bite a dreamy experience. Serve it with a dusting of powdered sugar and a drizzle of warm maple syrup to truly embrace the warmth and comfort of this heartwarming dish.
Rise and shine to the scrumptiousness of this Bacon, Egg, and Cheese Strata! Each mouthful is a delightful dance of flavors – savory bacon, creamy cheese, and aromatic garlic, all nestled within tender cubes of Italian bread. The fresh chives provide a lovely pop of color and a subtle earthiness that balances the dish.
As the strata bake to a crispy golden brown, you'll find your heart filled with anticipation. When it's finally time to dig in, don't forget to garnish with more chives for that extra touch of love. Trust us, this casserole will make your mornings absolutely irresistible!
Transport your mornings to the Italian countryside with this mouthwatering Italian Egg Bake, featuring ciabatta, smoked mozzarella, and spinach. The dish is a symphony of flavors and textures: crusty country Italian bread soaks up a luscious egg and cream mixture, while smoked mozzarella adds a rich, smoky depth.
Sun-dried tomatoes impart a tangy sweetness, and the spinach contributes a touch of earthiness. Once baked, the casserole becomes a heavenly combination of crunchy and creamy, perfect for savoring each bite.
Continuing our breakfast casserole adventure, let's add a touch of spice to the mix with this Egg and Chorizo Casserole! This dish brings a delightful contrast to the sweet and mild flavors we've experienced so far. A combination of savory, spicy chorizo and crusty sourdough bread creates a dynamic and exciting base for this casserole.
The eggs, milk, and Colby jack cheese work together to create a creamy, comforting blanket for the bold, zesty flavors to snuggle up in. As the flavors meld, your kitchen will transform into a vibrant morning oasis, ready to brighten your day.
As we journey through the world of breakfast casseroles, let's not forget the classics. Say hello to Baked Challah French Toast, a recipe that takes us back to the comforting simplicity of a timeless favorite. This heavenly casserole is infused with the delightful citrus notes of orange juice and zest, balanced by the warmth of cinnamon and nutmeg.
The soft, pillowy challah bread soaks up the rich egg mixture, creating a dreamy and tender interior. When baked to a golden brown, the casserole becomes the perfect canvas for your favorite toppings, be it marmalade, fresh fruit, or a dollop of mascarpone. Indulge in the sweet embrace of this classic dish as you reminisce on mornings gone by.
Embrace a delightful culinary adventure with this Spinach and Mushroom Breakfast Strata. A medley of savory mushrooms, vibrant spinach, and tangy sun-dried tomatoes is nestled between layers of crusty bread cubes, while the rich, cheesy egg mixture brings everything together.
As it bakes, the strata puff up into a beautiful, golden brown masterpiece that's tender and bursting with flavor. Perfect for a leisurely brunch, this satisfying dish will make your morning feel like a true celebration of good food and great company.
Immerse yourself in a world of cinnamon bliss with this heavenly Cinnamon Roll Bake. This scrumptious recipe transforms refrigerated cinnamon rolls into a delightful casserole that's perfect for a cozy weekend breakfast. The mouthwatering aroma of cinnamon and nutmeg fills your home as it bakes, while the gooey icing adds a touch of sweetness.
The addition of crunchy pecans creates a delectable contrast in texture. This warm, comforting treat is like a warm hug for your soul – perfect for sharing with loved ones on a lazy morning.
Experience the cozy comfort of a hearty breakfast with this Sausage, Mushroom, and Kale Breakfast Casserole. Tender cubes of ciabatta soak up a luscious egg, milk, and cream custard, while savory sausage, earthy mushrooms, and fresh baby kale join forces to create a mouthwatering medley.
The dish is brought together by the smooth, nutty flavors of Gruyere cheese, and a sprinkle of green onions and parsley adds the perfect finishing touch. With each warm, delicious bite, this casserole will make your heart sing and your belly smile.
Delight in a morning feast with this Overnight Cheesy Broccoli Strata. With wholesome ingredients like tender chopped broccoli, fragrant leeks, and garlic, it's the perfect way to start your day. The combination of fluffy French bread, savory Monterey Jack and cheddar cheeses, and a light, creamy egg mixture creates a scrumptious symphony of flavors and textures.
Prepare this easy, make-ahead casserole the night before, and wake up to the irresistible aroma of a freshly baked, golden brown masterpiece that will leave you craving more.
Wake up to a delectable Spinach Artichoke Strata, a mouthwatering medley of flavors and textures that will leave you longing for more. This savory casserole combines the earthy goodness of fresh spinach, tender artichoke hearts, and caramelized onions, all nestled among cubes of crusty French bread.
The cheeses - gruyere, and parmesan - add a rich, velvety layer to this heavenly dish. The creamy egg mixture binds it all together in a delicious embrace. Make this strata ahead of time, and treat yourself to a gourmet breakfast experience that will make your morning simply unforgettable.
A beautiful symphony of tastes and textures, this Strata (Baked Egg Breakfast Casserole) will welcome you to a great morning. This enticing casserole layers crusty bread, tangy chevre cheese, and savory prosciutto, along with roasted red peppers and spinach infused with garlic.
The scallions add a subtle freshness, and the Italian seasoning ties everything together. As the eggs and milk combine and bake to perfection, you're left with a heavenly breakfast casserole that is not only visually stunning but also incredibly satisfying. Start your day on a high note with this sumptuous strata!
This Cranberry Orange French Toast Bake is a delicious way to enjoy the season's best tastes. This delicious breakfast casserole combines sweet and tangy flavors, bringing a burst of freshness to every bite. The French bread soaks up a luscious mixture of eggs, milk, orange juice, brown sugar, and aromatic spices, while the orange zest and cranberries add a touch of tartness to balance the sweetness.
The cranberry sauce brings the dish to a whole new level, making it a perfect centerpiece for a festive breakfast or brunch. Serve it dusted with powdered sugar or drizzled with maple syrup for a truly indulgent treat that will leave everyone craving for more.