Crispy, golden hash browns make the perfect base for scrumptious breakfast casseroles. Our roundup showcases 15 diverse recipes that combine this beloved potato classic with savory, mouthwatering ingredients. Discover delightful combinations and unique twists, making your mornings memorable while satisfying your cravings with these comforting, hearty dishes.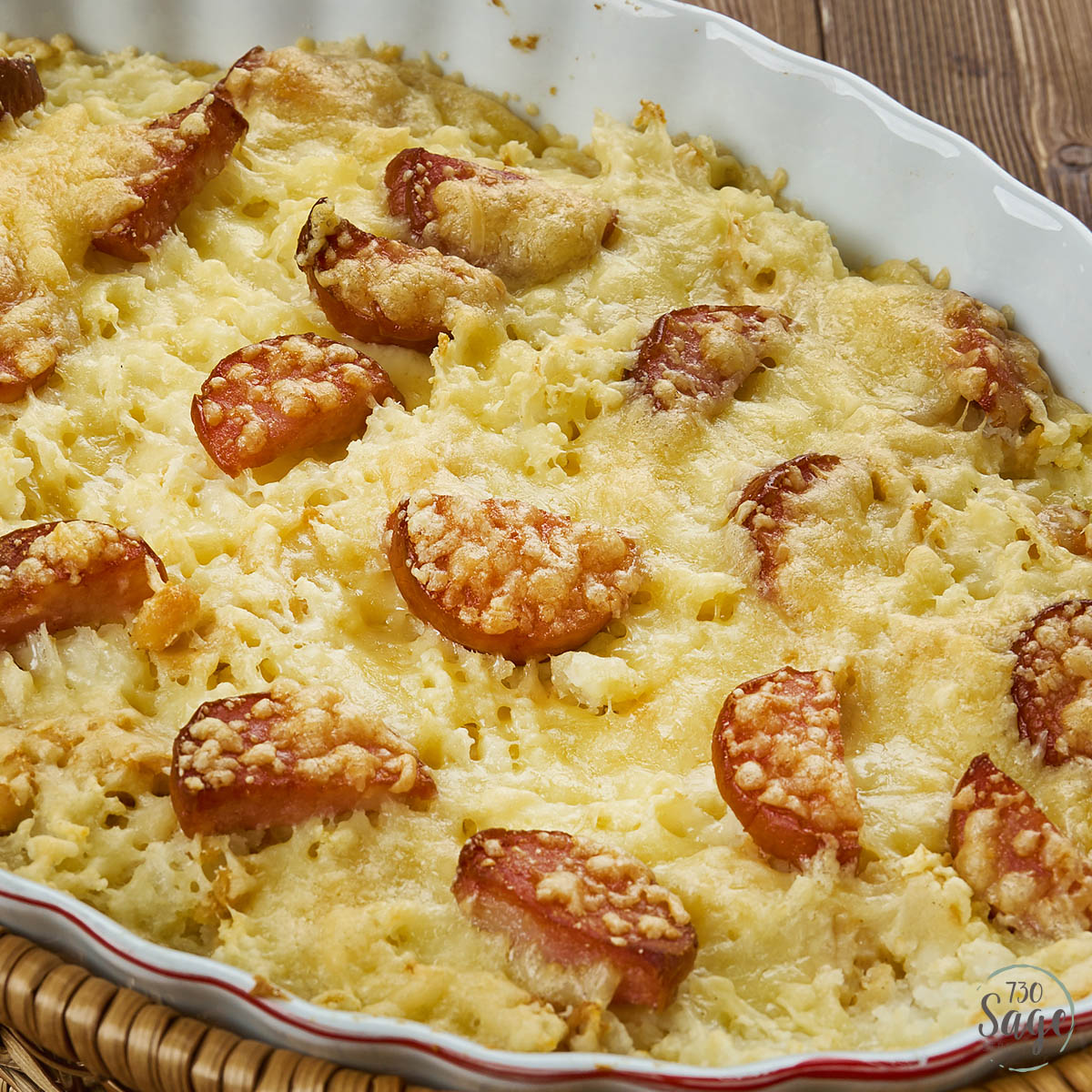 Get ready to wake up to deliciousness with these 15 hash brown breakfast casseroles that are sure to start your day off right.
This Sausage Hashbrown Breakfast Casserole is a hearty and delicious way to start your day. Browned pork sausage is mixed with thawed shredded hash browns and topped with layers of cheddar cheese, before being covered with whisked eggs and heavy cream, and seasoned with garlic powder, salt, and black pepper.
After baking, this casserole comes out with a crispy texture on the outside and soft and gooey inside. Serve it with a dollop of Franks Hot Sauce or Chunky Salsa to add some spice to your morning.
This Ham and Cheese Hash Brown Casserole is the perfect breakfast dish to enjoy with your loved ones. The combination of frozen hash browns, pre-cooked diced ham, and shredded cheddar or Colby jack cheese, mixed with whisked eggs, milk, and melted butter, seasoned with garlic powder, onion powder, salt, and pepper, creates a flavorful and comforting meal. After baking, the top of the casserole becomes crispy, while the inside stays soft and creamy.
The minced green onions or chives on top add a pop of color and freshness to the dish. This casserole is easy to make and is a great way to start your day off on the right foot.
An explosion of flavor, this Chorizo Hash Brown Breakfast Casserole will have you reaching for seconds. Diced red and orange bell peppers and red onions are sautéed with spicy chorizo until softened and aromatic. Shredded cheddar cheese is sprinkled on the hash browns and chorizo mixture before a mixture of whisked eggs, milk, sour cream, green chiles, and salt is poured on top.
This dish has a crunchy cheese topping and a fluffy, melt-in-your-mouth inside after baking. Spice things up by adding fresh cilantro, green onions, and jalapenos.
You won't find a more satisfying meal than this Sweet Potato Hash Brown Breakfast Casserole. Eggs and shredded mozzarella cheese are baked with diced sweet potato, sausages of your choice, onion, garlic, bell peppers, mushrooms, baby spinach, and cherry tomatoes until everything is tender.
The sweetness and creaminess of the sweet potato complement the savory and earthiness of the sausages and vegetables. As you take this dish out of the oven, the outside will be crunchy and the inside will be light and fluffy. This is a great dish for meal prepping or for serving a large group of people during brunch.
Your morning will be brightened by the symphony of flavors in this Cheesy Bacon Egg Hashbrown Casserole. On a bed of shredded hashbrowns, the mix of crackling bacon, gooey melted cheese, and fluffy eggs is both delicious and filling. The explosion of flavor from the spices like onion powder, garlic powder, pepper, and cayenne will have you coming back for more.
This casserole is great for brunch since it can be made the night before and stored in the fridge overnight. Green onions as a garnish not only make the food more appetizing to the palate but also more visually appealing. Breakfast in Paradise is a taste of this delicious bacon egg hashbrown dish.
It's like being hugged with this Denver omelet hash brown casserole. You'll feel full and ready to take on the day after eating this flavorful breakfast. Every mouthful is an explosion of taste because of the combination of crunchy hash browns, flavorful ham, and a rainbow of bright vegetables.
The light eggs and melted cheddar cheese make this the ideal morning comfort dish. It works well for breakfast with guests on the weekend or for prepping meals for the week ahead. You should let it sit for a while before eating it, but it's so good that you won't want to!
This easy vegetarian hash brown breakfast casserole is a delicious and hearty dish perfect for any morning meal. The crispy hash browns provide a satisfying crunch while the eggs, bell peppers, onions, and cheese create a creamy, flavorful filling. The addition of paprika and garlic adds a little kick of spice, while the fresh green onions on top give the casserole a bright finish.
Serve warm and enjoy the savory goodness that will have you coming back for seconds. Plus, it's easy to customize with your favorite veggies or cheese.
This Cracker Barrel Hash Brown Casserole is loaded with cream cheese and is great for breakfast or brunch. Butter, cream of chicken soup, sour cream, chopped onions, and cheddar cheese are combined with shredded hash browns. Spread the mixture evenly in a baking dish, season with kosher salt and coarsely ground black pepper, and bake until the top is golden and the cheese is melted.
This casserole is a crowd-pleaser that will have your family and friends coming back for seconds.
The Pioneer Woman's Breakfast Casserole will get your day off to a great start. Breakfast sausage, red bell pepper, and green onions are cooked to perfection before being blended with eggs, cream, and Dijon mustard to create this delectable meal.
Shredded cheddar cheese and hash browns make this dish irresistible, and a dash of Tabasco sauce gives it an optional jolt of heat. This substantial breakfast casserole, with a golden brown top and a melty, gooey middle, will satisfy your appetite and power your day.
This Cracked Out Hash Brown Breakfast Casserole is a real game-changer! It's the perfect balance of savory and salty, with crispy bacon and creamy cheddar cheese mixed in with crispy hash browns. The dry Ranch dressing mix adds a tangy kick to the dish.
This recipe is super easy to make, perfect for those mornings when you want to prepare something hearty and filling with minimal effort. Don't forget to prep ahead and refrigerate if needed! This casserole will leave you feeling satisfied and ready to take on the day.
Get ready for a Southwest-inspired breakfast with this delicious casserole! Cooked pork sausage, onions, red bell pepper, black beans, and green chili peppers come together with a blend of spices for a zesty and flavorful base. Shredded cheddar and mozzarella cheese and defrosted hash browns add a creamy and crunchy texture to the mix.
Pour a mixture of whisked eggs, heavy cream, and spices over the top and bake until the eggs are set. Let the casserole cool for a bit before slicing and serving to savor every bite.
This Sausage Hash Brown Patty Breakfast Casserole is the perfect savory breakfast treat! Begin by layering hash brown patties in a 9x13-inch baking dish, then cover them with cooked sausage and shredded cheddar cheese. In a large bowl, whisk together eggs, milk, sour cream, garlic powder, onion powder, dry mustard, salt, and black pepper.
Pour the egg mixture over the casserole, cover it with aluminum foil, and bake at 350°F for 30 minutes. After 30 minutes, remove the foil and continue baking for another 30 minutes or until the eggs are set. With the perfect balance of crispy hash browns, savory sausage, and cheesy goodness, this breakfast casserole is sure to become a family favorite.
This Eggless Breakfast Casserole is a delicious alternative for those who can't have eggs or just want to switch things up. Loaded with crispy hash browns, savory bacon, and gooey melted cheddar cheese, this casserole is sure to satisfy your breakfast cravings.
The addition of chicken broth and sour cream gives it a creamy texture, while the uncooked buttermilk biscuits on top add a flaky and buttery finish. Sprinkle some extra cheese on top for an extra cheesy touch. Perfect for a lazy weekend brunch or a hearty breakfast any day of the week!
A flavorful and filling option for breakfast or brunch, this hash brown casserole is sure to please. This meal will fulfill your hunger with its cheesy egg combination, crispy bacon, and flavorful sausage. A great crunch and a splash of color come from the hash browns and red bell pepper.
This dish is aesthetically beautiful and tasty thanks to the melted cheese and green onions or parsley on top. It's simple to make and may be done so in advance that mornings are less hectic. This dish is perfect for parties or for a week's worth of lunches.
If you're looking for a savory and spicy breakfast alternative, try this Rotel Sausage Cream Cheese Hash Brown Casserole! The cream cheese and Rotel chopped tomatoes and green chilies create a creamy and tangy taste, while the spicy breakfast sausage offers a blast of heat.
Shredded hash browns provide the dish's crunchy basis, while melted cheddar provides a melty, cheesy finish. The eggs and milk provide a custardy consistency that binds everything together. The combination of salt, pepper, garlic powder, and onion powder in this dish will perk you up and get your day off to a great start!
Can I Make These Breakfast Casseroles With Frozen Hash Browns?
Yes, you can make these breakfast casseroles with frozen hash browns. Make sure to thaw them completely before using them in your recipe. You can either let them thaw in the fridge overnight or use the microwave to defrost them quickly. Frozen hash browns are a convenient and time-saving ingredient for making breakfast casseroles.