There is a bread recipe out there for everyone, whether your preferred flavor is the saline, salty taste of black olives or the somewhat sweet, buttery taste of green olives.
These 15 bread recipes range from the traditional to the innovative, all including the versatile and tasty olive.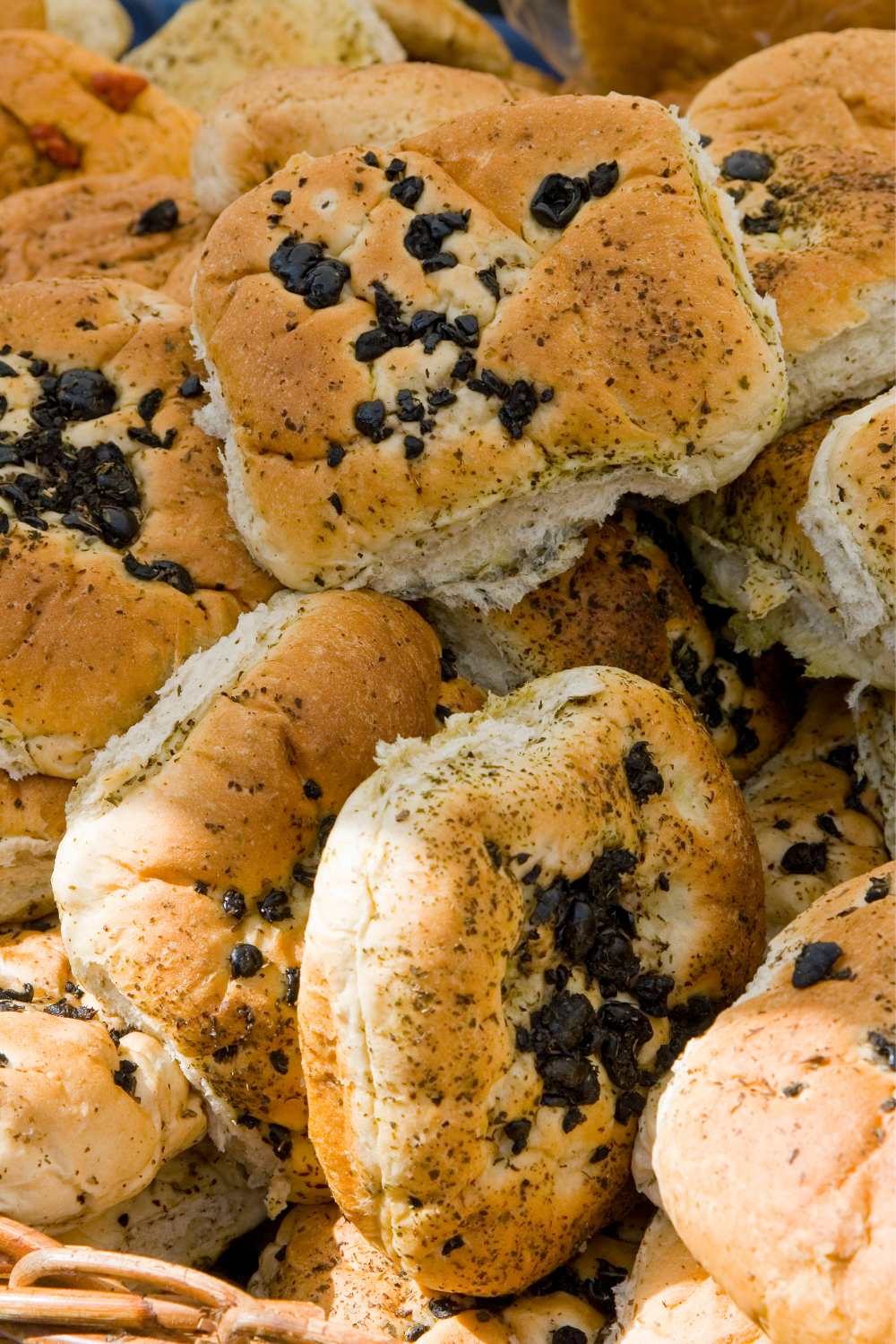 Can I Use Any Type Of Olives In These Bread Recipes?
Of course, the type of olives you use in your bread recipes can impact the final result. Here are six types of olives and their unique qualities to consider when choosing which to use:
Kalamata olives: These Greek olives are deep purple and have a meaty texture with a rich, salty flavor.
Green olives: These unripe olives have a firm texture and a tangy, slightly bitter taste.
Castelvetrano olives: These bright green olives are native to Sicily and have a buttery, mild flavor.
Nicoise olives: These small, black olives from the South of France are slightly sweet with a firm texture.
Cerignola olives: These Italian olives are large and meaty with a mild, buttery flavor.
Picholine olives: These French olives are small and green with a crisp texture and a tangy, slightly bitter taste.
15 Bread Recipes With Olives
Add a Mediterranean twist to your bread game with these 15 delicious olive bread recipes. From savory to sweet, these recipes will satisfy your carb cravings:
This Olive, Herb & Sticky Balsamic Focaccia is a treat for the taste buds. A delicious combination of olives, herbs, sticky balsamic, and sea salt, this bread is crispy on the outside and fluffy on the inside. The effort of making this bread is well worth it as it has a unique texture and a warm, comforting aroma.
The recipe requires some preparation time, as the dough needs to rise for at least 6 hours in the fridge and then again for 3-4 hours at room temperature. Serve this bread with some extra olive oil for dipping, and you're in for a real treat!
Mediterranean Black Olive Bread is the perfect accompaniment to any meal. The combination of the tangy Kalamata olives and the soft and fluffy bread is sure to satisfy any cravings. The recipe is easy to follow and requires minimal effort with maximum payoff.
The bread can be made in advance and is perfect for a last-minute addition to your dinner table. Serve this bread warm with a dollop of butter or with a side of hummus for an extra Mediterranean twist. You'll love the subtle flavors and the hearty texture of this delicious bread.
Kalamata Olive and Rosemary Fougasse with Fresh Herb and Pepper Dipping Oil is a flavor explosion in every bite. The bread is rustic, with a crispy exterior and a soft and chewy interior, and the Kalamata olives and rosemary add a lovely Mediterranean touch.
The fougasse is easy to make and requires minimal effort, as the dough needs to sit for 18 hours before baking. The dipping oil is the perfect complement to the bread, with a burst of flavor from the fresh herbs and spices. Serve this bread warm and sliced, and dip it into the herb and pepper oil for a delightful culinary experience. This recipe is a must-try for anyone who loves bread and olives!
Rosemary Olive Sourdough Bread is the perfect combination of tangy and savory flavors. The recipe requires some effort, but the result is well worth it. The bread is crispy on the outside and soft and chewy on the inside, with the delicious aroma of fresh rosemary and Kalamata olives. The dough is prepared the night before and left to rise, which allows the sourdough to develop its distinct flavor.
The shaping of the dough is a fun and creative process, and you can add your own artistic touch by scoring the dough. The bread is perfect for a special occasion or a weekend brunch with friends and family. Enjoy a slice of this bread with some butter or hummus, and you're in for a treat!
These delicious olive bread swirls make an excellent side dish for a lunch party. The soft dough, kneaded with flour, salt, yeast, and olive oil, is filled with a savory paste of basil, black olives, garlic, and anchovies (optional).
The dough is then rolled out and spread with the olive paste and whole green olives before being rolled into a Swiss roll and sliced into 12 swirl shapes. The swirls are then baked for 20-25 minutes until golden brown and slightly puffed up. These swirls are perfect to make ahead and are great for transporting to any event.
This Olive & Sun-dried Tomato Artisan Bread is the perfect way to add some Italian flair to your baking. Combining the flavors of olives, sun-dried tomatoes, and rosemary, this recipe is sure to delight your taste buds.
The dough is soft and easy to work with, and with some careful kneading, the bread turns out light and fluffy. Once baked, the loaves have a beautiful golden brown crust and sound hollow when tapped. Enjoy it fresh out of the oven or toasted with a bit of butter, this bread is perfect for any meal or occasion.
Greek Olive Bread is a scrumptious, flavorful bread with a unique filling of olives, scallions, roasted red peppers, and dried oregano. The bread dough is made with a starter mixture of water, sugar, yeast, and flour, along with all-purpose flour, salt, and olive oil.
After the dough has risen, it is spread on parchment paper and filled with the olive mixture before being folded, flattened, and transferred to a baking sheet. The bread is then brushed with olive oil, topped with sesame seeds, and baked until golden brown. This bread has a crunchy exterior and a soft, pillowy interior that perfectly complements the salty, tangy, and earthy flavors of the filling.
This pull-apart bread with a Mediterranean flavor is sure to be a hit at your next gathering. The dough is made using refrigerated buttermilk biscuits, which are cut into quarters and tossed with melted butter, fresh basil, olive oil, dried oregano, and minced garlic.
The dough is then layered in a bundt or tube pan with a mixture of Monterey Jack cheese, artichoke hearts, Kalamata olives, sun-dried tomatoes, and feta cheese. The bread is baked until golden brown and then inverted onto a serving plate. Garnish with fresh basil for a pop of color and serve warm. Your guests will be coming back for seconds!
These mini herb, green olive, and buttermilk cornbreads are a great twist on a classic recipe. The combination of salty green olives and tangy buttermilk gives these cornbreads a unique flavor. They are perfect for serving as an appetizer or as a side dish.
The addition of finely chopped herbs such as basil, parsley, and dill adds a fresh taste to the bread. These cornbreads are easy to make and will be ready in just 20 minutes. Serve them with extra butter while still warm from the oven for an irresistible treat.
Indulge in the delicious flavors of the Mediterranean with this No Knead Skillet Olive Bread. The bread dough, made with all-purpose flour, yeast, and salt, is loaded with STAR Garlic and Basil Marinated Olives, garlic powder, and herbs.
After rising for an hour, the dough is transferred to a cast iron skillet and baked to perfection with a drizzle of STAR Olive Oil and a sprinkle of coarse salt and dried parsley. The result is a fragrant, savory bread with a crispy golden crust and a soft, chewy interior. Enjoy this bread warm from the oven or at room temperature, served with your favorite dips and spreads.
This savory quick bread is packed with flavor and perfect for a snack or light meal. Made with all-purpose flour, eggs, vegetable oil, and dry white wine, this bread is both easy and delicious.
Sliced green or black pitted olives, ham or bacon, red bell pepper, and mild cheddar cheese are added for a salty and savory taste. Once baked, the bread has a golden brown crust and tender texture. Serve this warm with a side salad for a complete meal, or enjoy it as a snack with your favorite dipping sauce.
Focaccia Bread with Olives and Artichokes is a rustic and savory bread that is perfect for any meal. The combination of olives and artichokes gives the bread a delicious Mediterranean flavor. The dough is easy to make and comes together quickly in a stand mixer.
After it has risen and been rolled out, the bread is topped with red onion slices, more olives, artichoke, and fresh thyme. The final result is a beautiful and flavorful bread with a crispy crust and a soft and chewy interior. Perfect to serve alongside a hearty soup or a plate of antipasti.
Impress your guests with this beautiful and delicious Artichoke Olive and Spinach Stuffed Sourdough Star Bread. The sourdough dough is light and fluffy, filled with savory and aromatic spinach, artichoke, and olive mixture, and twisted into a stunning star shape.
The bread is then brushed with egg and topped with sesame seeds, flaky sea salt, and grated parmesan cheese for a crunchy and cheesy finish. Perfect as a centerpiece for your next dinner party or as a special treat for your family.
This sourdough bread recipe takes traditional bread to a whole new level. The combination of pitted olives, thyme leaves, and grated Parmesan cheese adds an explosion of flavors to every bite. The dough is fermented slowly overnight to develop that signature sourdough tanginess and then mixed with the savory additions to create a well-balanced loaf.
This bread has a crispy crust and a soft, chewy crumb that's perfect for sandwiches or toasted with a bit of butter. Once you taste this delicious and aromatic bread, you'll never go back to plain bread again.
This savory Babka bread with a Mediterranean twist is the perfect combination of soft dough and a flavorful filling. The dough is made with all-purpose flour, yeast, olive oil, sugar, and salt, and is soft and elastic. The filling is made with tomato paste, oregano, basil, kalamata olives, salt, and pepper.
After the dough has risen, it is rolled out and covered with the tomato paste sauce and olives, then rolled up, sliced, braided, and baked until golden brown. The result is a delicious bread with a tomato flavor and a hint of herbs and olives. Serve warm with a side salad or as a snack on its own.