Bread is a mainstay in many families, and milk is an adaptable ingredient that lends richness and depth of flavor to every recipe, from traditional loaves to sweet and savory rolls.
To that end, we've gathered together 15 tried-and-true bread recipes, all of which have one common ingredient: milk. These recipes are perfect for any baker, whether you're a seasoned pro or just getting started.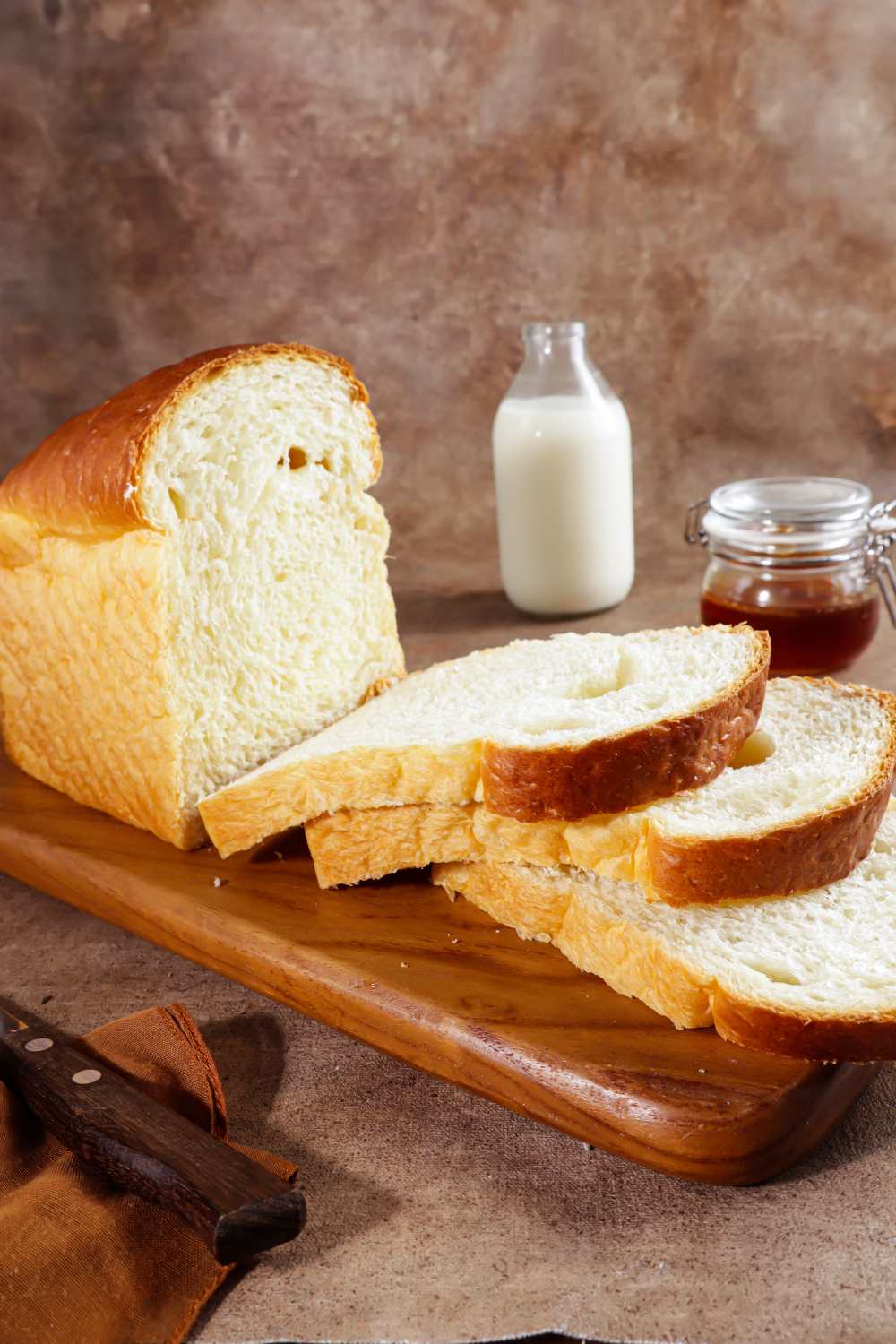 What Type Of Milk Is Best For These Bread Recipes?
When it comes to baking bread, the type of milk you use can make a difference in the final outcome. Here are six varieties of milk to use in bread recipes:
Whole Milk: Provides richness and tenderness to the bread but also adds more fat and calories.
Skim Milk: Reduces the fat and calorie content but may lead to a slightly tougher texture.
Buttermilk: Adds a tangy flavor and acidic component that can aid in the rise of the dough.
Almond Milk: Low in calories and fat but lacks the protein and creaminess of dairy milk.
Soy Milk: Has a similar protein content to dairy milk and is a good vegan option but may impart a distinct flavor.
Oat Milk: Creamy and nutty, oat milk is a good option for those with nut allergies but may affect the texture of the bread due to its thickness.
Can I Use Plant-based Milk Instead?
Yes, you can substitute plant-based milk for dairy milk in most bread recipes. Keep in mind that the bread may have a slightly different texture and flavor. Use unsweetened plant-based milk for the best results. Some great options include almond, soy, and oat milk.
15 Bread Recipes With Milk
15 delicious bread recipes, both sweet and savory, that include milk as an ingredient will have you baking like a master in no time:
Get ready to take your taste buds on a journey with these fluffy, melt-in-your-mouth Japanese Milk Bread Rolls! Made with a unique technique called tangzhong, these rolls are light, airy, and perfect for sandwiching your favorite fillings.
The dough is made with bread flour, sugar, yeast, and a tangzhong mixture of milk and flour, resulting in a moist and tender texture. The egg wash gives them a beautiful golden-brown shine, making them irresistible. Bake a batch of these and indulge in their heavenly aroma and taste!
This Milk and Honey Bread recipe is a true delight for the senses. The combination of all-purpose flour, honey, and milk creates a soft and fluffy texture that's simply irresistible. The dough, kneaded to perfection, rises to a beautiful golden brown, creating a stunning centerpiece for any meal.
Brushed with milk and baked to perfection, this bread is perfect for sandwiches, toast, or simply enjoyed on its own. So why wait? Whip up a batch of this delicious bread and indulge in its warm, comforting aroma and taste. Trust me, your taste buds will thank you!
These Milk Bread Cinnamon Rolls are simply divine! The tangzhong method used in this recipe creates the most tender and fluffy bread, while the warm and comforting flavors of cinnamon and cardamom make these rolls the perfect treat for any time of day.
And let's not forget about that tangy lemon glaze - it adds just the right amount of zing to every bite. Trust me, your taste buds will thank you for making these rolls. So go ahead and give this recipe a try - you won't be disappointed!
This Whole Wheat Hokkaido Milk Bread is the perfect recipe to add to your bread-baking repertoire. The combination of all-purpose flour and whole wheat flour creates a delicious and healthy loaf. The secret ingredient is the tangzhong, a Japanese technique that creates a soft, fluffy texture that is irresistible.
Follow the simple steps to create a beautiful loaf with a crispy crust and a soft, pillowy interior. The aroma of fresh-baked bread will fill your kitchen, and you won't be able to resist taking a slice straight out of the oven. Enjoy it with butter, jam, or your favorite spread.
Baking bread has become a valuable hobby these days, and this recipe is the ideal method to provide some stress relief while increasing our baking talents. This Purple Sweet Potato Supercolor Japanese Milk Bread is just amazing.
The combination of Suncore Foods® Ebony Carrot Powder and Suncore Foods® Purple Sweet Potato Powder creates a visually striking and wonderfully sweet bread that is sure to become a staple in your life. The bread is cloud-like, soft, and fluffy, making it the perfect canvas for your favorite toppings or as a base for a delicious sandwich. And the best part? It stays soft and pillowy for several days, so you can savor it all week long.
Get ready to satisfy your sweet tooth with this Maple Walnut Pull-Apart Bread. The fluffy, cinnamon-spiced dough is loaded with toasted walnut pieces and drizzled with maple syrup, creating a heavenly flavor combination.
The dough is easy to work with and rises to perfection, making it a perfect weekend baking project. Once baked, the pull-apart bread will be a delight to the senses, with its warm, gooey texture and heavenly aroma. Serve this delectable bread for breakfast, brunch, or as a sweet treat any time of day.
Take a trip to Asia with this delightful recipe for Deliciously Soft Asian Milk Bread. The bread dough is enriched with whole milk and butter, creating a soft and fluffy texture that's perfect for slicing and enjoying on its own or as a base for your favorite toppings.
The recipe includes a tangzhong roux, which adds a lovely pudding-like texture to the bread. Whether you choose to make a loaf or rolls, this bread is sure to be a hit at any meal. Bake a batch today and indulge in the comforting flavors of freshly baked bread.
This Milk and Honey Challah recipe is a must-try for bread lovers. The dough is soft and shiny, yet slightly sticky, and the honey adds a hint of sweetness that perfectly balances with the bread's natural flavor.
The braiding process may seem intimidating at first, but it's surprisingly easy and results in a beautiful, impressive loaf. Brushing the bread with an egg wash and sprinkling sesame seeds on top creates a lovely golden color and adds an extra layer of flavor. Serve warm with your favorite spread or enjoy plain – either way, it's delicious!
This cinnamon swirl bread is the perfect balance of fluffy bread and sweet cinnamon goodness. With a moist and tender crumb, this bread is made using the perfect combination of ingredients.
After mixing and kneading the dough, the cinnamon swirl mixture is added and it is rolled into a log before being baked to perfection. The aroma of cinnamon will fill your kitchen as this bread bakes. Perfect for breakfast, dessert, or even a snack, this cinnamon swirl bread is sure to please everyone in your family. Don't forget to brush the top with egg wash for a lovely golden brown crust.
Honey Whole Wheat Bread is a recipe for those who want something warm, cozy, and hearty. The combination of whole wheat flour, honey, and warm milk creates a dense and flavorful loaf that is perfect for toast or sandwiches.
The dough is easy to work with and can be shaped into loaves, hoagies, or rolls. The addition of an egg wash and four angled slashes on the top of the loaf gives it a beautiful golden color and texture. Bake this bread in the oven for 25-30 minutes and enjoy the delicious aroma that fills your kitchen.
Bring a taste of Brazil to your kitchen with this simple yet delicious Pão de Queijo recipe. Made with tapioca flour, milk, vegetable oil, and eggs, these cheese bread bites are crispy on the outside and chewy on the inside.
With the addition of mozzarella and cheddar cheese, the bread is bursting with cheesy goodness. Perfect as a snack or an appetizer, these mini bread bites can be enjoyed warmly straight out of the oven or at room temperature.
Our gastronomic adventure continues with sweet and savory Milk and Honey Sweet Cornbread. This recipe is a perfect combination of sweet and savory flavors that will surely satisfy your taste buds. The organic cornmeal and flour give this cornbread a deliciously grainy texture that complements the honey's sweetness.
Meanwhile, the milk and olive oil make this dish light and fluffy. Best served warm, this cornbread can be a fantastic accompaniment to any meal or even a satisfying snack on its own. Let's now proceed to the following recipe, which is equally delightful!
Let's maintain the momentum with this Chocolate Swirl Milk Bread recipe, a scrumptious dessert bread perfect for any occasion! The recipe combines the goodness of all-purpose flour, sugar, salt, and active dry yeast, mixed with lukewarm milk, melted butter, egg, and vanilla extract to form a smooth and pliable dough.
For an added twist, the dough is divided into two equal parts, with cocoa powder and milk mixed into one half. After resting for an hour, the two doughs are rolled out and twisted together, creating a beautiful chocolate swirl pattern.
Let's move on to the next recipe, the ever-popular Amish White Bread, which is made with the ideal ratio of milk to water, resulting in a light, airy loaf. The bread gets its mild sweetness from the sugar called for in the recipe.
The dough requires kneading, which can be done either by hand or with a machine, and then the dough is allowed to rise until it has doubled in bulk. The dough is then divided into loaves and coated with melted butter before being cooked. If you want your bread to have a tender crust, wrap it in a tea towel as soon as it comes out of the oven.
The garlic Japanese milk bread rolls are the perfect way to end things with a flavorful, savory twist. The rolls are soft and fluffy, with a rich garlic butter topping that perfectly complements the sweetness of the bread.
These rolls are perfect for sharing with friends and family or enjoying as a snack on their own. We hope you've enjoyed this collection of bread recipes and have found some new favorites to add to your baking repertoire. Happy baking!