Our Brandcation event began on Thursday November 4th with a "getting to know you" after 3pm as people arrived at our townhomes provided to us by Global Resort Homes.
The collage of images below shows one of the houses we stayed in (I'm not sure who made the collage but fess up and I'll give ya credit).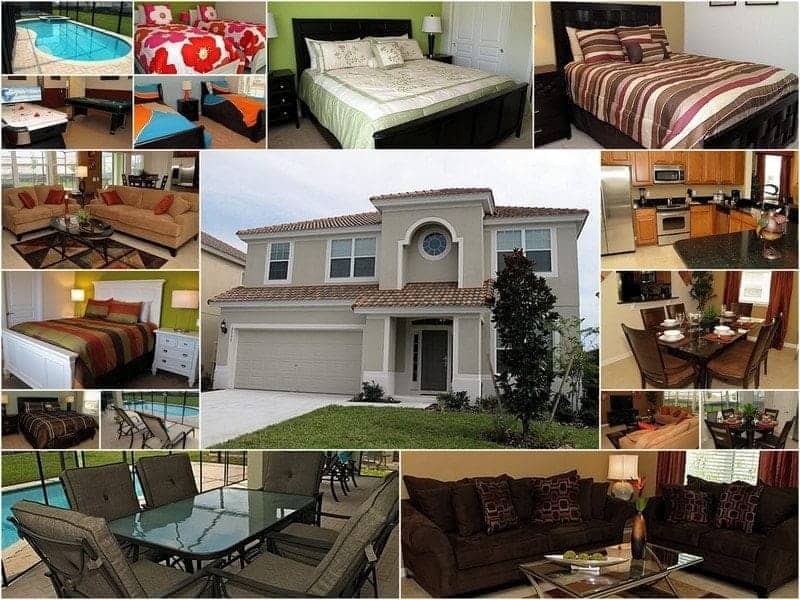 I did not arrive until after 9 pm when most everyone had already settled in and introduced themselves.  Let me say that walking into a room filled with 30 bloggers, many of whom you have never met before is sensory overload.  I recognized some faces but needed some time to really connect faces with names and blogs.
It didn't take long with this group to feel like I've known them all forever.  I miss each and every one of them!
(meatball) – private joke
First and foremost I want to thank Global Resort Homes for the wonderful accommodations.  This event could not have successful without their help.  The 6 bedroom homes we stayed in were gorgeous, had everything we needed and really were the perfect setting for us to enjoy our weekend to the fullest.  I highly recommend Global Resort Homes for an Orlando vacation home over a hotel when staying in the Orlando & Kissimmee area.  They had pools, full kitchens, plenty of room to stretch out and relax, game rooms, TV's and so much more!
The very best way for you to get a feel for these homes is to watch a video put together by Nicole and Jessica: Global Resort Homes Video Tour
One of the things that staying in a vacation home allowed us to have were some fantastic food and snack sponsors.
Sam's Club provided soda, candy, chips, cereal, donuts and a number of other wonderful snacks for us to enjoy while we were there.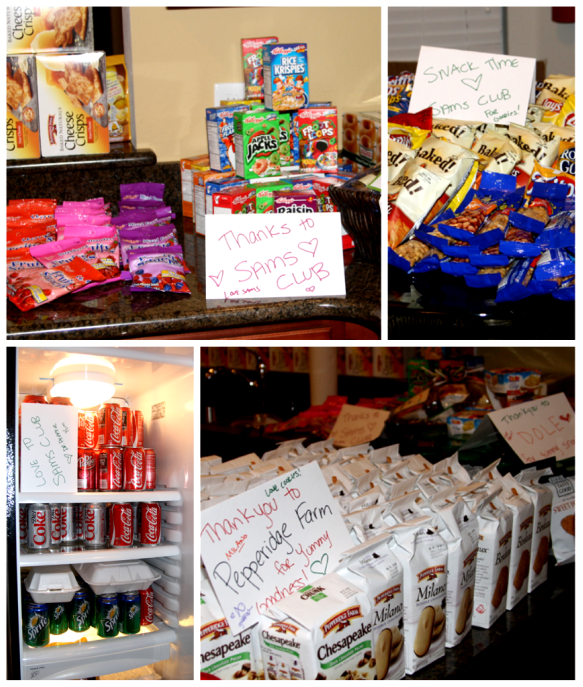 We had so much room in our vacation homes to have snacks in each house.  Whenever we went back to relax or change, we were able to grab something to eat, plus breakfast was a lot easier with a full kitchen and all that Sam's Club food!
Pepperidge Farm and Dole were also very generous sponsors, providing cookies, crackers and yummy fruit for our stay!
Global Resort Homes provide affordable alternatives to hotel stays when in the Orlando area, but aside from their corporate name, the Owners of Global Resort Homes are such inspiring people.  We originally were going to meet with them on Saturday but they couldn't make it on Saturday.  Wanna know why?  They spend their Saturdays helping and feeding homeless people.
Global is owned by a husband and wife team who clearly give back to the community.  And to help them, we actually gave them any leftover unopened food that we had from our event.  We did have some left because we had some very generous sponsors.
So not only did our sponsors provide food and drinks for the bloggers at our event, they also helped to feed the hungry.  We're proud that we were able to facilitate this generosity, and the Owners of Global were very happy to be able to take some extra food to people who need it most.
Thank you Global for making our stay a first-rate experience and for being such a great company!
If that isn't enough to get you interested in Global Resort Homes, I have one other thing that will.  A giveaway!  Global is giving away free stays when you "like" them on Facebook.  All the rules and instructions are here: https://www.globalresorthomes.com/orlando-facebook-giveaway.cfm.  Tell them Kim @ What's That Smell? sent you!
This post was written in response to a sponsored Brandcation event.  Opinions expressed are my own.