Friday November 5th was the first official day of activities for our Brandcation event.
Our first stop was on 4700 hundred acres of wildlife conservation area – Florida Ecosafaris at Forever Florida.
Let Us Take You On An Unforgettable Journey . . .

. . . into Forever Florida, a 4700 acre eco-ranch and wildlife conservation area boasting beautifully untamed wilderness, natural streams, wetlands and dense cypress forests. Choose your own fully-guided adventure: Coach Safari, Horseback Safari or soar over it all on Florida's only Zipline Safari™!

At Forever Florida, we have eco-safaris for the entire family – the thrilling Zipline Safari, the adventurous Horseback Safari and the comfortable Coach Safari. Each offers a unique opportunity to leave the theme parks far behind and experience wild, natural Florida.

Each of our eco-safaris transport you through Forever Florida; an all too rare wild part of the state preserved just as nature intended. This special place boasts nine distinct Florida ecosystems, home to an endless array of natural flora and fauna including alligators, black bears, white-tail deer, nearly two hundred species of birds and the endangered Florida Panther.
We met cows.
We met horses.
Blondie did tricks.
And we got geared up for adventure!
Zipline Safari

Prepare yourself for a brand new tree-top nature tour like none other. The thrilling Zipline Safari allows you the perfect aerial vantage point to experience Florida's diverse ecosystems on a one-of-a-kind adventure. You'll soar through the tree tops 55 feet off the ground along runs spanning up to 750′ in length and make your way across two sky-bridges all the while enjoying Florida's natural flora and fauna under the watchful eye of your expert guides.

Brace yourself for the sensation of flight as you Zipline smoothly through Pine Flatwoods and over wetlands, home to native Florida wildlife including alligators, black bears, white tail deer and the endangered Florida Panther, all at speeds up to 25 miles per hour! Are you ready to Zip Florida™?
The Zipline tour was amazing.  Well.  It started off a little scary.
We had to climb this:
Then we all stood on a platform.
And waited while our guides connected each of us, one-by-one, to the zipline and we flew through the air!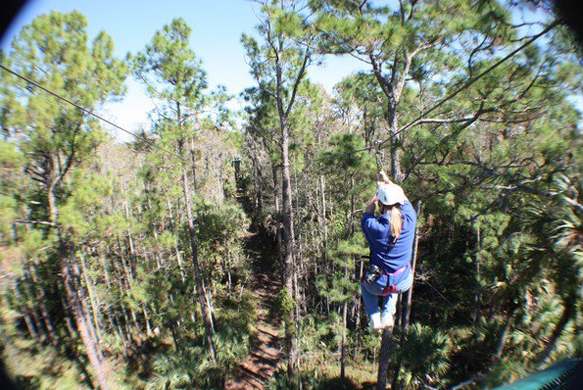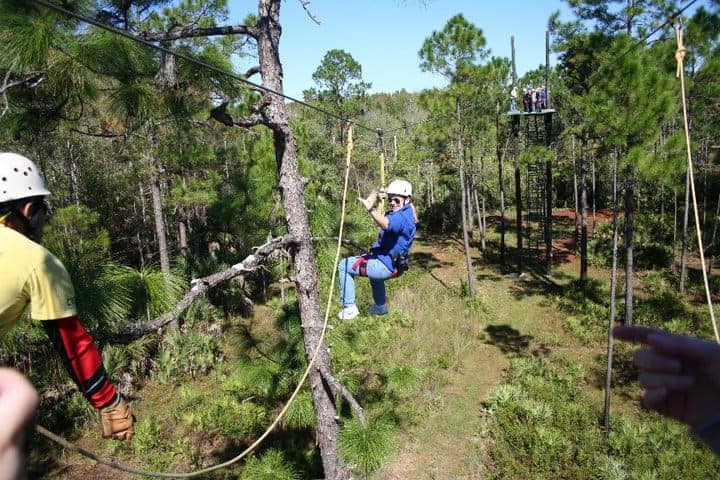 I can't even begin to explain how much fun this was.  A few people had to overcome some fears, but overall it really was a unique and exhilarating experience and I recommend it to anyone looking to step outside the box and experience Orlando beyond the theme parks.
Preserving Natural Florida
Florida EcoSafaris follows one of the prime directives of eco-tourism, the concept of giving back. A full 30% of revenues from the Zipline Safari, Coach Safari and Horseback Safaris are donated to the conservation effort with the goal of acquiring additional lands to be preserved at Forever Florida. For more information about the inspiration behind our conservation efforts, please visit the Allen Broussard Conservancy page of this site. Thank you for helping us save wild Florida!

The Beauty of Forever Florida
For over ten years, Florida EcoSafaris has been offering Coach Safaris and Horseback Safaris into the 4700 acre Forever Florida eco-ranch and wildlife conservation area. This pristine site boasts 9 unique Florida ecosystems ranging from pine flatwoods to marsh and cypress domes. The area is home to countless varieties of flora and fauna including alligators, black bears, nearly 200 species of birds and the endangered Florida panther. The Zipline Safari™ is just one of the brand new adventures that await you in this continually evolving place. Please enjoy exploring the website. We invite you to come explore Forever Florida in person on your next Wild Florida Adventure!
I am not an outdoorsy person.  I don't hug trees.  I hate bugs.  Being in the middle of alligator country without indoor plumbing would never even have been something I would have given a second thought to.  But after having done it, I want to go back.  I want to experience more of what Forever Florida has to offer, and share it with my family as well.  There is no better place to fully experience Florida in all it's glory!
This post was written in response to a sponsored Brandcation event.  Opinions expressed are my own.