Saturday November 6, 2007
Boggy Creek Airboat Rides
On Saturday we braved the chilly Orlando air (umm…yeah….) and had the opportunity to take an airboat ride courtesy of Boggy Creek Airboat Rides.
Original Airboat Rides in Central Florida

Glide through the wetlands on a beautiful Florida wildlife tour. Our airboat tours start with a leisure idle down a natural canal viewing exotic birds, turtles and the Florida alligator in their own natural environment. Then you will fly like the wind into the swamps experiencing the awesome feel of an airboat ride traveling up to 45 miles per hour. Boggy Creek Airboat Rides is the best way to experience the beautiful Central Florida Everglades. We offer 3 airboat tour choices. 30 minute airboat ride on 17 passenger airboat, 45 minute private airboat tour on 6 passenger boat & the 1 hour night airboat ride. In the warm seasons the best time to see alligators is at night. If you are not able to go at night we suggest coming first thing in the morning.
We had an unseasonably chilly morning, so we spent much of our ride under a blanket with frozen eyeballs, but I really did enjoy the airboat ride.  It had such a different feel than a regular boat, practically floated above the water and when they would turn and let the back end of the boat swing sideways it was a lot of fun.  We didn't see any gators because of the chilly air, but we saw some great scenery, some bald eagles, and a number of other birds.
Lisa kissed a gator.
Plus we got attacked by alligators without actually being attacked by alligators!
The people at Boggy Creek were fantastic, and the tour was a lot of fun, thank you Boggy Creek for a great morning!
Save money at Boggy Creek Airboats by checking out their coupon page!
Read more about Boggy Creek Airboats on Trip Advisor
Gatorland
After Boggy Creek, we drove over to Gatorland.
Gatorland is so much more than just alligators at a price that doesn't put a strain on your vacation experience!

At 110- acres, Gatorland provides affordable-priced family fun with thousands of alligators & crocodiles to see, an aviary, breeding marsh with observation tower, petting zoo, nature walk, award-winning gift shop and one-of-a-kind reptilian shows including the Gator Wrestlin' Show, Gator Jumparoo and the Up-close Encounters Show.

Take a ride on the Gatorland Express train and then head on over to Gator Gully Splash Park where kids of all ages can enjoy a good ol' fashion squirtfest!

Don't miss the new rare white alligators on display for a limited engagement at Gatorland's newest exhibit, White Gator Swamp. Featuring four of the world's largest white leucistic alligators known to roam the planet, these giant Ivory colored reptiles are each ten to twelve feet in length and weigh over 800 pounds. Their piercing blue eyes are believed to have the ability to command good fortune to those lucky enough to make eye contact with the blue eyed beauties.
There was a lot of fun stuff to do at Gatorland, thousands of alligators and all sorts of cool stuff to see.  Oh and ask to talk to Donny if you go to Gatorland.  He reads my blog.  He said so.  Right after telling me that he was responsible for putting this sign up:
There were a lot of warning signs about what to do and NOT do while at Gatorland.  And check out Donny below…
The alligators were fascinating to watch.  Well, they don't do much unless you are throwing food at them but their sheer size and their behavior was really interesting to watch and learn about.  We had a great time exploring the park, and I even brought home some "gator jerky" for my son and husband.
Gatorland is mostly about the alligators but they do feature some other things related to the Florida ecosystem as well.
Trisha turned into the bird lady.
Gatorland gave us the opportunity to feed the gators (raw beef, gators just a couple of feet away – I stayed behind the fence), and even "wrestle" a gator.  I watched that too….I prefer to look but not touch things that want to eat me.
Trisha scolded the gator "wrestler" which is probably one of my favorite photos from the whole day.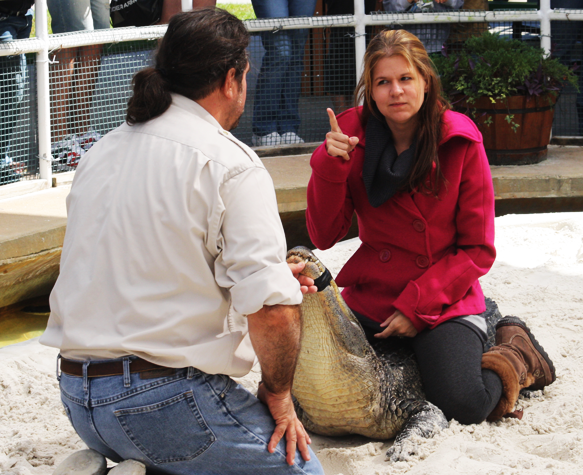 Gatorland is a great place to bring the family!
Like Gatorland on Facebook
Buy Tickets!
This post was written in response to a sponsored Brandcation event.  Opinions expressed are my own.