This Bolognese sauce recipe was created in partnership with Ninja® Intelli-Sense™ Kitchen System with Auto-Spiralizer™. I received complimentary products and compensation to facilitate my review, but all opinions within are my own.
One machine to rule them all.
I know, not a ring, but same concept. Humor me.
Obscure movie reference, if you don't get it, just move right along confident in the knowledge that I am extremely clever and creative.
Imagine if you will, a small kitchen appliance that took the place of four other appliances. Imagine the space you would save in your cabinets. Imagine the money you would save buying one machine instead of four. Imagine the time you would save not having to switch between appliances, just simply change out the container on top.
Well, imagine no longer.
Meet the Ninja® Intelli-Sense™ Kitchen System with Auto-Spiralizer™!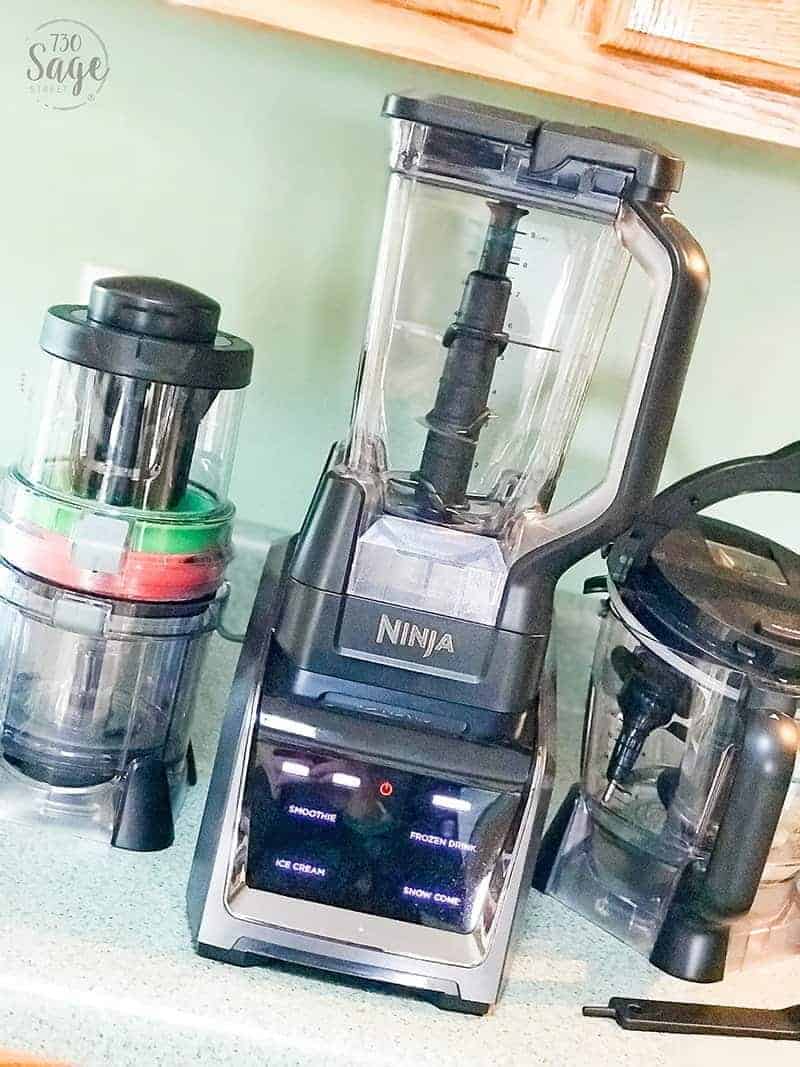 The Ninja Intelli-Sense Kitchen System with Auto-Spiralizer is going to change the way you cook in your kitchen because it is one smart base that transforms into four high-performance appliances. It is a food processor, a spiralizer, a high speed blender and a powerful single-serve blender. The machine is super smart, and it knows which attachment is on the base (Smart Vessel Recognition) and displays a unique set of menu items for that attachment on the Intuitive Touchscreen. It also automatically adjusts the power, speed and gearing for each attachment.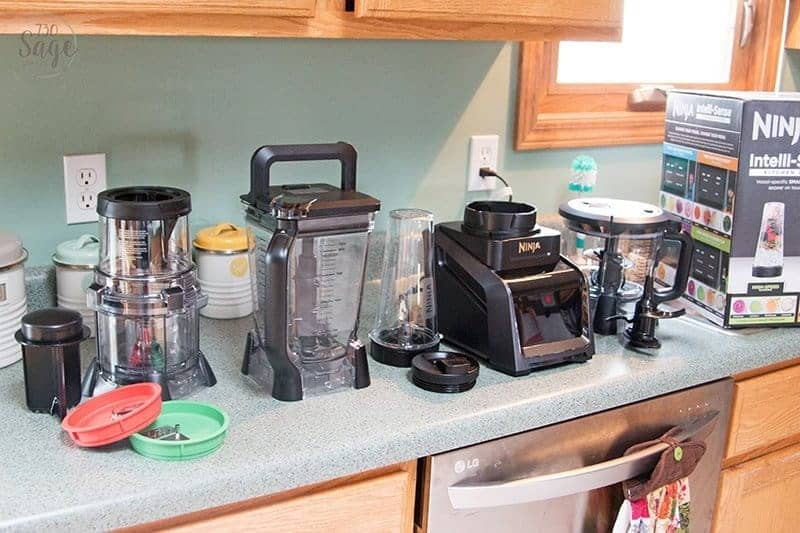 To help you get ideal results every time, the Ninja Intelli-Sense Kitchen System with Auto-Spiralizer has 12 Smart Programs built-in that you activate with a single touch. These programs are precisely calibrated to ensure a perfect recipe.
I'm not really sure that I can say enough good things about this machine. They thought of everything, and I mean everything! The base of the machine is sturdy but not super heavy like some other machines, which means I don't mind pulling it out of the cabinet to use it. It also has suction cups on the bottom so it doesn't travel across the counter (and potentially onto the floor) when it's being used.
There are clear markings on all of the parts so you can figure out what goes where, and also, the lids and containers have super clever, secure locks on them so you can be sure nothing will leak out.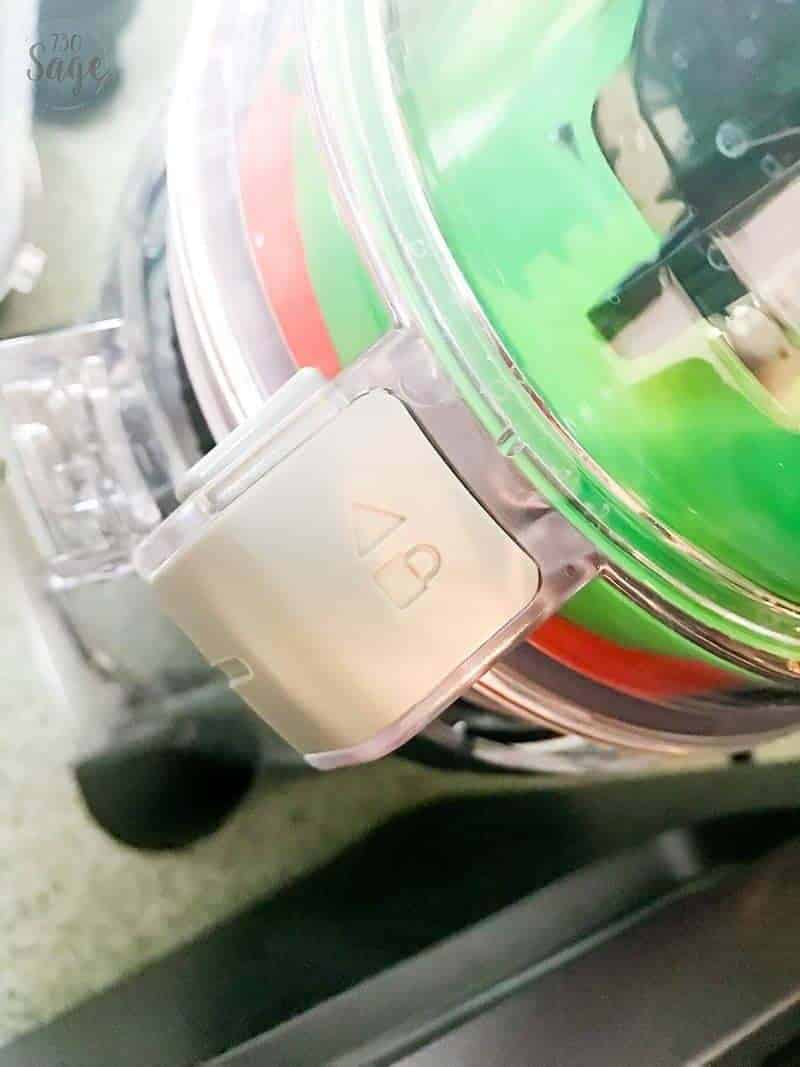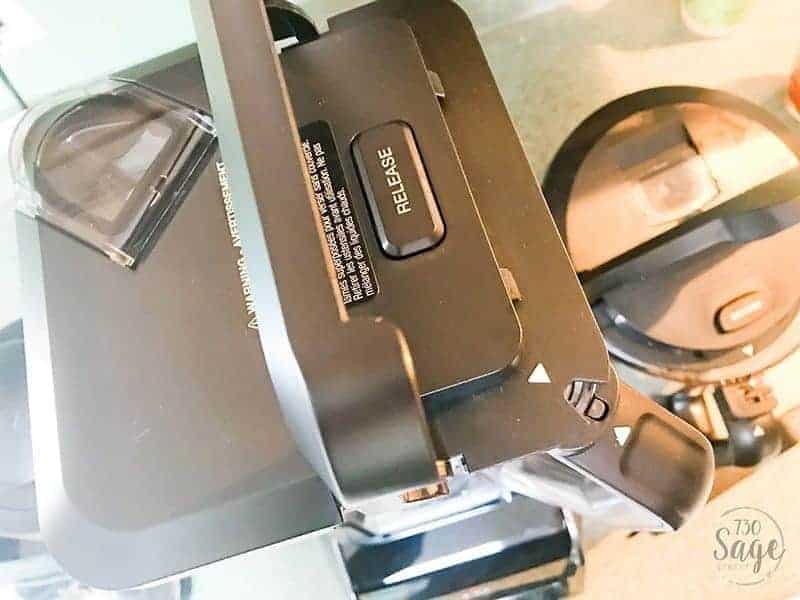 I decided to use the Ninja Intelli-Sense Kitchen System with Auto-Spiralizer to create a Low Carb Creamy Bolognese with Zucchini Noodles, sort of a spaghetti bolognese without pasta. I'd never made a sauce like this from scratch, so I was really anxious to see how easy it would be to make with this machine.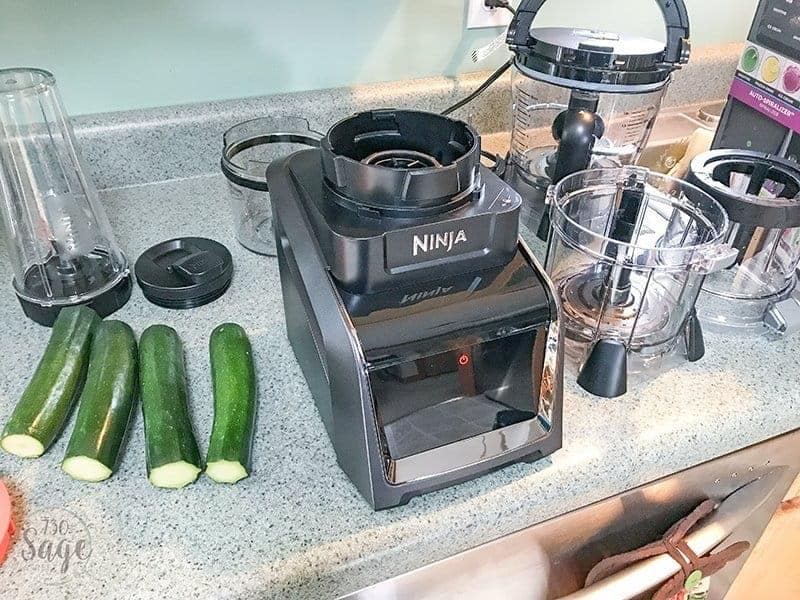 I was so impressed by how easy it was to use the spiralizer and how not messy it was. I plan to spiralize everything from now on!
This recipe uses the Auto-Spiralizer and the Precision Processor to prepare ingredients and then moves to the stove top to finish the keto bolognese sauce and saute the zucchini noodles to soften them a bit.
The low carb bolognese sauce recipe turned out delicious, and paired with the zucchini noodles, it was a fantastic healthy dinner!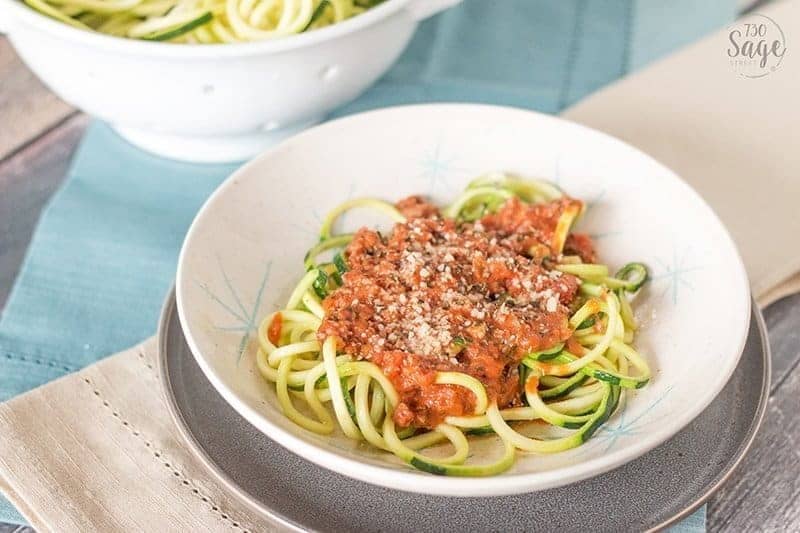 To see the machine in action and learn how I made the low carb bolognese with zucchini noodles recipe, watch the video below.
I honestly had no idea that the zucchini noodles would be so good. They were a bit crunchier than pasta, but I suppose you could saute them longer. I just didn't want them to end up mushy.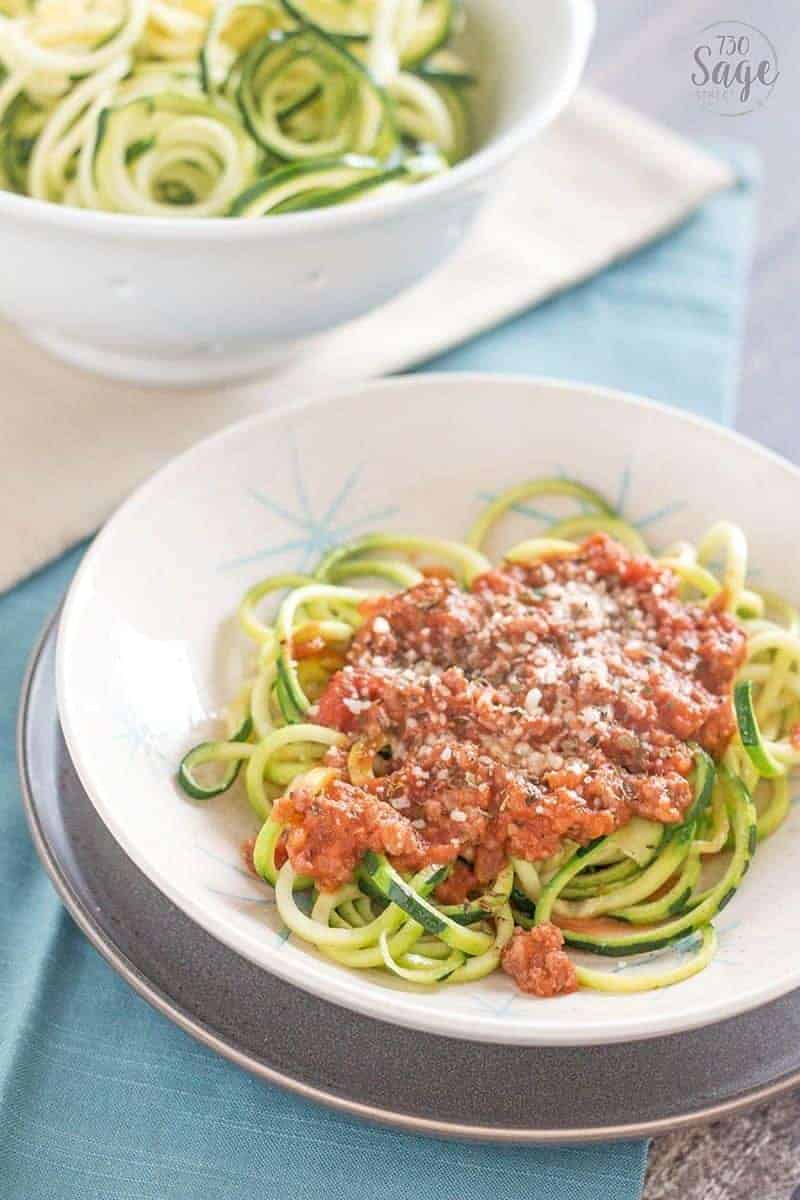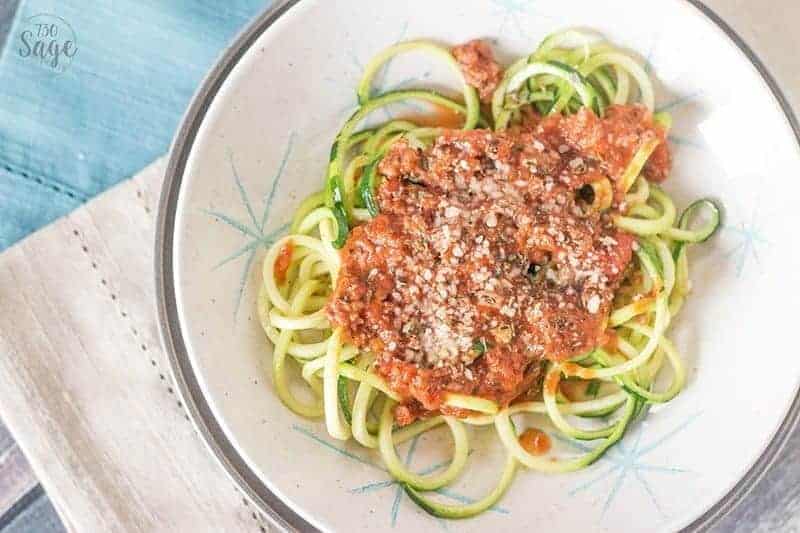 Low Carb Creamy Bolognese with Zucchini Noodles
In addition to this delicious low carb creamy bolognese with zucchini noodles recipe, I have used the Ninja Intelli-Sense Kitchen System with Auto-Spiralizer to make my daily protein smoothies. The smoothie Smart Program makes them perfectly. No more clumps of powder in my smoothies! I am pretty sure this machine will be a part of my daily cooking routine from now on.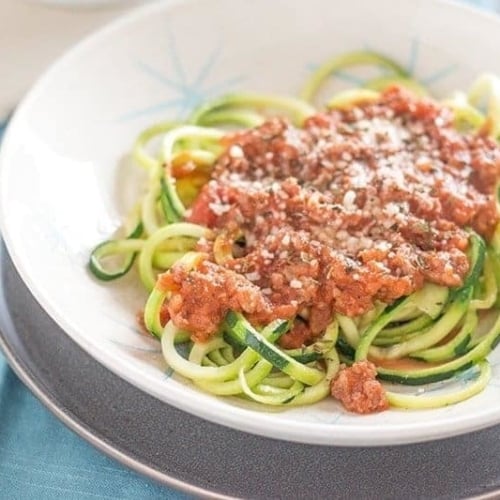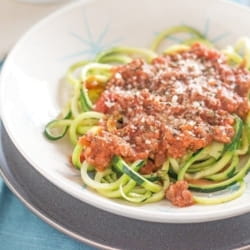 Ingredients
1

lb

mild Italian ground sausage

4

small zucchini

2

tbsp

olive oil

1/2

medium sweet onion peeled and cut into 1 inch pieces

4

cloves

peeled garlic

1

cup

red wine

1

28 oz can of crushed tomatoes

1

tbsp

dried parsley

1

tbsp

dried oregano

1

tbsp

dried basil

1/2

tsp

salt

1/2

tsp

black pepper

1/4

cup

heavy cream

1/2

cup

grated Parmesan cheese
Instructions
Place onion and garlic into the 64-ounce Precision Processor. Pulse until evenly chopped or use "chop" button.

Cut ends off zucchini, and cut into pieces no taller that the feed chute of the spiralizer. Place zucchini into the feed chute and spiralize all of the pieces. Set aside.

Heat 1 tbsp olive oil in a large skillet over medium heat, and add onion and garlic mixture and saute until soft, about 2 minutes.

Add ground sausage to skillet. Saute, and break up into small pieces (stirring frequently) until cooked through.

Pour wine into skillet and stir until combined.

Add crushed tomatoes, oregano, salt, pepper and parsley to ground sausage and simmer for 20-25 minutes.

Add heavy cream, basil and Parmesan cheese to the sauce and continue to simmer for 8-10 minutes stirring frequently.

While simmering this last time, saute zucchini noodle in a skillet with 1 tbsp olive oil over medium heat for 1-2 minutes. You might want to do this in batches.

Serve sauce over zucchini noodles and top with extra grated Parmesan.


Nutrition Facts
Low Carb Creamy Bolognese with Zucchini Noodles
Amount Per Serving
Calories 347
Calories from Fat 225
% Daily Value*
Fat 25g38%
Carbohydrates 11g4%
Protein 16g32%
* Percent Daily Values are based on a 2000 calorie diet.
Information shown is an estimate and is for information only. 730 Sage Street is not responsible for the factual accuracy of any nutrition information, calculations or claims.