In this round-up article, we've compiled 20 mouth-watering recipes with blue oyster mushrooms, including pan-fried mushrooms, seared scallops, and savory pasta. Whether you're a vegan, vegetarian, or meat lover, there's something for everyone in this collection of recipes.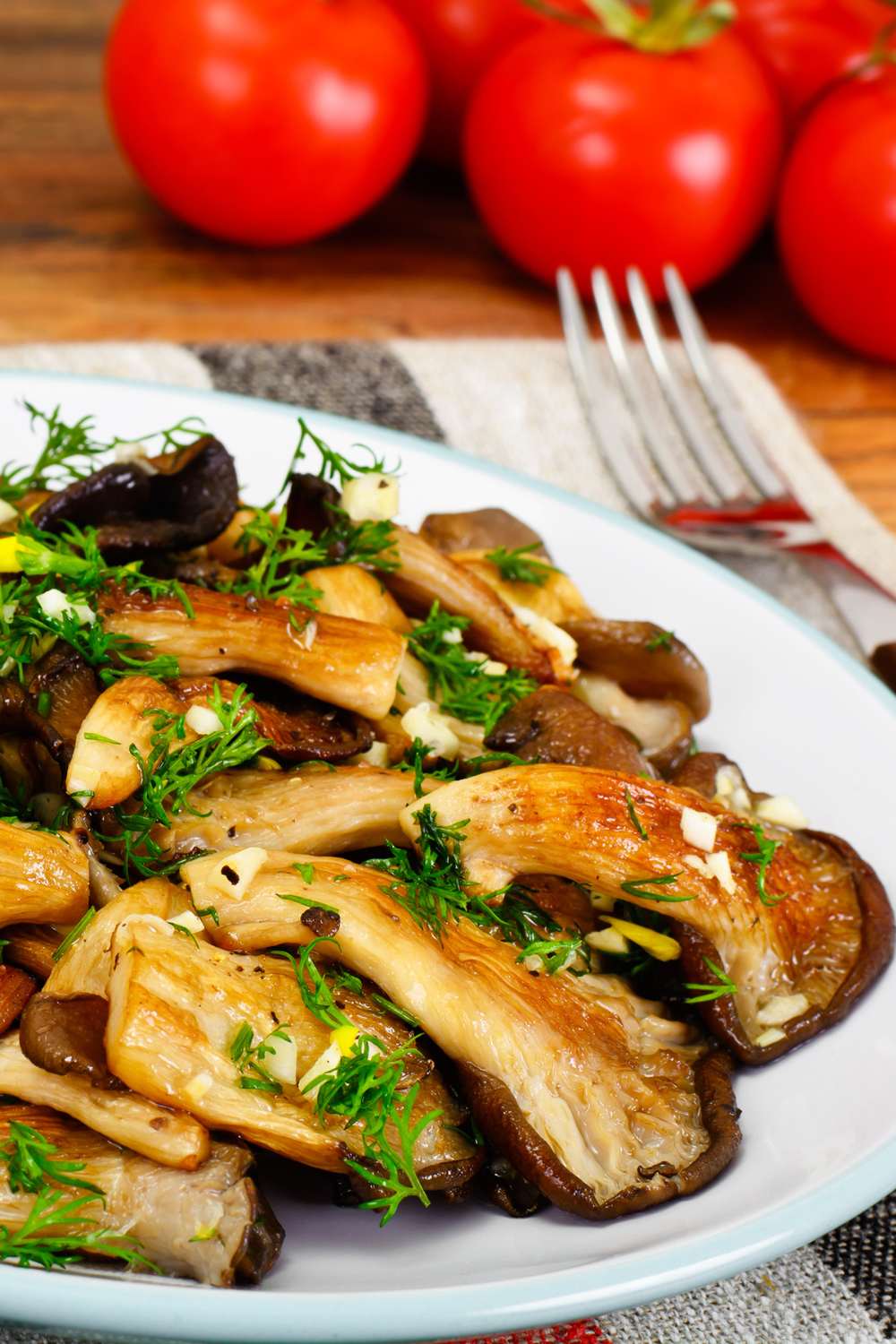 Where Can I Find Blue Oyster Mushrooms?
Blue oyster mushrooms can be found in various specialty markets, Asian grocery stores, or farmers' markets. Some health food stores and online retailers also sell fresh or dried blue oyster mushrooms. These mushrooms are becoming more widely available as their popularity grows, so keep an eye out for them in your local markets.
What Flavors Pair Well With Blue Oyster Mushrooms?
Blue oyster mushrooms have a mild, earthy flavor and a slightly sweet taste, making them versatile ingredients in many recipes. They pair well with garlic, ginger, soy sauce, miso, and other umami flavors.
Blue oyster mushrooms also complement creamy and tangy ingredients such as butter, cream, and sour cream. Try pairing them with fresh herbs like thyme, rosemary, and parsley or acidic ingredients like vinegar or lemon juice to add a bright, fresh taste to your dishes.
20 Recipes With Blue Oyster Mushrooms
Elevate your dishes with these 20 delicious recipes using blue oyster mushrooms. From creamy pasta to crispy fried mushrooms, there's a recipe for everyone:
This Blue Oyster Mushroom Pasta is the perfect dinner option for mushroom lovers! The blue oyster mushrooms are soaked in hot water, then cooked with garlic, onion, thyme, salt, pepper, parsley, and oregano for a delicious and aromatic blend of flavors.
The pasta is boiled and crushed, adding a unique texture to the dish. The mushroom mixture is added to the pasta, and the two are mixed and served hot. With only 25 minutes of total preparation and cooking time, this recipe is a quick and easy way to satisfy your craving for a hearty and flavorful meal.
This Scallops with Shiitake and Oyster Mushrooms recipe is the perfect indulgence for seafood lovers. The mushrooms are first sautéed in butter, which imparts a nutty flavor, and then stewed with white wine and chicken broth to make a savory mushroom medley.
Large sea scallops are browned in a skillet with a mix of canola oil and butter and then transferred to the mushroom pan. The scallops finish cooking in the residual heat of the pan, allowing them to remain tender and juicy. Finally, the mushroom mixture is spooned around the scallops and sprinkled with parsley. You can also dredge the scallops in flour to earn extra browning points.
These pan-fried oyster mushrooms are a delicious and simple addition to any meal. The recipe involves evenly sized mushroom pieces cooked in olive oil, garlic, and thyme until they're crispy and browned all over.
Add butter or ghee to give them an extra depth of flavor. This dish can be paired with many different foods as a versatile side or even used as an addition to your favorite meals. Enjoy the crispy and savory taste of these oyster mushrooms, seasoned with salt and black pepper, as they elevate any dish they're served with.
This sauteed oyster mushroom recipe is the perfect side dish for any meal. Karen Tedesco's recipe is quick and easy to make, and the mushrooms are pan-fried with butter, garlic, and parsley leaves until they're crispy and delicious.
The aroma of garlic and parsley will fill your kitchen, making your mouth water with anticipation. The buttery texture will melt in your mouth, leaving a savory flavor that's hard to resist. You can serve these mushrooms with garlic bread, pasta, or scrambled eggs to create a gourmet dish that's sure to impress your family and friends.
If you're looking for a recipe to elevate your oyster mushrooms, this is the one to try. Roasted oyster mushrooms are sprinkled with seasoned breadcrumbs, then added to a bowl of blue cheese pasta with a splash of single cream for added richness.
The result is a comforting vegetarian dinner that will impress your guests or make for a cozy night in. Don't forget to garnish with grated parmesan or fresh herbs for a finishing touch.
This simple blue oyster mushroom snaps pea stir-fry is perfect for a quick and easy weeknight meal. The mushrooms add a unique depth of flavor, while the snap peas bring a delightful crunch to the dish.
The minced garlic, olive oil, and sesame oil or butter provide a fragrant and delicious base for the stir-fry. In just a few minutes of cooking, the mushrooms and snap peas are perfectly tender, and the dish is ready to be enjoyed! Serve it as a side dish or pair it with rice for a satisfying and healthy meal.
Oyster Mushrooms Rockefeller is a vegetarian twist on the classic dish using oyster mushrooms. The mushrooms are cooked with garlic and butter until they're wilted and juicy.
The spinach is then added, which is creamy and garlicky, giving a depth of flavor to the dish. A generous layer of savory breadcrumbs is sprinkled over the top before baking, adding a crispy texture to the dish. It's perfect as a side dish or as a starter for a dinner party. Try it on top of a slice of toasted bread for a delicious crostini.
Experience the explosion of flavors in this Blue Oyster Mushroom Bao recipe! These fluffy buns filled with juicy, sautéed mushrooms and crisp pickled veggies are a perfect vegetarian alternative to traditional pork buns.
The quick and easy pickling of cucumbers, radishes, and carrots provides the perfect balance to the savory and spicy hoisin and sriracha sauce. Cooking the mushrooms in toasted sesame oil infuses them with a delicious nutty flavor. Whether you're looking for a light lunch or a party appetizer, these bao buns are sure to satisfy you!
Oyster mushroom soup, which features thin strips of sautéed mushrooms in a creamy broth. The soup is easy to make, with just four main ingredients and a handful of pantry staples.
The addition of garlic and red wine vinegar gives the soup a tangy kick that elevates the flavor profile. Top with hot red pepper flakes for an extra burst of heat. Serve this comforting soup on a chilly evening for a warm and satisfying meal.
Garlic Butter Oyster Mushrooms are the perfect side dish to any main course that is packed with incredible savory flavor. The mushrooms are cooked in a buttery garlic mixture until tender, and the addition of fresh parsley adds a subtle herbaceous note.
To bring out the flavors, a splash of white wine can be added, and the result is an unforgettable side dish that's both easy and quick to make. These mushrooms are best served hot and can be stored in the refrigerator for up to 3 days if there are any leftovers.
These sweet and savory Teriyaki Mushrooms made with Oyster Mushrooms and broccoli will satisfy your craving for a healthy and delicious meal. The mushrooms are marinated with dark soy sauce, toasted sesame oil, and mirin sake for added flavor.
The teriyaki sauce is made from organic cane sugar, rice vinegar, and dark soy sauce, which gives the dish an authentic taste. The dish is then served over steamed jasmine rice or quinoa, with green onions as a garnish. Enjoy this vegan and gluten-free recipe that is sure to become a household favorite!
If you're in the mood for a vegan seafood feast, then this King Oyster Scallop Cioppino will surely satisfy your cravings! This gourmet-quality stew features King Oyster mushrooms "scallops" that are perfectly seasoned with lots of garlic and Old Bay, giving them a deep and savory flavor.
The garbanzo beans and Roma tomatoes give this dish a hearty texture, while the lemon juice and fresh parsley add a zesty and herbaceous touch. Ladle this stew into shallow bowls, top with the mushroom "scallops," and enjoy a warm and comforting meal that's perfect for any occasion!
Blue oyster mushroom tostadas are a perfect combination of flavors and textures, creating a mouth-watering dish. The tostadas are layered with hearty seared blue oyster mushrooms that are packed with flavor and provide a satisfying crunch. The mashed avocado adds a creamy and buttery texture, while the pickled onions bring a tangy, acidic note that perfectly complements the other flavors. Top it off with some cilantro, jalapeño, cotija cheese, and a squeeze of lime to balance out the flavors.
These tostadas are easily customizable, vegan-friendly, and can be prepared ahead of time, making them the perfect dish for a quick and delicious meal.
Spice up your snack time with these Buffalo Oyster Mushrooms! Thanks to vegan chef Tamikka Reed, you can enjoy the taste of Buffalo wings without the meat. The oyster mushrooms are lightly battered and fried to perfection, and then coated in Moore's Original Buffalo Wing Sauce for a fiery, tangy finish.
These are perfect for game day or a casual night in, and they pair well with pickles and potato wedges.
These deep-fried oyster mushrooms are crispy on the outside and tender on the inside, perfect for an appetizer or a main course. The secret is the vegan buttermilk, which gives the mushrooms a tangy and slightly spicy kick. The batter is made with a mix of flour, cornstarch, cornmeal, and spices, giving the dish a flavorful and crunchy texture. Serve hot with your favorite dipping sauce, and you will have a dish that even meat-eaters will love!
Elevate your vegetarian cuisine with this oyster mushroom steak recipe that's perfect for vegans and meat-eaters alike! Golden oyster mushrooms are seared to perfection and served with a side of cooked leafy greens, like watercress.
Seasoned with kosher salt and fresh ground black pepper, this dish is a healthy, flavorful, and delicious alternative to traditional steaks. For an extra touch of flavor, drizzle ramp butter or your favorite herby green sauce over the mushrooms and top with a squeeze of fresh lemon juice. Serve it as a side dish or enjoy it as a meat substitute.
Impress your guests with these vegan carnitas made with chanterelle mushrooms and green jackfruit, braised in a delicious orange gravy. The shredded mushrooms and jackfruit are seasoned with spices like cumin, chili powder, and coriander powder, and then tossed in a skillet with diced onions and garlic until they become wilted. The orange juice is added to bring everything to a gentle simmer and then reduced to a caramelized finish under the broiler.
Serve the vegan carnitas with a squeeze of lime and some cilantro for a fresh taste. Try this recipe out with any variety of mushrooms you have available in your region.
Oyster Mushroom Vegan Shawarma is the perfect plant-based alternative to traditional meat shawarma, without compromising on flavor. The large oyster mushroom clusters are coated with a mouthwatering spice mix made of garlic granules, cumin, smoked paprika, and other Middle Eastern spices, and roasted in the oven until perfectly tender.
Serve these delectable mushrooms in a steamed pita with garlic yogurt sauce, hot sauce, tahini, and a Middle Eastern-style salad made with juicy Roma tomatoes, fresh parsley, red onions, and cucumbers. This shawarma is perfect for a quick and easy meal that will satisfy your cravings for bold flavors and textures.
Air Fried Oyster Mushrooms, also known as Vegan Fried Chicken Karaage, are a healthier alternative to traditional fried chicken. These perfectly crispy mushrooms have a fraction of the calories, making them a guilt-free option for satisfying your fried food cravings. Soaking them in a vegan buttermilk mixture gives them an extra tangy flavor that pairs well with the crispy coating of rice flour, tapioca starch, and spices.
And, don't forget to serve them with the irresistible bang bang sauce, which combines the creaminess of mayo, the tanginess of vinegar, and the heat of hot sauce for a flavor explosion.
These mushrooms are rich in flavor and perfect as a side dish for any meal. The sesame oil, garlic, truffle oil, mirin, and soy sauce create a delicious, umami flavor that complements the meaty texture of the mushrooms.
Toasted sesame seeds add a nutty crunch to finish off the dish. Whip up this easy-to-follow recipe in just 20 minutes and impress your guests with a fantastic mushroom side dish.