Bloggers on Bourbon was all about building new relationships, solidifying old ones, and just plain having fun.  It was organized by Trisha from MomDot (my iBFF) and Leah from Bookieboo, and what they managed to produce was a blogging event like no other.  Trisha and Leah believed that the best way to learn from each other was simply to spend time together in a fun environment, not from sitting in formal educational sessions with a pen and paper.  And they were right.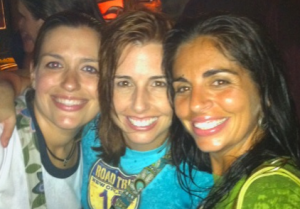 I arrived on Thursday evening.  My plane was late, but Bridgette, Renee and Cissy were there to meet me and take me to my hotel.  I was spending Thursday night sharing a room with Trisha and Blondie, but before we went into the city, Bridgette and Renee (both locals) took Cissy and I to Cafe Du Monde for Beignets and our first taste of the authentic New Orleans experience.  I had a TON of fun with these three ladies and I look forward to future events because when I am with them all I do is laugh.  Plus Renee irons.
The three amigos dropped me off at our hotel, The Prince Conti Hotel, 1 block off Bourbon Street and Cissy and I were trapped by child safety locks in the backseat as THE ANDERSON COOPER walked by on the sidewalk two feet from Renee's car.  He turned the corner before we were able to get out….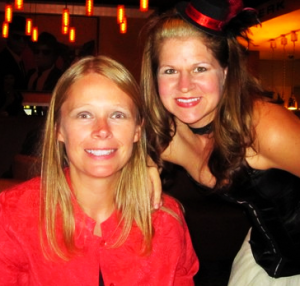 The rest of the evening involved a reunion with Trisha and Nicole (Blondie), two of my favorite people in the world.  I hadn't seen Blondie for a whole year (you can see some pictures of us in my 1 year later post), but I did see Trisha for like a day and a half a few months ago.  We organized swag, got ready for everyone's arrival on Friday and got some sleep.  Well, I didn't sleep thanks to a pesky mosquito who thought it would be fun to buzz around my ear all night and bit me 8 times on my arm.

MY LATEST VIDEOS
The remainder of the trip I spent talking to as many of the attendees as I could.  I am sad that I didn't get to spend time with everyone, but I did try.  Some observations about the bloggers I spent some time with:
Rhea

, my roomie: Rhea is such a cool lady.  She put up with having me as a roommate, so she's automatically cool, but she was also fun and smart and I really enjoyed my time with her.  Plus…she brought a first aid kit and shared her Bandaids.  Oh and I have said many times on the MomDot forum that Rhea and I are the same person, and this weekend proved that to be true.  Who else brings a week's worth of snacks in their suitcase besides me?  Yes…Rhea did.

Lori

: She looks like she's 12.  She really does.  And she knows it LOL.  I'd been looking forward to meeting Lori and while we didn't get to spend a ton of time together, I enjoyed meeting her.

Brittany

and Kas: These two ladies are ones I had hoped to spend more time with but it seemed like we mostly waved from across the room.  Next time ladies.  You won't be able to get rid of me next time, I promise!

Marybeth

: Marybeth was beautiful and a lot of fun!  She gets my award for Miss Congeniality.

Jessica

: On late Friday night on Bourbon Street, Jessica and I were thrown together as 'buddies' because the streets were so crowded.  She is an amazing lady.  Smart, funny and a whole lot of fun to be around.

Kim

: Kim is a dork.  She said so in her bio.  Believe it LOL.  Seriously though, Kim is a great lady even though I call her the water nazi on Twitter.  I think Leah pays her to annoy people.  Hey, I say if you have a talent…. Haha, ok I was going to be serious.  hmmmm, I just can't about Kim – she's too much fun to joke with.
Christine: There is no more beautiful pregnant woman in the world ever than Christine.  And boy was she a trooper with all the walking we did.  I have no idea how her bladder kept up with it all.  I want to be her when I grow up!

Maggie

: Hello!  Where did Maggie come from?  Maggie sat across from me at dinner on Friday night and even though Bridgette Renee and Cissy and I all knew each other from Blogher last year, she fit right in.  Such a great lady, and she knows how to have a good time!

Lynsey

: She makes me giggle.  For lots of reasons…but one main reason that I'm not going to talk about.  This is one of those "what happens in NO, stays in NO" moments.

Kat

: Kat is my American Idol.  I can sing…Kat is a singer.  And AI shot her down because they are more concerned with entertaining people by selecting those who are ridiculous than they are over making actual dreams come true by selecting the best talent.

Elizabeth

: Or should I say "Elizabeth underscore N"?  Elizabeth has a zest for life matched by no one!  She is so much fun and so very inspirational.

Shasta

: Does this woman ever take a bad picture?  Shasta is very sweet and I'm glad I got to spend some time with her!
Paula: I am very glad I got to spend some time and chat with Paula.  She said that she stepped outside herself to attend this event and I am so happy that she did.  She was intelligent and interesting and I think we had quite a bit in common.
Kathleen: Kathleen gets kudos for filling a spot at the last minute when someone canceled.  She is a sweet lady and I enjoyed chatting with her.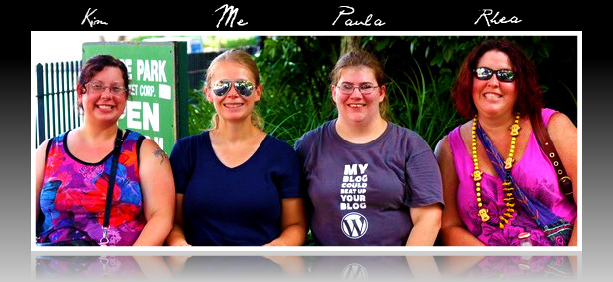 The rest of the attendees that I totally didn't get to spend much time with are: Jessica (the other Jessica B), Haley, Jeanine, Lisa, Rachel (the very tall and gorgeous), Shannon, Jewelynn and Amy.
This really is what a blogging event should be about.  I fostered relationships in a way that just isn't possible online, and I can't wait to see everyone again!
(photo credits The Experimental Mommy and MomDot)