Yes you read that right.
I just suggested that you can get in shape with a lawn tool.
I bet now you are picturing me standing in my yard squatting down, then lifting a yard tool above my head like a circus strong man.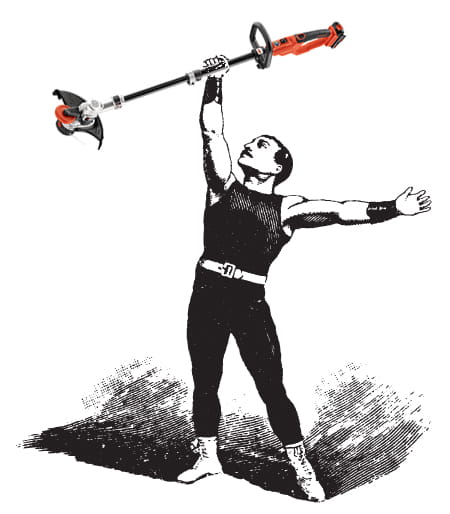 And I suppose I could do that.
I'm sure my neighbors already think I am weird with all of the random photographs I take while standing on my deck of seemingly benign and average household items. This would seem like a logical and natural next step to my bizarre behavior.
And while I enjoy keeping Mrs. Kravitz (how many of you are as old as I am?) busy wondering what the heck I am doing, I actually prefer to use my yard tools as they were intended.
I accomplish something and get in shape at the same time.
Yard work isn't just for men.
I do much of the yard work around here because, as I mentioned, it's a pretty good workout. Lot's of steps, and you engage your arms and your core if you actually put a little bit of effort into it. I used to just mow but then I discovered a handy tool called a string trimmer. And I became obsessed. I trimmed EVERYTHING. It's amazing how much nicer our yard looks with all of the edges trimmed nice and neat.
In the past I've used all kinds of trimmers. A gas trimmer that wouldn't start half the time. A corded trimmer that worked well but was a pain to lug the cord around 1/3 of an acre. And another corded trimmer that wouldn't feed the string correctly so I had to keep stopping to fix it. In my mind, string trimmers ended up being more trouble than they were worth. That is, until I discovered Black+Decker's cordless line of trimmers. I purchased one a few years ago and it worked fantastic, the only issue I had was that even with 2 batteries, it didn't have enough power for me to do our entire yard on one charge. I had to do it over 2 days.
That is, until this awesome tool entered my life.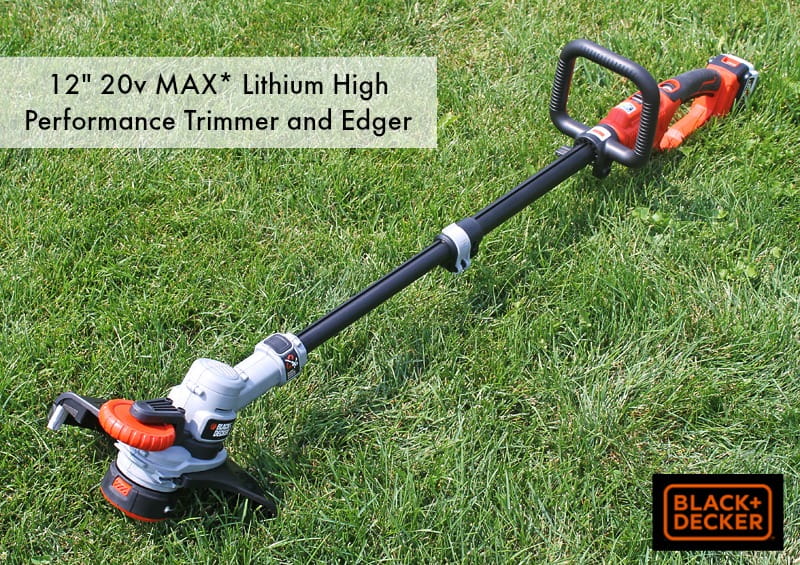 12″ 20v MAX* Lithium High Performance Trimmer and Edger
MODEL # LST400
The Black+Decker LST400 trimmer and edger is used for trimming areas that a lawn mower can't reach and for edging along sidewalks, borders, raised beds, fences, etc.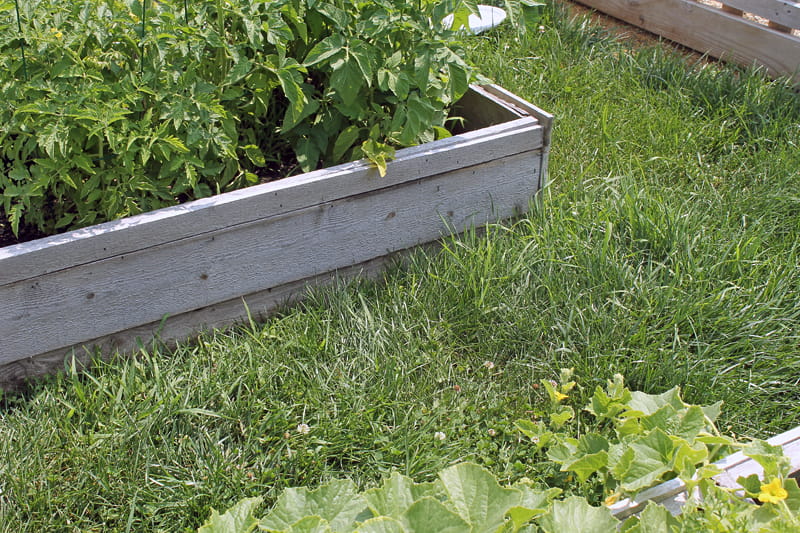 Features:
Up to 1 hour of runtime – under normal cutting conditions in run time mode
Includes (1) 4.0 Amp hour 2X lithium battery pack
Runtime Extension Technology with dual mode accelerator switch
Patented PowerDrive Transmission™
Automatic Feed Spool™
Includes a wheeled edging feature
It is quiet and easy to start
Adjustable handle and height positions
Part of the 20V* MAX tool System – *20v Max voltage. 18v nominal voltage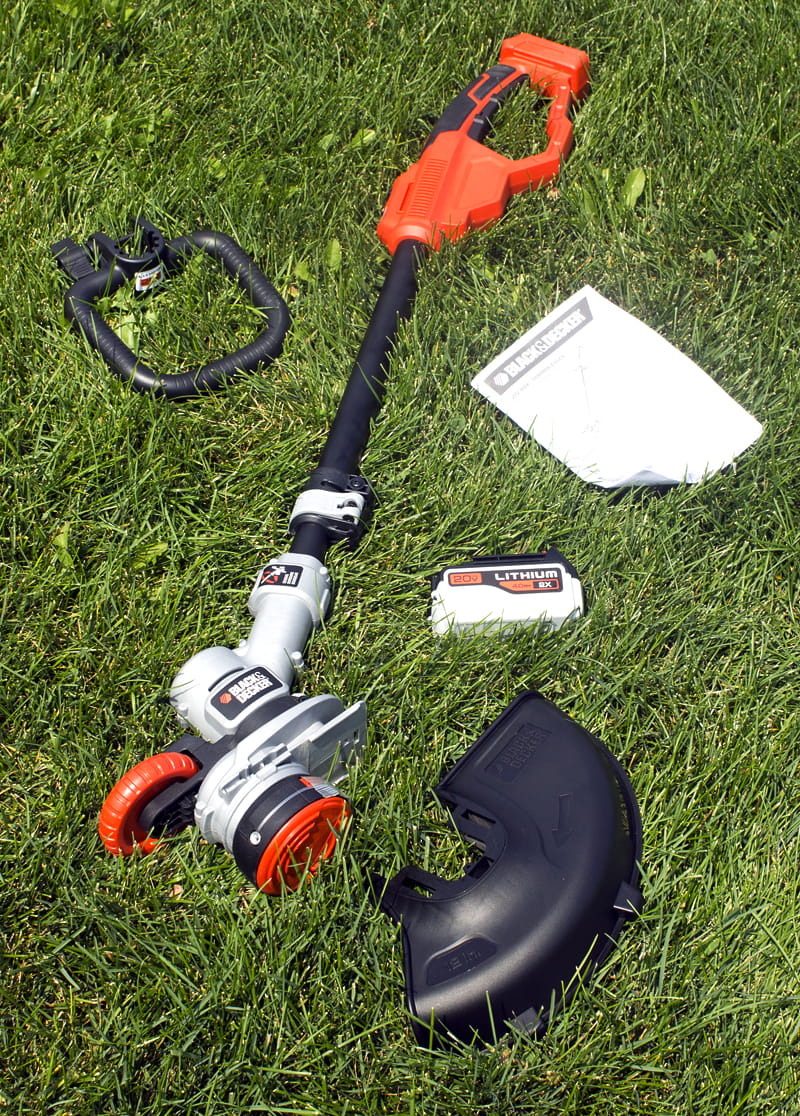 Assembly:
This trimmer was harder to get out of the box than it was to put together. It required a single screw to attach the guard, and a knob on the handle to attache the handle. You then have to charge the battery, slide it in place and away you go!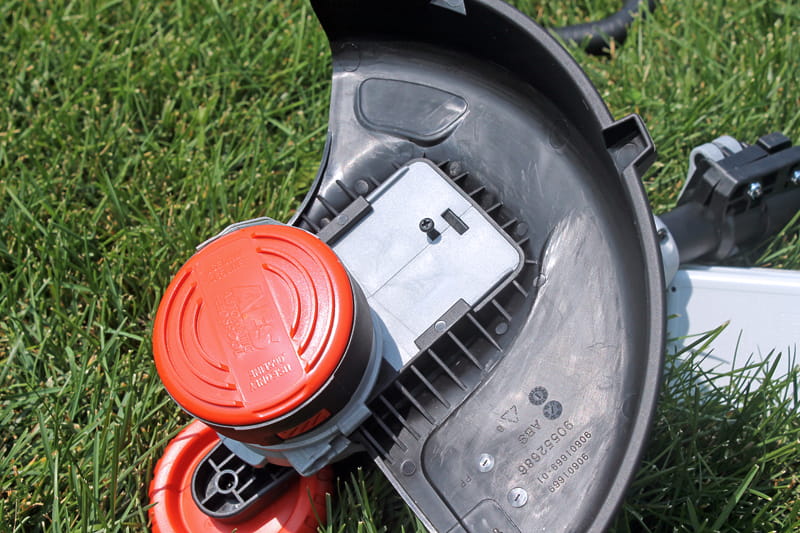 Usage:
This trimmer has a 12″ diameter cutting area, which is sufficient for a residential use. The unit comes with a full trimmer line spool, and replacing it is super easy. It's an automatic feed and doesn't require bumping it to keep the line moving. I haven't had it get stuck yet, it's very reliable. This trimmer also has a wheel to make edging easier and to keep you from getting to close along fences to protect the fence from getting dinged up. It took some getting used to, but it's actually a really great feature because it carries some of the weight of the edger when you have it on that setting.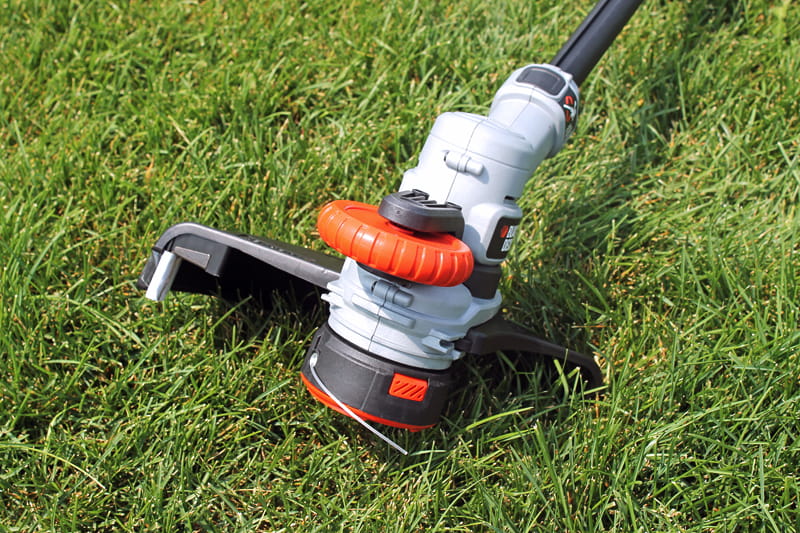 Switching between the trimmer setting and edger setting is as simple as the press of a button near the head of the unit. Press it in, twist 180 degrees, and make sure it locks into place.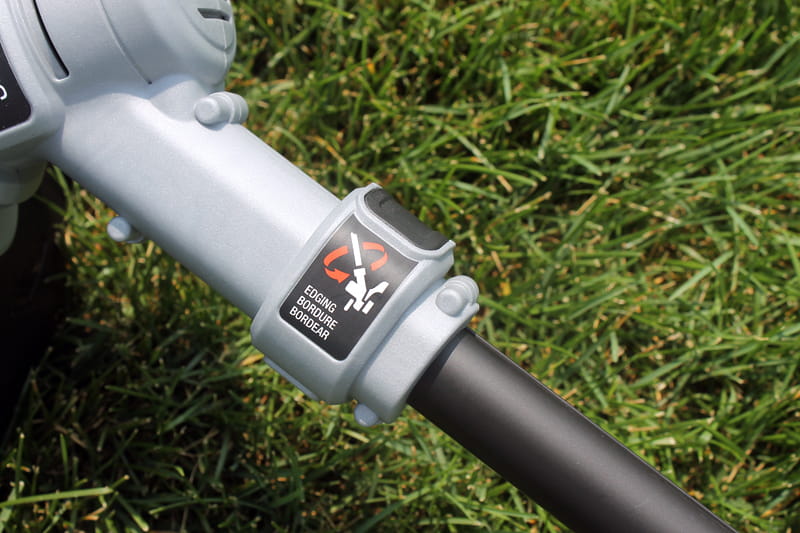 The handle of this trimmer is also adjustable in length so you can find the most comfortable length for you. it's a simple lever to loosen, adjust, then re-tighten.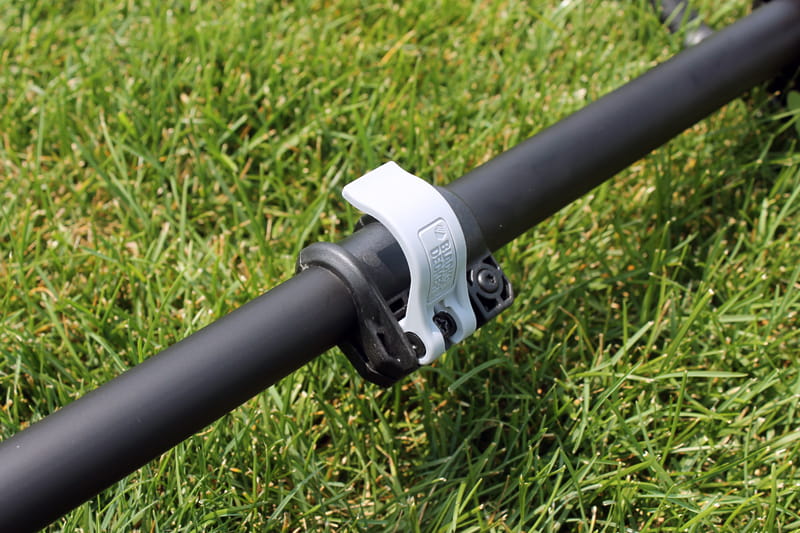 There are 2 modes for this trimmer, one that maximizes power and one that maximizes run time. You select your mode at the base of the handle. I have found that power mode gets me about 50 minutes of run time, not quite constant, but only stopping to move to different areas of the yard.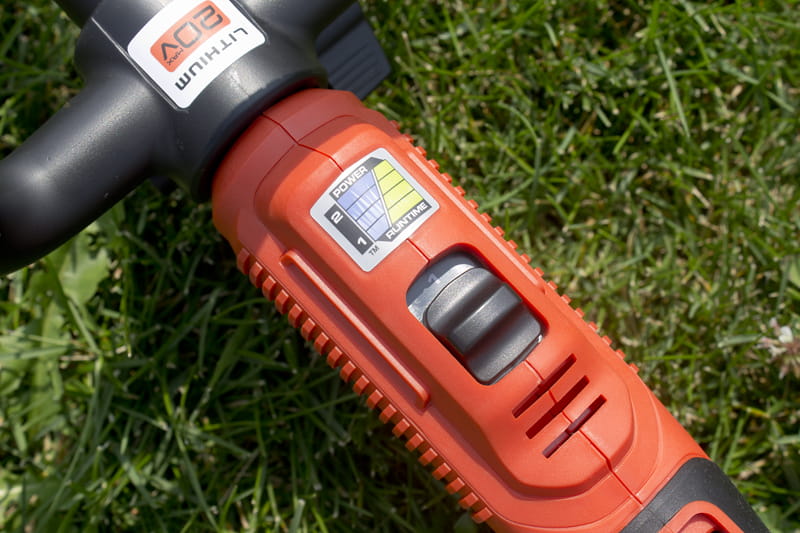 To run the unit, you have to press a button, then squeeze the handle. Once the handle is squeezed you can release the button. The battery pack requires some effort to slide in, I usually have to smack it with my palm.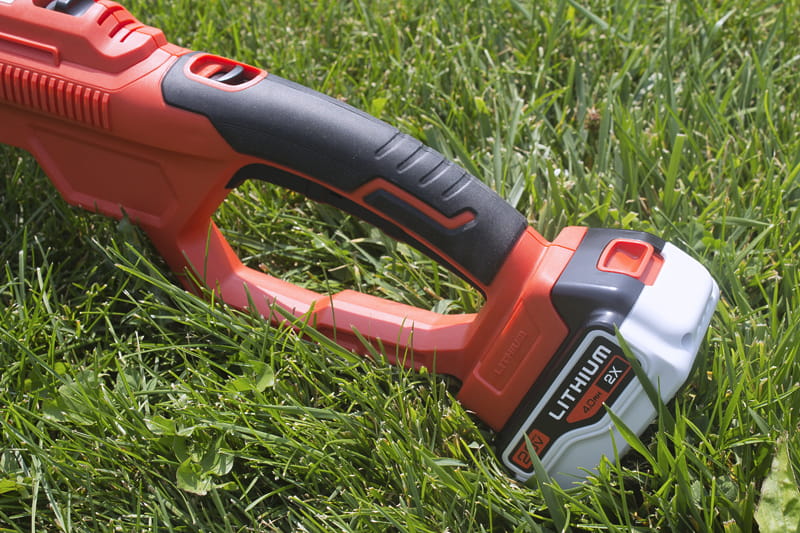 The Black+Decker LST400 trimmer and edger makes my yard work so much easier. The battery lasts longer then I need on one charge, the string feeds reliably every time, and my arms, back & shoulders get a good workout trimming and edging our entire yard. My hand does get tired gripping the handle, it's not angled as much as the earlier model and I do think that is something that has room for improvement, but overall I highly recommend this trimmer.
Where to buy:
You can purchase the 20 Volt Black & Decker LST400 12-Inch Lithium High Performance Trimmer and Edger at Amazon.com, Home Depot and Target.
For more information visit Black+Decker.com.
Note: I received the product shown to facilitate my review.
Join our newsletter!
Subscribe to get updates and great stuff via email including subscriber-only goodies like free printables and giveaways.