This post, Binge Bingo – Sneaking is the New Bingeing with Netflix, is part of my participation with the Netflix #StreamTeam. Opinions are my own.
Admit it.
You have gotten a little creative about when and where you have chosen to binge on your favorite Netflix shows. We've all done it. And because we've all done it, Netflix actually conducted a survey to find out the top ways and places moms sneak in their bingeing.
Because apparently sneaking is the new bingeing.
Speaking of bingeing, that word just looks like it is spelled wrong. But it's not. It's spelled correctly. At least according to the internet. And the internet is never wrong.
To help celebrate all of the places you might find yourself sneaking some bingeing "me time" I made a cute little Binge Bingo printable that you can have some fun with. But before we get to that, let's take a look at what Netflix discovered when they surveyed moms about their TV sneaking habits.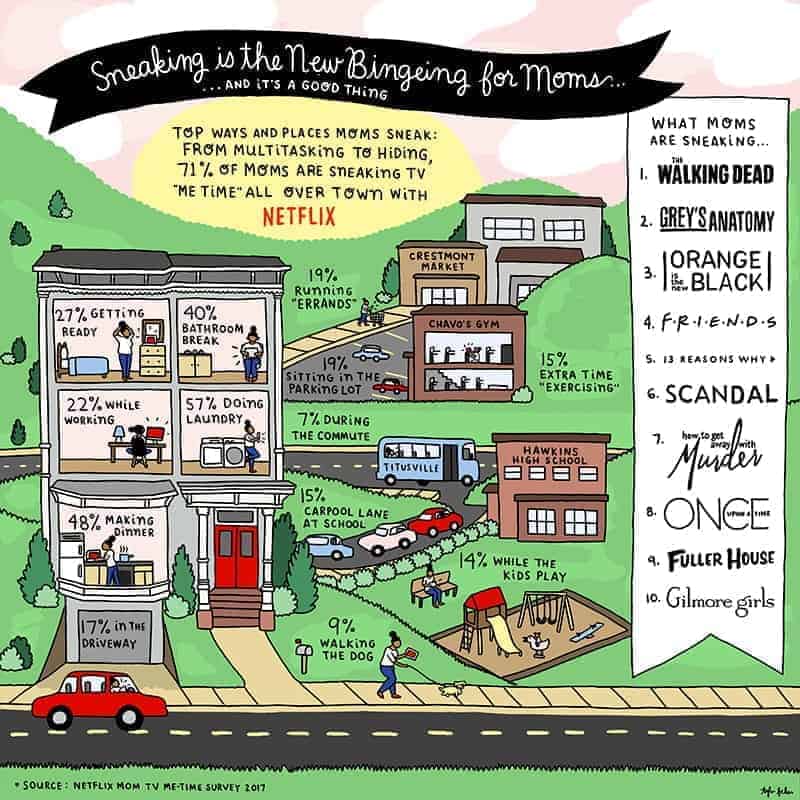 Personally, most of my sneak bingeing is while doing laundry or working out. Sometimes while waiting to pick my kids up for something they attended and sometimes while cooking.
Where do you find yourself sneaking TV "me time"?
The Binge Bingo printable below is a fun way to have some fun with your sneak bingeing. Can you score a bingo? How about filling the whole card?
Binge Bingo Free Printable
This would be fun at a ladies night in. Have someone call out the locations randomly and see who can score a bingo first. Then go around asking everyone if they have a sneak place that isn't on the list! I'd love to hear how creative some moms get when sneaking some "me time".
Note: scroll to the bottom to print the actual bingo card.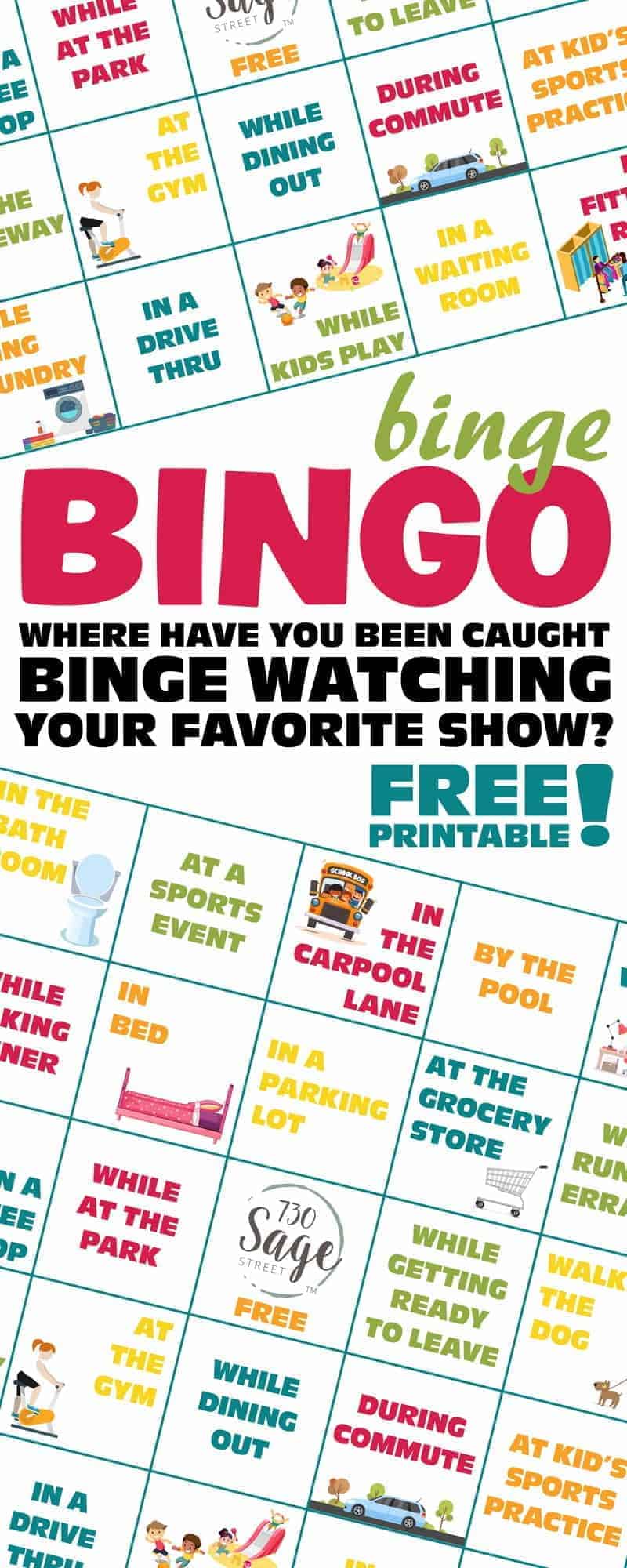 PRINTABLE USE TERMS
730 Sage Street has provided this printable free of charge for personal use. You may NOT link directly to the PDF file, resell, or use commercially. This is  a violation of the terms of the graphics and the copyright. Personal use includes parties, classrooms, home school, church, community activities, etc.
Check out out printables category for more great printables and activities.
PRINTING TIPS
The PDF should print easily to your default print size without having to change anything. It prints to an 8-1/2 x 11 size sheet which is standard paper size.
Use cardstock so it holds up all summer!
Consider getting a laser printer for your printables, they have come way down in price.
Turn printables into a write on / wipe off page with a thermal laminator.
Get the printable
To print the Binge Bingo, you can click one the image below or click right here —> Binge Bingo printable. It will open a high-res PDF that you can print to your printer.