We were watching Comedy Central last night and guess what we saw?
A commercial for BigSpot.com online survey taking.
"Become an online survey taker and earn cash for your opinion" – I'm paraphrasing but that's pretty close to what they say in the commercial.
Have you seen these BigSpot.com commercials?
Wondering if it is legit?
Wondering if you can actually be paid for your opinions?
Well, the answer is two-fold.  You CAN be paid for your opinions but all BigSpot.com does not pay you.  They provide a list of companies that do but not before collecting your personal information.  You give them your name, email and some personal data and they give you a list.
A list very similar to this list:
In fact, that list likely has way more companies on it than theirs does and I didn't ask you to fill out a form first.
Here is their site:
NOTE: BigSpot has updated their website since this article was first published, but their system does not appear to have changed.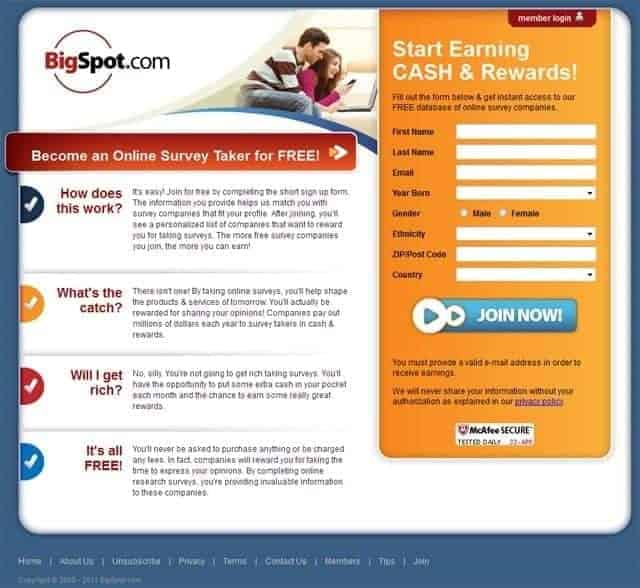 There are two key things, aside from my experience with online paid surveys that indicate that BigSpot.com is not as their commercials imply:


BigSpot.com does not pay you to take surveys.  They simply give you a list of companies that do pay you.  In exchange for your personal information.
Hmm.
If it's not worth the risk for you, I have my own database of online survey companies that is free and you don't have to enter any personal information for access.
Free Paid Survey companies database
Also, if you want to read more about BigSpot.com, I have some previous posts I wrote here:
Join our newsletter!
Subscribe to get updates and great stuff via email including subscriber-only goodies like free printables and giveaways.