Instructions, photos, and a pinnable image for The Best Seasoning Salt Ever! are below. Be sure to scroll to the bottom for the printable recipe.
My grandmother owned a restaurant that was famous for its fried chicken and catfish. I won't be sharing her recipes for those, but I am going to share a key ingredient – her recipe for Seasoning Salt. This salt is amazing on french fries, roasted vegetables, and meat. It's also perfect for adding flavor to your favorite low carb dishes too.
Here is a picture of her in front of the restaurant in the early 1960's. What's with the name? One phone call, and you could have a feast delivered to your door. This was way before Domino's or Grub Hub, so it was rather rare to have a delivery service.
Although she was the sole owner, it was definitely a family business. Just about everyone in the extended family worked in the restaurant at one time or another. My dad (that's him in the middle) cooked, and most of my cousins were delivery boys. My mom helped in the kitchen, but I had the best job.
Delivery orders were placed in a deep Chinet-like plate and a second plate was flipped upside down and stapled to the bottom plate. Sort of like a clamshell. My job was to make sure all the food was inside the plates, assemble the "clamshell" and then staple the plates together.
Every order came with a side of fries sprinkled with this seasoning salt. Any fries that happened to fall off the plate were fair game for me. Mmmm. Hot french fries are the best.
Originally, this recipe was written with restaurant-sized portions: three boxes of Morton Salt, one box of pepper, one container of garlic powder. (It also called for a container of monosodium glutamate. Yikes!) This makes a HUGE amount.
I wanted to adjust the recipe to a more family-friendly size, but of course, the container sizes are not the same as they used to be, and how do you convert ounces to teaspoons? After ten minutes of numbers and measurements swirling around my head, I went to my resident math & science genius for help.
The next thing you know, a triple beam balance (doesn't everyone have one of those laying around the house??), calculators, scratch paper, and all sorts of measuring spoons were involved. Measurements were converted to grams. Scales were adjusted. Individual ingredients were weighed. "We" finally got it all worked out. Thanks, Dear! This recipe has been mathematically and scientifically calculated for deliciousness.
If you're following a low carb diet, check out some of our recent recipes:

Best Seasoning Salt Ever
Ingredients:
1 cup Morton Salt
9 tsp. black pepper
7 tsp. garlic powder
Directions:
Mix together and store in a cool dry place. Shake well before each use, and use as you would salt & pepper on vegetables, fries, or meat.
GET THE PRINTABLE RECIPE BELOW


Here's the pinnable image for you.
And, here's the printable recipe: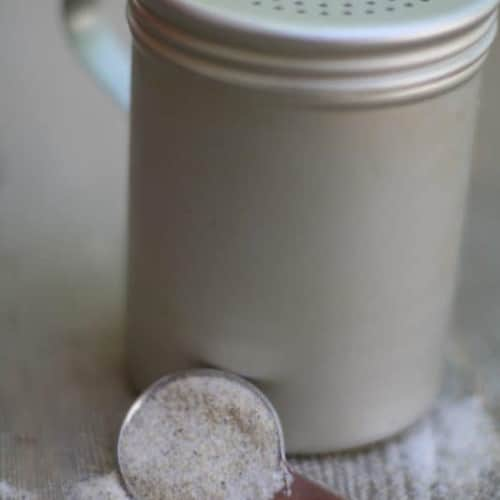 Instructions
Mix together and store in a cool dry place.

Shake well before each use.

Use as you would salt & pepper on vegetables, fries, or meat.
Nutrition or specific diet information shown is an estimate or best guess and is for information only. 730 Sage Street is not responsible for the factual accuracy of any nutrition information, calculations or claims.