Scallops, a refined and opulent shellfish, are a wonderful addition to pasta meals. From the traditional Linguine alle Vongole to the contemporary Scallop Carbonara, we've selected 15 pasta dishes that are sure to amaze your family and visitors with the sweet and buttery taste of scallops.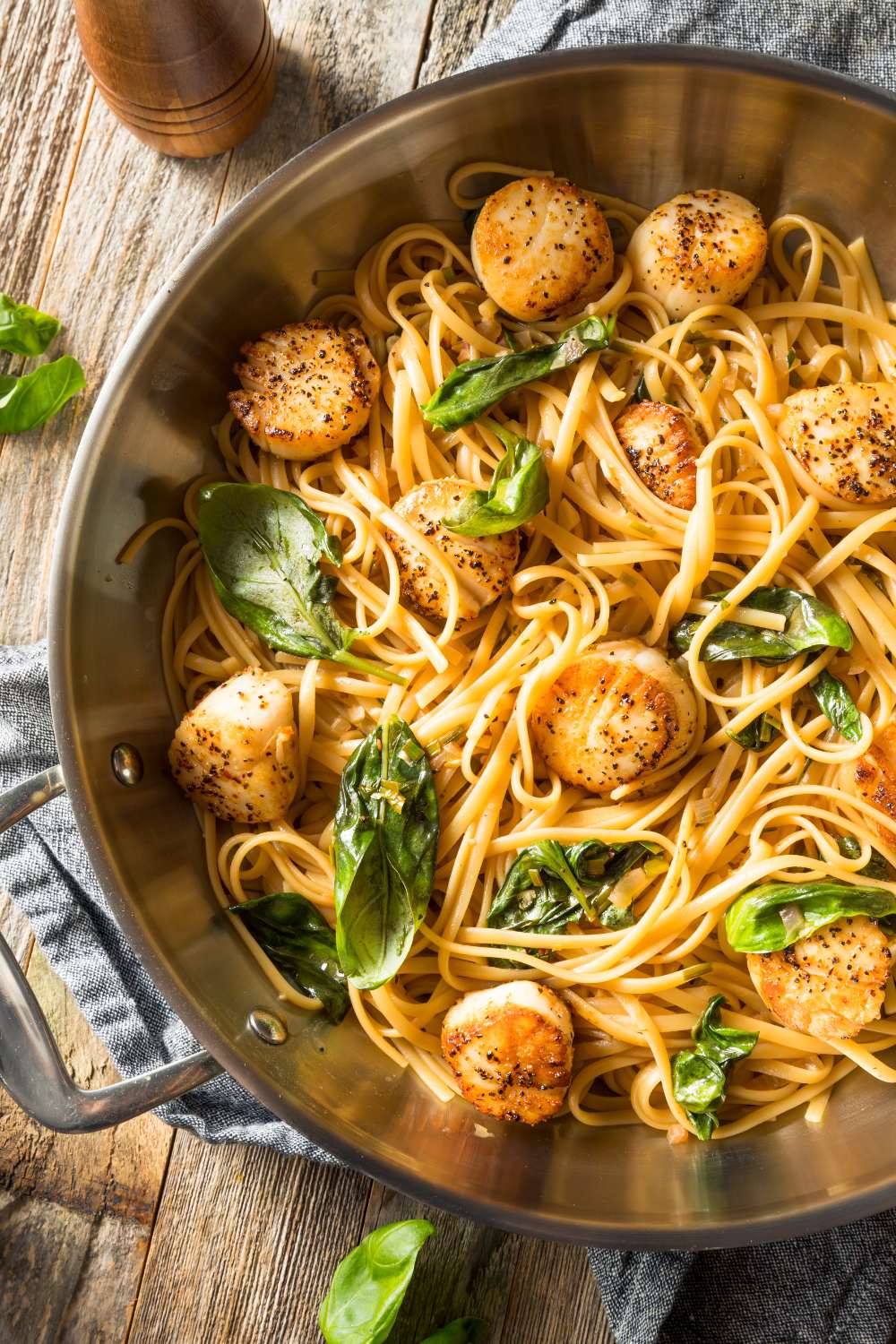 Can I Use Frozen Scallops For These Recipes?
Yes, you can use frozen scallops for these recipes, but it's important to choose the right type for the best flavor and texture. Here are 5 varieties to consider:
Wild Caught Sea Scallops: These have a sweet and delicate flavor, and are typically larger than other types. Look for dry-packed or chemical-free options for the healthiest choice.
Bay Scallops: These are smaller than sea scallops, with a sweeter flavor and softer texture. They cook quickly and are a great choice for pasta dishes.
Frozen Scallops: Frozen scallops are a convenient option, but make sure to choose those that are individually quick frozen (IQF) to maintain freshness and texture.
Farmed Scallops: These are a more sustainable option, but can have a milder flavor and softer texture than wild-caught scallops.
Diver Scallops: These are hand harvested and typically more expensive, but have a richer flavor and firmer texture than other types. They're a great choice for special occasions.
15 Scallop Recipes With Pasta
These 15 Scallop Pasta Recipes will transport you to the seaside with their delectable flavors and textures. From spicy to creamy, there's a recipe for everyone:
This Creamy Garlic Scallops with Pasta is the ideal entrée for any dinner party. A double cream, butter, fresh parsley, and chopped garlic sauce is prepared with succulent scallops pan-seared in olive oil until browned.
Wild garlic's earthy undertone complements the salt and pepper that round off the meal well. This meal, which is served above a bed of spaghetti, is guaranteed to please. It's the decadent, luscious treat that will make your taste buds dance happily.
Linguine Aglio e Olio with Lemon Butter Scallops is an exquisite blend of toasted garlic-infused olive oil, al dente linguine pasta, and tender sea scallops finished with a buttery lemon and herb suggestion.
The perfectly cooked scallops offer a sensitive bite, while the toasted garlic oil gives the pasta a flavorful depth. The perfect harmony of tastes in the lemon and herb butter sauce. For an extra spicy kick, sprinkle with red pepper flakes. Indulge your taste buds on a trip with this delicious meal.
Our next destination is a classic Italian dish, Carbonara with Pan-Seared Scallops. This dish combines the classic pasta dish with the succulent flavors of perfectly seared scallops. The creamy carbonara sauce, made with bacon, shallots, egg yolks, and grated parmesan cheese, adds a savory depth of flavor to the pasta.
The scallops, seared to perfection with a golden brown crust, provide a tender bite that complements the creamy pasta. Follow the simple instructions to make perfectly seared scallops, and top the dish with grated parmesan cheese and fresh herbs for a touch of freshness.
Where we're going now is to a meal that marries the sweetness of sea scallops with the sharpness of sun-dried tomatoes. Pan-seared to perfection, the scallops have a crisp outside and a luscious, soft inside.
A creamy sauce prepared with heavy cream and a dash of garlic is mixed with al dente tomato fettuccine. The last touch of fresh parsley in the sauce enhances the dish's vibrant taste. Your guests will be impressed by this delicious and sophisticated lunch!
Dive into the refreshing flavors of Lemon Basil Pasta with Seared Scallops! This delightful dish combines perfectly seared scallops with tender pasta, all drenched in a luscious lemon cashew cream sauce.
The sweet corn kernels and zesty lemon bring a burst of sunshine to your plate, while the fresh basil adds a touch of aromatic elegance. You'll be singing praises to the culinary gods as you savor the satisfying contrast between the velvety sauce and the golden-crusted scallops. Treat yourself to this heavenly symphony of flavors and textures tonight!
Spice up your dinner with this irresistible Shrimp and Scallop Arrabbiata! This zesty dish combines tender linguine with succulent shrimp and scallops, cooked to perfection in a sizzling pan. The secret to its bold flavor lies in the enticing mix of fennel seeds, crushed red pepper, and smoky pancetta, which melds beautifully with the rich stewed tomatoes.
The final touch of fresh basil leaves will have you twirling your fork with anticipation. So why wait? Experience the vibrant, heartwarming embrace of this Italian-inspired masterpiece tonight!
Experience the perfect harmony of flavors with Seared Scallops and Lemon Caper Orzo! Tender, golden scallops pair beautifully with the zingy lemon caper sauce, drizzled over a bed of perfectly cooked orzo. The sauce is a symphony of savory anchovy, tangy lemon, and a subtle kick from crushed red pepper, creating a rich and indulgent experience.
The fresh flat-leaf parsley adds a touch of brightness, while the creamy heavy cream ties everything together. Let this elegant, flavor-packed dish whisk you away to a world of culinary delight!
After savoring the zesty Lemon Caper Orzo, it's time to dive into the rich, indulgent world of Brown Butter Scallop Pasta! This luxurious dish features succulent scallops seared to golden perfection, paired with tender spaghetti coated in a velvety brown butter sauce.
The aromatic sage adds a touch of earthiness, while the grated Parmesan brings a nutty, savory twist. For a final burst of freshness, serve with a squeeze of lemon, if desired. You'll find this dish is the perfect complement to its zesty cousin, and together, they create an unforgettable pasta experience in your scallop recipe collection!
Continuing your scrumptious scallop and pasta journey, we now present the vibrant Lemony Scallops with Angel Hair Pasta! This dish boasts a delightful contrast between the delicate angel hair pasta and the robust, seared sea scallops. The sliced radishes provide a satisfying crunch, while the lemon zest and juice add a bright, zesty flair to the mix.
With a hint of heat from the crushed red pepper flakes and the fresh green onions, this dish creates a beautiful balance with the Brown Butter Scallop Pasta. Together, these recipes form an exquisite combination of flavors and textures, making your article a treasure trove of scallop and pasta delights!
This dish for Shrimp and Scallop Spaghetti in Cajun Garlic Cream Sauce is a taste bomb waiting to happen. Gluten-free fusilli pasta and savory pieces of Andouille sausage are tossed with perfectly sautéed jumbo shrimp and delicate scallops.
The Cajun flavor, tomato paste, and vegetable bouillon give the whipped cream cheese, Parmesan cheese, and white wine used to make the creamy garlic sauce a new dimension. Serve the resulting sauce, which is both spicy and creamy, while still hot, and brighten it up with some chopped parsley.
Prepare yourself for a delicious experience with this recipe for Seared Scallop Spaghetti with Bacon and Broccoli. Perfectly grilled scallops are paired with crunchy bacon and mild broccoli florets. Pasta is cooked al dente, then mixed in a butter sauce that has been seasoned with garlic, onion, and fresh lemon.
The savory and tart flavors of this meal complement each other well. It's a simple dish that can be made quickly and enjoyed every night of the week; just sprinkle over some red pepper flakes and drizzle with olive oil for extra flavor.
The luscious giant scallops are grilled to perfection and served above a bed of al dente pappardelle pasta in this dish for Creamy Lemon Pappardelle with Scallops, the ideal blend of fresh and zesty ingredients. Creamy mascarpone, ricotta, parmesan, and parsley sauce with a hint of lemon zest coat the pasta.
The addition of fresh garlic and basil to the sauce gives it a wonderful aroma and taste. Save part of the cooking water from the pasta aside so you can get the right consistency. This meal finished with a vivid garnish of fresh basil and grated parmesan cheese, is ideal for a romantic evening or a special occasion.
Prepare to be transported to the shores of the Mediterranean with this recipe for scallops and Shrimp Puttanesca. Perfectly cooked shrimp and scallops are sautéed with Kalamata olives, anchovies, and capers for a saline flavor explosion. Simmered until thick and clingy, the sauce is created from chopped tomatoes and low-sodium chicken broth.
The shrimp and sauce are combined with the spaghetti, which has been cooked to the correct al dente, to create a symphony of flavors. For a bright and delicious finish, sprinkle on some chopped parsley and grated Parmesan cheese. This recipe can be prepared in a flash, making it ideal for a busy weekday.
This Browned Butter Scallop and Artichoke Pasta dish have flawlessly seared scallops seasoned with salt and pepper for a delicate flavor and golden brown crust. Cooked angel hair pasta is mixed in a sauce of butter, olive oil, shallots, garlic, red pepper, white wine, and lemon juice.
Cherry tomatoes and artichoke hearts that have burst provide a fresh and sour flavor to the meal. This recipe is great for a special event or a romantic supper at home because of the fresh and vivid finish you can get by topping it with fresh basil, Parmesan cheese, lemon wedges, and microgreens.
Seafood enthusiasts will like this silky rigatoni dish topped with grilled scallops. Rigatoni is cooked to perfection and then mixed with a savory sauce of white wine and chicken stock, sweet onions, garlic, and capers. Cherry tomatoes and cream raise the meal to a whole new level of deliciousness.
The scallops are wonderfully cooked, adding a sweet and delicious taste to the savory pasta. This meal is a visual and gustatory delight, thanks to the chopped parsley on top. So tonight, give yourself a break and enjoy this fancy but satisfying supper.