From appetizers to desserts, ricotta is a very versatile cheese that adds a rich flavor to the dishes. I've rounded up these 30 best ricotta cheese recipes for you to include in your weekly meals.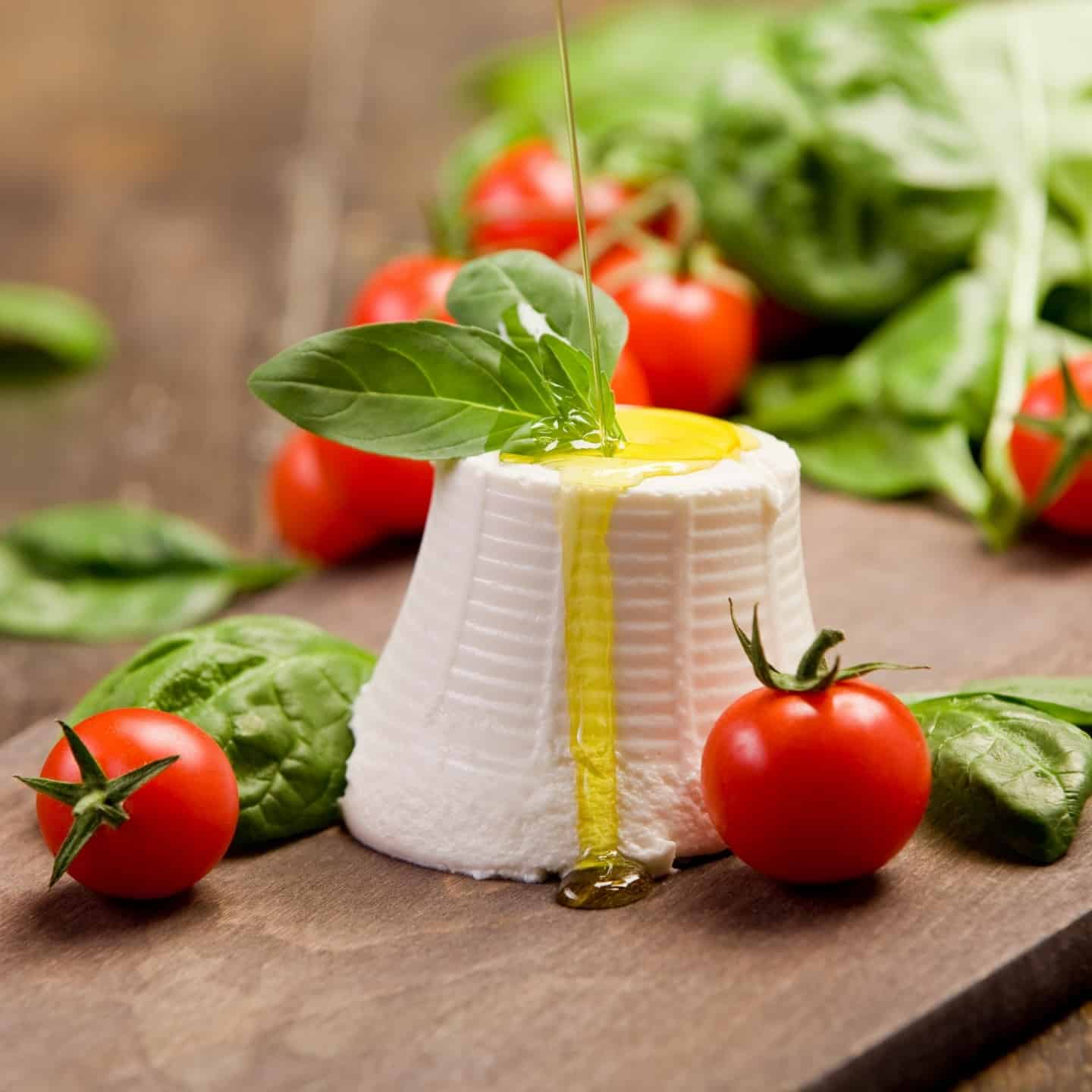 You must add ricotta cheese to your recipes if you love fresh, creamy cheese. It's a creamy Italian cheese with a mild flavor.
Not many ingredients work well in sweet and savory dishes, just like ricotta.
So get ready, cheese lovers; today, we have the 30 best Ricotta cheese recipes you will love!
These simple yet delicious recipes will turn your ricotta tub into something amazing!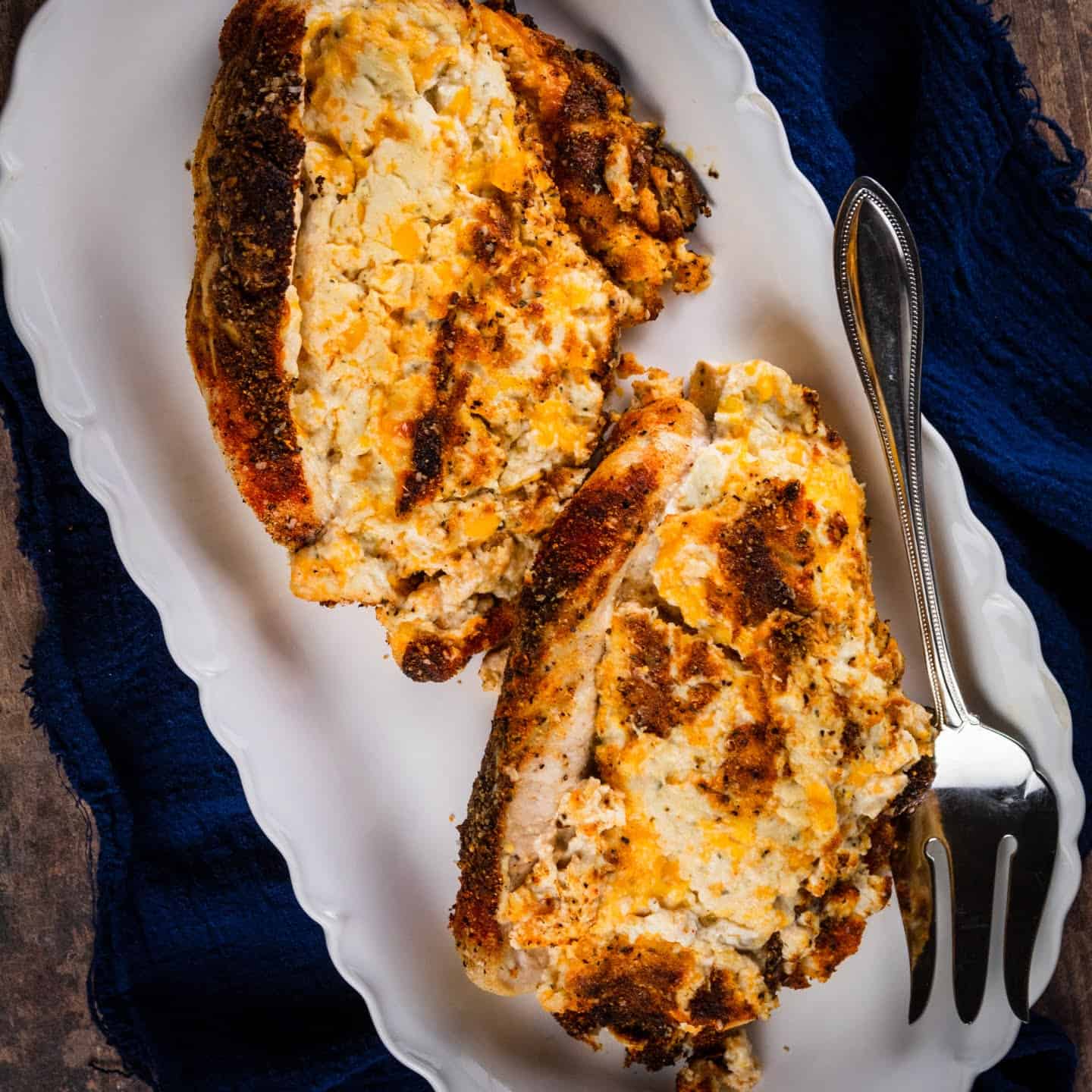 Stuffed chickens are great as they provide a protein-rich and healthy diet while also being very tasty. This Ruth Chris Stuffed Chicken with creamy sauce is so juicy and tender that it has a cheesy, creamy, and flavorful filling.
This delicious ricotta recipe takes 30 minutes to make and gives you a taste as it comes from the restaurant. One bonus point is that it's budget-friendly, that you can serve your family and can enjoy weekends.
You need a few ingredients along with chicken and cheese sauce, and you will make a perfect quick dinner for you and your partner, and even you can serve it to crowds.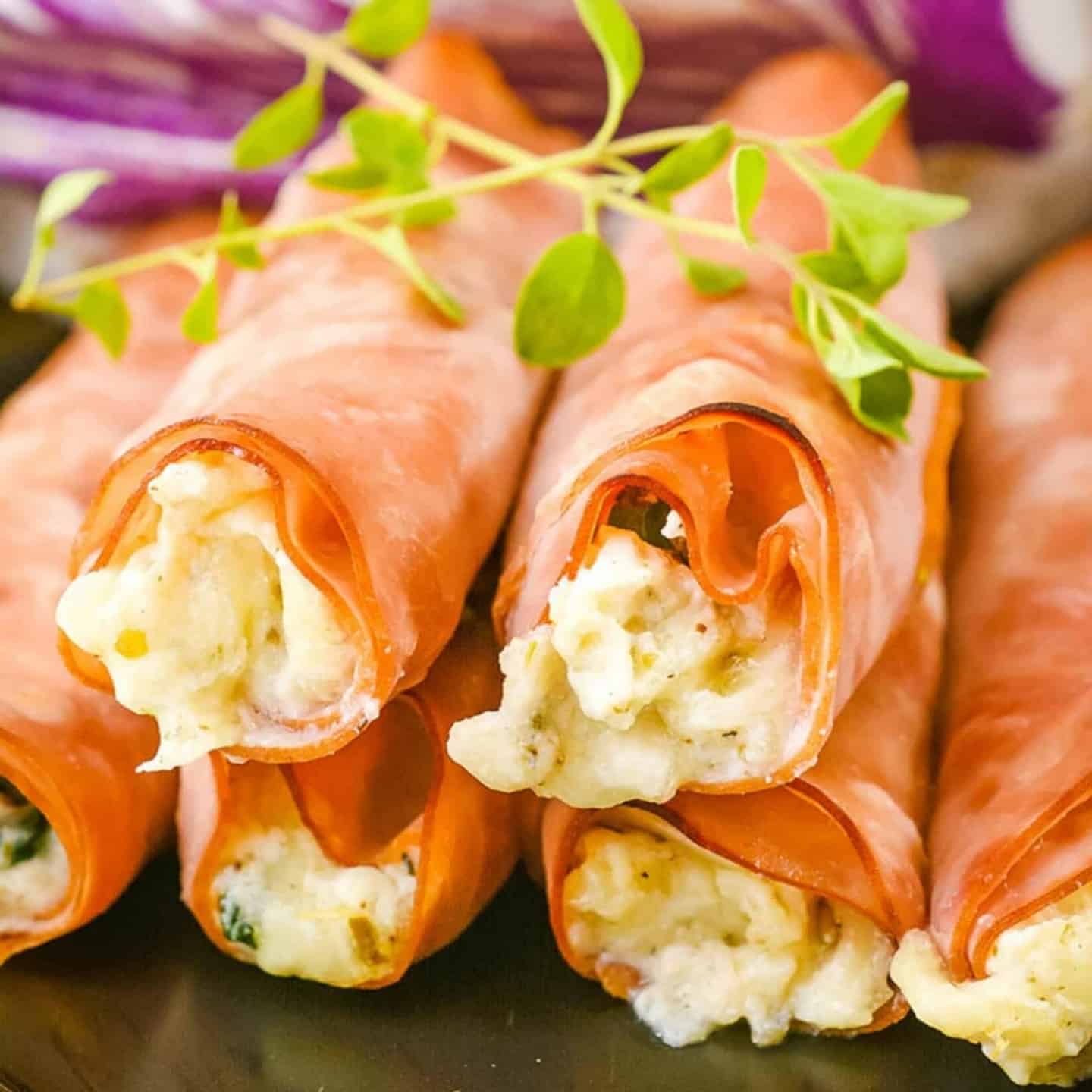 Welcome this one of the easy and delicious ricotta cheese recipes that is a great combination of spinach, ricotta, and mozzarella cheese filling.
These spinach and ricotta-baked ham rollups are a MUST TRY recipe that takes only 15 minutes to prepare. If you are a spinach fan, you will feel in heaven after having the first bite of these Ham Rollups.
These ham Rollups have a delicious flavor and are an ideal meal for snacking, dinner time, and even for picnics!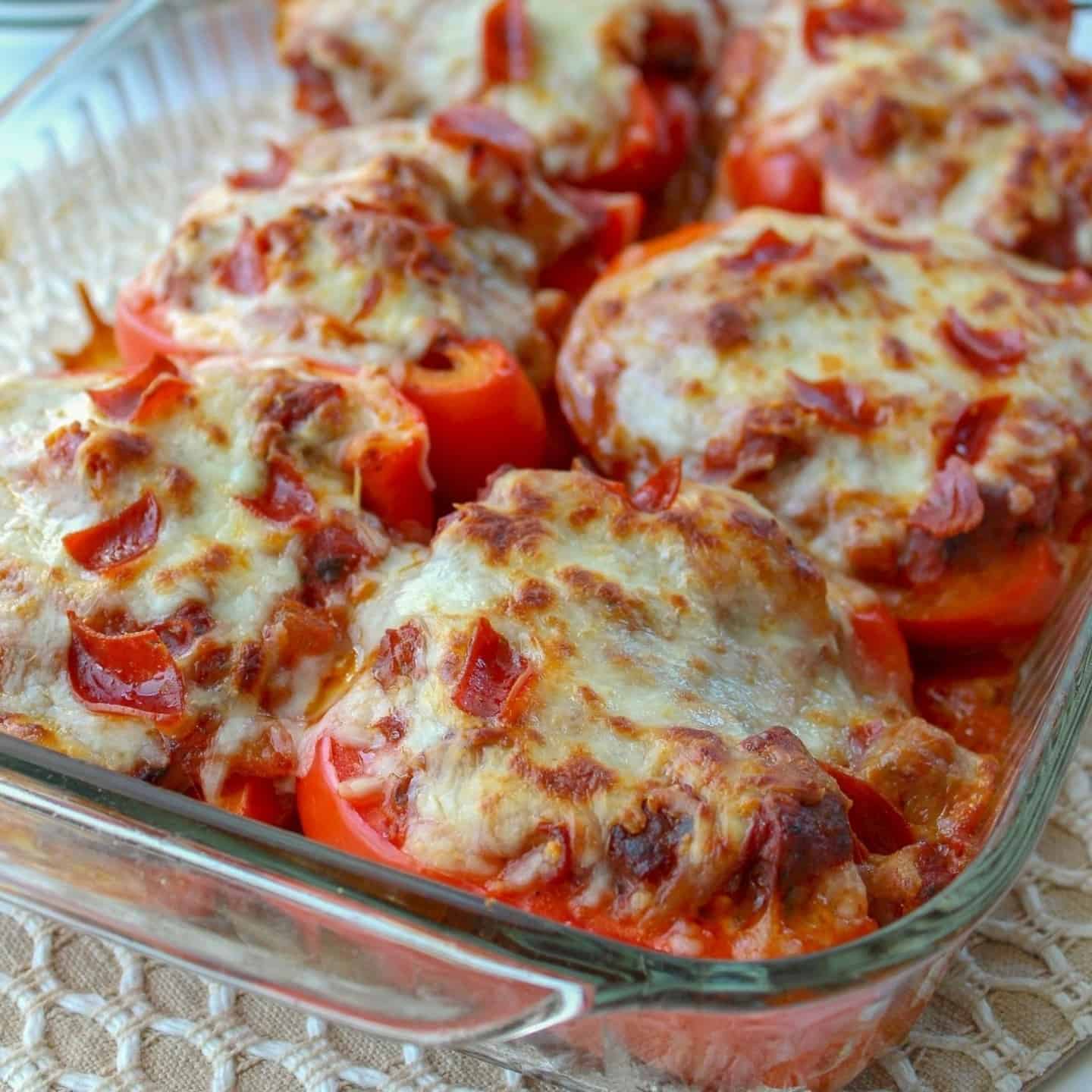 These stuffed peppers without rice recipes are such a delicious treat to make that your entire family will enjoy.
You only need red bell pepper, homemade tomato sauce, low-carb mince, and some whole milk ricotta cheese to make these stuffed peppers without rice, and they will be on your table within an hour. You may use red bell peppers if you want a slightly sweet taste.
These stuffed peppers are not just hearty and bursting with flavor, but the good thing is that they are also SUPER HEALTHIER.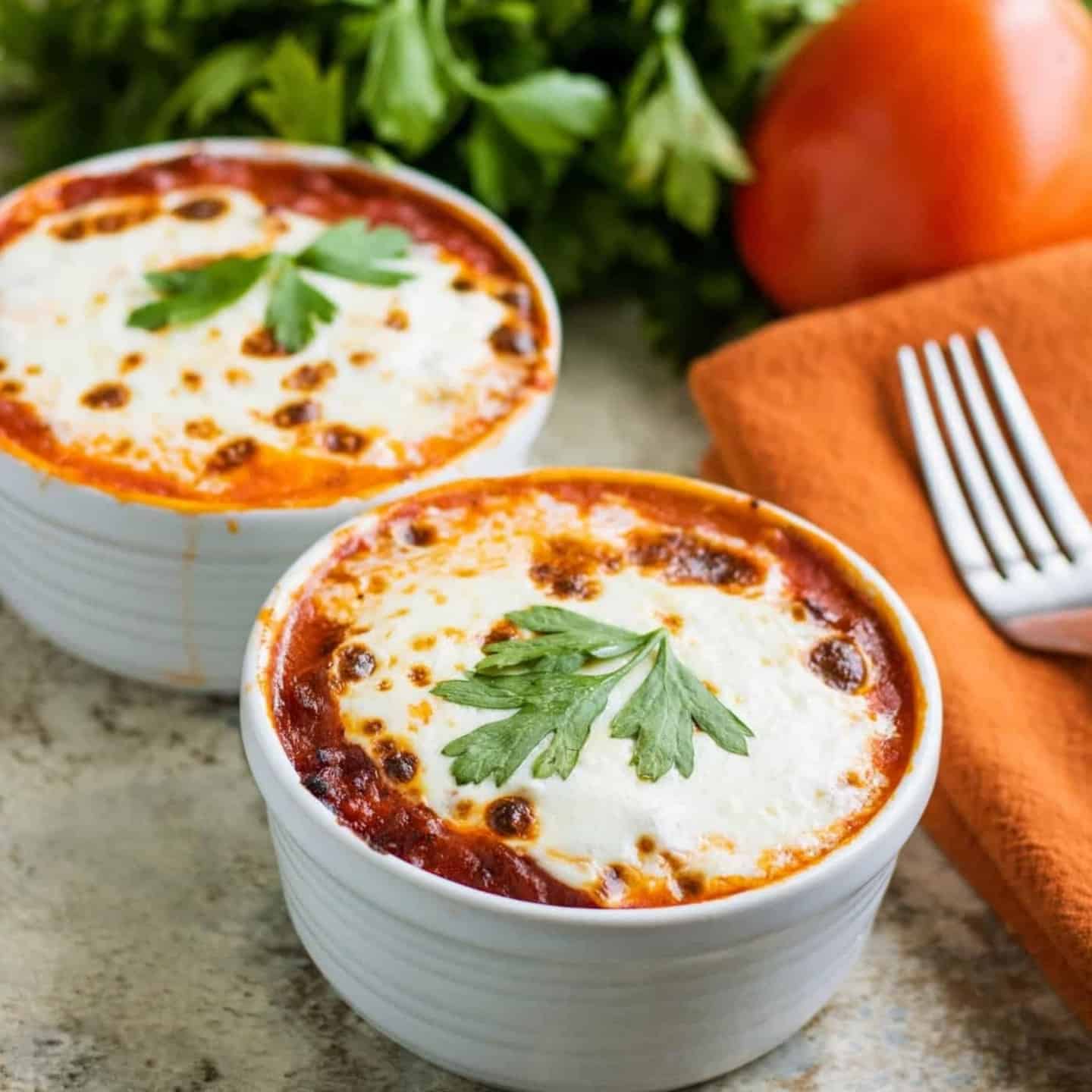 This quick noodleless lasagna recipe is a perfect low-carb dinner to satisfy your Italian food craving. It is a great alternative if you are on a baked pasta train.
This recipe is flavorsome, noodleless, low carb, gluten-free, and packed with cheese that gives you a taste like your regular lasagna.
Its easy and quick serving makes it a great lunch or dinner option and can even be prepared ahead of time.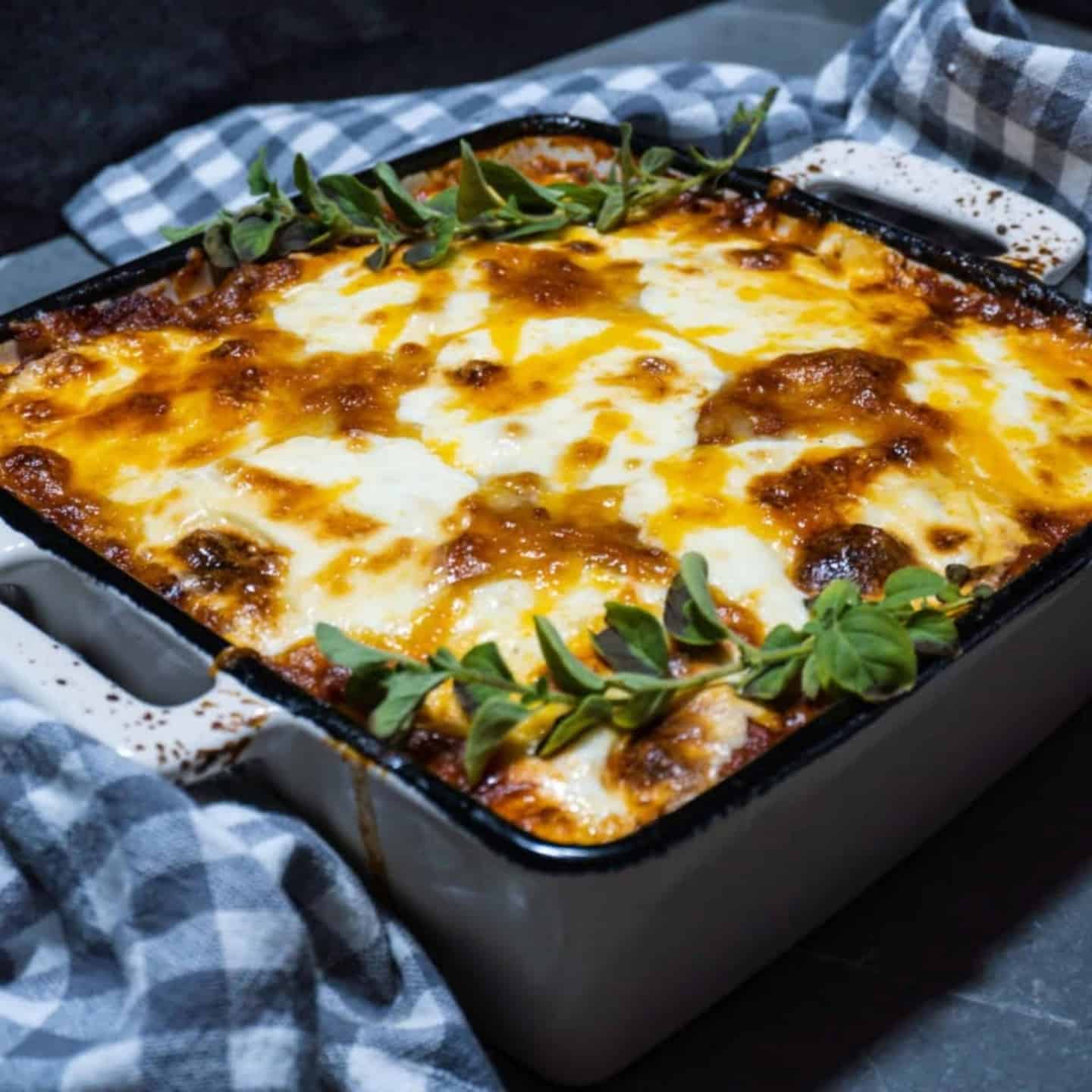 Keto Lasagna is delicious and rich, with layers of low crabs noodles topped with savory meat sauce and creamy ricotta cheese.
To make this delicious homemade recipe, your will only need some oregano, ground beef, zucchini, ricotta cheese, salty parmesan cheese, and tomato sauce.
This keto lasagna recipe will be ready in 40 minutes and give you and your family a healthy, delicious meal.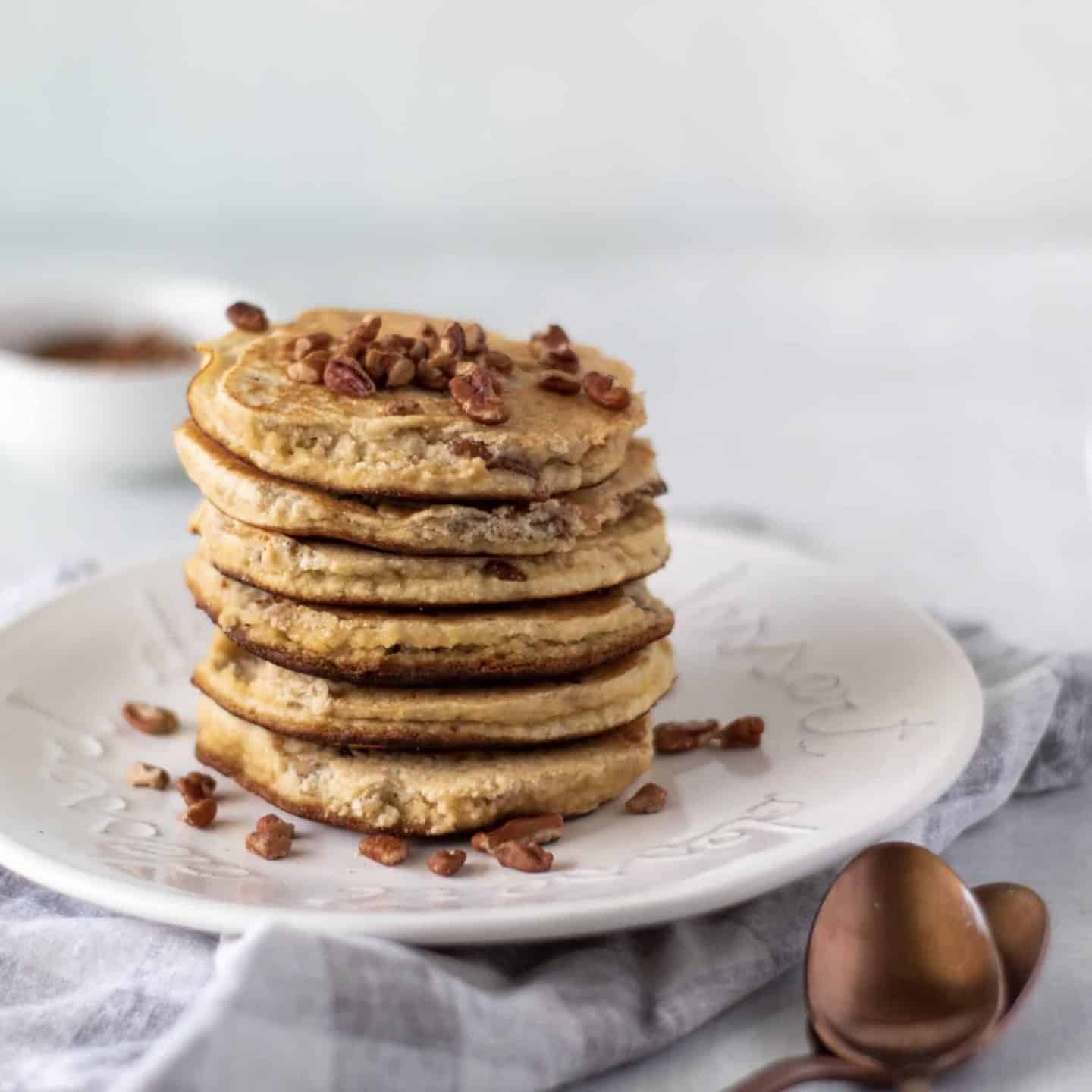 6. Keto pancakes
These low-carb keto pancakes are a delicious family-approved weekday morning breakfast where you need only 5 ingredients to make them.
There is no need for grain and powdered sugar; you will need almond flour and cream cheese to make these perfect, flavorsome pancakes.
Take ingredients from your shelf, mix them and enjoy these fluffy, quick, and easy-to-make keto pancakes.
This quick and easy-to-make pizza recipe is a perfect recipe for your next pizza night that your entire family will love for sure!
To make this tomato, basil, and ricotta pizza, you will need tomatoes, some herbs from your garden, and ricotta cheese.
You can enjoy this homemade fresh, tasty, and cheesy pizza with your loved ones every weekend!
This whipped ricotta crostini recipe is a fancy addition to your dinner menu and is the easiest appetizer to whip up just in a few minutes.
It does not need any expensive ingredients to make. You can easily prepare them from leftovers from your dinner last night. You need whole milk ricotta, fresh lemon zest, virgin olive oil, and chopped basil for a fresh recipe.
It can be a perfect appetizer for special occasions that pair well withcocktails and Champagne.
No matter what you are doing, you should stop and try this perfect recipe that will only take 25-30 minutes!
For this cozy roasted garlic-baked ricotta recipe, you will only need a handful of ingredients, including flavorful roasted garlic, ricotta cheese, fresh lemons, and some herbs.
This hot, cheesy, and garlicky dip is all you need for your appetizer; what are you waiting for? Go to the kitchen, and enjoy this great recipe!
Are you looking for some easy and quick appetizers for your next party? Try this perfect 30 minutes recipe!
These Ricotta cheese balls are an amazing and crowd-pleasing recipe, and the good thing is that this recipe will not take you much time.
Crunchy from the outside and creamy and flavorful from the inside!
This white pizza grilled cheese recipe is perfect for enjoying with your loved ones!
You will love this white cheese pizza if you love melty, gooey cheese recipes. You have to combine a few ingredients from your kitchen like basil, oregano, garlic, mozzarella cheese, and ricotta cheese, and you are ready to go.
It is super duper cheesy, ridiculously cheesy, garlicky, and herby.
Trust me; your guests will thank you all night! So, bookmark this recipe!
These sweet, soft, moist, and cake-like Italian ricotta cookies are a MUST TRY recipe! These are so delicious that you can never stop just at one. It is a traditional Italian dessert made on holidays and special occasions.
You can adorn them with a combination of sprinkles for food styling, and these cookies are sure to become your family favorite.
If you are a lemon lover, swap the almond extract and add lemon zest and two tablespoons of lemon juice instead.
These homemade sausage meatballs with lots of ricotta cheese will be the special dish on your menu.
To make this meatball soup recipe, you will need savory tomato broth with Italian seasonings, pasta noodles, spinach and bell peppers, and of course, some melted ricotta cheese for serving in each bowl.
The meatball soup is one of the easiest yet yummiest appetizers ever!
This 20 minutes delicious recipe can be made using only 4 ingredients; you will need ricotta cheese instead of mashed potatoes.
Today you can also get store-bought gnocchi, but making them home is a cheaper and healthier option.
They are easier, quicker to make, and ultra-light, fluffy and soft Italian cuisine.
This recipe for Lemon Ricotta Cake is the best out there!
These light, fluffy, and flavored ricotta cakes are easier and quick and can be made with ricotta cheese and lemon.
It proves a perfect dessert, but it's light enough for brunch and even can be enjoyed as a sweet breakfast cake.
You will love this cheesy eggplant rollatini, where you do not need expensive ingredients; just cooked eggplant, parmesan, ricotta, and lots of fresh basil.
Eggplant rollatini is an Italian-style dish that usually consists of thinly sliced eggplants, dusted with flour, and then rolled up with ricotta cheese and herb filling.
This eggplant Rollatini recipe will take some time, but the result will be of restaurant quality.
These sweet, creamy ricotta pancakes will make you feel like you are living in the Tuscan countryside.
The ricotta makes a blissful creamy texture to these pancakes, while buttermilk is a magic potion that transforms baked goods without adding extra fat.
Must try these creamy, melt-in-your-mouth pancakes.
This Baked Ricotta Chicken recipe is a perfect meal to serve your guest anytime.
You need rich, creamy ricotta, spinach, parmesan, and a few other ingredients to make this super delicious recipe that will be ready to serve just in 30 minutes.
This baked Ricotta Chicken is sure to please everyone at the table.
If you want the best ricotta dessert in your life, then whip up this recipe!
You need 5 ingredients, including cannoli shells, ricotta cheese, sugar, some chocolate chips, and some vanilla extract, and you are ready to go.
These homemade pastries may take more time than other dessert recipes, but we guarantee they will be worth it!
This cheese-filled Manicotti recipe is absolute perfection! It's a portion of comfort food that will make everyone crazy with its full cheesy... ridiculously cheesy filling.
It is stuffed with Italian sausage, beef, spinach, ricotta, and parmesan that will create a mouthwatering flavor, which you will love to remember.
Serve this delicious Manicotti recipe with grilled bread and green salad, and you will have a dish that your family and guests will love.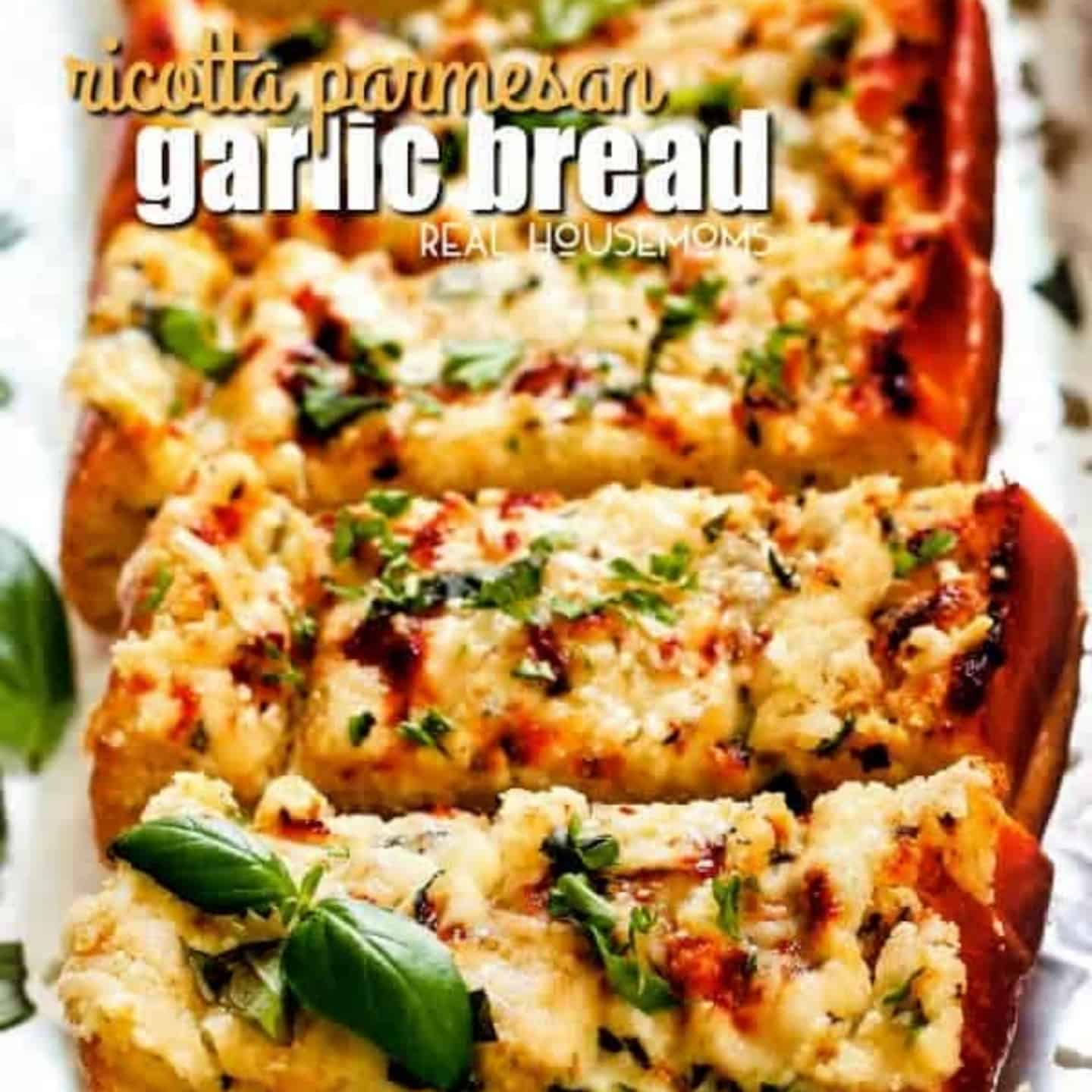 Whether you want to have a good impression on your guest or need a way to use some EXTRA ricotta, then this will become a favorite of everyone on every occasion.
Ricotta cheese, garlic powder, oregano, parsley, basil, butter, and mayonnaise are mixed in a bowl. And bread pieces are sliced in length shape and sprinkled with cheese mixture.
Best part? This garlic bread is not only packed with flavors but also with many nutrients.
You must try this rich, creamy ricotta cheese recipe that does not need any fancy equipment to make.
The honey ice cream is pure, simple, and is three ingredients homemade ice cream; where you have to whip heavy cream and fold in fresh ricotta cheese sweetened with honey, then transfer the mixture to a baking dish and freeze. It is perfect for a dinner party.
It has a nice creamy tang and goes perfectly with nuts and dried fruit. This pure dessert bliss gives a delicious flavor.
If you love lasagna recipes, you must try this instant pot, high-protein lasagna soup that will gather your loved ones around your table.
This recipe will give you flavors of hearty, delicious lasagna in the form of soup. It contains Italian herbs, beef, tomatoes, and melted cheeses.
This perfectly easy and quick dinner for cold winter nights will be on your table in 45 minutes.
Grab your baking dish and try this ricotta cheesecake, where you do not need any secret ingredients.
The good thing is that it's gluten-free and crowd-friendly, and you will need only 10 ingredients from your kitchen shelf to make them.
You can adore this cheesecake with melted chocolate, caramel sauce, or maple syrup.
This is one of the easiest and most delicious ricotta recipes that will be loved on your table. They burst with flavor and are always a hit for breakfast or brunch.
The ricotta adds protein and a divine lightness, while the lemon gives it a tangy taste that you will love!
One bonus point is that this recipe is freezer friendly!
Ricotta Gnocchi with spinach and Gorgonzola is an easy and delicious dinner for those who are short on time.
It is one of the traditional meals of Italy. The good thing about this recipe is that it needs a few basic ingredients and less than an hour to make.
Top it with a rich sauce made with butternut squash, Gorgonzola, and spinach.
This No-bake Lemon Ricotta cheesecake bars recipe is light, not too sweet, and takes little time to put together.
These light and fluffy Cheesecake bars get their unworldly texture from ricotta and whipped cream. Best part? You can save them for 2 to 3 days in an airtight box in the refrigerator.
If you love to serve sweet and savory dishes, you must try this No-bake Ricotta Cheesecake that will prove a perfect summer dessert.
This delicious pasta is great and full of flavors and can be a good partner to celebrate your summer.
The simplicity of these fresh tomatoes and ricotta pasta is that it doesn't need millions of ingredients to be good, you need a few fresh flavors, and you're set.
Adore each plate with a sprinkling of fresh basil and a healthy dollop of ricotta as food styling.
Spicy ricotta-stuffed phyllo rolls are unexpected snacks for game days and cocktail parties.
They are quick and easy to make with a flavorful and healthy filling with no secret ingredient. It requires basic ingredients like oregano, peppers, garlic, a little salt, and ricotta.
Serve immediately with fresh tomato sauce, or serve your kiddos with marinara sauce.
This delicious, easy, and quick ricotta toast recipe takes your breakfast to the next level. It's creamy, full of protein, and the best way to start your day!
The good thing about this recipe is that you don't need any fancy ingredients to make it; just spread ricotta on the bread, top it with savory or sweet topping and go with juicy tomatoes and a drizzle of olive oil.
Must try this simple yet crowd-pleasing recipe!