These outstandingly delicious recipes with sour cream are sure to rock your world. So before you throw that leftover sour cream, try one or two of these 35 scrumptious sour cream recipes.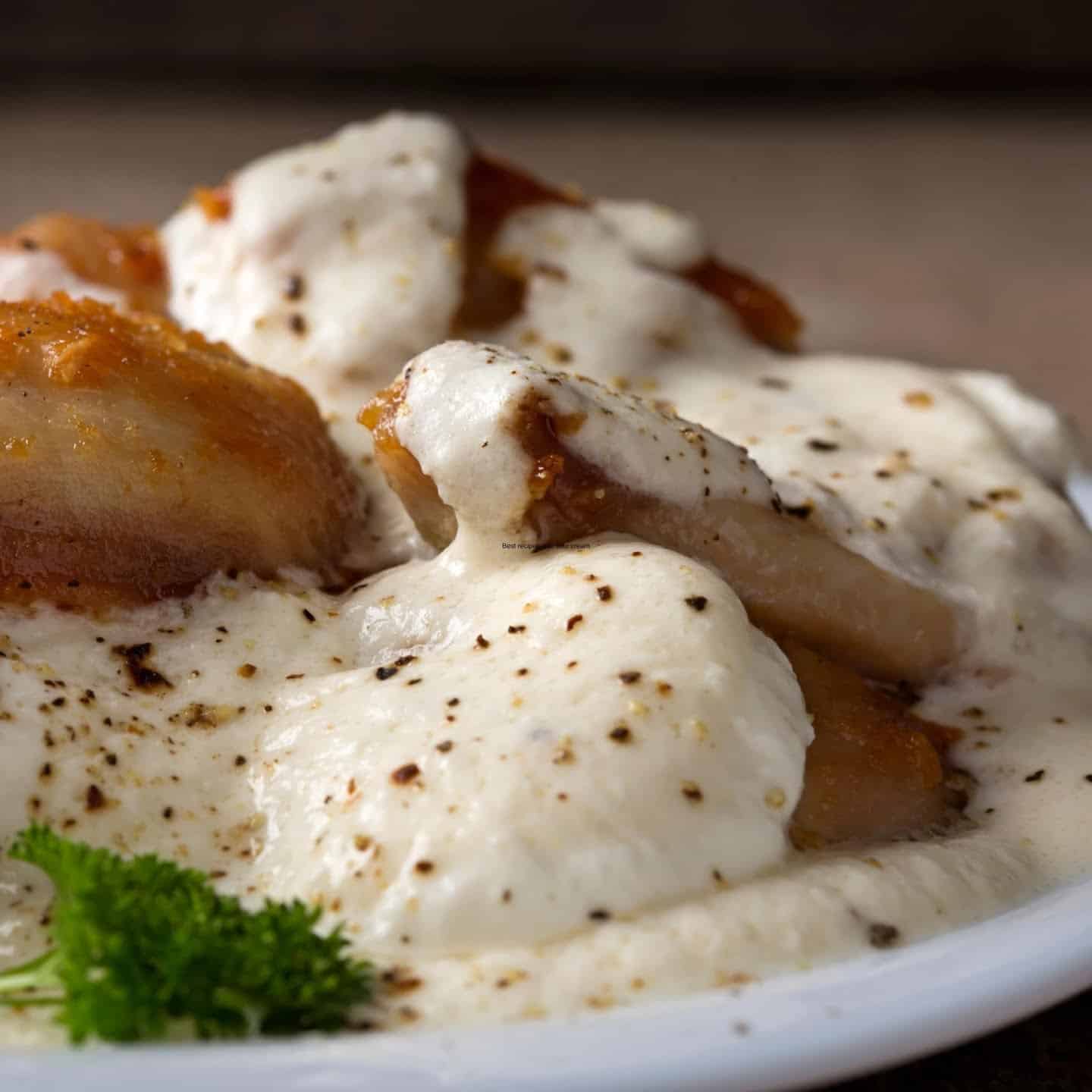 If you happen to have a sour cream container that's been sitting in the back of your refrigerator for a while and you're trying to figure out what to do with it before it goes bad, don't worry; I've got you covered.
You may be used to thinking of sour cream as a topping for tacos and baked potatoes, but it's so much more than that. It's an incredibly versatile ingredient that plays a key role in plenty of culinary creations.
Its creaminess and tanginess make excellent dips and creamy sauces that go well with meats, veggies, potato chips and poultry.
This tangy condiment also adds an extra flavor dimension to salads and main dishes. It works wonders in baked goods and desserts, too.
This list of 35 best recipes with sour cream will show you exactly what this deliciously creamy and tangy ingredient can do for you.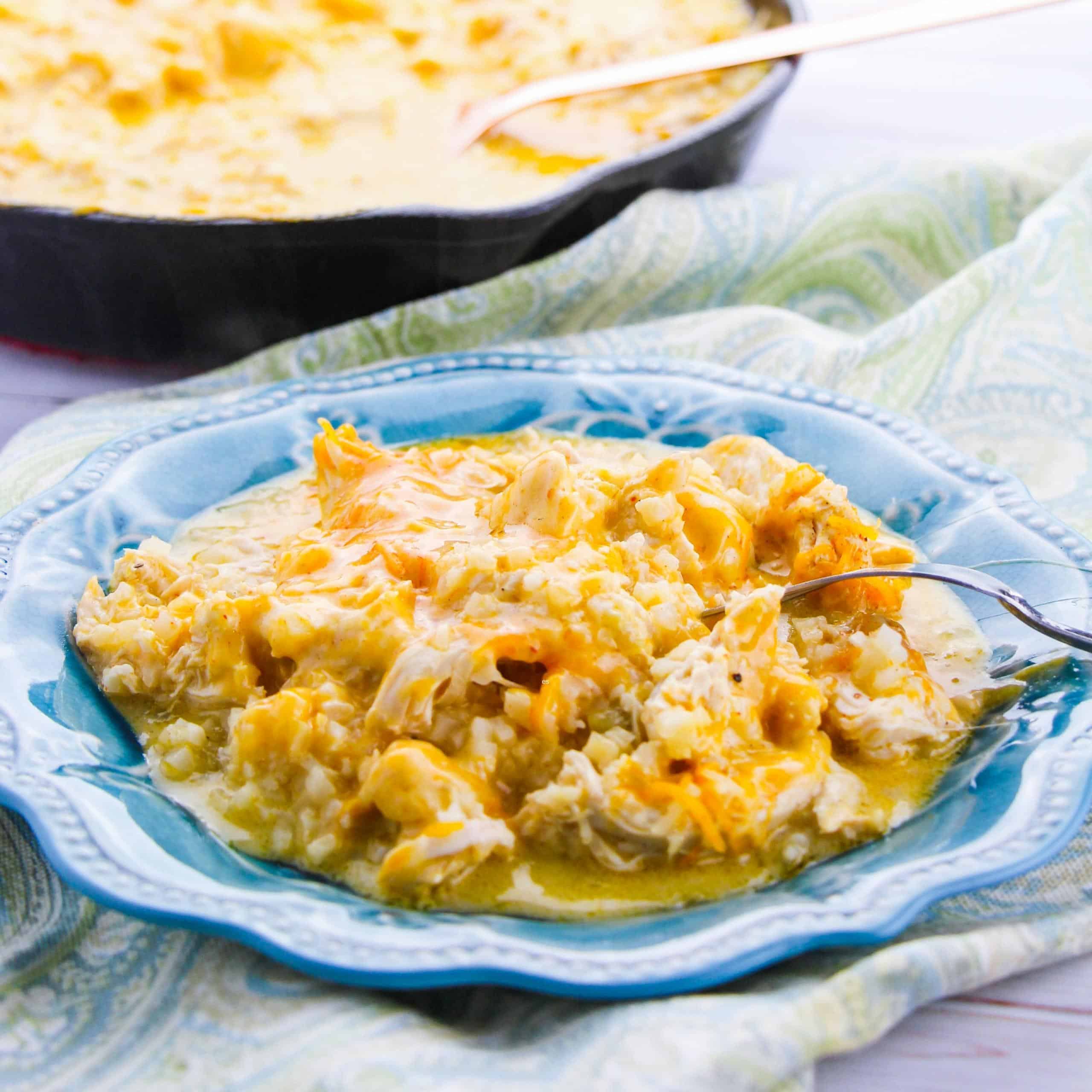 This chicken enchilada skillet is always a hit when I serve family and friends. It's packed with chicken, cauliflower rice, green chilies and a whole lot of cheesy, creamy goodness.
This recipe is soo good you won't even miss the tortillas.
My favorite part about this recipe is that it comes together effortlessly in about 30 minutes. Plus, it's completely customizable! Perfect meal for busy weeknights.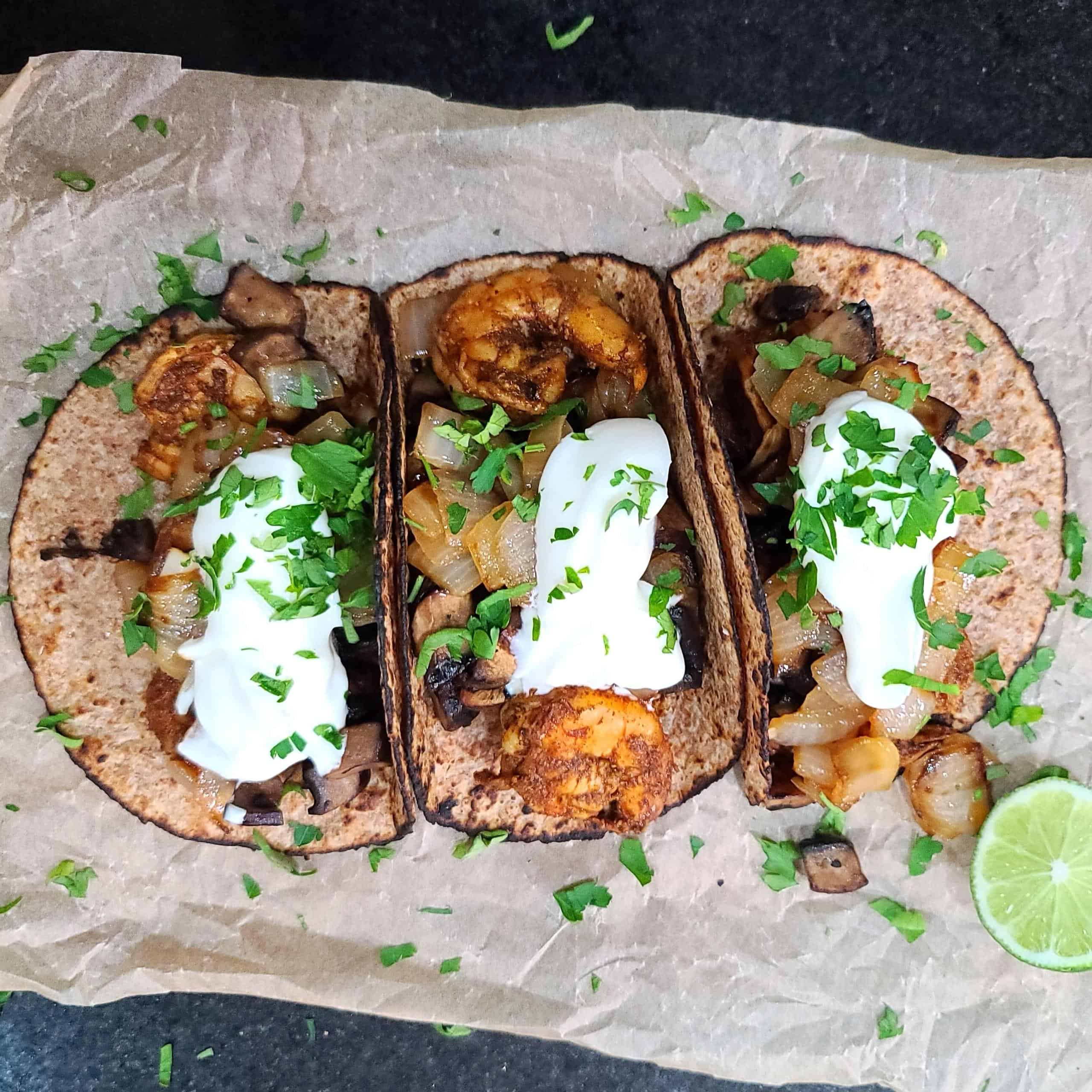 Delightfully spicy, smoky, crunchy and layered with flavor, you won't be able to get enough of this taco recipe.
Shrimps are nicely coated with a spice mixture of cumin, cayenne pepper, chili powder and salt; pan-seared to golden perfection, then served in warm tortillas with caramelized onions and mushrooms for the perfect bite.
Top with cilantro, a generous scoop of sour cream and a squeeze of lime to put everything in balance. Feel free to add your favorite toppings.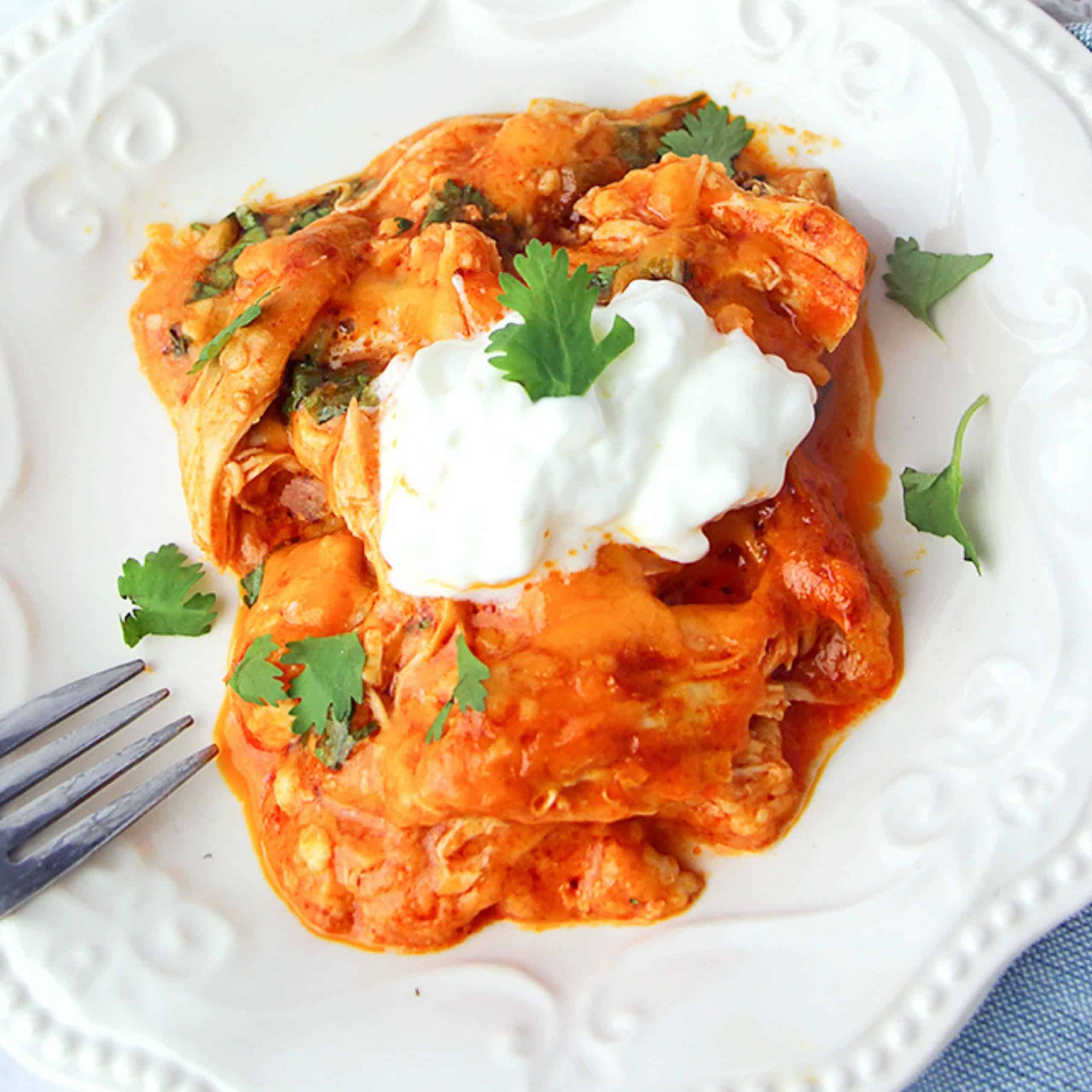 Elegant enough to serve company and easy enough for a weeknight dinner, this enchilada casserole will become your new favorite.
It's packed with all the good stuff of enchiladas, but easier to make. Ingredients are loaded up in a dish and baked under a layer of cheese to melty perfection.
Serve alongside salsa or guacamole and a margarita for a complete fiesta meal.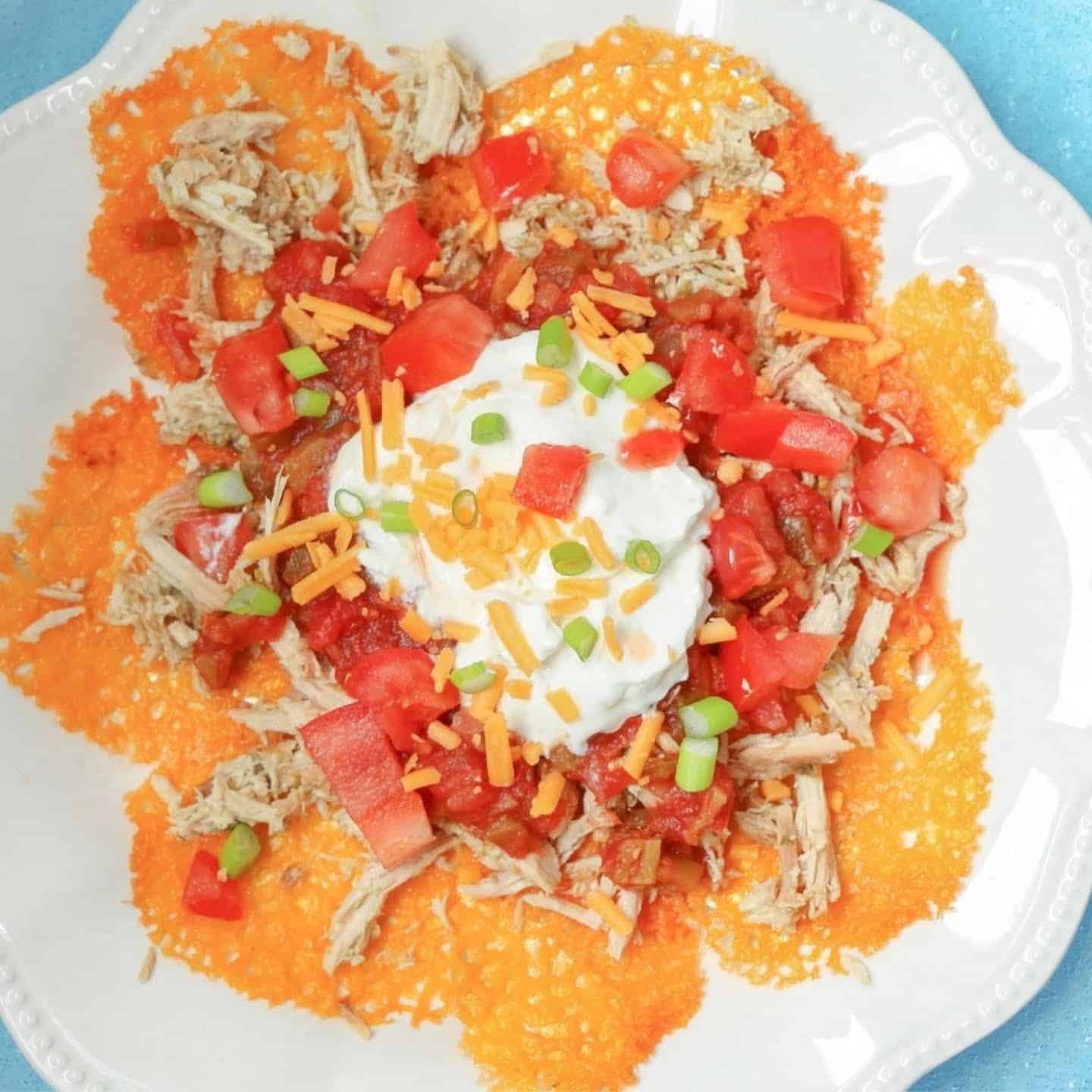 This chicken nachos recipe is an all-time family favorite and couldn't be easier to make. It only requires a handful of ingredients that you probably have on hand right now and 5 minutes of prep.
You'll love the cheesy, garlicky flavor of my 2-ingredient cheddar cheese chips. They taste fantastic and absolutely worth the extra 10 minutes they take to come together.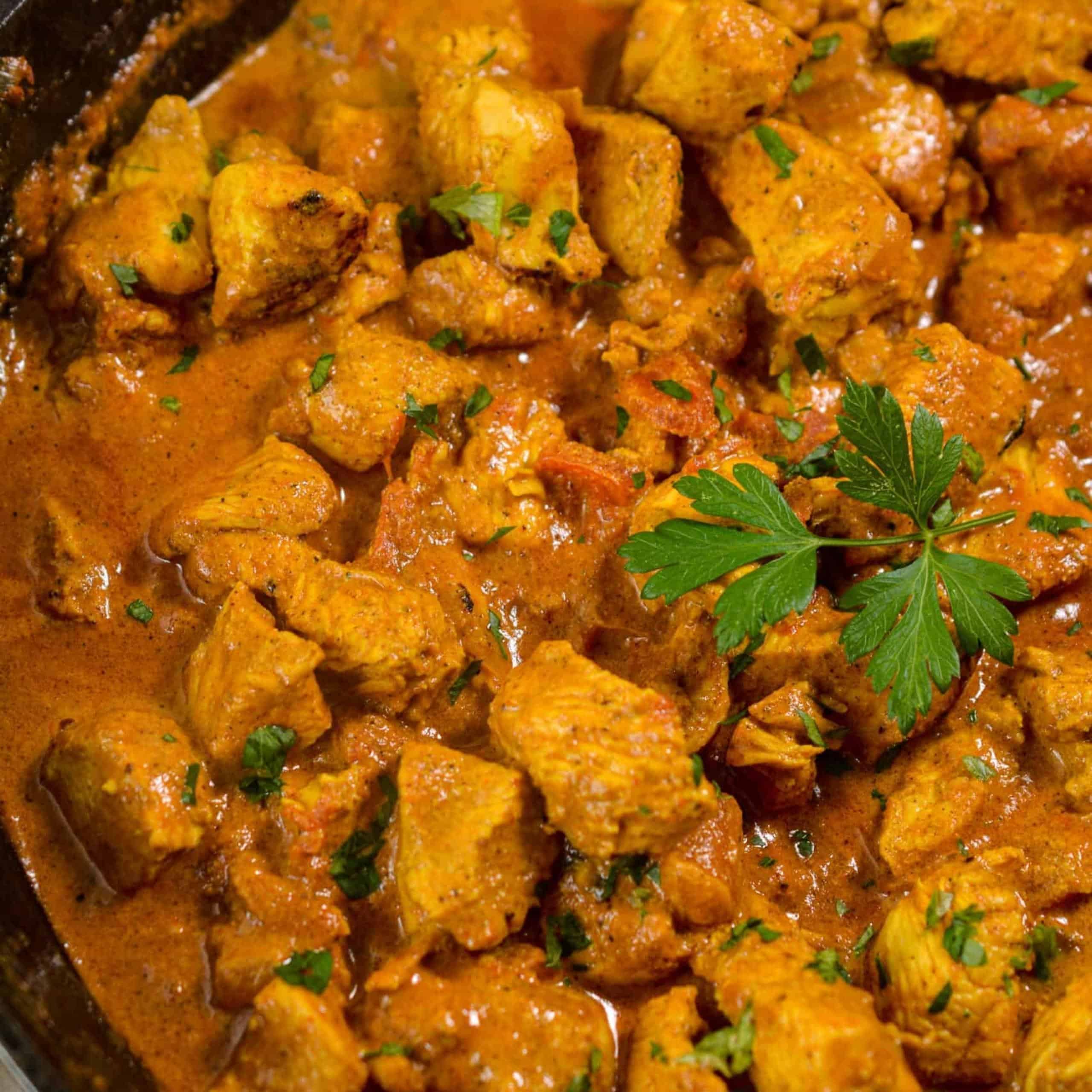 This plate of goodness will make your tastebuds sing with every mouthful.
Spiced yogurt marinade jazz up the boneless chicken spices before they're smothered in a rich, velvety butter sauce spiked with cinnamon, chili powder, ginger and sour cream. Simply heavenly!
This Indian-style butter chicken tastes great served with naan or basmati rice, but anything you choose would be delicious.
Name a better duo than lemons and blueberries. The bright flavors of lemon and zest and the tart sweetness of fresh or frozen blueberries shine in these blueberry sour cream muffins.
They're even more impressive with the sweet lemony glaze on top, bringing the zing to a whole new level.
Add these blueberry muffins to your sour cream recipes list of treats to try this year. They might just become your new obsession.
All the flavors of loaded baked potato come together in this warm bowl of rich, filling soup.
Potatoes and half and half add creaminess, sour cream gives it a subtle tang, cheese brings richness, while crumbled bacon adds a welcomed crunch.
Everyone will love the incredible flavors and textures in every spoonful.
Inspired by elements of lasagna, the spaghetti is tossed with cottage cheese, cream cheese, sour cream, ground beef and plenty of cheese along with marinara sauce.
Ready in less than 30 minutes, this is a recipe that you'll make again and again.
For a quick weeknight dish that's low in carbs but big on flavor, try this loaded cauliflower casserole and you'll not be disappointed.
Cauliflower is transformed into a creamy, drool-worthy bake in just 30 minutes.
Served alongside scrambled eggs, fresh fruits and maple butter syrup drizzle or whipped cream, these incredibly soft and airy pancakes are sure to satisfy your cravings for an indulgent breakfast or brunch.
They're also perfect for serving at holiday or get-together parties.
Of all sour cream recipes, this slow cooker Swedish meatball has to be my favorite. It's a comforting dump-and-go meal with a restaurant-worthy creamy sauce.
I enjoy this with lemon rice pilaf and sautéed broccoli, but you can pair it with whatever your heart desires.
Give this a try; it might become your favorite recipe too.
Combine cheddar cheese, sour cream, bacon and green onions for a dip that's quick, easy and oh-s0 good with almost everything, from potato chips to French fries and celery.
This is the perfect appetizer for Super Bowl Sunday or any football watch party.
Crunchy nacho-flavored Doritos with a creamy, cheesy taco-flavored ground beef filling for a mashup that's impossible to resist.
It comes together in less than an hour, making it even more irresistible.
Finish it off with your favorite taco toppings for a yummy, satisfying weeknight meal.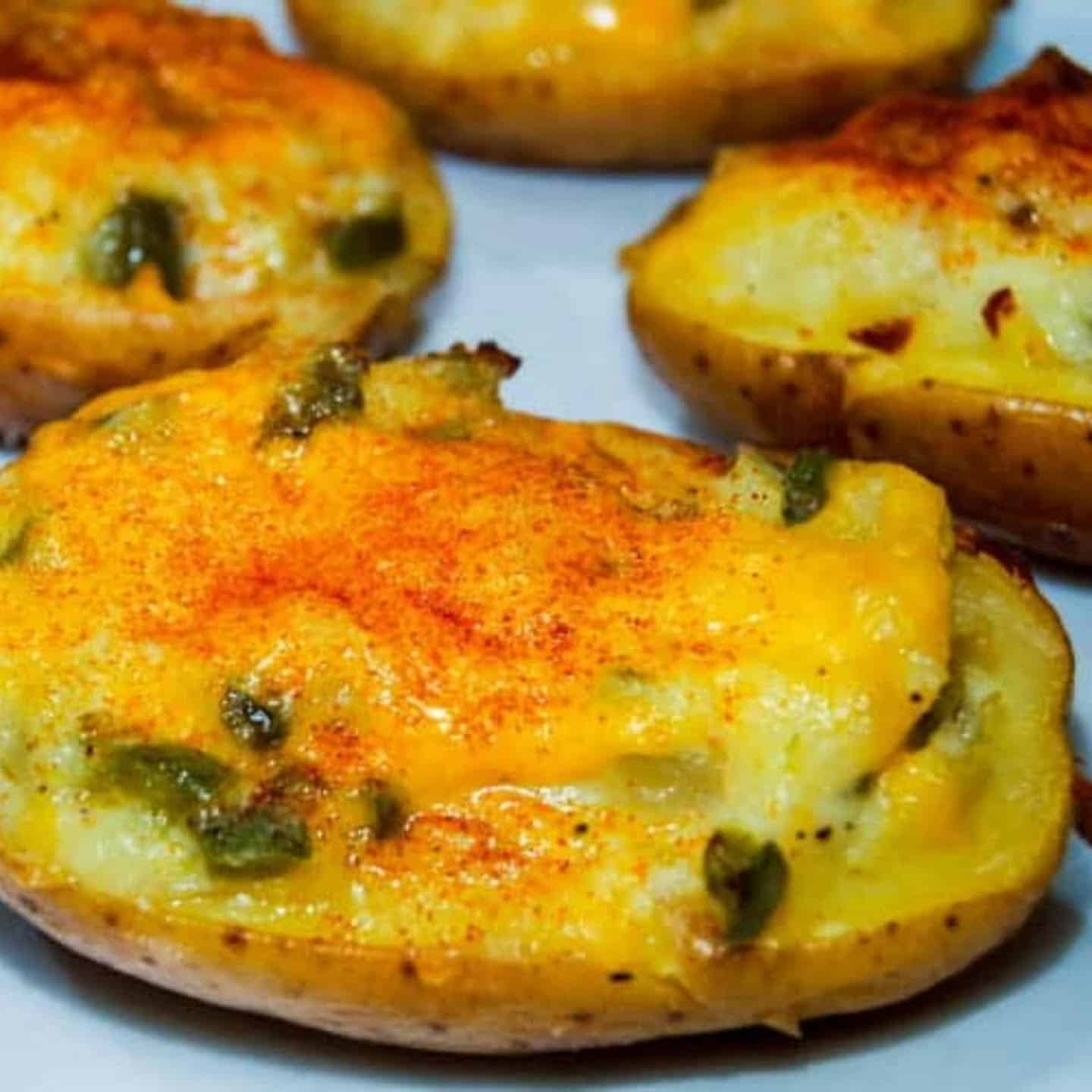 These stuffed baked potatoes only 6 pantry staples and sour cream, so there's really no excuse not to whip them up.
They take a bit of time in the oven, but totally worth the wait!
Serve alongside buttered egg noodles and you'll want to eat this mouthwateringly delicious dish by the candlelight.
The pork chops are ready in just an hour, yet they're nothing short of elegant.
So if you're looking for a recipe to impress guests or a date, this is your ticket.
Wondering what to make for dinner tonight? Try this easy egg noodle bake recipe that gets you in and out of the kitchen in just 35 minutes.
Best of all, you only need 7 ingredients to pull it off.
Feel free to swap out ground beef for ground turkey, chicken, or whatever meat you have on hand.
This classic coffee cake has to be one of my favorite pastry sour cream recipes. It has a gorgeous mixture of textures and the flavor is out of this world.
This is a trusty recipe to keep in your back pocket when you have an occasion or just want to indulge in a sweet, filling treat.
Serve with a savory breakfast bowl, fruit salad and a cup of coffee or latte for a holiday-worthy brunch your guests will remember for a long time.
This is a traditional Hungarian version of curried chicken that's loaded with amazing flavor you'll never forget.
It features chicken pieces in a thick, rich sauce spiked with a generous amount of paprika and sour cream, along with cayenne pepper and chicken stock.
You're going to go crazy for this chicken paprikash recipe.
Light, full of flavor, and indulgently buttery and creamy, this mashed potatoes recipe has all the great things you love and crave.
The recipe starts by boiling the potatoes in a rich chicken broth to give it an extra layer of flavor from the onset before adding the game changers; sour cream, warmed butter and milk.
You're going to love this one!
Instead of the traditional buttermilk or heavy cream used in many biscuit recipes, this one opts for sour cream.
It gives the biscuits a delightful tangy flavor and a wonderful, delicate texture.
These crave-worthy biscuits make a great savory breakfast or brunch treat. They're also wonderful smothered in sausage gravy.
These pulled burritos are fantastic on their own, but made better by the cheesy, creamy sauce drizzled on top.
The delicious sauce made with green chilies, cilantro, sour cream, cheese and other basic ingredients really elevates the flavor of these burritos.
It's addictively good; you'll want to add it to everything!
As far as cozy sour cream recipes go, this cheesy hamburger hotdish is one of the best.
It's packed with the delicious and exciting flavors of pasta sauce, egg noodles, cream cheese, Italian seasoning and cheese.
Kids and adults alike will be asking for seconds of this comforting and hearty bake.
This sensational salad is like eating tacos in a bowl. Pasta, corn, tomatoes, black olives, and cheese are tossed in a zesty salsa dressing that lends a creamy texture to the crowd-pleasing holiday side dish.
The best part about this recipe? You can customize it as much as you like.
There's nothing not to love about this classic comfort food. It's got so much flavor and texture going on with just few pantry ingredients.
You'll want to add this crowd-pleasing recipe to your regular rotation.
You'll be amazed at how moist this banana cake is, thanks to sour cream. Slice and serve with a generous portion of honey butter, but I doubt if all of the slices will make it to the table.
This homemade banana bread will definitely save a trip to the bakery.
These foolproof loaded deviled eggs make an impressive brunch or appetizer for a crowd. Place these little savory bites on the table and watch them disappear in seconds.
Fill hard-boiled eggs with egg yolk-sour cream mixture, then top your creation with bacon, chives, cheddar cheese and a drizzle of creamy sour cream.
This creamy, cheesy potato salad is just what your barbecue needs. It combines sour cream, parmesan, Dijon mustard, mayo, dill and a touch of lemon zest.
You can sprinkle some bacon pieces on top for a little extra punch.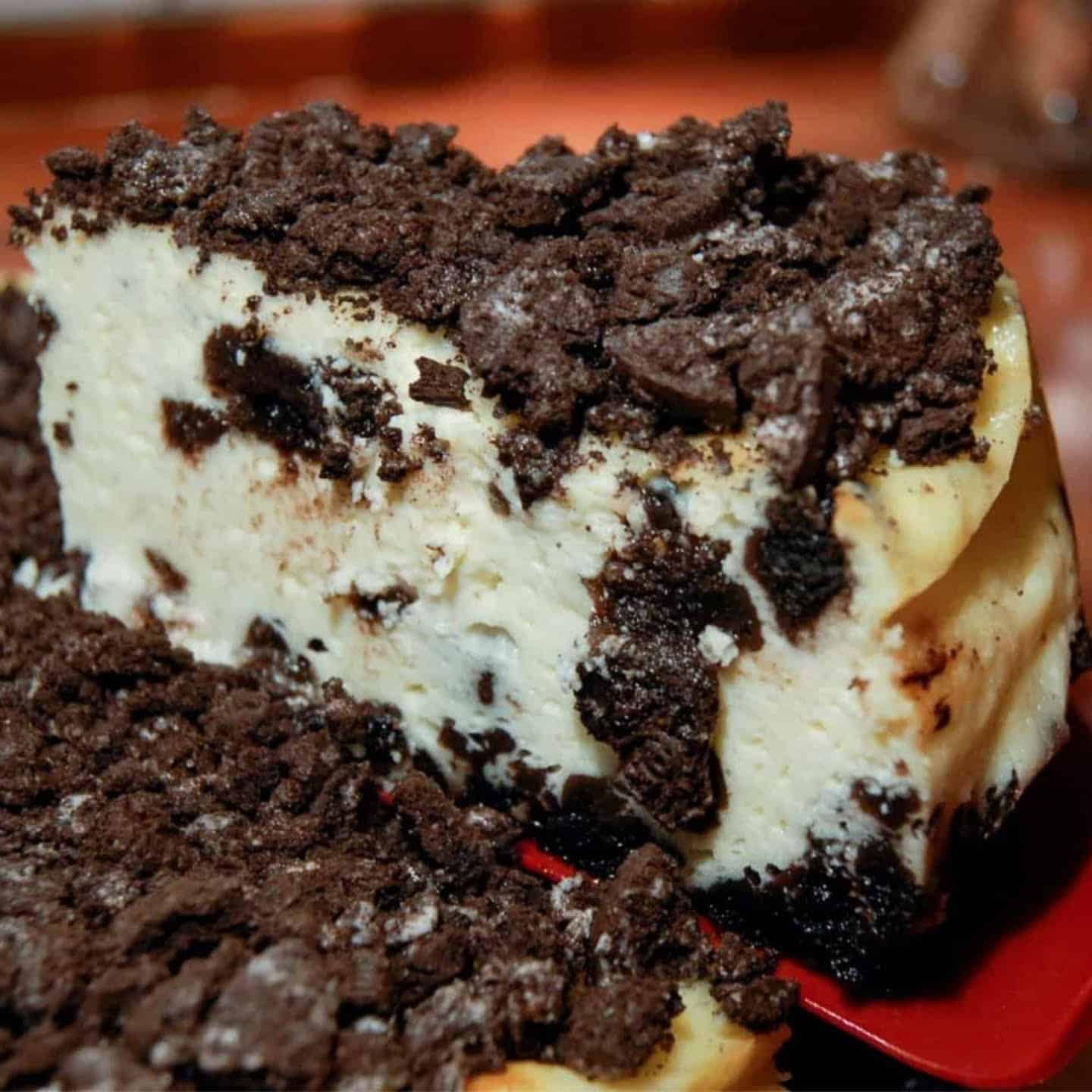 If you're hosting a holiday party and looking for a perfect dessert treat to wow your guests, look no further than this Oreo cheesecake.
The sweet and sour combination of blueberries and lemon juice plus zest work so well to create a scrumptious treat that you'll go back to again and again.
This is one of those easy and quick sour cream recipes that you can never go wrong with.
Slices of chicken are shallow fried in butter and olive oil, then smothered in a rich, creamy and full of flavor pan sauce loaded with onions.
Serve with creamy mashed potatoes for a complete dinner your whole family will love.
Try something different with this easy sour cream cookies recipe. It's not overly sweet or crunchy but pillowy soft with an almost cake-like texture.
Top it off with a light, citrusy glaze for an irresistible cookie no one can resist.
A handful of walnuts or pecans is a nice addition to add a little crunch, and a cup of hot tea or coffee works well alongside it.
This is not your traditional scones. These are eggless and have a bit of butter, sour cream, strawberries and milk to create extra soft scones that might just be the best you've ever tasted.
These flaky and perfectly dense scones are fantastic on their own, but even better with clotted cream alongside a hot cup of tea.
This is the only banana sour cream cake recipe you'll ever need. It's made with mashed bananas, banana cream pudding mix and sour cream to create an unbelievably moist cake.
But what takes it over the top is the finishing touch of cream cheese frosting flavored with vanilla and studded with pecans.
Once you try this cake, you'll never look back.
Make this indulgent twist on the classic breakfast favorite. These supremely soft, creamy and custardy scrambled eggs combine butter, whole milk and sour cream.
The addition of parmesan cheese gives them a velvety, luscious richness that you'll adore.
Sprinkle some fresh herbs on top, if you'd like and serve with some slices of buttered toast, baked potatoes and sautéed broccoli for a hearty breakfast or brunch.
Dunking the donuts into a glaze of corn syrup, powdered sugar and vanilla while warm makes them supremely tender and flavorful on the inside and slightly crunch on the outside.
Best part? They only take 15 minutes to prepare.
These old-fashioned sour cream doughnuts are sure to deliver smiles at your holiday table.
It's hard to imagine a more indulgent treat than these sour cream double chocolate muffins.
Unbelievably rich and moist with chockfull of chocolate chips, these deeply chocolatey delights never disappoint.
They're great for grab-and-go breakfast, holidays and even your dessert table!