Go beyond the classic beef stew with these delicious beef stew meat recipes. Stew meat is a beefy staple that makes a wonderful addition to any meal. It's one of those cuts of meat that's easy to find and relatively inexpensive.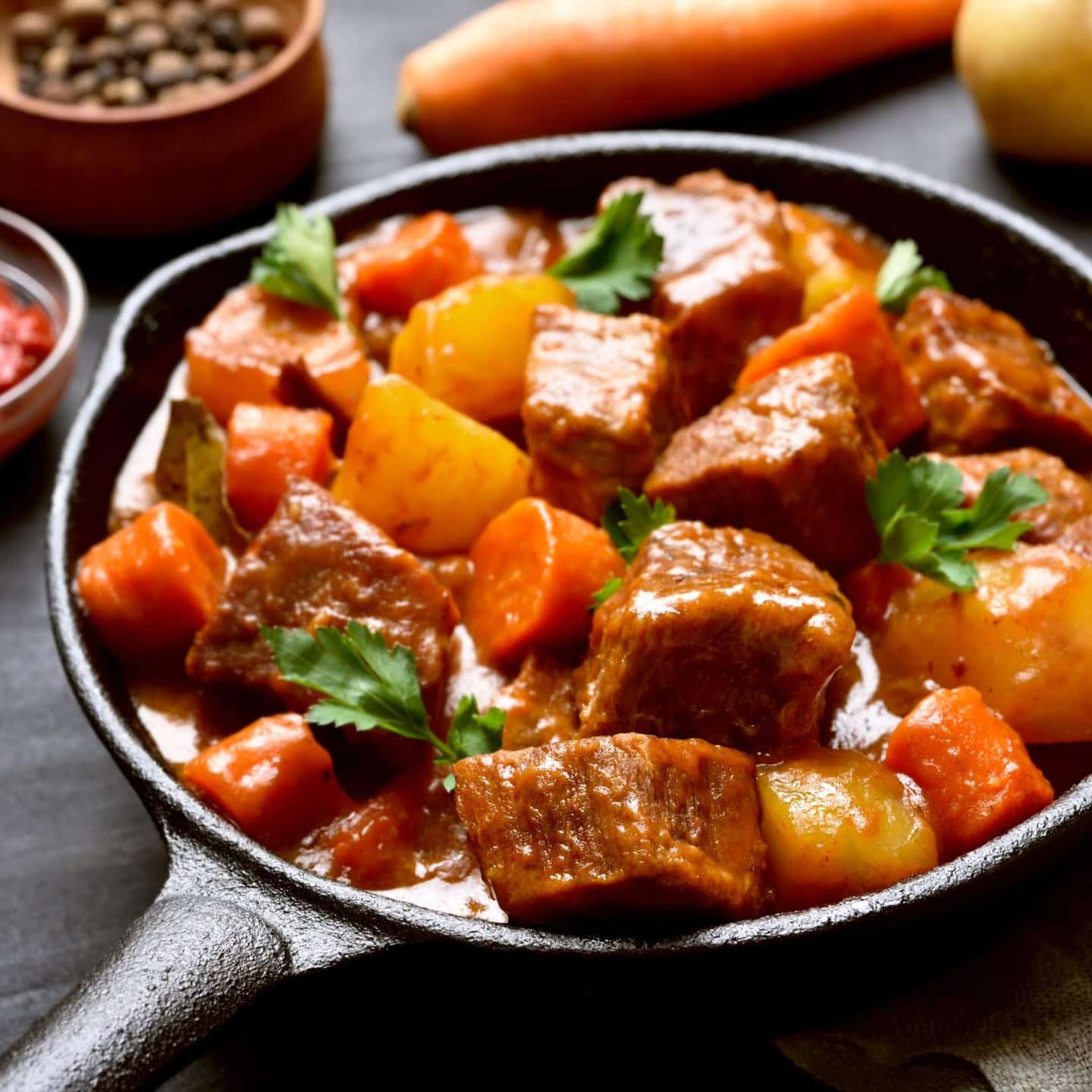 While naturally tough, stewed beef results in a fall-apart tender and tasty bite when braised in a cooking liquid like stock. So it can be used in countless yummy ways.
This list includes fun spins on the classic beef stew like slow-cooked Guinness beef stew and pumpkin stew.
You'll also find a number of ridiculously good stews that cover a broad spectrum of cuisines around the globe, like Italian-inspired stew, Jamaican stew and Scottish stew.
And, if you're in the mood for something different, there're irresistible stew recipes like masala curry and Birria tacos.
So go ahead and buy stew meat in bulk and freeze it for these restaurant-worthy dishes.
This classic stovetop beef stew recipe is proof that stews don't need to take hours and hours to cook to develop great flavor.
This one comes together in just 2 hours and each bite is bursting with incredible flavors.
With an abundance of potatoes, carrots, peas and celery stalks, it's a perfect meal to serve a crowd on a blustery day.
Looking for a stovetop beef stew meat recipe with tons of flavor? This bold and aromatic chile Colorado is just that!
The secret lies in the red chile sauce. The chiles (arbol, ancho and guajillo) are boiled with onions for a few minutes and then blended alongside cumin, oregano, garlic and salt.
It results in a thick sauce rich in flavor and texture with a dark red color to boot.
Why order takeout when you can make this insanely good and spicy Korean-inspired noodles recipe on your own in a pressure cooker?
It's incredibly easy, prep time only takes 10 minutes and instant pot does the rest.
The end result? Fork tender, juicy bite-sized beef pieces, crisp veggies and perfectly cooked noodles all smothered with savory, spicy sauce with a hint of sweetness.
What could be more comforting than sinking your teeth into forkably tender, succulent and full of flavor pieces of beef and crispy strips of sautéed bell peppers? Nothing.
Especially not when everything is tossed in sriracha spiked sweet-savory Mongolian sauce.
Use canola or vegetable oil here, but light olive oil or sunflower oil would also work if you're in a pinch
If you're looking for something easy to make that'll warm up from the inside out, try this great recipe.
It's an incredibly hearty and satisfying meal that features tender beef tips cooked in rich gravy of mushrooms, pepperoncini peppers, onions, bay leaf and spices.
Beef chuck roast or pot roast also works wonderfully well in this recipe.
When you need comfort food fast, this quick and easy beef pot pie is a real winner.
It has all the good stuff your family will love: golden brown flaky pie crust, hearty and flavorful filling of beef and vegetables and rich and creamy gravy.
Stew meat is cooked low and slow until it transforms into fabulously tender morsels that melt in your mouth.
Red wine and balsamic sauce is the crowning glory of this dish. It infuses the meat with so much flavor while tenderizing it to make a restaurant-worthy meal.
Packed with mushrooms, Kalamata olives, pickles, potatoes, carrots, garlic, bay leaves, smoked sausage and bacon lardons, this Russian-style stew beef is anything but boring.
It's finished off with sour cream and slices of lemon for creamy-tangy touch.
This is a fantastic meal to serve for family gatherings and dinner parties.
A mix of bouillon cubes and enchilada sauce gives these burritos a serious flavor. Add stew meat and refried beans and you have a hearty and filling meal that everyone will happily devour.
This recipe calls for cheddar cheese, but feel free to use any melty cheese.
This delicious twist on classic beef bourguignon is about to become your new favorite way to use up stew meat.
It skips the pearl onions and uses pancetta instead of bacon. The sauce maintains some classic elements like red wine, beef broth and fresh herbs, but anchovy paste, soy sauce, chocolate and Worcestershire sauce are added for a sweet-umami touch that deepens the flavor.
Shake things up a bit and try this supremely flavorful German goulash. It only takes 30 minutes to prepare and everything cooks up in one large dutch oven.
There's no doubt this recipe will become part of your regular dinner rotation.
Sour cream, beef stew meat, soy sauce, bell peppers, onions, skewers and an air fryer are all you need to make these heavenly kabobs.
Pair them with coleslaw or potato salad and your favorite creamy dipping sauce for a perfect barbecue meal.
Cooking stewing beef low and slow along with veggies, beef broth, tomato paste, Guinness and aromatics yields one pot of delicious goodness.
The meat is full of flavor and fall-apart tender and the veggies are done to perfection and dripping with flavor.
The gravy is the game changer; it's rich and luscious with savory, umami flavors with a hint of tartness.
This instant pot curry recipe tastes like it's been simmering all day. It features a blend of delectable flavors and spices, making it an irresistibly delicious dish.
Serve with naan bread or a heaping scoop of rice to mop up the flavorful juices.
When the weather turns cold, there's nothing beef stew with sweet potatoes can't fix. Not only is this dish comforting and delicious, but super filling and nutritious.
The mix of veggies also adds a nice pop of color and extra deliciousness. It's excellent served with mashed potatoes or chunks of crusty bread to soak up the rich, flavorful broth.
Cubed meat pieces slow cook in orange soda until fork-tender, then seasoned with bbq sauce, granulated garlic, salt and pepper, then broiled to golden brown perfection. It can't get any easier than this!
If you don't have granulated garlic on hand, you can use garlic powder.
Whenever you feel like you need a big bowl of comfort, there's nothing that warms the body and soul like beef ragu rigatoni.
This version is easy to put together using chunks of meat, pasta, sliced carrots, beef stock and balsamic vinegar. You can add whatever else you have on hand.
Allspice, scotch bonnet pepper, ginger, garlic, and thyme give this spicy stew its distinguishable Jamaican accent.
Pair it with coconut rice or creamy mashed potatoes to cut through the spiciness of the dish. And if you want to tone down the heat, skip the scotch bonnet pepper.
This stew meat recipe is the ultimate comfort food. Cheesy, herby dumplings, tender meat and flavorful broth, work together to make this dish totally irresistible.
Feel free to toss in some frozen peas, celery or whatever veggies you might have on hand.
If you're looking to impress friends, this Mexican-style stew is your ticket. It's sinfully delicious and never fails to get rave reviews. Even picky eaters will devour this.
With a few simple side dishes like mashed potatoes or tortillas, this dish is a full meal.
This hearty and comforting classic is quick and offers bold flavors with very little hands-on time.
Serve with crusty bread and dinner will be on the table in about 30 minutes - perfect meal for busy weeknights
Garlic, soy sauce, rice vinegar, Gochujang, beef stock, sugar and toasted sesame oil combine for a sweet and spicy sauce that complements the meat in this 30-minute meal.
Serve over rice and you have a simple (but scrumptious) restaurant-level dish.
This is the best beef stew recipe you'll ever taste. It's seasoned with soy sauce, balsamic vinegar, beef broth, Worcestershire sauce and red wine.
Some garlic, bay leaves and a sprig of rosemary tie it all together. This Dutch oven beef stew is simply perfection.
Drizzling beef broth on top of the rolls is the key to these intensely flavorful sliders. It gives the rolls a nice depth of flavor when the sliders cook in the oven.
Feel free to jazz it up with your favorite fillings.
This stew starts with a tangy, rich tomato sauce made with balsamic vinegar, brown sugar, beef stock, tomato paste, dried herbs, salt and pepper.
Add tender chunks of meat, carrots, and bell pepper and you have a hearty, comforting meal.
It's a great dish on its own, but even better with a side of garlic bread.
Take your taco night game to the next level with this easy, intensely flavorful Birria tacos recipe everyone will rave about.
While traditionally made with goat meat, this recipe uses both goat and beef for a meaty delight.
One of my favorite things about this recipe is that the meat filling freezes beautifully. So you can make a big batch and freeze some to make your fantastic taco recipes like quesabirria and taco bowls.
There's nothing cozier than a warm bowl of luscious and full of flavor stew at the end of the day. This Belgian-inspired beef stew with a little twist is a lip-smacking showstopper!
It's made with plenty of onions, dark beer, beef, bay leaves, thyme, spelt berries, salt and pepper. It really has fantastic flavor notes that you're going to love.
This beef stew recipe is going to win your heart with one bite. You'll find chunks of stew meat, beans, tomato sauce, seasonings and tons of garlic and peppers.
It's hearty and extra filling; amazing recipe to serve a crowd, maybe with the addition of their favorite chili toppings!
Bring distinctively unique flavors of Scotland right to your kitchen with this amazingly delicious stew.
It has an interesting ingredient: red currant jelly, which adds a hint of sweetness and tartness to the dish.
This stew would still be delicious a day or two later, so be sure to make a big batch and enjoy the goodness.
With stew meat, egg noodles, mushrooms, sour cream, beef broth and aromatics, this creamy, comforting classic is brimming with robust flavors.
And it only takes about half an hour from start to finish, making it the perfect one-pot meal for busy weeknights.
This hearty stew is all the comfort you need to get you all warmed up on snowy winter nights and brisk fall days.
The recipe is super easy as everything goes in the pot and slow-cooks to perfection. It has a subtle hint of pumpkin aftertaste the whole family is going to love.
Serve over egg noodles, rice or all by itself.
Hot, spicy and oh-so-tender stewing meat is served over incredibly creamy, cheesy grits. This lip-smacking combo deserves a spot on your game day menu.
I guarantee everyone will be hooked with just one spoonful.
If you're looking for something a little different, you should try this classic Vietnamese beef stew.
It's bold, spicy and gets lots of rich flavors from fish sauce, lemongrass and bo kho cube bouillon.
If you don't have bo kho seasoning, you can simply use beef bouillon or Chinese five-spice powder. Serve with mashed potatoes or noodles for an Asian-inspired dinner.
Just when you thought French onion soup couldn't get any tastier! Cheesy bread topping, rich golden-brown buttery onions, meltingly tender stew beef and rich, tasty broth add up to a mouthwatering stunner of a stew.
Don't skip browning the meat. It only takes a few minutes but really enhances the flavor of the stew.
This Italian-inspired stew of olives, artichokes, cannellini beans, rosemary, wine and stew meat is just what you need on a cold night.
It only takes a few minutes to prepare and the crockpot does the rest.
You'll love the fact that this recipe also includes instant pot cooking instructions for when you're pressed for time.