Roasting pans come in different sizes, shapes. They are made with various types of cookware materials, including stainless steel, carbon steel, aluminum, ceramic, enameled cast iron, cast iron, glass, and non-stick surfaces. There are numerous choices, and price ranges vary, making it tough to determine which one is the best one to buy. Understanding the different options available will help you make a good decision based on your particular needs.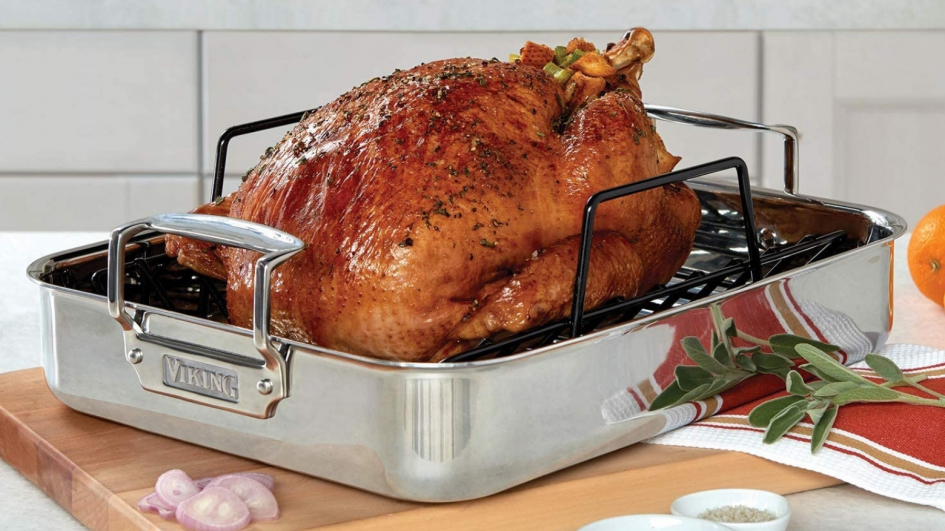 Contents
You can take a deeper dive into roasting pan racks, 3 ply vs 5 ply, roasting pan alternatives and how to clean stainless steel pans before investing in your next roasting pan.
Best picks
Best roasting pan under $100
Cuisinart MultiClad Pro Stainless Roasting Pan
Best roasting pan over $100
Viking Stainless Steel Roasting Pan
What's the best material
Experts agree, investing in stainless steel cookware is your best choice. It offers stability, will last a lifetime, is easy to clean, and will work for everything you will roast in it. Copper cookware is considered superior, and a chef's choice, but copper is expensive and not an option for most of us. When it comes to non-stick roasters, they don't stand up to the task. They are very popular, easy to clean (outside of chipping), but there are safety concerns, and they generally don't last!
Chef Bruce Mattel, senior associate dean of culinary arts at the Culinary Institute of America, says, "I prefer riveted handles as opposed to spot welded. If you bang those pans around enough a handle will come off." He also prefers cookware with stainless steel handles, which are suitable for being put inside the oven.
Stainless steel
These roasting pans will last a lifetime, so they get bonus points. The price range for these roasters is slightly higher but well worth the investment. They are durable, versatile, easy to clean, and have a beautiful shiny finish. They have good heat conductivity, so the food is browned and evenly cooked.
Although copper cookware has the best heat conductivity, it is too expensive. Stainless steel is definitely worth the investment! There is no better roasting pan for preparing a delicious bottom round roast or nice 20 lb turkey. And I love the fact I only need one-pan from start to finish, from roast to gravy.
Not all stainless steel roasting pans have the same quality, so let's take a look at some of the best roasting pans on the market today.
Cuisinart MultiClad Pro stainless steel
This roasting pan is perfectly designed and has a removable rack - it ticks off all the essential boxes. The removable stainless roasting V rack allows the heat to circulate the roast, cook evenly and give it a nice golden brown exterior. The pan material is pure aluminum which is a great heat conductor, and finished with brushed stainless steel, so a beautiful shiny finish, which I love.
Bonus points for the cool grip handles, which are riveted to the pan. The handles are secure and upright, making it so much easier to handle cooking a 20-pound turkey or large bottom round roast. The removable rack allows you to use this pan to make vegetables, casseroles, lasagna - it is the perfect size if you are cooking for a large group of guests. This tri-ply pan is perfectly designed, easy to clean, multi-use, and an ideal choice for all home cooks. The price is very reasonable for this quality professional-grade roaster.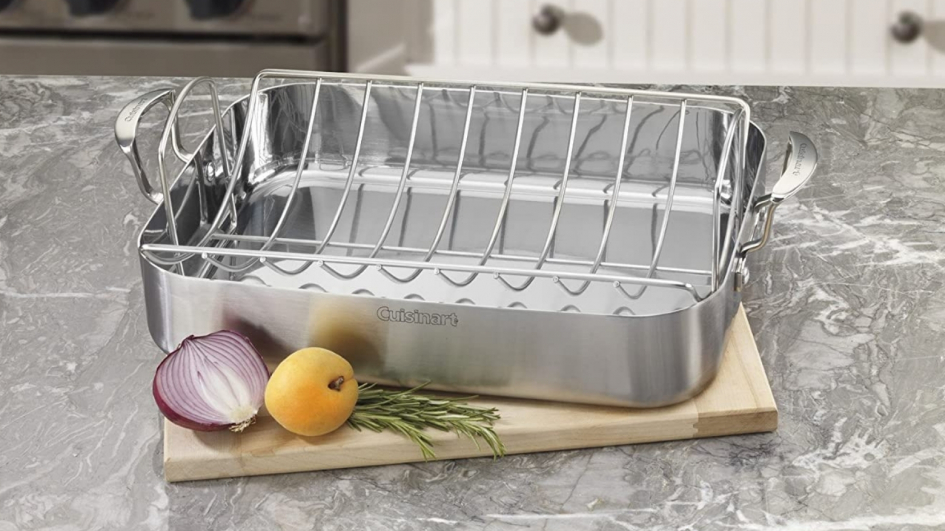 Viking Culinary 3-Ply stainless steel roasting pan
The Viking Culinary is a premium roaster that every cook dreams about owning. It is a heavy-duty pan that you can use on all cooktops as well as the grill, induction, oven, and broiler. The pan is durable and bonded with aluminum's excellent conductivity, which ensures even air circulation and heat distribution on the roasting pan's bottom and sides.
The inverted handles are designed for comfort and balance and are sturdy, making it easy to pop in or take out of the oven. It comes with a V-shaped non-stick rack that elevates the food and also cooks evenly. I prefer the v-rack myself as it holds my roast or turkey in place.
The Viking Culinary is a large roasting pan that can accommodate up to a 25-pound roast chicken or large amounts of meat and vegetables. It is perfect for passionate chefs or cooks looking to achieve superb quality and performance. A little on the pricer side, this beautiful roaster is well made, functional, dishwasher safe, and has a limited lifetime warranty.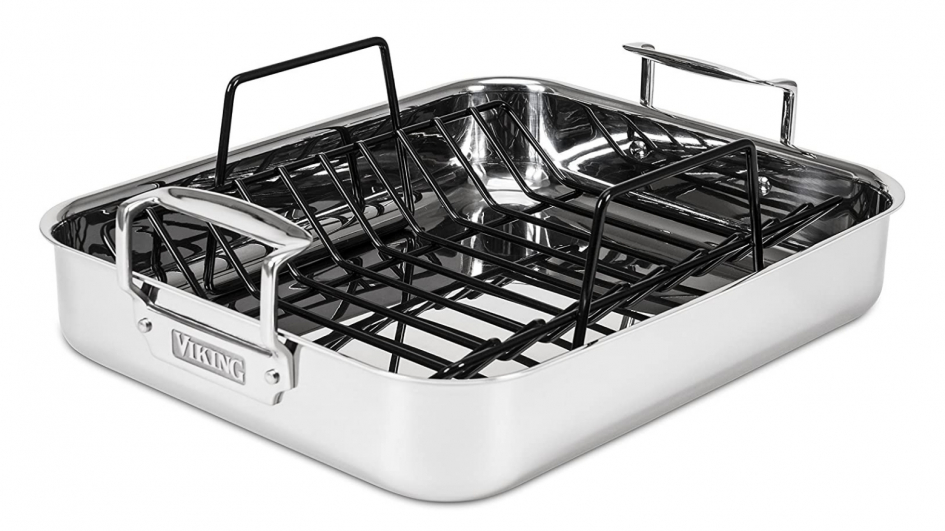 Hard Anodized non-stick
Hard anodized nonstick cookware starts with an aluminum base and is dipped into a chemical bath and then zapped with an electric current. Nonstick cookware is best used at lower temperatures, less than 500 degrees. Higher temperatures may cause warping or damage the coating. A hard-anodized pan provides an even heat distribution, so the meat cooks evenly.
Generally, hand washing with soap and water is recommended, even if the packaging says it dishwasher safe. Hard anodized cookware requires a little more care than other cookware materials, but it gets the job done if you are careful.
Likely, you'll replace these once every 2-3 years as it is impossible to avoid chipping, warping, and general deterioration when roasting above 350F. Another concern is the nonstick coating.
Recommendations include the following.
Recommendations include the following.
Calphalon Classic hard-anodized 16-Inch roasting pan with nonstick rack
This Calphalon Classic Hard anodized pan is a perfect roasting pan size made of medium-gauge hard-anodized aluminum. The non-stick rack elevates the food for even browning and cooking. The non-stick coating makes for easy cleanup and just hand wash with hot sudsy water with a non-abrasive cleaning pad. Washing in a dishwasher is not recommended. Cooking in an oven above 450 degrees is not recommended as it will damage the surface coating. This is an excellent all-around roaster with a lower price point for everyday roasting.
All-Clad E87599 hard anodized aluminum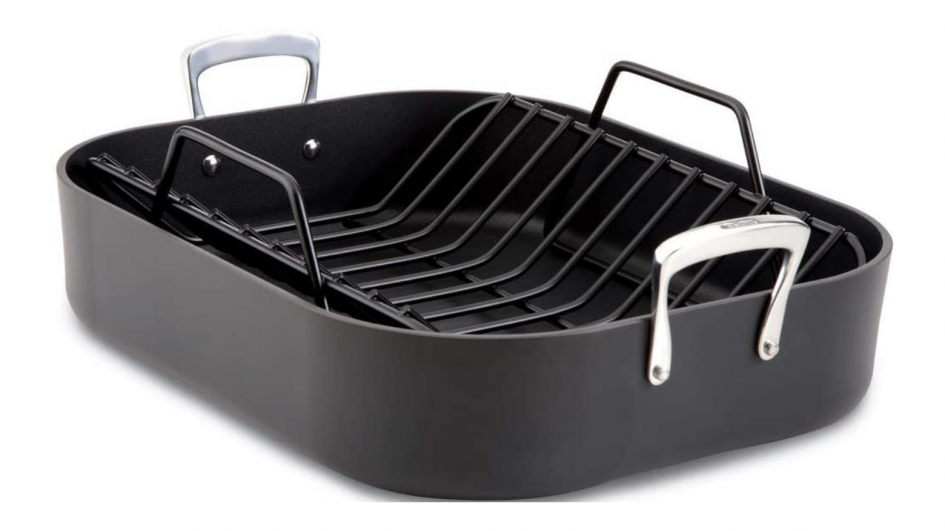 This All-clad anodized aluminum scratch-resistant non-stick anti-warp roasting pan is a large deep roaster and ideal for cooking large quantities of food. It has deep sides to prevent spills and comes with a sturdy, non-stick lift-out rack. The straight handles allow more room in the oven and for easy storage. The coating is PFOA-free. It makes for easy cleanup, and both the pan and rack are rated dishwasher safe. However, it is on the higher end from a price perspective, a reliable pan that will last for a few years.
Non-stick Roasting Pans
Non-stick roasters have become popular and affordable but should be purchased with caution. There are several pieces on the market promoting different types of coatings. They are not designed for high heat. Depending on the type of coating, the high heat will damage the cooking surface and create harmful toxins. Generally, these cooking surfaces are best suited for foods that require a lower temperature to cook - eggs, sauces, etc.
You will still need to purchase another frying pan or skillet to sear or brown food at higher temperatures. Non-abrasive utensils are a must to avoid scratching or peeling the delicate coating into your food. This also applies to the cleaning of the pan; metal scratchers will damage the coating. Never place it in the dishwasher as the temperature changes will damage the coating over time.
I find these difficult to recommend; Amazon has numerous non-stick roasting pans you can see for yourself. If you go this route, pay attention to the maximum heat range.
Carbon steel
These pans are made with carbon and steel, so they retain heat well, are tough and durable, making them popular for use in restaurants. Carbon steel pans are safe and do not release harmful substances; however, they will rust if exposed to moisture. They need to be dried and seasoned to ensure they last.
They are slightly lighter than a cast iron pan, but both are heavy if you load them up with food. They are made with 99% iron, so it is not ideal for cooking with acidic foods (tomato, wine). Enameled cast iron is considered eco-friendly, and the enamel coating won't break down with high heat. Enameled cookware transitions nicely from the oven to the dining table. It is easier to clean, but it is still heavy and prone to chipping or cracking. Le Creuset is an enamel surface brand; however, it can be a bit pricey. Since carbon steel is heavy, prone to rust, and the non-stick options are prone to chips.
While I have no specific recommendations at this time, Amazon has numerous carbon steel roasting pans you can see for yourself.
Related Cooking How Tos
Related Beef Recipes
Final thoughts
Roasting pans are an essential feature in your kitchen, and we covered some of the materials and the benefits of owning the various cookware pieces. If you can, invest in a 3 ply stainless steel roasting pan from Viking. You'll spend a bit more but get a roasting pan that will last for years. And if not, don't worry about it. I use the Cuisinart stainless steel roasting pan for medium to large roasts, 20lb turkeys, and everything in between.