These fantastic leftover recipes for pulled pork will transform you last night's dinner into something you and your family will enjoy. No more wasting food!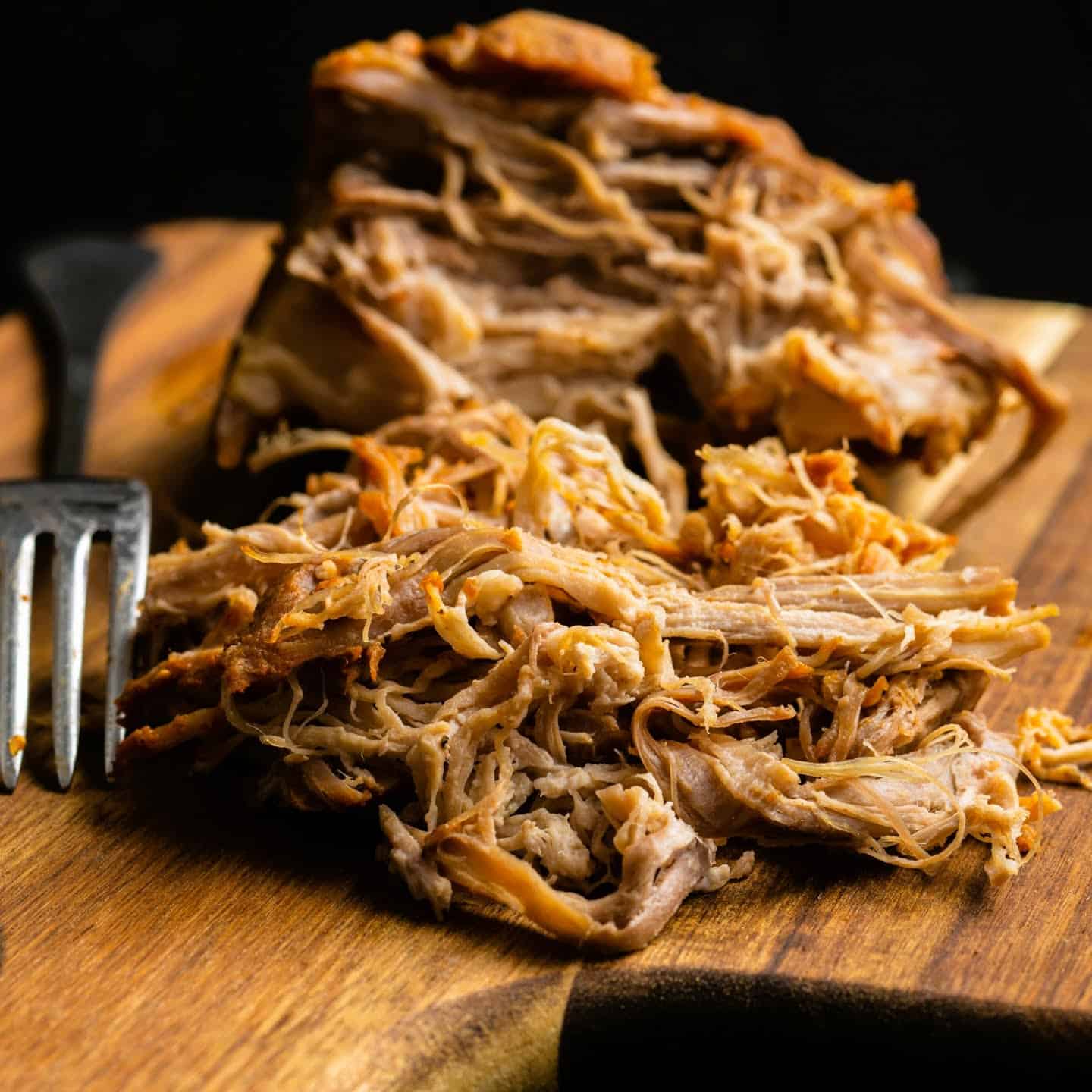 Whether you prefer cooking pulled pork butt or shoulder in a slow cooker or instant pot, it is always a hit with any crowd, especially when juicy and tender.
While sometimes we make more than we need at the moment, it's not always a bad thing. Pulled pork tastes even better after it sits around for a while soaking in my easy BBQ sauce or any of these sauces for pork style dishes.
So you can use it to make all kinds of delicious recipes besides pulled pork sandwiches.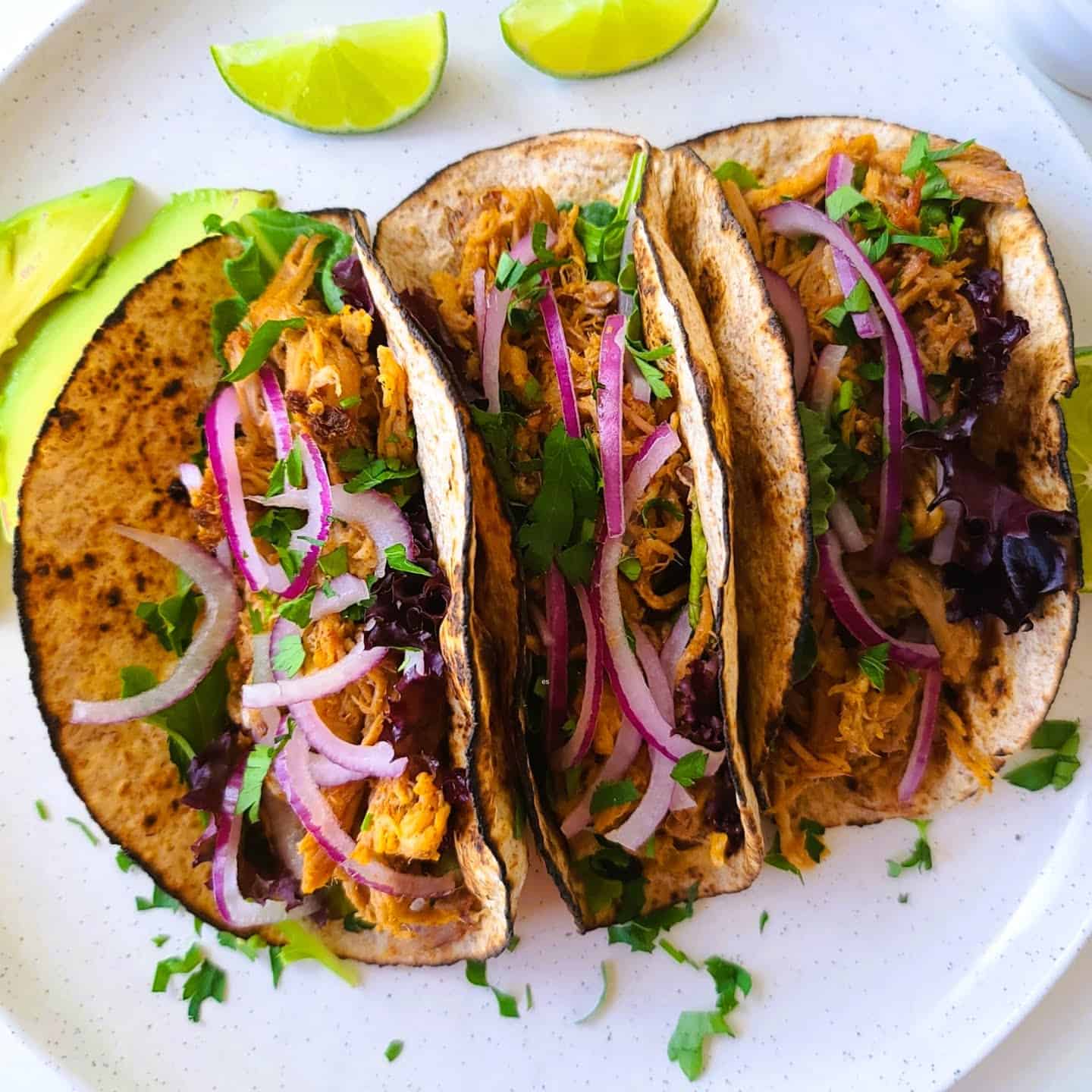 These pork tacos feature oven-cooked pulled pork with avocado and slices of red onion in a bed of green salad and homemade bbq sauce, hot sauce and lime juice and loaded into flour or corn tortillas.
Serve with your favorite toppings for a festive meal that takes about 30 minutes.
For a vegetarian version, swap out the pork for roasted veggies.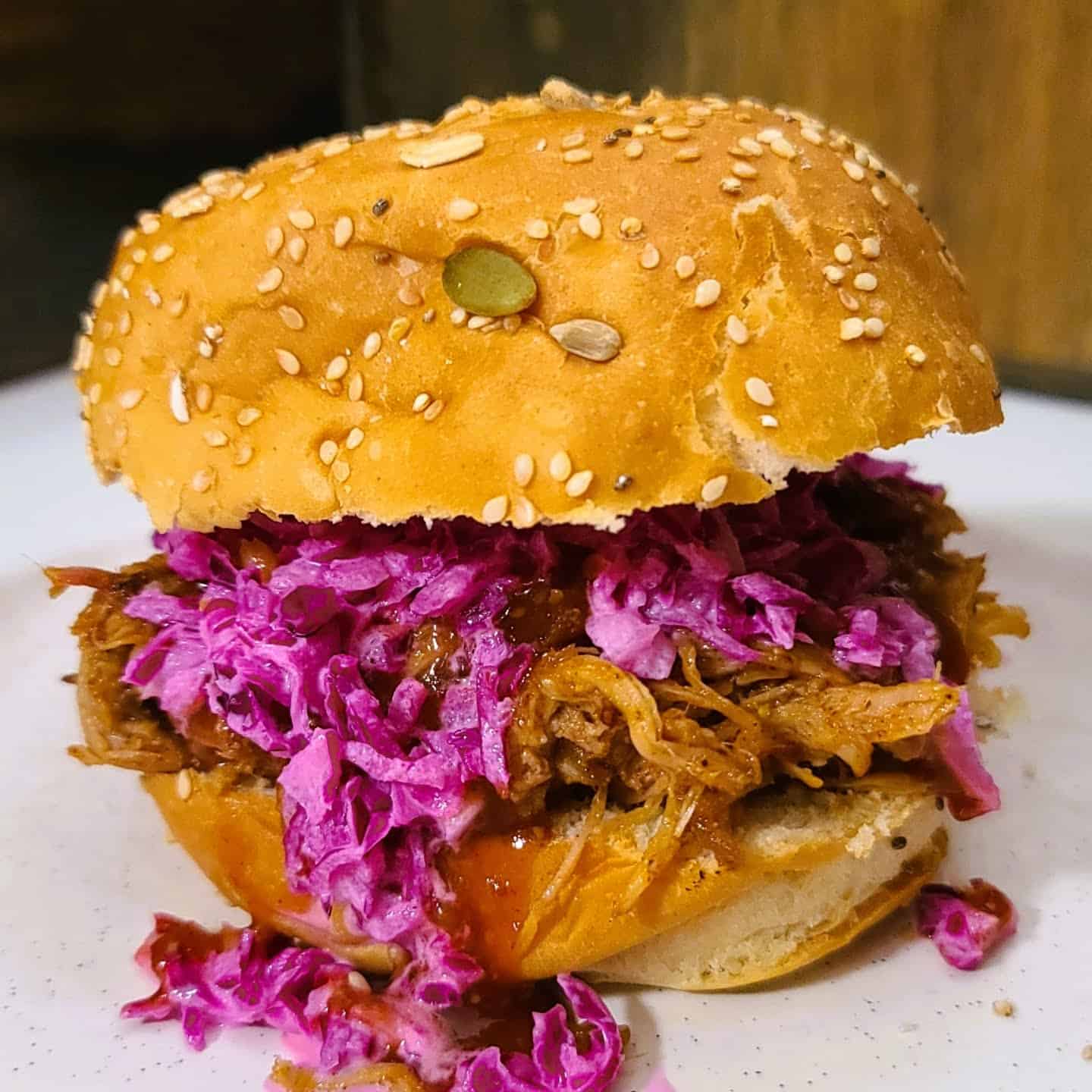 If you're feeding a big family or entertaining friends, there aren't many leftover pulled pork recipes easier than these sandwiches made of melt-in-your-teeth tender meat dressed in bbq sauce.
But the real kicker is the sweet and tangy coleslaw. It adds a pop of color, refreshing crunch and an extra layer of flavor to the sandwiches.
Give these mouthwateringly delicious enchiladas a try next time you find yourself with leftover pork.
Tender pulled pork, spicy homemade enchilada sauce and two kinds of gooey cheese - what's not to love? Even picky eaters will gobble up this!
Chili powder and cayenne pepper give the sauce a delicious kick of spice, but feel free to cut back the amount or leave them out if you're not a spice fan.
Thick, hearty and full of flavor, you'll wonder why you never tried adding smoked pork in your chili.
You'll also love that this hearty goodness is easy to customize with what you have on hand and comes together in just 40 minutes.
Finish it off with sour cream, shredded cheese and avocado slices for an incredible weekday dinner.
Is there anything more comforting than a plate of creamy cheesy goodness with perfectly cooked pasta? Certainly not.
And when topped with pulled pork deliciously drenched in barbecue sauce, it's totally irresistible. Serve this fantastic casserole to your family and it will become a quick favorite.
This recipe makes a big batch, so it's a perfect meal to serve a crowd. Plus leftovers (if there are any) make fantastic lunches throughout the week or dinner on busy nights.
This is one of those leftover pulled pork recipes that you'll to make over and over again.
Pasta shells are stuffed with a creamy, cheesy, meaty filling flavored with peppery arugula over a bed of marinara sauce then baked to absolute perfection.
Try serving these stuffed shells with a simple BLT salad or roasted asparagus for an easy and delicious dinner.
Dig into this insanely rich and delicious pulled pork recipe topped with smoky pork, green onions, sour cream and gooey cheese.
It's finished off with sliced jalapenos which add just the right amount of heat for a crowd pleasing flavor.
Feel free to get creative with flavors. You can swap out cheddar for mozzarella or ground meat instead of pork or toss in veggies and fresh herbs.
The beauty of this recipe is that it uses just a handful of ingredients, but packs in so much flavor. You'll savor every bite.
Brushing the tortillas with oil is a smart trick for giving them a nice golden brown color and crispiness while delivering an additional punch of flavor.
The joy of this pulled pork pizza besides coming together quicker than delivery is that you get to recycle leftover pulled pork from night before.
This quick meal features premade pizza dough topped with barbecue sauce, pulled pork, red onions, mozzarella, goat cheese and a sprinkling of cilantro.
It's easy, it's cheap, it's packed with flavor and both kids and adults a like will love it.
This is one of my family's favorite leftover pulled pork recipes. It's full of cheesy, creamy, spicy and meaty goodness that's hard to resist. This home cooked comfort food at its best.
The recipe calls for Monterey Jack, but any melty cheese would work great.
Take your Italian cooking up a notch with this oh-so-comforting and delicious pulled pork ragu dish.
The beauty of this recipe is that it uses a handful of ingredients that infuse so much flavor to the dish. No fatty meat or bottled stuff are necessary here.
And best of all, it comes together in about 40 minutes from beginning to end.
If you're tired of the pulled pork sandwiches, these lettuce wraps are perfect to slot into your meal plan.
They're loaded with shredded pork, carrots, purple cabbage and finished off with green onions, cilantro and a generous drizzle of Asian-style dressing.
Feel free to bulk it up with your favorite toppings.
Once you get a taste of this amazingly good pork eggs benedict, you'll never make it any other way.
This recipe features buttered English muffins, smoky leftover pulled pork, poached eggs with a drizzle of creamy-tart hollandaise sauce.
Serve with hot sauce and baked or roasted potatoes to mop up the goodness.
This is one of my favorite leftover pulled pork recipes for parties. It's extremely easy and quick to pull to put together and is a surefire hit.
Sometimes I can make if fun for the guests and set up a nacho bar so that they can customize their plates to their liking.
All the traditional flavors of taco come together in this delicious meal in a bowl. It's amped up with tangy and fresh herb notes of ranch seasoning which sets it apart from your typical taco soup.
This will definitely be a hit. Double the batch and you'll be set for a week!
Hawaiian rolls covered in garlic brown sugar butter glaze are pilled high with swoon worthy barbecue pulled pork, savory bacon and tons of melty cheddar cheese.
These crowd pleasing sliders are guaranteed to make your mouth water.
Serve these with fresh coleslaw, onion rings and you're set for the ultimate game day feast!
There's no reason to wait until lunch or dinner to use up your leftover pulled pork.
Create a scrumptious and hearty breakfast by combining barbecue pulled pork, sweet potatoes, red onions and eggs.
The flavor and texture will surely win you over. Plus it's ridiculously easy and quick to put together. What's not to like?
If you like your grilled cheese sandwich meaty and ultra cheesy, this pulled pork recipe is destined to be your new obsession.
It boasts flavorful shredded pork, three kinds of gooey, melted cheese and a gloriously gold brown crust thanks to the buttery garlic mayo spread.
This vibrant pulled pork salad treats you to a little of everything - protein, veggies, grain and fruit. It's hearty and full of delicious flavors and textures.
A simple BBQ ranch dressing drizzle complement the flavors especially well and lime wedge gives it a bright finish. This will instantly become a household favorite.
Serve this as a light and easy dinner or even at your next dinner party.
This recipe is a welcome change from the traditional ground beef shepherd's pie. It adds a nice barbecue flare, but still hits all the rich, meaty, creamy notes of the beloved classic dish.
It's hearty, comforting and downright delicious - everyone in your family is going to love this one.
You can serve as is or alongside a light salad to round out the meal.
Turn your leftover pulled pork into a scrumptious pasta dish. Seasoned with Italian seasoning, barbecue sauce, basil and tomato sauce, this simple recipe will make anyone swoon.
You can make this barbecue pasta richer with a drizzle of cream cheese, half-and-half or bit of mozzarella or parmesan, but this dish is fantastic as-is.
It's ready in 30 minutes or less, so it's a perfect weeknight meal.
With beans, carrots, celery, leek and smoked pulled pork, this simple yet cozy soup is a meal on its own.
But the flavorsome tomato-y broth is just begging for some slices of bread to be dipped into it. Mashed potatoes is also delicious to soak up every bite.
The best part? It's very easy to prepare with simple ingredients, freezer friendly and ready in less than an hour. You'll want to make this soup all year long!
Take your cornbread game to the next level with this meaty and cheesy recipe. Made with full of flavor bbq pulled pork, tons of cheese and spices, this savory buttermilk cornbread is sure to please guests at any affair.
It pairs wonderfully with a bowl of hot soup, corn chowder, pork stew or even baked beans.
These tamales are insanely good and so much better than anything you'd buy at the store or restaurant.
While these little pork filled Mexican treats take a bit longer to make, I guarantee they're worth every minute.
Serve with salad and a squeeze of lime for a show-stopping meal.
Everyone will enjoy sinking their teeth into this bowl of tortilla-less pork burritos. It has all the flavors you love about burritos but with a little delicious twist.
It features juicy leftover pulled pork instead of chicken which adds so much flavor in every bite. Toss in corn kernels, black beans, rice, cheese, veggies and whatever you have on hand for a complete meal in one bowl.
Finishing touches of sour cream and avocado add a nice creamy texture to the dish, but feel free to load it up with your favorite fillings.
All you need are some leftover pulled pork, cream cheese, barbecue sauce, cheese, sour cream, jalapeno and garlic to make this gloriously rich and creamy dip.
The little kick from jalapeno cuts through the richness of the cheesy dip to make it a real treat that will please everyone around the dinner table.
For those who want it a little less spicy, remove the seeds before mincing or try pickled jalapenos. Serve with tortilla chips, butter crackers or corn chips.
This pulled pork recipe is delightfully easy to toss together on a busy night and most probably you have all the ingredients already on hand.
Half bake the fries first, then add the slow cooker leftover pulled pork, red onion, peppers, cheese, and continue baking until the fries are golden brown and cheese is nice and melty.
If you'd like, top it with extra cheese and enjoy.
Skip take out and make these fresh, crispy baked empanadas right at home. It's easy to make and won't weigh you down.
Filled with incredibly juicy and spicy pulled pork, these little Mexican-style portable hand pies are perfect appetizers for any occasion.
If you're looking to go the quicker route, use store bought pie dough or crust.
Related Recipes
Try one of my easy homemade pork recipes on your next dinner meal. Including my best shaved pork recipes and leftover chicken rotisserie recipes collection.
Also check out my collection of easy leftover steak recipes when you have extra meat and dont want to waste it.