This roundup is a collection of the best 30 ground pork recipes that you should include in your weekly meals, they are so easy to make and budget-friendly recipes.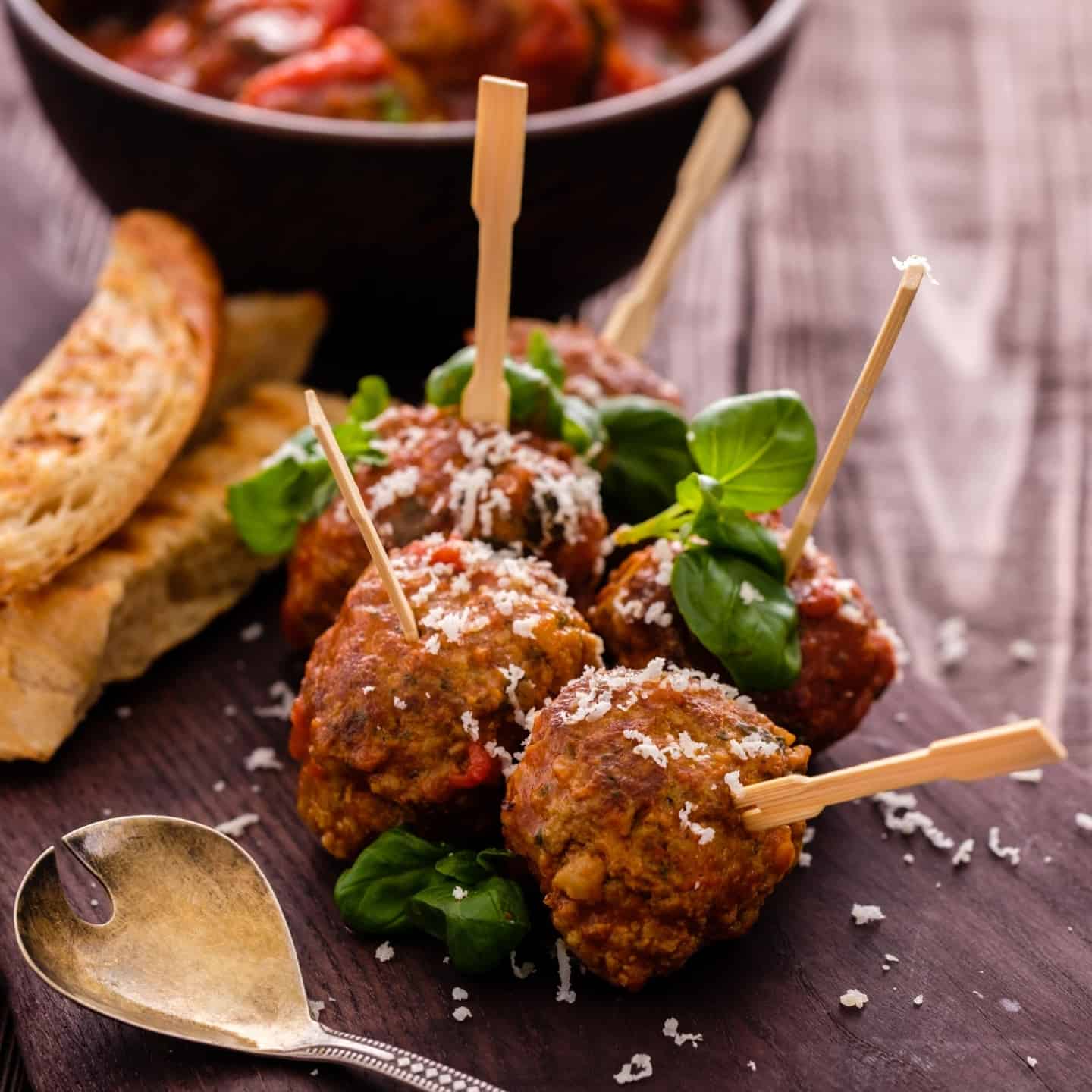 Around the world, pork remains one of the most widely consumed types of meat, from bacon to grilled pork ribs. You can enjoy pork burgers with ham patties or make a delicious meal with pork chops.
How Is Ground Pork Made?
Ground pork is chopped or minced pork meat, usually from a pig's shoulder and sometimes the pig's loin. Grinding the meat from these pig parts is similar to how ground beef is formed.
You can take the meat to a butcher to grind it for you, where you'll get better texture and determine the amount of fat you want either as sausage-grade, super-lean ground pork, or extra-lean.
However, you can also choose to grind your pork at home using a meat grinder and attachment for consistent results. If all this is too much work for you, ground pork is sold in supermarkets and grocery stores with the fat and lean percentages on their labels.
Regardless of the method you choose to make your ground pork, here are the 30 best ground pork recipes for a savory ground pork meal.
As the name implies, it's an easy and quick recipe, as you'll have delicious flavors on your plate in 25 to 30 minutes. This recipe is perfect for dinner, and the ground pork serves as an excellent protein base for your stir fry.
You don't need extravagant ingredients to make this delicacy, as the essential ones include your ground pork, your choicest leafy greens, white or brown rice for serving, green onions or sesame seeds, and veggies of your choice.
Ingredients for your sauce will include red pepper flakes, rice vinegar, tamari, or soy sauce. Add garlic and onions for more flavor to your pork stir fry.
There are different versions of the pork fried rice since anything else can be added to it after the eggs and rice. However, this ground pork recipe is your go-to if you want your fried rice to go with pork.
This is a favorite recipe in many Asian homes, and you can make yours with ingredients including white rice, vegetable oil, scrambled egg, onions, carrot, ground pork, kosher salt, black pepper, sesame oil, soy sauce, bean sprouts, garlic, ginger, and a few others.
The dish is highly nutritious and ideal for a relaxing dinner.
Pork is a versatile meat, and it's no surprise it appears in this classic Italian dish. Pork meatballs are perfect, but you'll get more flavors by making your meatballs with a mix of ground beef, Italian sausage, and ground pork.
To ensure you get that Italian flavor, use Italian seasoning when simmering the meatballs.
The ingredients needed include tomato paste, parmesan cheese, Italian breadcrumbs, ground beef, ground pork, and various other condiments for the best flavors.
The spicy pork lettuce wraps are another favorite among pork lovers, and it's one of our most delicious recipes on this list of easy ground pork recipes.
The ingredients bringing the spice to this dish include the sweet chili sauce and spicy samba oelek.
Other essential ingredients for this recipe include minced shallot, red chili, ground pork, ground beef, brown sugar, brown sugar, lime juice, fresh mint, cilantro, fish sauce, bean sprouts, and iceberg lettuce, among others.
Dan Dan Noodles are one of the widely accepted Chinese delicacies all over the world.
This recipe with ground pork will have your taste buds rejoicing from the flavors incorporated.
You can make your Dan Dan noodles at home with white rice noodles, ground pork, Sichuan peppercorn, leafy greens, chili oil, red pepper flakes, sugar, hoisin sauce, and a few others.
If you love pork burgers, Asian Sloppy Joes are the way to go for your juicy ground pork burger.
So get your brioche buns and hot sauce out for this ground pork recipe.
The ingredients needed to make an Asian Sloppy Joe include diced onions, butter, garlic paste, ground pork or ground chicken, soy sauce, hoisin sauce, lime juice, and shredded napa cabbage rolls for garnish.
If you prefer your ground pork in soup form, Wonton soup is your go-to choice.
It's a quick ground pork dish you can make in about 30 minutes, putting it on our list of easy ground pork recipes.
Ingredients included in making the perfect Wonton soup include chicken broth, ground pork, rice wine vinegar, crushed red pepper flakes, sesame oil, and wonton wrappers.
Dumplings remain a favorite among several people for a juicy pork experience. However, this dish takes longer than most tasty ground pork recipes as you'll need to make your dough, filling, and dipping sauce.
The ingredients you'll need for your dough include all-purpose flour, cornstarch, salt, boiling water, and room-temperature water.
The filling is where you have your cabbage rolls, tender ground pork, ginger, white pepper, black pepper, mushrooms, onions, and sesame oil, among others.
If you're a fan of egg rolls, you might want to try this one unwrapped. The egg roll bowl is a low-carb dish that brings a crispy savor to your taste buds. In addition, it's a veggie-filled dish that vegetarians might find interesting with a few substitutions.
To make this ground pork recipe, you can use veggies of your choice, including carrots, green cabbage, sesame seeds, garlic, and onions.
You can use pickled veggies if you wish, but most importantly, incorporate your condiments, including the Sriracha, chili garlic sauce, and soy sauce.
The balance between sour and sweet birthed this delicious pork recipe with its secret in its sauce.
Generally, everyone uses a tomato-based sauce like Ketchup and rice vinegar for the tangy taste. Still, you can enhance the flavor with veggies and nuts of your choice.
Cut your ground pork into cubes, add your condiments, and balance it all with pineapple cubes.
Like the Italian pork meatballs, you can use a mix of ground meat, ground pork, and Italian sausage to make pork sausage.
Fire up that oven to have the perfectly cooked pork sausage marinated in cheddar or mozzarella cheese, parsley, and Bisquick.
Ensure you brush the top of your balls with olive oil to get that desired golden outlook. Serve with parsley for the best flavors.
Spicy Swedish meatballs in a rich, creamy sauce are what you need to satisfy your craving on a lazy day, and you can make them with ground pork.
To make the perfect sauce for your Swedish meatballs, you need good beef broth and a blend of ground meat and ground pork. Your ingredients include egg yolks, bread crumbs, heavy cream, black pepper, cayenne pepper, and egg noodles.
Serve over noodles for the best dining experience.
This is one of the most savory pork burgers made with flavors you get from condiments mixed in ground pork.
These condiments include garlic powder, cilantro, adobo sauce, and minced chipotle peppers. You'll get some smoky flavor from grilling the pork patties, and juiciness from the cream cheese applied.
Onions buns are the ideal ones for this burger to complete the flavors.
Another fantastic entry on our list of easy ground pork recipes. Ground pork mixed and cooked in bolognese sauce is the dish your taste buds will be grateful to you for.
It's a fast meal on a cold night to get that heart-warming feel after a good dish, especially when adding spaghetti. Spaghetti bolognese will remain one of our heart-warming favorite pasta dishes and a top dish on our list of ground pork pasta recipes.
Ensure the meal is garnished with tomato slices, caramelized onions, mayonnaise, lettuce, spaghetti sauce, and spaghetti for the best dining experience.
Make a sumptuous breakfast casserole with this recipe. The dish also doubles as the perfect meal for a dinner party.
Get cooking with cabbage layers, ground pork, beef, tomato sauce, and rice to make this dish.
Garnish it with cheddar cheese and chopped parsley, and you're ready to go!
Have a hearty dinner with this tasty recipe in a matter of minutes.
If you enjoy Mexican cuisine, you'll love this one with the juicy ground pork cooked in condiments, including shallots, poblano peppers, and spicy charred corn chimichurri.
Add your preferred taco seasoning, and serve in tortilla chips with sour cream and cotija.
Ground pork spring rolls are your go-to choice if you're looking for the perfect pork snack or light dinner.
Get your spring rolls with a filling of ground pork and vegetables dipped in a tangy sauce made with brown sugar, vinegar, soy sauce, and tomato sauce for delicious goodness.
Get the best flavors when you cook ground pork seasoned with herbs, spices, roasted tomatoes, and onions.
Make your chicken broth creamy with mozzarella cheese or grated parmesan, and add your preferred lasagna noodles.
With this recipe, you'll have the most sumptuous bowl of lasagna soup to warm you on a cold night.
You can substitute the ground beef in your picadillo with ground pork for a simply delicious meal.
Have mashed potatoes, bell peppers, and olive oil in your stewy sauce to serve with rice, burritos, or plantains.
Another pork meatball on our list, but this recipe makes your ground pork healthier and more nutritious with the herbs that go into making this dish.
Get your fresh tomatoes, lemon zest, onions, olive oil, cheese, and quick-cooking farro to put this fast meal together.
Enjoy this delicious Mexican soup with your family and friends on a cold night.
It's the perfect dinner for your family to bond and make beautiful memories during the holiday season.
This includes ground pork, white hominy, bay leaf, Mexican oregano, lime wedges, and a few other condiments.
This is an extra flavorful burger with enough flavors to keep you coming back for me.
Of course, pork burgers will always remain a delight, and the Pork and Chorizo Burger is no less.
Make yours with green chile mayonnaise for a hearty, delicious burger. Ingredients include green chiles, cayenne pepper, and other condiments.
Ground pork ragu with pasta is an easy dish to whip up in minutes and is perfect on a busy night week.
Garnish this with Asiago cheese and sprinkle parsley for a hearty dinner.
Another hearty dish that you can cook quickly and incorporate your favorite herbs and spices.
The ingredients for this are chiefly ground pork and beans, plus your choice of herbs.
If you're a fan of mashed potatoes, sauteed veggies, cheese, and a simmered mixture of meat, Pork Shepherd's Pie is your number one choice.
Bake this combo of deliciousness perfectly, and you have a memorable hearty dinner.
Pizza is the number one comfort for lots of people, and it's only right there's pizza on our list of ground pork recipes.
Enjoy several flavors from the fresh basil, sriracha mayo, veggies, cilantro, cheese, eggs, and Vietnamese pork meatballs that make up this dish.
These crispy dumplings are what you want as an appetizer or snacks on a lazy evening.
The meal is easy to cook and requires no extravagant ingredients.
These ingredients include ground pork, cabbage, green onions, and other condiments.
This combination remains a classic with the flavors you'll get when apples serve as your base for the ground pork patties.
Use pretzel buns and add condiments like mustard or mayo for the perfect dish.
Have a busy night and need a comforting bowl of noodle soup?
You can cook the ginger pork noodle soup in 20 minutes.
Add coconut aminos for extra nutrients, and you have the perfect meal to keep you revitalized through it all.
Last on our ground pork recipes list are the absolutely delicious Mexican meatballs.
The juiciness of the ground pork in this dish will lift your mood and fill you with renewed hope as you go through the week.
The spices and condiments incorporated will have you craving more for days.
Takeaway
With these ground pork recipes, you have excellent food options to make with ground pork on different occasions. Any of these dishes are guaranteed to have you filled, satisfied, and ready to get through the day in style. So, turn up that heat and get cooking!
Related Pork Recipes
Check out these delicious and easy pork recipes to include in your next meal.
For more easy dinner ideas make with ground beef check out my ground beef and rice recipes with few ingredients and my easy ground beef recipes.