If you like tender and juicy roast recipes you are in the right place. These 20 best eye of round roast recipes are sure to deliver maximum richness and flavor to your family meals.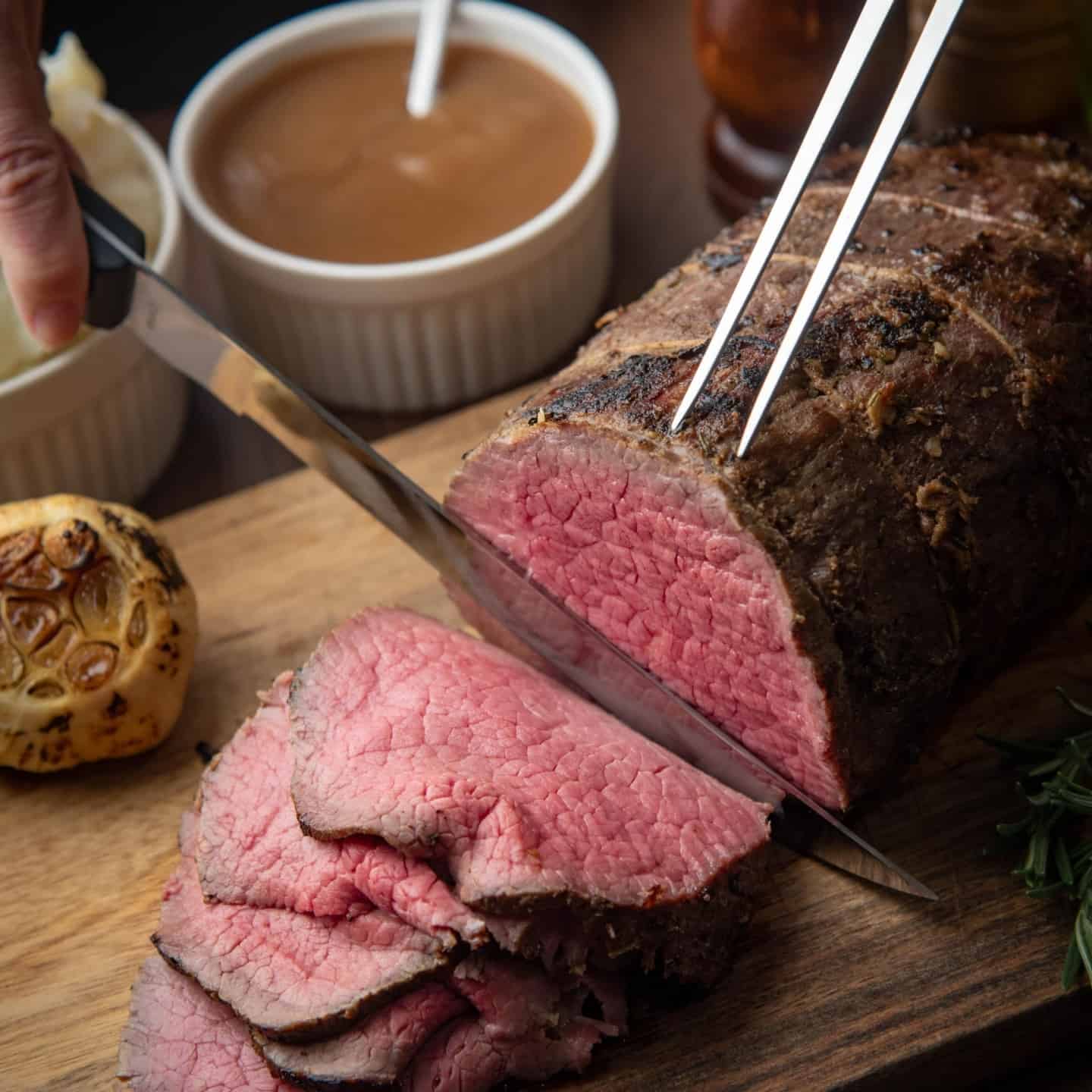 Eye of round roast is a lean cut of beef that is also tough, which makes it harder to get it tender and juicy, but luckily for you, I have curated a list of the best 20 eye of round roast recipes that result in tender beef every time.
This type of beef is also inexpensive compared to other cuts, meaning it's perfect for feeding the family without breaking the bank.
There are many different ways that you can cook eye of round roast, and there are also many different recipes that you can use in order to make this type of beef.
So without further ado, here are 20 different eye-round roast recipes that you can try at home that are perfect for you and your family.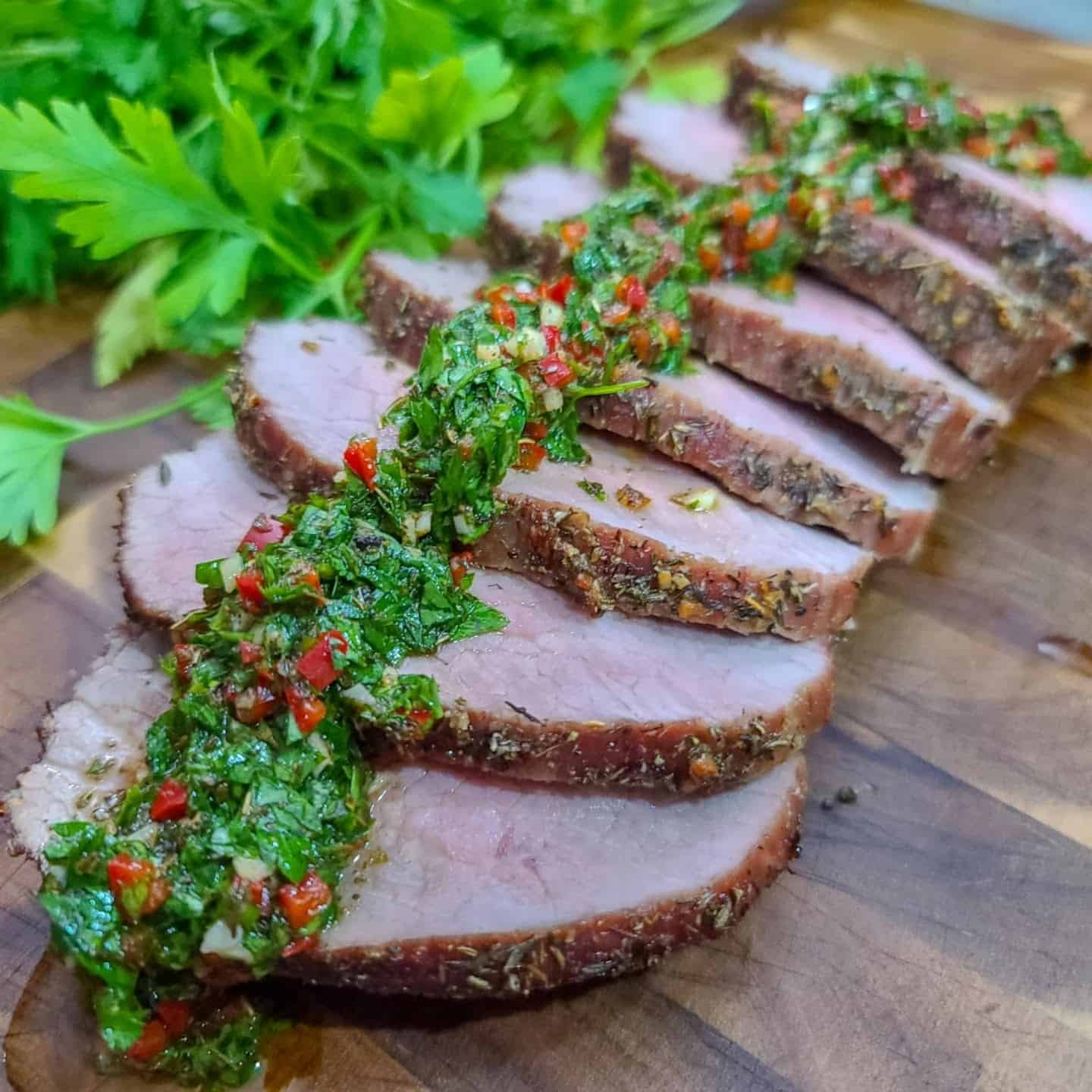 Eye of round is a beautiful budget-friendly cut packed with flavor, and this slow-roasted recipe with chimichurri sauce is the perfect way to enjoy it.
The lean cut is flavored with rosemary, thyme, and onion powder, then roasted low and slow until it's perfectly tender.
Serve the roast with the homemade chimichurri sauce on the side for a flavorful, budget-friendly meal that everyone will love.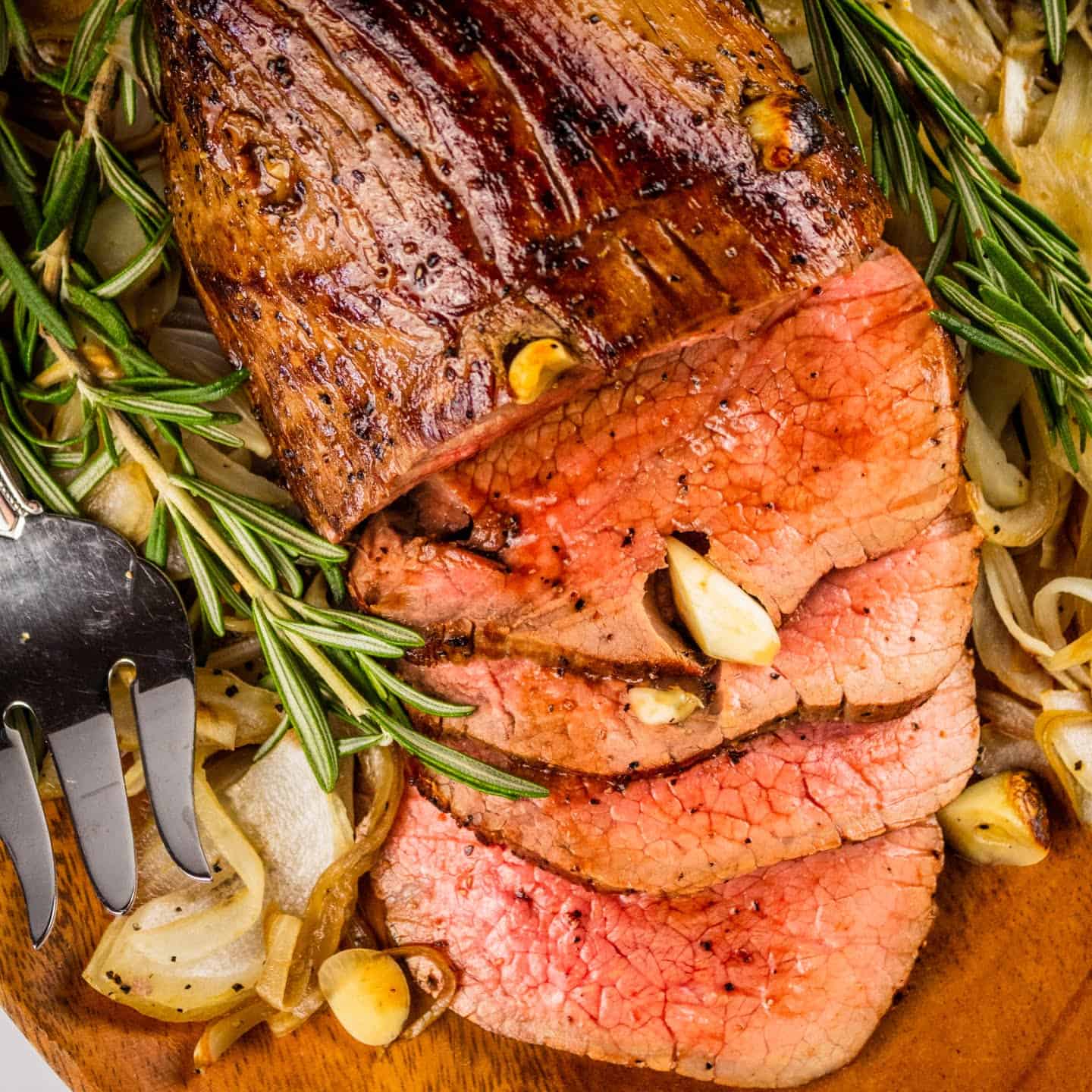 This roast beef and gravy recipe is the perfect way to enjoy a classic comfort food dish.
The roast is flavored with garlic, onion, and black pepper, then roasted in the oven for an hour until perfectly medium-rare.
The rich gravy is made with beef broth, red wine, and flour and is the perfect finishing touch to this flavorful round-roast recipe.
Rosemary and thyme are the key flavors in this tender eye of round roast beef recipe.
The roast is rubbed with a blend of the two herbs, along with garlic and onion powder, then roasted in a hot oven for around 45 minutes before letting it rest to allow the juices to distribute and the meat to relax.
Serve this roast with your favorite side dishes like sweet potato fries or mashed potatoes for a delicious and easy weeknight meal.
If you want to try something special for valentines day or to impress your guests with a sexy-looking eye of round roast recipe stuffed with cheese and pepperoni, look no further!
Although the recipe requires calving the round roast flat before rolling it up with the pepperoni and cheese inside and then tying it together with butcher's string, the instructions to do this are easy to follow.
Just make sure you have a sharp knife and prepare to take your time with this one so that you don't end up with a mess. It's a showstopper recipe that will leave your guests speechless.
This 1-hour garlic eye of round roast recipe is easy to make and only requires some garlic cloves and salt and pepper for the seasoning.
The fresh garlic cloves are cut in half and inserted into the top of the roast to give it flavor as it cooks.
The beef roast is then cooked in a roasting pan in a hot oven for about 45 minutes before letting the roast sit so that the juices can redistribute, resulting in perfectly tender roast beef.
Homemade beef jerky is utterly superior to any store-bought variety you can buy and cheaper - and this easy smoked beef jerky recipe is purely amazing with tons of flavor.
The beef is marinated in a blend of Worcestershire sauce, soy sauce, apple cider, onion dip mix, honey, and liquid smoke, then smoked for 4 to 5 hours until perfectly dry and chewy.
The resulting jerky is packed with flavor and makes a great protein-filled snack to enjoy on the go.
All you need to make this recipe is lots of peppercorns and a drizzle of oil to make the tender roast beef and some pantry staples for the homemade creamy horseradish.
The roast is rubbed with a generous amount of cracked black pepper, then roasted in a hot oven for 45 minutes.
While the roast rests, the horseradish sauce is quickly whisked together with some sour cream, mayonnaise, apple cider vinegar, lemon juice, and a few dashes of Tabasco sauce. Combine them with some crispy roasted potatoes for the ultimate roast beef dinner.
Now when it comes to the best tender eye round roast, the sous vide method is unbeatable! And this sous vide eye of round roast recipe is so simple to follow and gives drool-worthy meat.
The roast is seasoned with salt and pepper, then slow-cooked in a sous vide water bath at 136F for 16 hours for maximum tenderness.
Slice the juicy meat thin to make the best roast beef sandwiches with a dollop of horseradish.
This fragrant recipe combines a juicy eye of round roast with a herby parmesan and pork rinds crust that will definitely raise a few eyebrows at your dinner table.
It looks fantastic, it tastes delicious, and it's pretty straightforward to make with just 20 minutes of prep time required.
The round roast gets a rub of olive oil, mustard, and seasoning before being rolled into the herby mixture and baked in the oven for just over an hour until pink and tender. The meat makes for a great roast dinner and also sandwiches.
This Dutch Oven Pot Roast recipe has lots of ingredients that combine to make a flavorsome gravy that infuses into the meat as it cooks low and slow in the Dutch oven.
Carrots, onion, celery, garlic, thyme, and red wine all contribute to the pot roast gravy, and the beef stock gives it a lovely richness.
The tender pot roast is easy to make, and the recipe is foolproof for any home cook. Give it a try. You'll love how the tender meat falls apart.
The decadent, delicious gravy is the perfect compliment for this crock pot beef eye roast recipe.
This recipe is a low and slow cooker recipe that takes 6-8 hours in total, but most of that time is inactive cooking time.
All you need to do is brown the roast, then mix up the gravy ingredients and pour it over the roast in the crock pot. Set it and forget it until dinnertime when you'll have tender, juicy roast beef smothered in rich gravy.
Fire up your smoker and buy that tough cut of round beef for this amazing smoked eye of roast with au jus that will turn that tough piece of meat into the most tender roast beef you will ever try.
You don't need a huge list of ingredients for the spice rub, just a generous portion of kosher salt and freshly ground black pepper. It's cooked twice at a low and high internal temperature to give the eye of round roast a red ring of smokey flavor on the outside and a juicy center.
Smoked roast beef recipes don't get much tastier than this! Plus, any leftovers make for the best roast beef sandwiches, which are great for meal prep.
Rotisserie-style is the best way to cook eye of round roast if you want perfectly cooked, juicy, and tender beef.
The roast is seasoned with a simple spice rub, then cooked on a rotisserie for just under 2 hours.
Let it rest for 15 minutes, and slice it thin for the perfect holiday dinner or Sunday supper.
This one-pan round roast recipe with garlic and rosemary crust is unlike any roast beef recipe you'll ever try.
The method to making this pungent flavored crust is by mixing the rosemary, garlic, olive oil, and salt in a mortar and pestle, smothering it over the meat, and placing it on a roasting pan with a rack.
The vegetables get placed in the bottom to absorb the delicious juices from the eye of round for a complete meal all prepared and cooked in a single pan, meaning no washing up!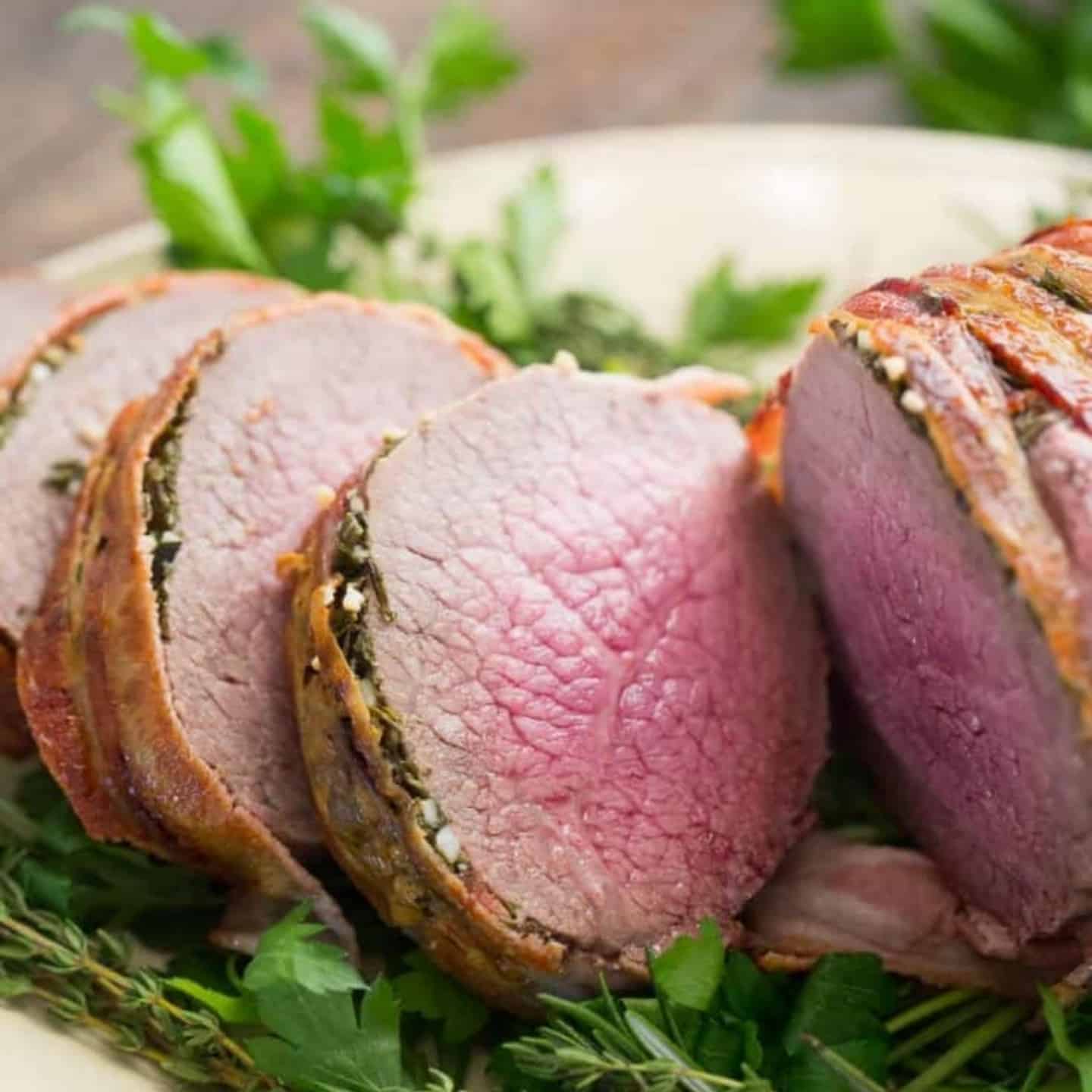 This bacon-wrapped eye of round roast is the perfect way to add some flavor and texture to your tough cut of meat.
The bacon not only adds flavor but also helps to keep the roast moist as it cooks.
The roast is seasoned with a simple spice rub, then smothered with a herby mixture of parsley, rosemary, thyme, and garlic, then wrapped in bacon and cooked in the oven.
If you like cumin and spicy food, then you'll love Barbacoa Beef. Spicy shredded beef braised in a blend of chipotle adobo, cumin, cloves, garlic and oregano.
This is the best way to make spicy shredded beef if you're short on time. The Instant Pot pressure cooker makes quick work of this dish, and the beef comes out perfectly cooked and shredded every time.
Simply season and sauté the beef to give it color and make a blended spicey sauce with adobe sauce with chipotles, cumin, onion, lime juice, water, and garlic, then combine in the Instant Pot for 60 minutes. When it's done, shred it with a fork, and serve it on buns, in tacos, or however you like.
Eye of round roast or chuck roast is perfect for slow cooking for this red wine pot roast recipe packed with flavor.
Pot roasts are always the easiest recipes to make because all you need to do is seal the beef until nicely browned and half submerge it in the pot with a red wine gravy for 4 hours until you reach tender perfection.
Serve it thinly sliced with the roasted veggies and thickened au jus gravy for a memorable family meal.
This pot roast is full of flavor with a blend of Italian dressing mix and au jus mix.
The beef roast is slow cooked with hearty veggies like carrots, potatoes, garlic, and onion for 6 to 8 hours to maximize the flavor and tenderness of the meat.
Serve the sauce over the roasted vegetables and thinly sliced round roast beef on a serving platter with some hearty Italian bread for a complete meal.
This crusted eye round roast beef gets a flavorful upgrade with horseradish, garlic, and rosemary mixture.
The round roast beef is then cooked in a liquid of low sodium beef broth for just under an hour at medium heat to achieve medium-rare doneness, resulting in a perfectly tender eye of round.
Your guests will absolutely love it with a side of mashed potatoes. And it's great for eating throughout the week for sandwiches (depending on how much roast beef is left over, that is!).
Serve this roulade round-roast beef recipe to your guests to showcase your skills in the kitchen, as it is the perfect show-stopping meal.
The roast is easy to make and stuffed with a flavorful mixture of herbs, cheese, peppers, and garlic, then rolled up and tied with butcher's twine.
It's roasted in the oven until it's cooked through, then sliced and served with a delicious sauce made from the pan juices.
🍳 Related Roast Recipes
Check out these juicy and delicious roast recipes; pick one to impress you guests in your next gathering.