There's no doubt the juicy drippings that puddle underneath your roast beef make the best brown gravy. They intensify the beefy flavor and bring the savory deliciousness of umami to the gravy.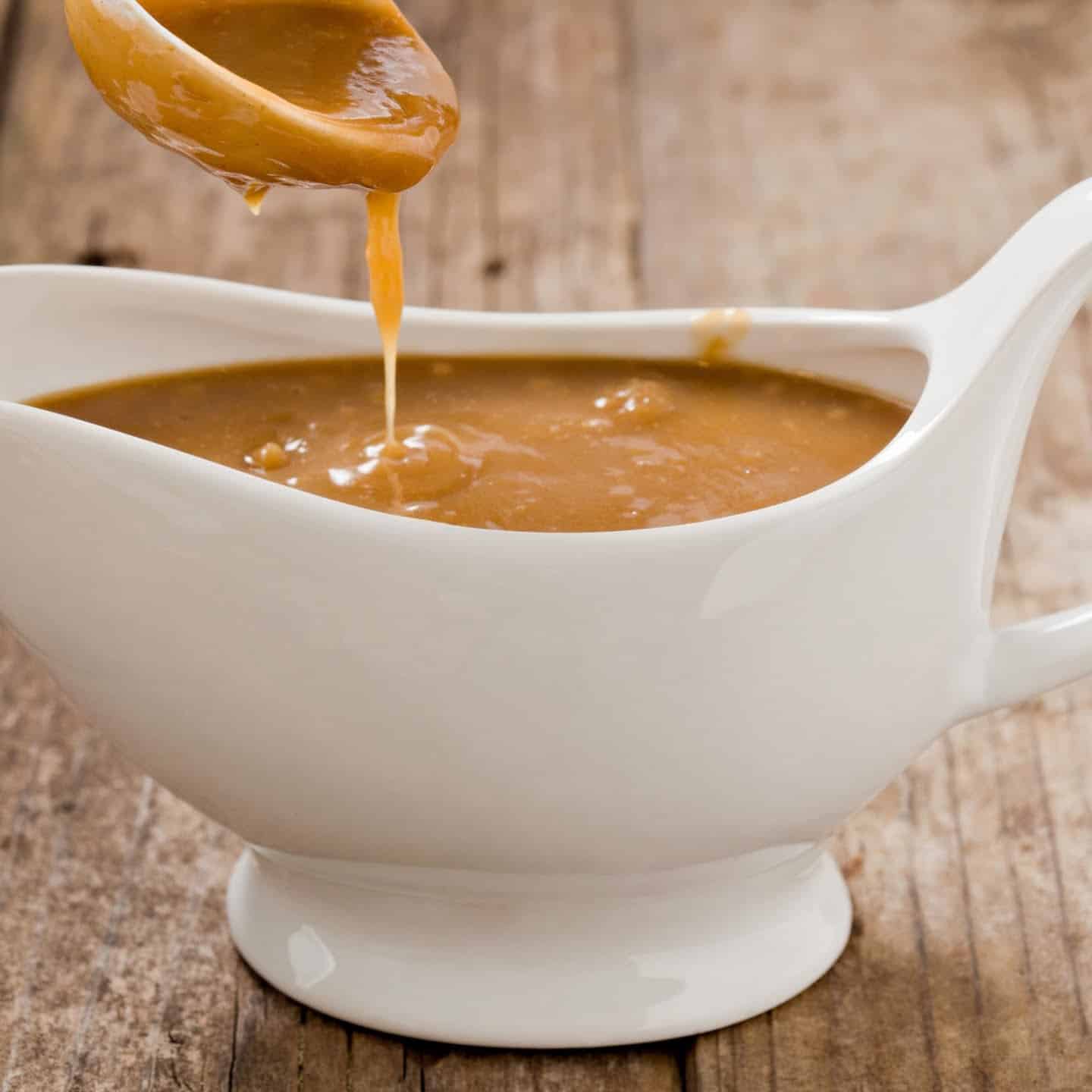 When paired with a bit of beef stock/beef broth/wine, a few aromatics, and sometimes a thickener, the pan drippings transform into a wonderfully rich, flavorful, and tasty brown gravy.
If you didn't know, there're more than just a few ways to make brown gravy. Use the roast's drippings for premium cuts like prime rib with exquisite marbling and fat. Believe me when I say you can't buy this type of flavor!
And while a classic brown gravy starts from meat drippings, you may not always have those handy.
Lean cuts like a bottom round roast and eye of round roast lack fat and rarely produce enough juice for gravy. However, you can still make a fantastic brown gravy without drippings.
So I've rounded 15 of our favorite homemade brown gravy recipes plus 7 gravy recipes without drippings that will breathe new life into your roast meats, veggies, and holiday sides.
This collection is definitely much more delicious than the jarred stuff you've been buying at the store.
Velvety and bursting with flavor, the deep brown gravy is an excellent accompaniment to your herb-crusted roast beef.
It only takes a few minutes and a handful of ingredients to whip up the savory goodness alongside the pan drippings.
Add some fresh herbs like thyme or sage to boost flavor if you like.
Dazzle the table with this tasty, well-seasoned, easy-to-make brown gravy. It tastes so much better than the gravy packets you buy at the grocery store.
Decadently savory pan drippings, vegetable stock and seasonings combine to give you a classic brown gravy recipe. Swap out the vegetable stock for beef broth or chicken broth if desired.
Drizzle it over beef, pork, turkey, mashed potatoes, or even pasta for a scrumptious meal.
It also makes an incredibly delicious dip for French fries and chicken nuggets! Give it a try; I promise you'll love it.
Roast meat is combined with onion soup mix, brown gravy mix, flour, and slow-cooked to perfection to create a thick, rich sauce.
The best part is that it's almost entirely hands-free, and there's minimal cleanup.
It's delicious paired with mashed potatoes, rice, or egg noodles.
Everyone in your family is going to love this recipe. The roast beef is unbelievably tender, and the mushroom onion gravy is melt-in-your-mouth good.
This recipe makes its own gravy that's delicious and thick enough, so you don't need to add any thickening agent or anything.
Serve hot alongside crispy oven-roasted or mashed potatoes and vegetables for a hearty meal.
Insanely flavorful and easy to make, this gravy will take your meals over the top.
All you have to do is combine beef drippings in a medium saucepan over medium heat, add flour and stir a bit with a wooden spoon. Slowly pour the beef broth into the mix, followed by soy sauce, kosher salt, and pepper.
Crank the heat to medium-high, allow the sauce to reduce to your desired consistency, adjust seasonings if necessary and your sauce is ready!
Tender roast meat is smothered in rich flavor beef stock gravy and served alongside carrots, onions, and garlic for a hearty, delicious dinner that you'll want to make again and again.
The recipe uses cornflour to thicken gravy, but corn starch works well too.
It's soo good over our creamy, buttery mashed cauliflower.
Full of meaty flavor and savory goodness, this gluten-free brown gravy recipe will be a welcome addition to your menu.
It's seasoned with garlic powder, thyme sprigs, salt, and pepper to create an irresistibly tasty brown gravy everyone will love. This recipe works equally well with any type of meat.
If you're feeling experimental, toss a swirl of cold butter at the end of cooking for a smooth, velvety finish.
This instant pot recipe is easy to make and packs a flavorful punch thanks to the ranch seasoning, Italian dressing, and brown gravy mix.
The beef broth and corn starch tie all together into a perfect gravy. You can make this ahead of time. It keeps up to 5 days in the fridge in an airtight container.
Take your meats, biscuits, noodles, and mashed potatoes to the next level with this deliciously rich homemade brown gravy.
It's loaded with all the goodness you love - Worcestershire sauce, beef broth, red wine, Dijon mustard, fresh thyme and everything nice. This recipe makes enough gravy for a table of 6.
You can freeze or refrigerate any leftover gravy, but I doubt they'll be any.
This is one of the easiest roast beef with gravy recipes you'll ever make.
Heat oil and butter over medium-high heat and brown the seasoned meat on all sides. Transfer to a slower cooker, add rest of ingredients, pour slurry and cook low and slow to perfection.
The final product is a tender, flavorsome pot roast with perfectly cooked carrots and potatoes and mouthwateringly tasty gravy that pairs well with lots of dishes.
This full-flavored gravy will rival any sauce served at your favorite joint, made with a simple base of earthy mushrooms, sweet shallots, butter, and beefy broth.
A generous splash of sherry to deglaze the roasting pan adds an extra depth of flavor, making this gravy so irresistible.
To ensure you don't waste any of those glorious juices, remove the meat from the roasting pan and cover it with aluminum foil. Resting meat always gives out more juice.
This homemade brown gravy recipe couldn't be easier. It's made with just three ingredients and takes mere minutes to make.
Butter and beef drippings are all of the seasoning you need, but you can add more spices if you wish.
Onion powder, garlic powder, Worcestershire sauce, and thyme are excellent flavor boosters.
Slow simmered on a stovetop, this fall-apart tender roast beef also makes an insanely tasty gravy.
What makes this recipe even better is that it requires just a few minutes of prep time and a handful of ingredients without sacrificing flavor.
This is one of my favorite brown gravy from scratch recipes. It's packed with tons of flavor and always gets rave reviews when I serve it.
Beef broth does an awesome job imparting flavor and deglazing the golden brown bits from the pan. Don't skimp!
Make sure you remove the saturated fat from the beef drippings with a fat separator cup for a healthier gravy.
Serve with cilantro lime cauliflower rice and wait for compliments.
Sunday dinners don't get much better than this - a perfectly roasted beef with luscious gravy, mashed potatoes, and vegetables on the side.
Best part? It's easy on the budget and makes an eye-catching presentation.
With a beef bouillon base, Worcestershire sauce, chicken broth, kitchen bouquet browning and seasoning sauce, this brown gravy recipe still delivers a rich, savory flavor of beef drippings.
It's super flavorful and only takes 15 minutes to make. This is sure to become a staple in your kitchen.
Pair it with dinner rolls, biscuits or ladle it over bottom round roast or cream cheese mashed potatoes.
The flavor of this easy brown gravy recipe is everything you'd want; bold, savory, and rich.
Using both chicken broth and beef broth packs a major flavor boost. You'll also love the woodsy aroma the bay leaf brings to the gravy.
Best of all, it's a cinch to make and uses a few simple ingredients that are probably in your kitchen right now.
Making brown gravy has never been this easy. You just combine Worcestershire sauce, beef broth, beef bouillon in a medium saucepan and bring to a boil, then add cornstarch mixture (corn starch and cold water) and simmer.
Feel free to add a decadent splash of heavy cream or a swirl of cold butter before serving for extra flavor.
Whip up a double batch, so you always have this rich sauce on hand for your roast meats, mashed potatoes, sandwiches and meatloaf.
You only need 4 ingredients to make this homemade gravy from scratch: flour, olive oil, thyme and beef broth.
Feel free to add a dash of garlic powder, Worcestershire sauce/soy sauce, kitchen bouquet browning & seasoning sauce, or replace the beef broth with chicken broth.
You can also make brown gravy ahead of time - it will last up to 5 days in the fridge. It also freezes exceptionally well for up to 4 months. To serve, bring to a boil on a stovetop - add cold water or broth if necessary.
Creamy and completely irresistible, this classic brown gravy is guaranteed to be a hit at your holiday table.
It's absolutely delicious and packed with flavor from onion powder, Worcestershire sauce, beef bouillon and heavy cream.
Serve brown gravy with a side of mashed potatoes and steamed or roasted vegetables for a delicious dinner everyone will enjoy.
You don't need a lot of ingredients, time, or effort to make brown gravy. This recipe shows you how to make a terrific one in 15 minutes with only 5 simple ingredients.
Made without beef drippings, its crowning glory is beef broth and butter! But feel free to jazz it up with your favorite spices and herbs if you like.
Whether you need to serve vegetarians or just looking for a different spin on this holiday staple, you can never go wrong with this brown gravy recipe.
It's wonderfully thick, flavorful and better still, comes together in no time. Plus, nobody will even know it's vegan!
While it's best alongside mashed potatoes, it's also fantastic with roasted veggies, noodles, spring rolls and so much more.