For a long time my iPad was used for nothing more than browsing Facebook and playing games. I had a very hard time doing anything work related because the on-screen keyboard is awkward and I would either have a difficult time seeing the screen if I left it flat or be stuck with sore wrists if the iPad was on an angle on a stand.
Physically, the iPad was designed for mobile productivity but functionally any tablet falls short. It's either uncomfortable to type or it takes a lot longer trying to navigate the on-screen keyboard. I can't tell you how many times I would hit the letter "m" on the screen meaning to hit the space bar.
I had a lot of paragraphs that read something like this: WhenmI type Imsometimesmhit the "m"mkey.
I spent so much time editing, the alleged productivity was factor was very small.
Until I met my new favorite iPad accessory!
Belkin Ultimate Keyboard Case for iPad
The new Ultimate Keyboard Case for iPad from Belkin allows you to reinvent your iPad experience! Gone are the days of just playing games or using Facebook. With the Belkin Ultimate you can actually be a mobile warrior and achieve the productivity you need from your iPad.
Key Features:
THIN, LIGHTWEIGHT ALUMINUM DESIGN

Ultimate Keyboard for iPad provides you with a full laptop experience…from your iPad.
Magnetic stand makes for smooth typing on your lap with your iPad keyboard.
iPad keyboard has 3 magnet stand positions to support different viewing and typing angles.

COMFORTABLE, WELL-SPACED KEYS FOR FASTER TYPING
FOLDS FLAT FOR COMFORTABLE HANDHELD USE
BLUETOOTH® KEYBOARD FOR IPAD
SOUNDFLOW DESIGN ENHANCES SOUND QUALITY
No longer tied to my desk!
The Belkin Ultimate has had a huge impact on the way I work and how much work I get done. I can work ANYWHERE and have the functionality of a laptop with the size and feel of a tablet. It's the best of both worlds!
The case goes on rather easily. The iPad snaps in but doesn't come out unless you want it to. It fits snugly and securely and wraps all the way around for a durable shell. What makes this case extraordinary is the weight and the functionality. It hardly adds any weight to the iPad and is only 6.4mm thick. When closed, the case looks like a small laptop. It's attractive and professional looking. When you flip it open to use the keyboard you can set the iPad at 3 different angles and it is held in place by magnetic strips. If you need to use the iPad in tablet form, the keyboard flips behind the screen to return it to a tablet functionality. It's a very clever design that maintains the iPad as a tablet while offering laptop functionality when needed.
The case provides full access to all the ports and I have noticed a marked improvement in the volume since I began using this case. The battery life is impressive too. 160 hours between charges seems right on to what I have experienced.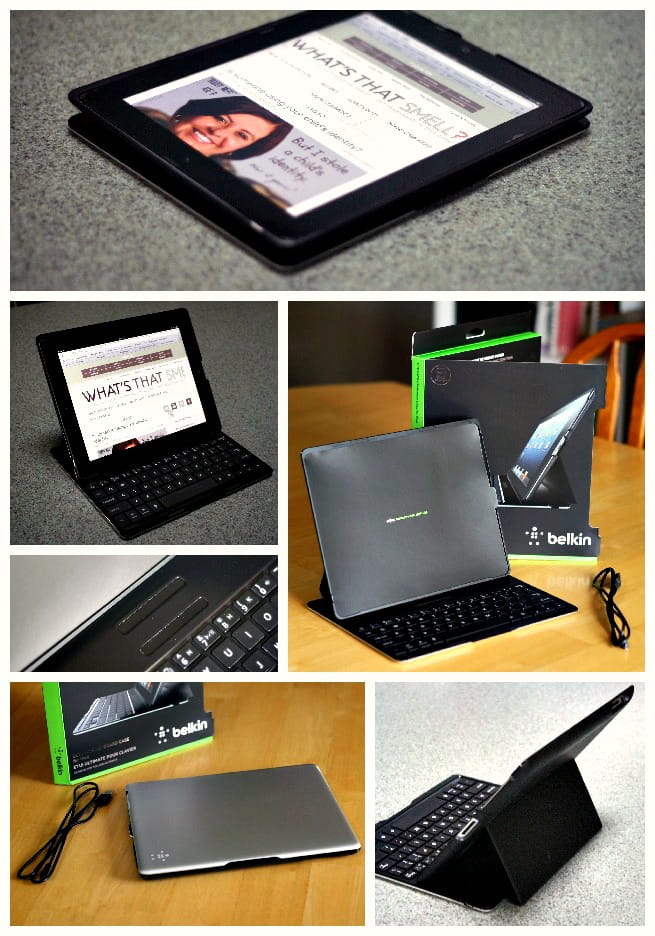 Room for improvement?
On a scale of 5 I would give this case a 4 or a 4.5. It's so close to perfect for me aside from one thing. When you put the case in tablet (handheld) mode the keyboard doesn't "lock in" or snugly set into the back of the iPad which means it can slide around against the back of it, especially if you are like me and try to prop it up against a couch pillow or cushion. I would sacrifice the thinness of the design, personally, to completely "hide" the keyboard in tablet mode.
Not a deal breaker
Another thing I noticed about this case is that if I have it setup to use the keyboard on my counter and want to move it 3 short feet over to my kitchen table, the case is top-heavy (because of the iPad) so you cannot simply pick it up in place and move it. In order to keep the iPad from sliding I usually have to flatten it then set it back up. Again, I don't do this too often, and I don't have any suggestions for improving it because it would greatly add to the thickness of the case, I am just mentioning it in the interest of full disclosure.
Bottom line
If you have ever wished it was easier to type on your iPad for daily use, run, don't walk and pick up one of these cases. Don't pass go. Just buy it. You won't regret it. I love this case, and the minor issue I have pales in comparison to the freedom and increased productivity I have seen.
Where to buy
Price: $99.99
How do you use your iPad? Do you find it difficult to type on the on-screen keyboard?
Join our newsletter!
Subscribe to get updates and great stuff via email including subscriber-only goodies like free printables and giveaways.

This review was made possible by Belkin, opinions expressed are my own.