Beef's taste may be taken to new heights with the addition of teriyaki sauce, a savory and slightly sweet Japanese glaze.
Here are 15 mouthwatering teriyaki beef recipes, ranging from stir-fry to skewers to a one-pot supper, all of which are simple to make and bursting with flavor. Get ready to dive headfirst into the savory world of beef teriyaki!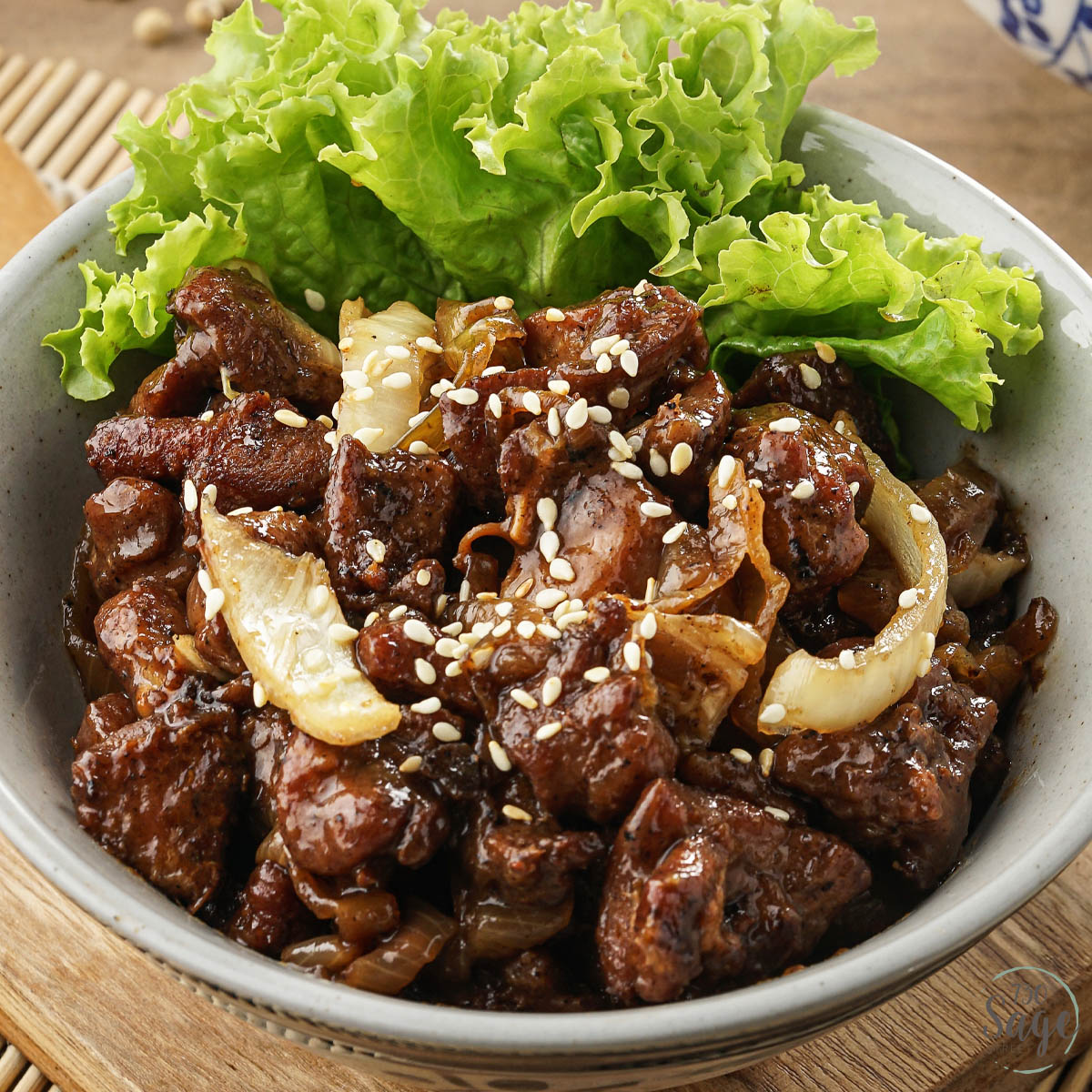 Can I Make Teriyaki Sauce At Home?
Yes, homemade teriyaki sauce is easy to make. All you need is soy sauce, brown sugar, honey, garlic, ginger, and water. Mix all the ingredients together and simmer for a few minutes until it thickens. Homemade teriyaki sauce is a healthier option since you can control the amount of sugar and sodium.
Can I Use Frozen Beef In These Teriyaki Recipes?
Yes, you can use frozen beef in these recipes, but it's important to thaw it properly before cooking. The best way to thaw beef is to place it in the fridge overnight. If you're in a hurry, you can thaw it in a bowl of cold water.
Using frozen beef can actually be a healthier option since it locks in the nutrients and prevents spoilage. Just make sure to cook it thoroughly to avoid any foodborne illnesses.
15 Teriyaki Recipes With Beef
From stir-fry to skewers, and everything in between, the beef in these 15 Teriyaki recipes is both nutritious and delicious:
Say hello to a fusion of flavors with these tempting Teriyaki Beef Skewers! This delightful recipe brings you closer to Japan as you marinate the tender flank or skirt steak in a rich blend of soy sauce, rice vinegar, sesame seed oil, and spices. Feel the anticipation build as the beef rests in the fridge, absorbing all the savory goodness.
When it's time to grill, your kitchen will fill with a mouthwatering aroma. Don't forget to glaze with that thickened teriyaki sauce, then sprinkle on sesame seeds and green onions for a finishing touch that's both scrumptious and visually stunning. Bon appétit!
Unleash your inner chef with this sensational Black Pepper Beef recipe, perfect for those who crave an authentic Chinese dining experience right at home! Picture thinly sliced, succulent steak coated in a balanced blend of spices, cooked to perfection, and mingling with a colorful medley of onions and bell peppers.
As you sizzle garlic and ginger in the wok, your kitchen will transform into a delightful Asian bistro. The rich, tangy sauce brings everything together, creating a symphony of flavors that will transport you straight to the bustling streets of Beijing. Serve over steaming boiled rice and enjoy the masterpiece you've just created!
If you're looking for a simple but impressive dish to serve at your next BBQ, go no further than these Teriyaki Beef and Mushroom Kebabs! This meal is certain to be a hit with any audience thanks to the combination of tender strips of strip or sirloin steak, crisp red onions, and savory mushrooms marinated in a delicious teriyaki sauce.
Just skewer everything and grill it for a quick and easy supper that's suitable for any event. It's also a fantastic method of concealing healthy vegetables. When would you like to wait? We hope you enjoy the flavorful experience that awaits you.
Teriyaki beef fried rice is the ultimate in savory and filling comfort food, so grab a bowl and dig in! Envision a mountain of soft, long-grain rice topped with savory ground beef, sugary peas, and pungent green onions. This isn't your average fried rice; instead, it's flavored with a robust and spicy teriyaki sauce made from a combination of toasted sesame oil, brown sugar, ginger, and sriracha sauce.
Not to mention the eggs, which offer a healthy dose of protein and are cooked perfectly on a flat sheet before being cut into thin pieces. It's a simple meal that can be prepared on a weeknight and will satisfy even the pickiest diners.
These Teriyaki beef and broccoli noodle bowls are a delicious and simple way to liven up your usual weeknight supper. The flat iron steak and broccoli are paired with a tasty and aromatic sauce prepared from teriyaki sauce, low sodium soy sauce, garlic, and red pepper flakes.
The recipe is given a unique spin by the addition of ramen noodles, which will leave you feeling full and content. This recipe is both healthful and tasty because of its blend of sweet and spicy tastes and its ideal balance of protein and vegetables. So if you're looking for a pleasant and delicious dinner, why not give it a go tonight?
This quick teriyaki beef dish will whisk your taste senses away! Thin strips of stir-fried beef marinated in teriyaki sauce, pineapple juice, green onions, and sesame oil will delight your taste senses.
This healthful dish has shaved Brussels sprouts, purple cabbage, and shitake mushrooms stir-fried with arrowroot powder. This Paleo and Whole30-friendly supper is excellent over noodles (white sweet potato noodles), basmati rice, or alone.
Using soft pieces of skirt steak, crisp asparagus, and savory ramen noodles in a rich and aromatic teriyaki sauce, this recipe creates a tasty and substantial supper that is guaranteed to fulfill your appetites. This dish is great for a fast evening meal because of how simple it is to prepare.
The beef and asparagus may be stir-fried in a pan while the ramen noodles are cooking, and the teriyaki sauce can be added at the end. The end product is a tasty and filling dish that will quickly become a favorite.
Think of your crockpot as your own personal chef, whipping up a nutritious dinner as you go about your day. Smelling the teriyaki meat, honey, and coconut aminos cooking fills your house. As you open the container, you'll find tender slices of flank beef seasoned with garlic and ginger.
Bell peppers, provide the dish a welcome splash of color as well as taste. Nevertheless, that's not all! The teriyaki beef is ready to be served above a bed of cauliflower rice that has been expertly seasoned with garlic, scallions, and olive oil. You get to eat something that is both filling and healthy, and the greatest part? We'll do all the work for you, no sweat!
Tender slices of beef and crisp greens dance in a savory sauce in this Beef and Bok Choy Stir Fry, creating a beautiful symphony on your tongue. This dish is like a party in a pan, and it's great for any occasion, from feeding a crowd to filling up the stomachs of your loved ones.
Soy sauce, hoisin sauce, and Sriracha come together to make a savory sauce that coats every bite of meat and vegetable in it. To that, we add the fragrant deliciousness of ginger and garlic, which will make your taste buds do a happy dance. In other words, get out your chopsticks because this stir fry is guaranteed success!
This speedy beef and snow pea stir fry is a perfect option for a quick and satisfying dinner. The tender and juicy flank steak is paired with crunchy and vibrant snow peas, all coated in a savory and slightly sweet sauce made with low sodium soy sauce, Chinese cooking wine, dark brown sugar, and corn starch.
The minced garlic adds a fragrant note and enhances the flavors of the dish. The stir fry is ready in just 25 minutes, making it a great choice for busy weeknights when you want something tasty and effortless. Serve it over a bed of fluffy white rice for a complete and satisfying meal.
With soft beef top sirloin or flank steak slices marinated in P.F. Chang's® Mongolian Style BBQ Sauce, this Mongolian Steak Edamame Rice Bowl is the ideal balance of flavorful and healthful. It's a healthy and filling lunch since the steak is cooked to perfection in a pan and mixed with chopped bok choy, cooked edamame, and thinly sliced carrots.
On top of crunchy toasted sesame seeds and savory Birds Eye® Steamfresh Whole Grain Brown Rice, this meal is a real treat. Prepare to be impressed by the flavor and texture of this meal.
The thinly sliced rump beef steak is marinated in teriyaki sauce and threaded onto skewers, then cooked to perfection, making for a tasty and healthful dish that is excellent for a fast evening.
Salad greens, snow peas, cucumber, and a savory dressing of sesame oil, rice vinegar, mirin, soy sauce, wasabi paste, and caster sugar make for a light and crisp snow pea salad. Assemble the skewers, snow pea salad, and cooked jasmine rice for a delicious and filling main dish.
Thinly sliced flank beef is marinated in a sweet and delicious teriyaki sauce, then seared in a hot pan with pieces of pineapple to make a delectable and healthful dinner that is excellent for meal prep: One Pot Teriyaki Beef Zoodles.
Spiralized zucchini noodles are mixed with a perfectly thickened sauce for a low-carb take on a traditional Asian meal. Green onions and sesame seeds are used as garnishes to give the meal a nutty, crunchy, and savory edge. This recipe is great for meal prepping since it can be made quickly and kept in the fridge for up to four days in individual serving containers.
The teriyaki sauce, soy sauce, salt, and pepper marinated rib-eye steak in these Teriyaki Beef Lettuce Cups create a tantalizing flavor and healthful alternative to traditional Asian takeout.
Glass noodles mixed in more teriyaki sauce, carrots cut into matchsticks, and a sprinkling of green onions round off the meal. The butter lettuce leaves provide a light and crisp container for the other tasty fixings. This healthy and filling recipe is ideal for a fast, simple lunch or supper.
Using delicate slices of beef sirloin marinated in a mixture of soy sauce, brown sugar, and mirin, and then stir-fried with garlic and onions until golden brown, Beef Udon Stir-Fry is a tasty and simple Asian-inspired meal that will leave you feeling pleased and joyful.
Udon noodles offer a full and robust foundation for this meal, which is elevated by the crispness and freshness of vegetables like napa cabbage and sliced carrots. To create a flavorful and filling supper in a matter of minutes, a dash of oyster sauce is all that's needed. Use your imagination and your favorite condiments to make this meal your own for lunch or supper.