A traditional dish that never gets old is beef stir-fried with noodles. From fiery Szechuan beef to delicious soy sauce beef, these 15 dishes will take your taste buds on a trip with distinct flavor profiles from all over the globe.
These stir-fry recipes are simple to cook and are ideal for hectic weeknights or relaxing weekends.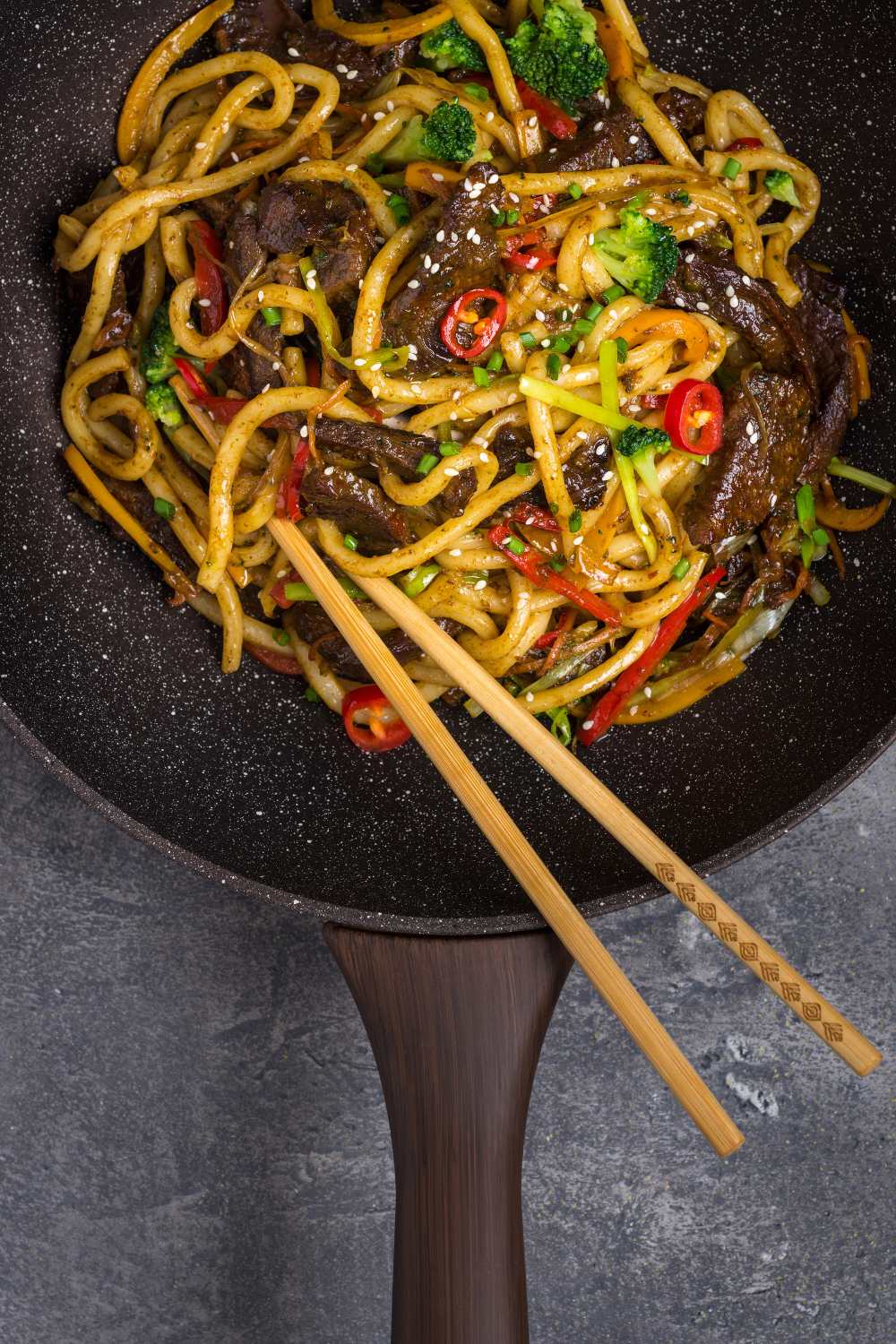 Can I Make Stir-fried Dishes With Pre-cooked Beef?
Yes, you can use pre-cooked beef for stir-fry dishes. However, it's important to remember that the texture of the beef may change, and it may become tough or chewy. To avoid this, it's best to use high-quality cuts of beef that are tender and juicy, such as flank steak or sirloin.
Additionally, it's important to not overcook the beef, as this can also make it tough. Adding the pre-cooked beef toward the end of the cooking process can help ensure it stays tender and juicy.
What Is The Best Cut Of Beef For Stir-fry Dishes?
Picking the best beef cut for stir-fried meals is essential. Here are six types to think about:
Flank Steak - This lean cut of beef has a strong beefy flavor and is best when sliced against the grain. It's perfect for quick stir-frying as it cooks quickly but can become tough if overcooked.
Sirloin Steak - This cut is tender and flavorful but needs to be sliced thinly against the grain. It can be cooked to any level of doneness and works well in a variety of stir-fry recipes.
Skirt Steak - This is a flavorful and versatile cut that can be used in a variety of dishes, including stir-fry. It's important to marinate skirt steak to help tenderize it before cooking.
Ribeye Steak - This tender cut has a rich, buttery flavor and can be sliced thinly for stir-fry dishes. However, it can be quite expensive and contains a high amount of fat.
Top Round Steak - This lean cut is budget-friendly and works well in stir-fries. It can be a bit tough if overcooked, so it's important to slice it thinly against the grain and not overcook it.
Beef Tenderloin - This is the most tender cut of beef, making it perfect for stir-fry dishes. However, it is also the most expensive cut, so it may not be the best choice for budget-friendly meals.
15 Beef Stir Fry Recipes With Noodles
Prepare to wok and roll with these 15 tempting beef stir fry recipes with noodles, ranging from spicy to savory, and sure to sate your hunger pangs:
With this savory and flavorful beef yakisoba recipe, you'll be transported to the bustling streets of Japan with every bite. Thinly sliced beef, crisp veggies like cabbage, carrots, and green onions, and earthy shiitake mushrooms are perfectly combined with chewy yakisoba noodles in a tangy, umami-rich sauce made with soy sauce, Worcestershire sauce, oyster sauce, hoisin, chile paste, and sugar.
This dish is easy to make and perfect for a quick and delicious weeknight dinner that the whole family will enjoy. Serve with a garnish of sesame seeds, scallions, and pickled ginger to add an extra pop of flavor.
Experience the delicious flavors of Beef Ho Fun, a classic Cantonese dish made with tender beef, savory bean sprouts, and fragrant spring onions. Thinly sliced beef is marinated in a blend of soy sauce, rice vinegar, sesame oil, and spices, then stir-fried with aromatic ginger and garlic.
Soft, chewy rice noodles are added to the wok and tossed with the beef and vegetables in a rich, umami-packed oyster sauce. The dish is finished with a sprinkle of white pepper and a drizzle of sesame oil for an extra depth of flavor.
Get ready to taste the flavors of Korea with this delicious Korean beef stir-fry recipe. Thinly sliced NY strip or sirloin steak is stir-fried with red bell peppers and baby corn in a savory sauce made with brown sugar, sesame oil, ginger, and red pepper flakes.
This dish is perfect for busy weeknights as it comes together in under 30 minutes. Serve it over a bed of lo mein noodles or rice for a satisfying meal. Don't forget to garnish with sesame seeds and green onions for an extra pop of flavor and color.
You shouldn't pass up a chance to try Teriyaki Beef Stir Fry, a delicious and filling meal. Sautéed flank or skirt steak, snow peas, and broccoli are combined with chopped green onions and cooked ramen noodles in a big pan.
Adding a homemade teriyaki sauce prepared with soy sauce, rice vinegar, sugar, garlic, ginger, and red pepper flakes elevates the meal to a whole new level of deliciousness. To make a sweet and savory glaze, maize starch slurry is added to the sauce. Add some crunch to your meal by scattering sesame seeds on top.
Satisfy your cravings for a flavorful Asian dish with this Vietnamese Flat Rice Noodles with Beef (Hu Tieu Ap Chao) recipe. Tender slices of beef are marinated in a savory blend of oyster sauce, soy sauce, and spices, then stir-fried with crunchy Chinese broccoli, bean sprouts, and fragrant green onions.
The noodles are infused with the delicious sauce, making every bite a symphony of flavors and textures. Add a touch of heat with Sriracha, and you've got a delightful meal that's perfect for a quick lunch or dinner.
Our next destination is the Beef Ramen Stir Fry, a quick and easy recipe that's perfect for a busy weeknight dinner. Sliced patio steak is seared in a nonstick skillet before being combined with bright green broccoli florets and cooked ramen noodles.
The whole dish is coated in a delicious teriyaki sauce, made by whisking together teriyaki sauce and cornstarch, and then poured into the skillet. Serve hot, garnished with sliced green onion and toasted sesame seeds, and enjoy a flavorful and satisfying meal in no time.
Gluten-free Mongolian beef noodle bowls are a quick and simple weeknight meal option. Stir-frying thinly sliced flank beef with green onions, coleslaw mix, and rice noodles creates a delectable crust. A savory sauce of tamari or soy sauce, brown sugar, water, red chili pepper flakes, and freshly grated ginger is used as a finishing touch.
It has the correct amount of spice from the chili flakes and a wonderful balance of sweet and savory ingredients. You can make this delicious meal in the convenience of your own home, and it will quickly become a favorite among your loved ones.
This recipe for Spicy Korean Gochujang Noodles will transport you to Korea in a flash. In this dish, boiled rice noodles are tossed with a spicy and tangy sauce flavored with gochujang paste, soy sauce, honey, tomato paste, toasted sesame oil, rice vinegar, chopped garlic, and grated ginger, and served over sautéed ground beef, turkey, or chicken.
The red pepper flakes are the perfect finishing touch. Pieces of coconut cream melted into a creamy sauce. Chopped scallions, sesame seeds, and crushed red pepper flakes are the perfect finishing touches. Delicious, filling, and simple to prepare, this dish is ideal for any night of the week.
Get ready to embark on a flavor journey to Korea with this Japchae recipe. The thinly sliced beef and other sautéed veggies in this recipe complement the sweet potato noodles from a traditional Korean stir-fry well. The chewy noodles are paired with spinach that has been wilted, carrots that have been chopped into matchsticks, and soft shiitake mushrooms.
The beef, which has been marinated, provides a savory touch to the somewhat sweet soy sauce-based sauce. Serve hot, garnished with sesame seeds for a nutty flavor. You owe it to your taste buds to sample this Korean staple right now.
Steak stirs fry with zucchini noodles is a great evening supper because of how quickly it can be prepared. The sirloin steak has a delectable taste thanks to the marinade of soy sauce, lime juice, olive oil, and spicy sauce.
The steak is served with a light and refreshing sauce made from zucchini noodles boiled with garlic, chicken stock, lemon juice, and zest. This meal is not just low in carbohydrates but also high in protein. Serve this hot and filling dish with a garnish of fresh parsley and chili flakes for a splash of color and a kick of fire.
This Beef Udon Stir-Fry recipe is a must-try for anyone who loves the flavors of Asia. Tender beef sirloin is marinated in a savory blend of soy sauce, brown sugar, and mirin, creating a depth of flavor that perfectly complements the hearty udon noodles.
Sautéed garlic and onions provide a fragrant base, while sliced carrots and chopped napa cabbage add a burst of color and texture. The dish is finished off with oyster sauce for a touch of umami goodness. Serve it up hot and enjoy the combination of sweet, savory, and slightly tangy flavors that meld together in this fantastic stir-fry.
If you're looking for a fast and simple lunch that's still delectable, this Beef and Broccoli Ramen Stir Fry is the way to go. Tender flank steak is cooked to perfection and tossed in a flavorful sauce with crisp broccoli florets and chewy ramen noodles.
The handmade sauce is produced with a combination of soy sauce, beef broth, honey, rice wine vinegar, garlic, sesame oil, and ginger, and it provides a mix of sweet and savory tones to match the dish's headline elements. Sesame seeds provide a toasted crunch to this delectable stir-fry, making it as filling as it is tasty. Make it for a meal that will satisfy the entire family.
Savor the mouthwatering flavors of our Sesame Garlic Beef Stir Fry. Flavorful soy sauce, rice vinegar, ginger, sesame seeds, garlic, and Chinese 5 spice powder marinade for the soft flank beef. Snow peas, shredded carrots, and green onions all give this meal a welcome pop of color and texture.
Soy sauce, brown sugar, rice vinegar, garlic, fresh ginger, and red pepper flakes make a delicious sauce that goes well with the stir fry. Warm and cozy ramen noodles are the perfect accompaniment to this recipe.
If you're craving a satisfying meal but short on time, this 20-Minute Beef and Shiitake Noodle Stir-Fry is the perfect solution. Thin slices of tender beef are marinated in a savory blend of peanut oil, cornstarch, and soy sauce for maximum flavor.
Shiitake mushrooms, scallions, garlic, and ginger are quickly stir-fried until fragrant and golden. The dish is then brought together with a delectable sauce made with soy sauce, oyster sauce, mirin, sesame oil, brown sugar, salt, and white pepper. The rice noodles add a soft and silky texture to the dish. Don't wait any longer to savor this delicious stir-fry!
Take a trip to Thailand with this mouth-watering Easy Beef Pad See Ew. Tender slices of beef are marinated in a light soy sauce and cornstarch mixture, and stir-fried with garlic, choy sum, and scrambled eggs.
The dish is then brought together with a delectable stir-fry sauce made with oyster sauce, light soy sauce, dark soy sauce, fish sauce, and sugar. The flat rice noodles add a chewy texture to the dish, while the chopped vegetables provide a burst of freshness. This dish can be made with different cuts of beef such as flank steak, rump, sirloin, or rib-eye.