Basmati rice is not just your ordinary rice, it's a culinary gem that can transform a plain dish into a masterpiece.
From fluffy biryanis to creamy kheer, the possibilities are endless. It's safe to say that basmati rice is a staple in many households.
Let's get started with 20 mouthwatering dishes that will leave you wanting more.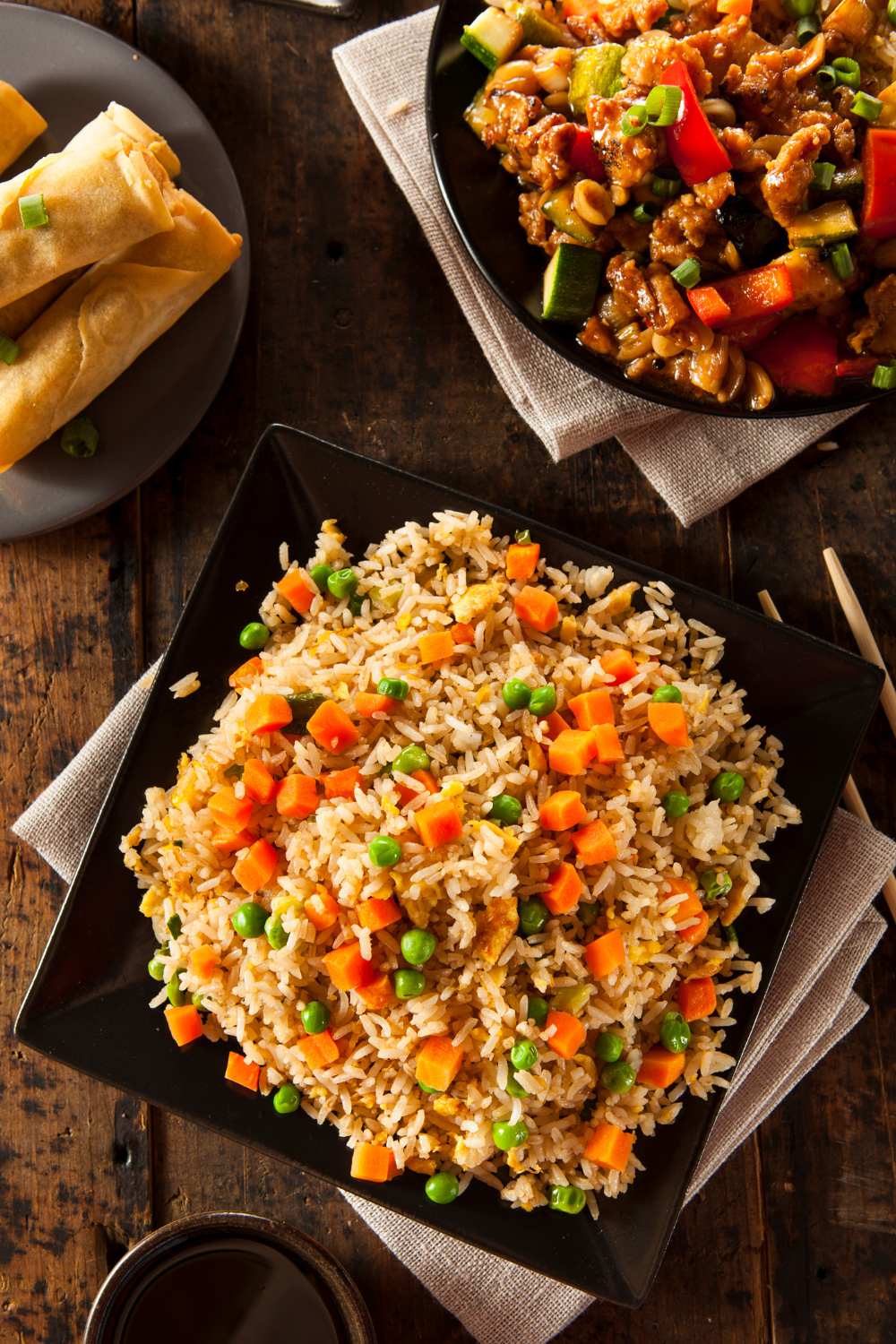 Can I Substitute Regular Rice For Basmati Rice In These Recipes?
While substituting regular rice for basmati rice in these recipes may be possible, it may change the overall texture and flavor of the dish. Basmati rice has a distinct aroma and a fluffy texture when cooked, making it a popular choice for many recipes.
However, if you're looking for a healthier option, brown basmati rice is a great choice that offers more fiber and nutrients than white basmati rice.
Should I Clean Basmati Rice Before Cooking?
Yes, it's important to clean basmati rice before cooking to remove any dirt, debris, or excess starch. To do so, rinse the rice under cold running water until the water runs clear. This helps to remove any impurities and prevent the rice from sticking together.
Additionally, soaking the rice for 30 minutes to an hour before cooking can help make it more tender and improve the overall texture of the dish.
20 Recipes With Basmati Rice
Here are 20 unique ways to prepare basmati rice that will add some variety to your weekly menu:
Experience the rich flavors of India with this savory and aromatic dish of chicken tikka masala. Marinated in a blend of yogurt, spices, and lemon juice, the tender chicken is broiled to perfection, then smothered in a rich tomato cream sauce.
The sauce is a beautiful combination of fenugreek, smoked paprika, garam masala, garlic, and ginger, which come together to create a symphony of flavors that will tantalize your taste buds. Perfectly paired with basmati rice or naan bread, this dish is sure to be a hit with your family and friends.
The beef vindaloo recipe is packed with flavor and spices, perfect for a comforting dinner. Begin by seasoning 2 pounds of the beef chuck with salt and pepper, then sautéing it in a skillet until browned on all sides. Caramelize onions and add minced garlic, followed by a blend of garam masala, cumin, paprika, turmeric, ground mustard, cayenne, ground ginger, and cinnamon. Incorporate tomato paste and apple cider vinegar and cook until the sauce thickens.
Simmer the beef in the sauce for an hour, stirring occasionally and adding beef stock as needed. Serve over basmati rice with naan and Greek yogurt on the side. Enjoy the rich flavors and tender beef in every bite!
This Basmati Rice dish is infused with a fragrant blend of turmeric, cumin, cinnamon, and black pepper. The addition of sautéed onions and minced garlic adds depth and richness to the flavor profile. Once cooked to perfection in chicken broth, the rice is then topped with a colorful mix of sliced almonds, craisins, and apricots for a pop of sweetness and texture.
Finish off this dish by adding a sprinkle of fresh mint and sage to enhance the aroma and taste. This is a versatile and healthy recipe that can easily be customized to suit any taste preference, including vegetarian variations using vegetable broth or water.
Hearty and savory Chicken and Rice Bake is an easy one-pan meal that is perfect for busy weeknights. The chicken thighs are seasoned with a blend of sweet paprika, thyme, garlic powder, salt, and pepper before being nestled atop a bed of tender, long-grain white rice.
The dish is then baked to perfection with low-sodium, fat-free chicken broth, and hot water, allowing the rice to absorb all of the flavors from the chicken and herbs. Once cooked, the dish is garnished with fresh parsley for a pop of color and flavor.
Let's take a trip to the Middle East with this delicious Basmati rice and chicken dish! Succulent boneless, skinless chicken thighs are sautéed in olive oil with onions and shredded carrots until golden brown. Seasoned with your favorite chicken seasoning and cooked to perfection, the chicken is then mixed with Basmati rice and chicken broth.
The dish is baked to a flavorful finish in the oven at 450°F for 40 minutes, resulting in a satisfying and aromatic meal that's sure to delight your taste buds. Don't forget to sprinkle some turmeric for an extra pop of color!
This basmati rice recipe is a treat for the senses! By rinsing the rice and soaking it beforehand, you ensure that it cooks up nicely and is fluffy. And don't even get me started on the aromatic blend of cloves, cinnamon, and cardamom! By adding the spices to the boiling water before cooking the rice, you infuse every grain with warm, cozy flavors.
And let's not forget the caramelized onions, which add a lovely depth of flavor and a touch of sweetness to the dish. This dish is perfect for any time of the year and pairs well with any protein of your choice.
Basmati Rice and Chickpea Curry dish is a flavor explosion! The chickpeas provide a satisfying crunch while the blend of spices, including cumin and curry powder, gives the dish a bold, zesty taste. And let's not forget the cilantro garnish, which adds a burst of freshness and color to the dish.
By blending the onion, tomato, garlic, cilantro, and ginger, you create a complex flavor profile that's irresistible. And the addition of yogurt provides a creamy finish that balances out the spices. This dish is perfect for vegetarians or anyone looking for a healthy and filling meal.
Chicken Fried Rice recipe is a hearty and flavorful meal that's sure to be a family favorite. Fluffy Basmati Rice pairs perfectly with tender, golden chicken and freshly grated carrots, all sautéed to perfection. Scrambled eggs add a touch of creaminess to the dish, while the savory sauce made of sesame oil and soy sauce adds a delicious umami flavor.
Finish the dish with a garnish of fresh green onions for a burst of flavor and color. This recipe is simple to make and a great way to bring the family together for a delicious meal any day of the week!
Get ready for a mouthwatering black bean and jalapeno rice casserole that's sure to knock your socks off. With a blend of zesty salsa, tomato sauce, and fragrant cumin and oregano, this dish is packed with bold and spicy flavors. Top it off with some fresh cilantro or parsley for a pop of color and added freshness.
And for a twist, try mixing in some diced bell peppers or swapping out the black beans for kidney beans. Plus, why not add in some grilled chicken or shrimp for a protein boost? This recipe is so versatile, you'll want to make it again and again.
As soon as you open the oven, you'll be transported to the Mediterranean with the aroma of this zaatar-spiced basmati rice recipe. Roasted shallots with a cinnamon stick and olive oil are the foundation for this dish. Along with golden raisins, dried cherries, and pine nuts, this recipe is not only hearty but also packed with nutrition.
Tender basmati rice is infused with the flavors of spices and fruits and cooked to perfection with chicken stock. Garnish with fresh chopped parsley and you're all set for a tantalizing meal. Serve this recipe on its own or as a delicious side to any meal. Same as the recipe before, it's hard to resist!
The Mushroom Risotto recipe is an absolute delight. It's perfect for vegans and is a good source of protein. Using low glycemic, short-grain rice varieties like Sona Masoori, Ambemohar or broken basmati rice makes it a healthy dish without sacrificing flavor. The creamy texture of the risotto is due to avoiding brown rice varieties.
For a cheesy twist, add 1 tablespoon of cheese or nutritional yeast before seasoning with salt and pepper. Serve it with paneer or on its own, either way, you'll be amazed by the taste! Good for Pitta dosha, it takes only 25 minutes to make and will be a great addition to your next dinner party.
This aromatic biryani is a flavorful blend of tender lamb, succulent chicken drumsticks, and fragrant basmati rice. First, we fry thinly sliced onions until golden brown and crispy, creating the perfect base for our marinade. The chicken and lamb are then marinated with ginger, garlic, Serrano peppers, yogurt, and a blend of whole spices before being layered with cilantro, mint, lemon juice, and more onions.
The par-cooked rice is then added to the pot, and everything is drizzled with saffron-infused water and melted butter. Baked to perfection, this biryani is a true feast for the senses.
Cajun shrimp and rice dish is a perfect blend of heat and savory flavors that will leave you wanting more. Juicy shrimp are cooked with Cajun seasoning, giving them a bold and spicy flavor. The rice is toasted and then cooked with onions, garlic, bell pepper, and tomato, creating a delicious base for the shrimp. Warm chicken stock is added, and the dish is simmered until the rice is cooked ¾th.
The shrimp is added back in, and everything is cooked until the rice is fully cooked. Once finished, let it rest for 10 minutes before garnishing it with fresh cilantro and serving it alongside creamy avocado and zesty lemon wedges.
Instant Pot Chicken and Rice dish is a flavorful and aromatic one-pot meal that will satisfy your cravings. The tender chicken breast pieces are cooked with basmati rice, carrots, and peas in a blend of aromatic spices, including curry powder, turmeric, and paprika. The dish is finished with a sprinkle of fresh coriander leaves, which add a bright, herbaceous flavor.
Perfectly cooked in just 7 minutes in the Instant Pot, this dish is easy to make and perfect for a quick weeknight dinner. Serve it with a side of cooling cucumber raita or a dollop of creamy yogurt for a complete and satisfying meal.
Fragrant Turmeric Coconut Rice is a delicious and easy side dish that's full of flavor. The basmati rice is cooked in a mixture of lite coconut milk and water, which gives it a creamy, slightly sweet taste. The turmeric adds a beautiful yellow color and a subtle earthy flavor, while the fresh ginger and garlic bring a zesty kick to the dish.
Topped with fresh basil leaves for a pop of herbaceous flavor, this rice pairs perfectly with any main course. It's a simple and tasty way to switch up your usual rice routine!
Buttery saffron basmati rice is sure to impress your guests with its stunning golden color and aromatic flavors. Begin by boiling the rice in salted water until al dente, then rinse with cold water to stop the cooking process. The saffron can be added for a touch of luxury and deeper flavor. Mix the cooked rice with a mixture of Greek yogurt, egg, and turmeric.
Then, layer it in a skillet with butter and oil before cooking until crispy and golden. Finish with a sprinkle of fresh dill for a beautiful presentation.
This basmati rice dish is a delicious and aromatic combination of spices and veggies. To start, rinse and soak the rice before cooking it to perfection. Then, roast eggplant and carrots until they are tender and caramelized. Add the roasted veggies, chickpeas, cilantro, and pine nuts to the cooked rice along with a blend of spices such as turmeric, cumin, black pepper, and cayenne pepper.
Once all the ingredients are mixed together, scoop them into a pot layered with sizzling olive oil, creating a pyramid-shaped mound of rice. Cover the pot with a towel and lid to let it cook on low heat for 30 minutes. Fluff the rice with a fork and enjoy the crispy bits of rice that form at the bottom of the pan.
Oh, the aroma of this buttery beef basmati rice will make your mouth water! This recipe is a delicious and easy way to elevate your rice game. Start by rinsing the basmati rice until the water runs clear. In a medium saucepan, mix together the rice, water, beef bouillon, onion soup mix, and most of the butter. Bring the mixture to a boil and then reduce the heat to a minimum and let it cook for around 20 minutes or until fully cooked.
Once done, fluff the rice with a fork and mix in the remaining butter. Serve this warm and fluffy rice as a perfect side to any meal. Same as the recipe before, it's perfect to make for a large gathering or meal prep for the week ahead!
Get ready for a mouthwatering experience with this beef and rice recipe! This dish is a perfect blend of tender beef sirloin, aromatic spices, and fluffy basmati rice. We start by browning the beef until it's nice and caramelized, then add in the sliced onions, julienned carrots, and a blend of savory spices like cumin and saffron.
The dish is cooked low and slow until the beef is fall-apart tender and the flavors have had time to develop. The basmati rice is then added in towards the end, creating a perfectly seasoned and fluffy bed for the beef. This dish is perfect for a hearty dinner, and leftovers make for an equally delicious lunch the next day!
The Saffron Rice Recipe starts with washing the rice to ensure that it cooks up fluffy and light. Then, the rice is sauteed in salted butter, which gives it a rich and decadent flavor. The addition of vegetable broth and saffron creates a beautiful golden hue and an alluring aroma that will have you eagerly anticipating each bite.
The rice is cooked low and slow until it's perfectly tender, and then garnished with crispy fried onions. Serve this rice as a side to your favorite meat or veggie dish for a meal that's both delicious and memorable.