Basil is a wonderful culinary herb since it can be used in a variety of ways to enhance the taste of a dish; when combined with chicken, it makes for a very tasty meal.
In this roundup, we have collected 15 delicious basil recipes with chicken that will excite your taste buds and leave you wanting more.
From traditional meals like basil pesto chicken to more creative recipes like spicy Thai chicken stir-fry, there's something for everyone.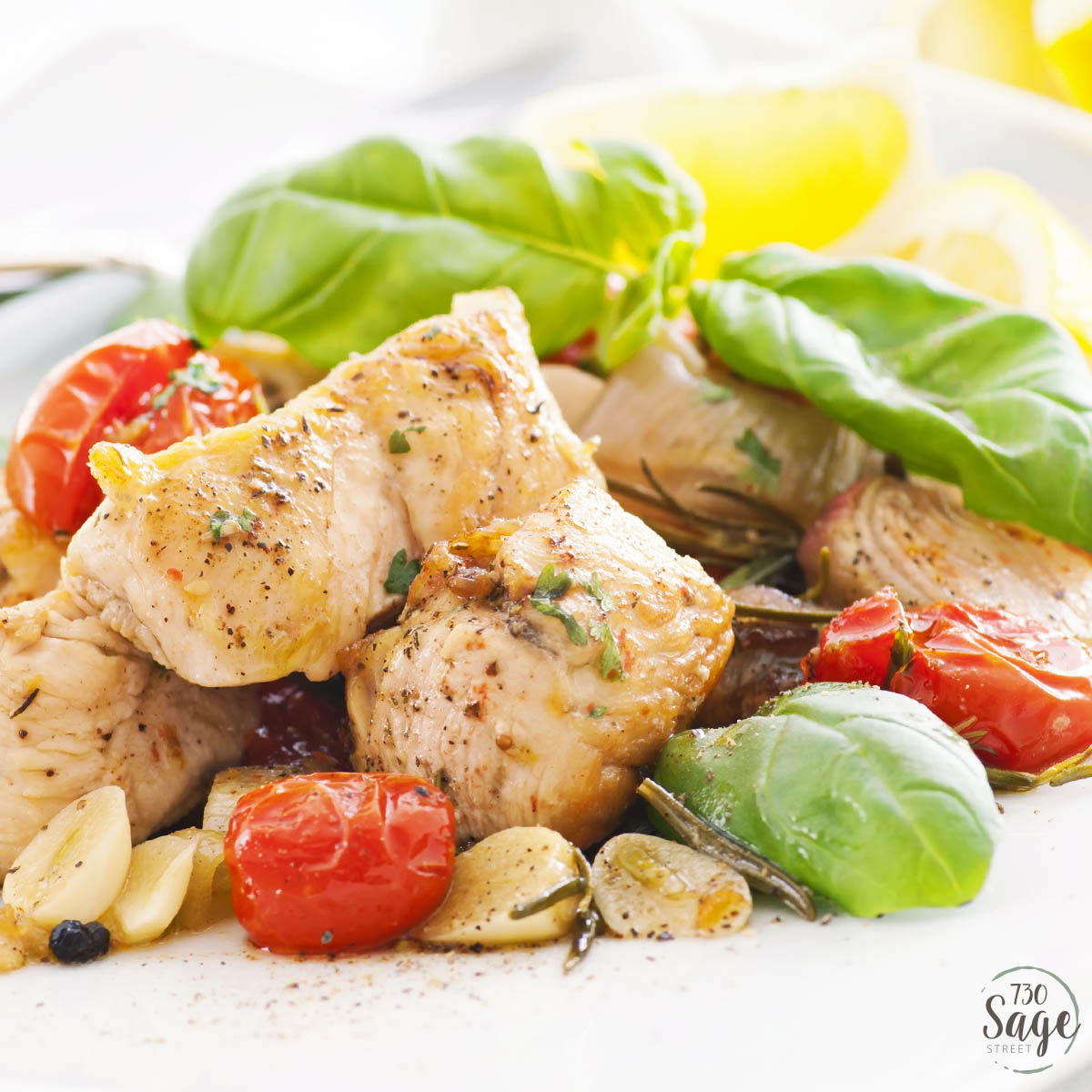 Can I Use Dried Basil Instead Of Fresh In These Recipes?
Yes, you can use dried basil instead of fresh in these recipes. Dried basil is a great substitute if you don't have fresh basil on hand. However, keep in mind that the flavor won't be as strong, so you may need to use a bit more. Dried basil also tends to have a slightly bitter taste, so be careful not to overdo it.
Can I Use Chicken Thighs Instead Of Chicken Breast In Some Of These Recipes?
Yes, you can definitely use chicken thighs instead of chicken breast in some of these recipes. Chicken thighs are a great alternative to chicken breast as they are juicier and more flavorful.
They are also a healthy choice as they contain fewer calories and more iron than chicken breast. If you're looking to switch things up, try substituting chicken thighs in some of these recipes for a delicious and healthy twist.
15 Basil Recipes With Chicken
These dishes, from Spicy Thai Chicken Stir-Fry to Creamy Sun-Dried Tomato & Basil Chicken, include the aromatic flavor of fresh basil and are sure to please your taste:
This Italian Chicken and Basil Kabobs Recipe are perfect for summer nights or anytime you want a flavorful and fun dinner. Marinated in a smooth blend of Primal Kitchen Italian dressing, fresh basil, and garlic, the chicken is then skewered with veggies and grilled to perfection.
Tossed in avocado oil and seasoned with salt and pepper, the colorful vegetables add a pop of flavor and nutrition. To top it all off, the remaining Italian basil sauce in the blender is combined with lemon juice and avocado for a creamy, delicious dip. Fire up the grill and get ready to enjoy these skewers on a stick!
This recipe for Mediterranean Basil Pesto Chicken is sure to become a family favorite, whether you're serving it for a weeknight meal or a special occasion. Juicy chicken cubes are coated in a marinade of fresh basil pesto and dijon mustard, resulting in a flavor explosion that will have everyone begging for seconds.
After being seasoned, the chicken is roasted in the oven until cooked through and moist. You may have a healthy and delicious lunch in a short amount of time with very little effort on your part. Enjoy this tasty and filling dish with your preferred accompaniments.
Grilled Chicken Margherita is a recipe for a delicious chicken meal that is seasoned with salt, pepper, garlic powder, and Italian seasoning before being pounded to a thickness of less than an inch and grilled.
Each chicken breast is grilled to perfection over medium heat, and then a piece of melted mozzarella cheese is placed on top. Cherry tomatoes, freshly squeezed lemon juice and finely sliced basil are a wonderful finishing touch. The dish is finished off perfectly with a heaping helping of basil pesto. Serve this tasty and simple chicken dish at your next dinner party to wow your guests.
This Creamy Parmesan Basil Chicken Recipe is sure to satisfy your need for a rich and satisfying supper. After being pounded to an equal thickness, the chicken breasts are fried in butter until they are cooked through. To prepare the velvety sauce, first sauté garlic, onions, and roasted red peppers in olive oil until soft. Then, deglaze the pan with white wine and boil the mixture until it is reduced by half. At the end, a flavorful sauce is made by adding heavy cream, fresh basil, and grated parmesan cheese.
Add a side of spaghetti or your favorite veggies for a full and tasty supper that's guaranteed to wow. Basil leaves provide a splash of color and a lot of taste, so don't forget to use them as a garnish.
Chicken breasts are pounded into thin steaks, then covered with flour, egg, and freshly grated parmesan cheese, then baked till golden brown and crispy for a dish that will take you to Spain.
Traditional Spanish sofrito is produced by softening ingredients such as red onions, celery, dried oregano, tomato paste, diced tomatoes, green olives, balsamic vinegar, and sugar in a skillet. The sofrito is finished off with a dash of fresh basil. This meal served on a bed of baby spinach leaves with warm focaccia bread on the side, is a harmonious fusion of Spanish and Italian cuisines.
Take a culinary trip to Thailand with this delicious and aromatic Thai Basil Chicken recipe, juicy chicken thigh pieces are chopped into small bites, and stir-fried with shallots, garlic, and a spicy Thai bird's eye chili. The sauce is a combination of oyster sauce, soy sauce, fish sauce, and water, mixed with brown sugar for a perfect balance of sweet and savory.
Fresh Thai basil leaves are added at the end for an intense herbal aroma and a burst of flavor. Serve over steamed jasmine rice, and for an extra touch of indulgence, add a fried egg on top. Enjoy the exotic flavors and the richness of this authentic Thai dish!
To make this aromatic and flavorful Coconut Basil Chicken Curry, cubes of chicken are pan-fried before being cooked in a mixture of coconut milk and low-sodium chicken broth with onions, garlic, and jalapeo peppers.
The recipe is enlivened with a fresh scent and tastes thanks to the inclusion of fresh basil. Easy to make and delicious, this curry is perfect for a filling supper when paired with rice. Ideal as the centerpiece of a celebratory meal or a homey weeknight meal.
This Slow Cooker Thai Basil Chicken Curry is perfect for those busy days when you need a warm and comforting meal waiting for you at home. Just toss chicken, coconut milk, curry powder, fish sauce, lime juice, sugar, onion, jalapeno, garlic, and ginger into the slow cooker, and let it do its magic for 8 hours on low or 3 hours on high.
The result is juicy and flavorful chicken that is perfectly complemented by aromatic herbs like cilantro and basil. Serve it over rice for a complete meal that is both easy and delicious.
Marinated chicken is stir-fried with garlic, chilies, onion, and Thai holy basil in a hot wok before being combined with day-old rice and a savory sauce to create this spicy Thai basil chicken fried rice.
Your sense of smell and taste will be delighted by the resulting meal. For extra heat, sprinkle sliced chili peppers over the top and serve with cucumber slices and fish sauce spiked with chopped chilies. This dish is great for a sultry weekend lunch or a quick weekday meal.
Using a soft dumpling wrapper, we stuffed it with ground chicken, fresh Thai basil, and a range of flavorful ingredients including Sriracha, garlic, and onion for a dish that is the ideal balance of savory and spicy.
These potstickers are delicious as either an appetizer or a main dish once they have been pan-seared and steamed. Spice things up by serving them hot with chile oil or soy sauce. Try these dumplings today to show off your cooking talents to your visitors; you can make them in advance and freeze them.
Get the best of both countries with this delicious dish of Japanese eggplant with chicken and Thai basil. Soy sauce is used to marinate chicken before it is stir-fried with soft eggplant, garlic, scallions, and fragrant Thai basil leaves.
A flavorful sauce flavored with Shaoxing wine, fish sauce, soy sauce, and chicken stock serves as the last touch. This recipe really stands out because of the exquisite harmony between the sweet, salty, and umami ingredients. Pile it high on a bed of fragrant jasmine rice for a show-stopping Asian feast.
The brown rice in this Tomato-Basil Chicken and Rice is cooked to perfection in a blend of sautéed onions, garlic, tomatoes, and tomato paste, giving it a deep, hearty taste that is excellent for warming you up on cold evenings.
Using low-sodium chicken broth, chicken thighs are seasoned with salt and pepper and laid on top of the rice before baking. The chicken skin crisps up and takes on the taste of the broth as the rice soaks it up. The meal is completed with a sprinkling of fresh basil, lending a bright, herbal flavor to each and every mouthful.
An explosion of flavor, this Spicy Thai Chicken Stir-Fry with Thai Basil and Chilies is made with bite-sized pieces of chicken, garlic, and Thai chilies that are coupled with the sweet and savory tastes of oyster sauce, dark soy sauce, and brown sugar.
Fried eggs create a wonderful accompaniment to the earthy flavor of plucked Thai basil leaves. Served with fragrant jasmine rice, this meal will have you feeling like you've been transported to the markets of Thailand.
Basil Pesto Quinoa with Grilled Chicken and Tomatoes is a refreshing and flavorful meal that's perfect for any time of day. Start by cooking the quinoa according to the package instructions, and while it cooks, grill the chicken cutlets to perfection. Roast cherry or grape tomatoes in the oven until they're tender and juicy.
To make the pesto, blend fresh basil leaves, garlic, slivered almonds, Parmesan cheese, salt, pepper, and extra virgin olive oil in a food processor until smooth. Once the quinoa is cooked, mix in the pesto and top with the grilled chicken and roasted tomatoes. This dish is both healthy and delicious and can be enjoyed warm or cold.
Dipped in a mixture of almond flour, salt, and pepper, succulent chicken breasts are the foundation of a meal bursting with the savory aromas of creamy sun-dried tomato and basil. Cast-iron skillet searing; put aside.
The next step is to throw in some chopped onion, minced garlic, sundried tomatoes, cherry tomatoes, almond milk, and chicken stock and let everything simmer until the sauce thickens. Chicken may be cooked in a pan in the oven for only 15 minutes. In the end, sprinkle in some chopped fresh basil and take in the enticing scent as you enjoy this delicious meal.