Most people are aware by now that Omega-3 Fish Oils may provide benefits for a wide range different health issues, especially heart health.
But when I think of fish oil I know that it's supposed to be good for me but I can't help but thing of that fishy taste, even when it's in the form of a capsule. It's not the most appealing smell or taste to me so generally when I see those 2 words I crinkle up my nose and shake my head in a definite "no thank you."
So when Barlean's Organic Oils invited me to try their fish oil, I was wary.
But I decided to try it anyway.
Barlean's recognizes than not everyone loves the taste and texture of fish oil and understands that not everyone can handle a pill that needs to be swallowed.
So they came up with a great new way to enjoy fish oil!
Barlean's Omega Swirl Fish Oil Supplement
Omega-3 Omega Swirl is an Omega-3 Sensation with the taste and texture of a fruit smoothie! Now everyone can enjoy the benefits of Omega-3 without the oily taste and texture of liquids or having to swallow large capsules. Rich in Omega-3 fatty acids, Omega Swirl flax and fish oil supplements are the freshest, best-tasting and most nutritious Omega-3 products, naturally. Omega Swirl is the perfect solution for the whole family!

Packed with essential Omega-3s, Omega Swirl was created to nutritionally support:

Heart Health*
Cholesterol Levels Already Within a Healthy Range*
Joint Mobility and Bone Density*
Energy and Endurance*
Skin, Hair and Nail Health*
Mental Health, Wellness and Acuity*
Blood Glucose Levels Already Within a Healthy Range*
Sexual and Hormonal Health*

* These statements have not been evaluated by the Food and Drug Administration. This product is not intended to diagnose, treat, cure or prevent disease.
But how does it taste?
Barlean's sent me the Mango-Peach flavor Omega Swirl Fish Oil Supplement, and again I really was wary of their claims. I fully expected to at least smell the fish oil, let alone taste it. Especially considering it is jam packed with Omega-3's and Vitamin D.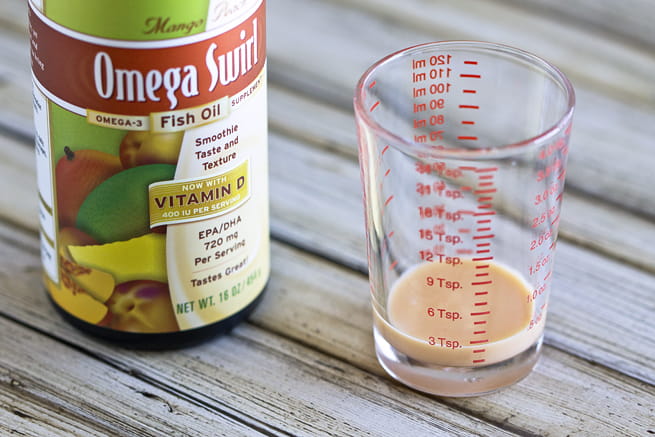 I poured out the recommended serving size for an adult which is 2 teaspoons.
I sniffed it.
It smelled like mangoes and oranges.
I stared at it for awhile.
Still not convinced it could possibly taste good.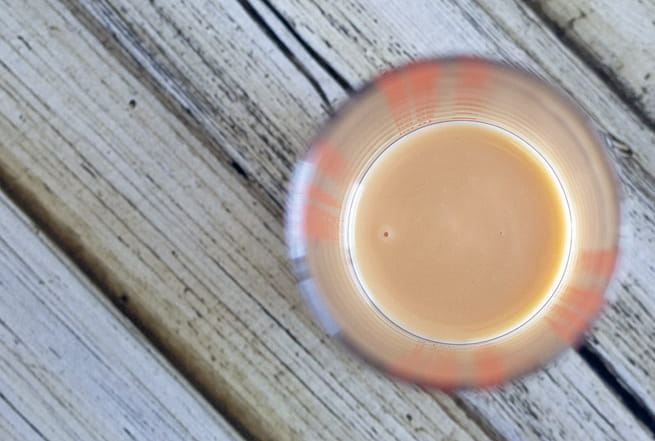 Finally, I tried it.
And then since the suggested adult daily dosage is 1-3 servings daily, I poured myself some more.
IT. WAS. THAT. GOOD.
And not only does it taste good, ALL of Barlean's products are non-GMO, which I love!
So now you want some, right? Well I have good news for you!
Barlean's Sampler Event – Try Mango-Peach Omega Swirl Fish Oil
On Wednesday, February 12th you have the opportunity to a sample and a $2 off coupon from Barlean's Organic Oils!
To get your sample, you need to ask your friends to help you:
On Tuesday, February 11th, visit the Barlean's Facebook Page to start the "Wish for It" and share with your friends about your interest in receiving a sample of Barlean's Mango-Peach Omega Swirl Fish Oil.
Then on Wednesday, February 12th, remind them to visit the Barlean's Facebook Page again right at 1pm EST to send you a sample. Make sure you return the favor and send them one too!
There are only 3,000 samples and they will go fast so don't miss out!
Other Ways to Enjoy Barlean's Mango-Peach Omega Swirl Fish Oil
I drank my Omega Swirl straight from a spoon, but it's great taste lends itself to use in a wide range of products and recipes. You can add it to a milkshake, mix it with yogurt or even add it to hot cereal or oatmeal.
Check out my recipe for Grain-Free Mango-Peach Baked "Oatmeal" below.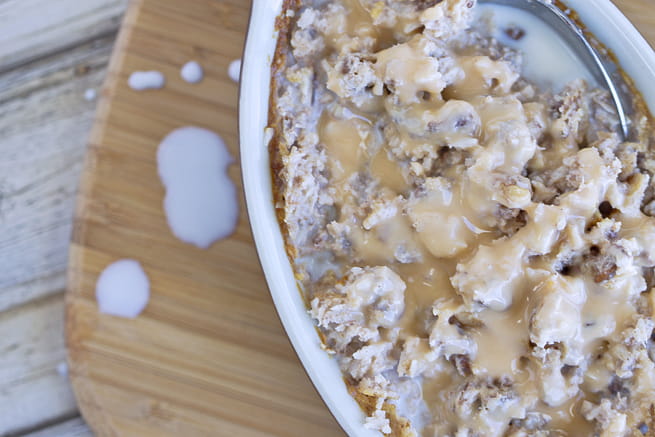 Print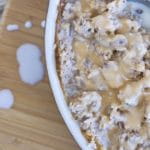 Grain-Free Mango-Peach Baked "Oatmeal"
Author: Kim
Prep Time: 5 mins
Cook Time: 20 mins
Total Time: 25 mins
Yield: 4-6
---
Ingredients
2 tsp Barlean's Mango-Peach Omega Swirl Fish Oil per person/serving
---
Instructions
Bake the oatmeal per the recipe (link in ingredients section)
After you remove the oatmeal from the oven, stir, add milk and drizzle 2 tsp Omega Swirl on top of each oatmeal serving.
Serve.
Enter to win a bottle of Barlean's Mango-Peach Omega Swirl Fish Oil
Barlean's Organic Oils
Note: The post was sponsored by Barlean's Organic Oils. Prize provided by Barlean's. Opinions are my own.
Join our newsletter!
Subscribe to get updates and great stuff via email including subscriber-only goodies like free printables and giveaways.