This is a sponsored post written by me on behalf of BarkBox. All opinions are 100% mine.
Around here, our dogs get treated pretty well. They sleep on the couch, have baskets full of toys and things to chew on, and Santa doesn't forget them on Christmas Eve. They are truly members of the family – the word spoiled was invented for my dogs. Which is why I was super excited to be able to check out BarkBox, a monthly subscription box for dogs.
Every BarkBox is a themed collection of treats, toys and a chew delivered right to your door every month. Each box is valued at at least $40 and contains 2 innovative toys, 2 all-natural bags of treats and a chew. Prices start at $20 a month and shipping is always free to the US and Canada.
BarkBox knows that not all dogs are the same, so there are options for every size dog, and for special needs like allergy-friendly treats or chewer toys.
My dogs knew the BarkBox was for them, the second I brought it in the house. Well, first they tried to eat the delivery driver, then they turned their attention to the oh-so-yummy smelling box. No box has ever been sniffed so thoroughly.
But before I could let them dig in, I needed to check it out for myself first.
WHAT COMES IN A BARKBOX
Every BarkBox has a different theme. Past boxes include "New York City", "Throwbark Thursday" and "Bento and Blossoms".
For December, we received a very special delivery of not one, but THREE BarkBoxes, one for each of our dogs. I can't begin to tell you how excited we were to check out what was inside. In fact, I heard "can we open the BarkBoxes now?" at least 43-1/2 times before I was able to get them in the house and on the table after they were delivered. And no, my dogs don't talk, that was my daughter.
We received two "Dogsmas In The City" boxes and a "New York City" BarkBox. And chaos ensued. But a good kind of chaos. The kind of chaos that makes you want to do it again and again. Every month in fact.
I love that the treats in each BarkBox are natural and made in the USA or Canada! They don't contain soy, wheat or corn. The toys are innovative and made from only the best materials, and the chews are high-quality. BarkBox is a great way to get to try out new dog toys and treats at a great price.
Take a look at the cute items that came in the December box: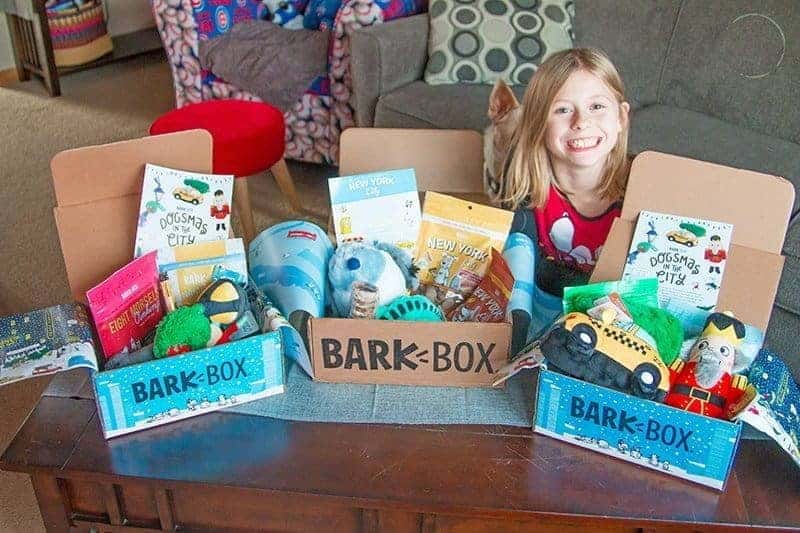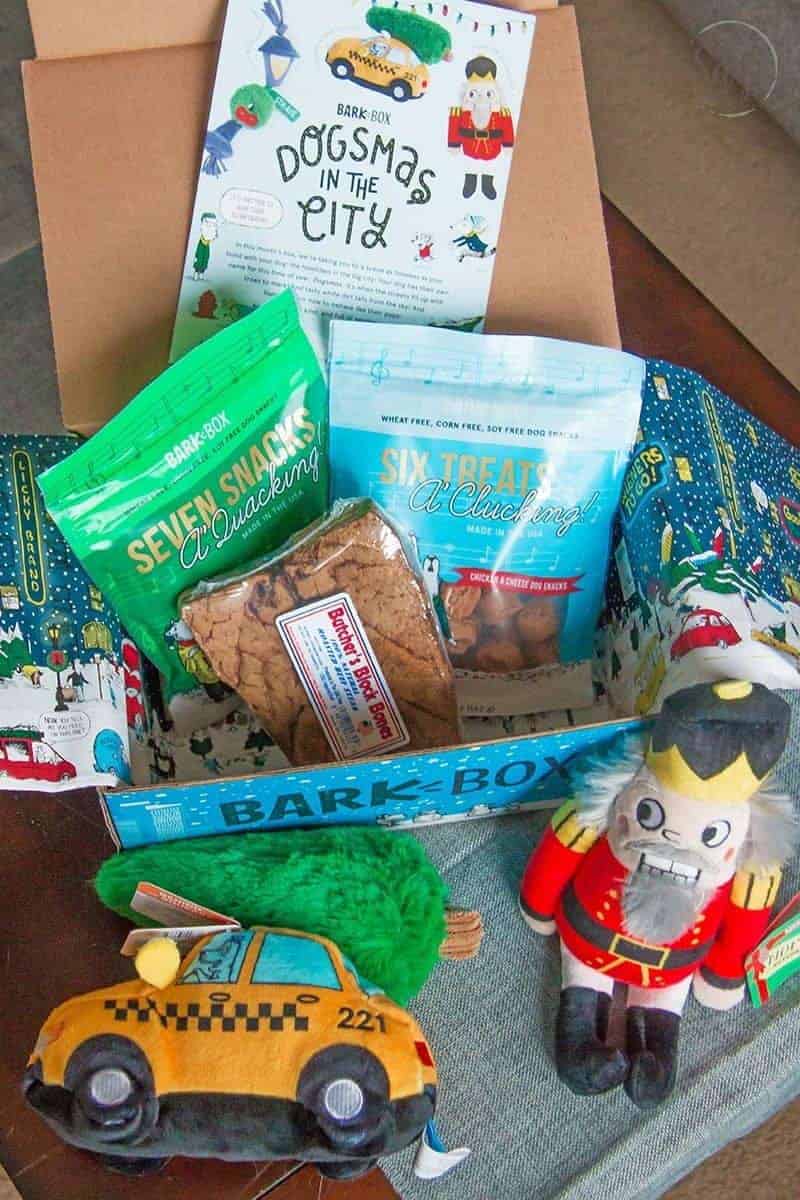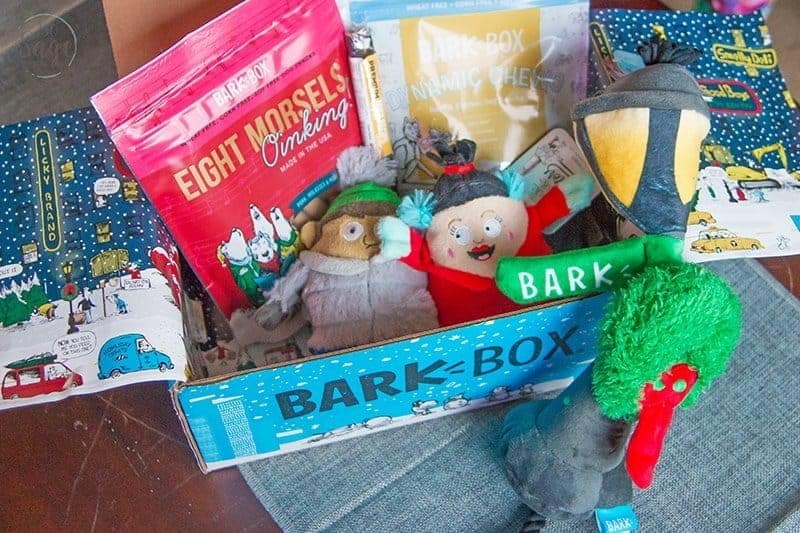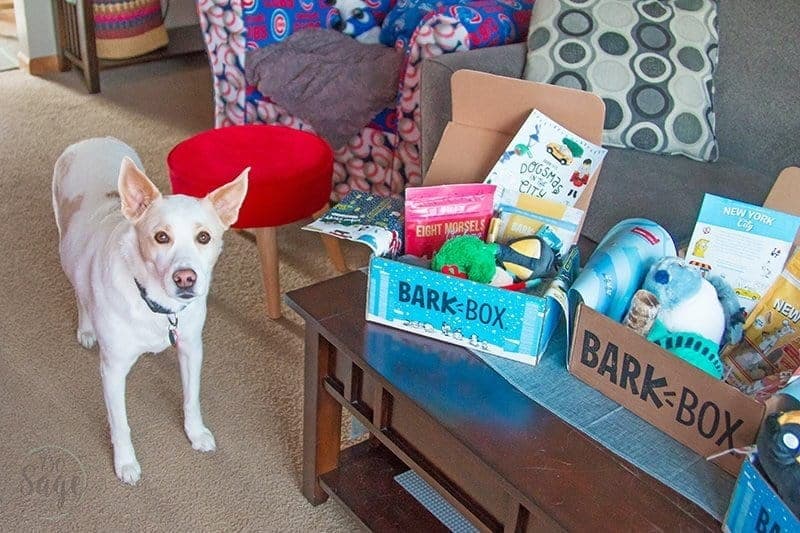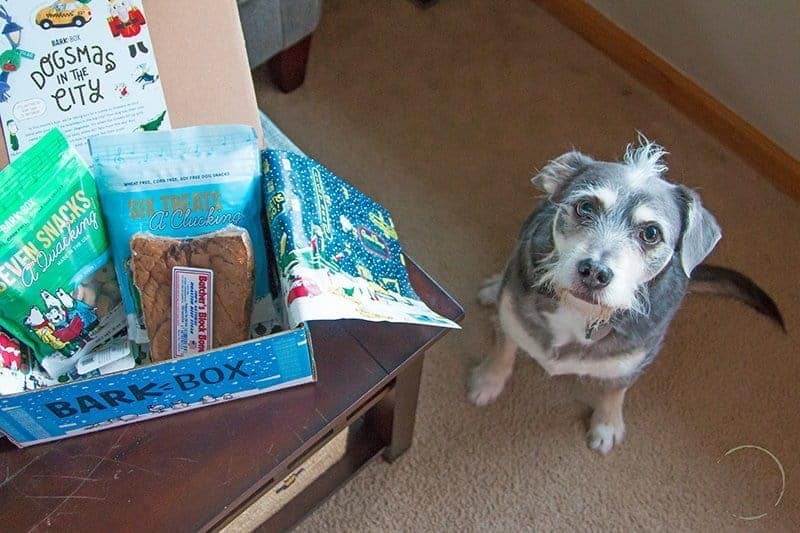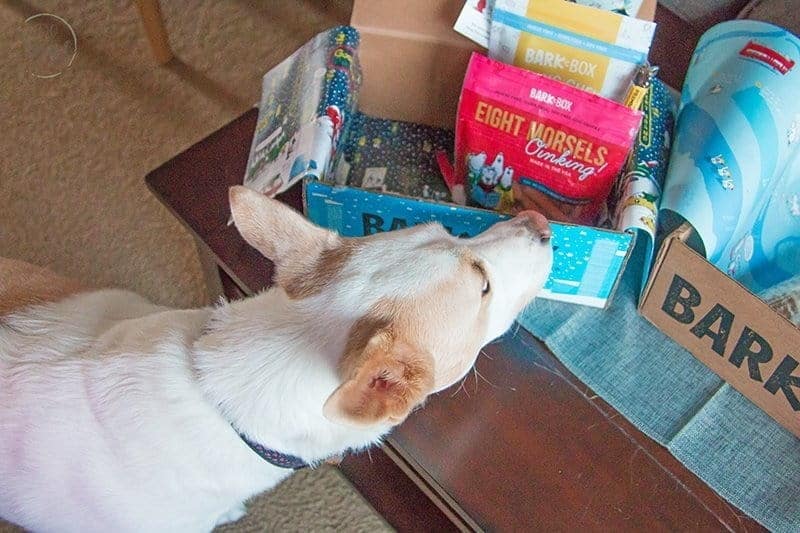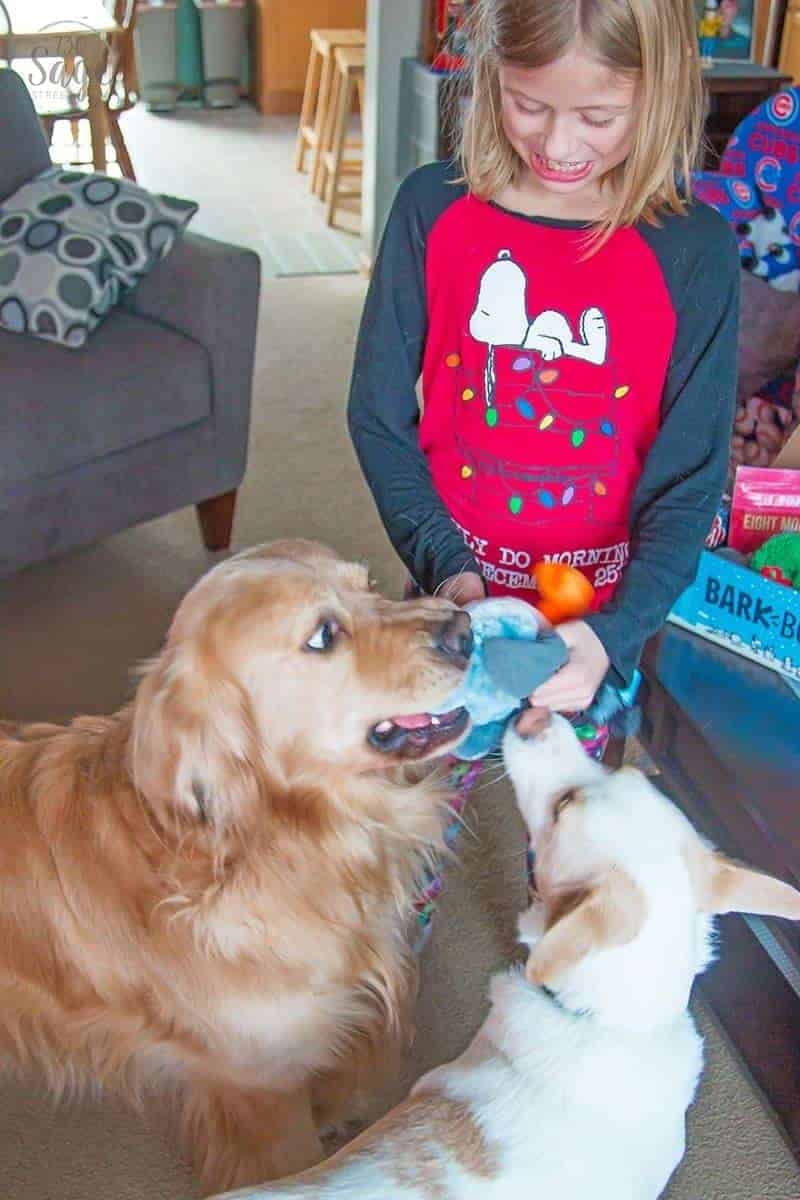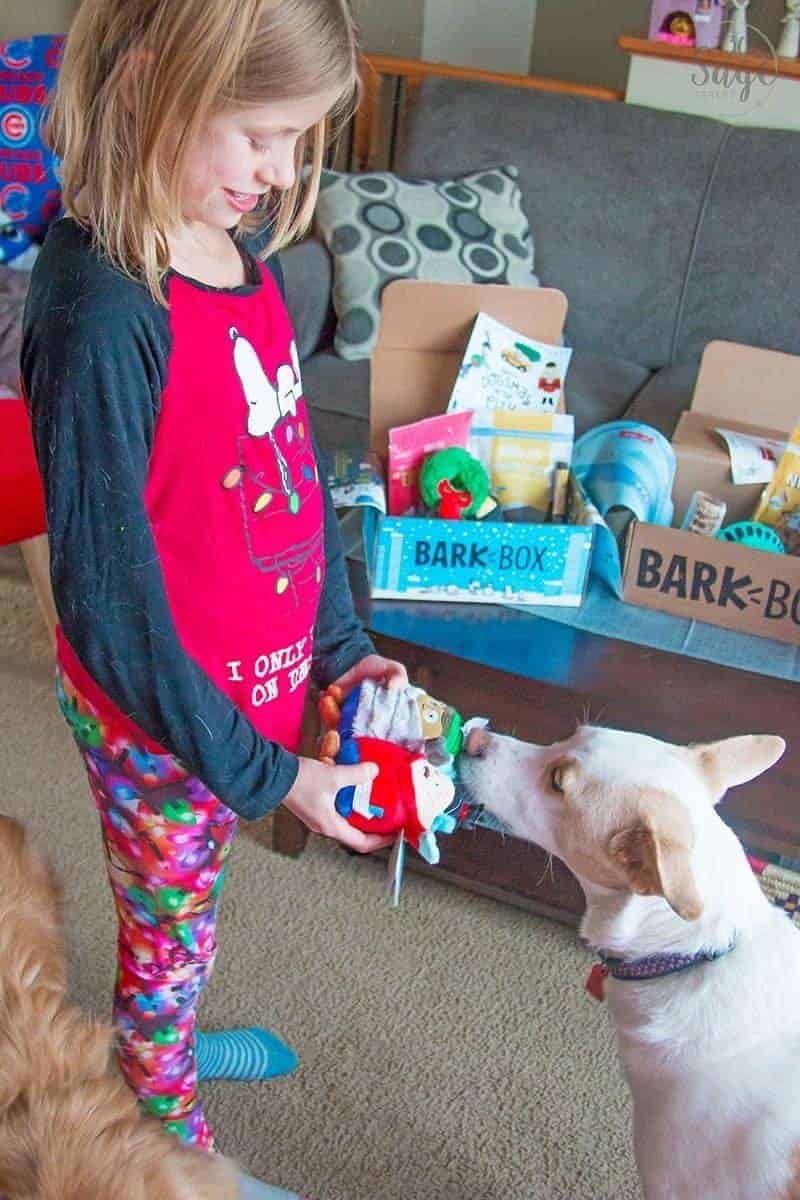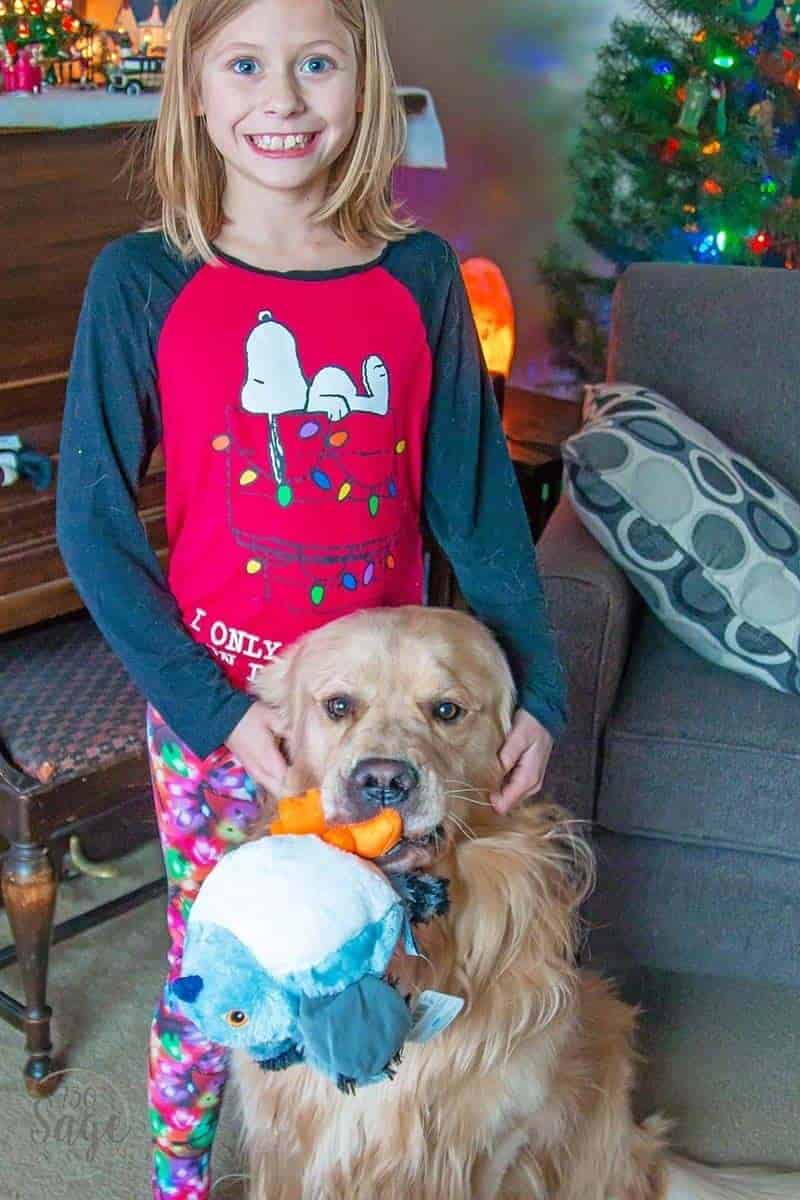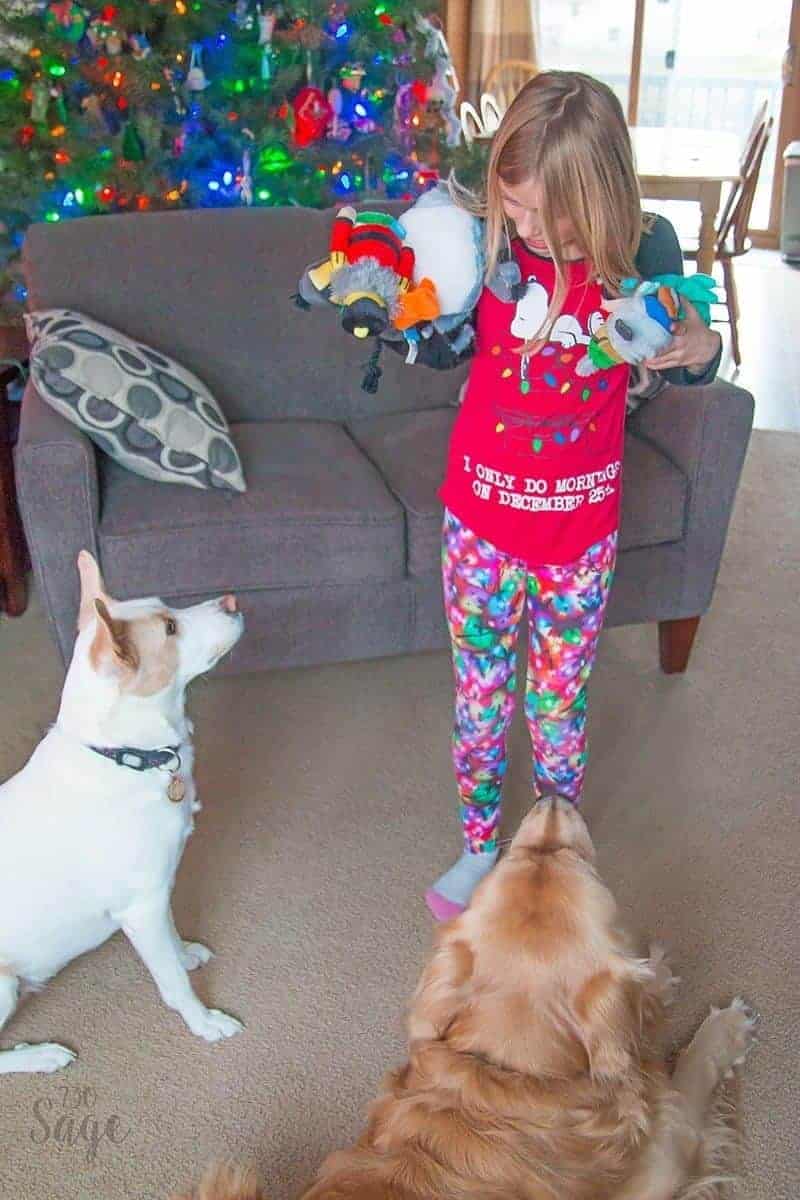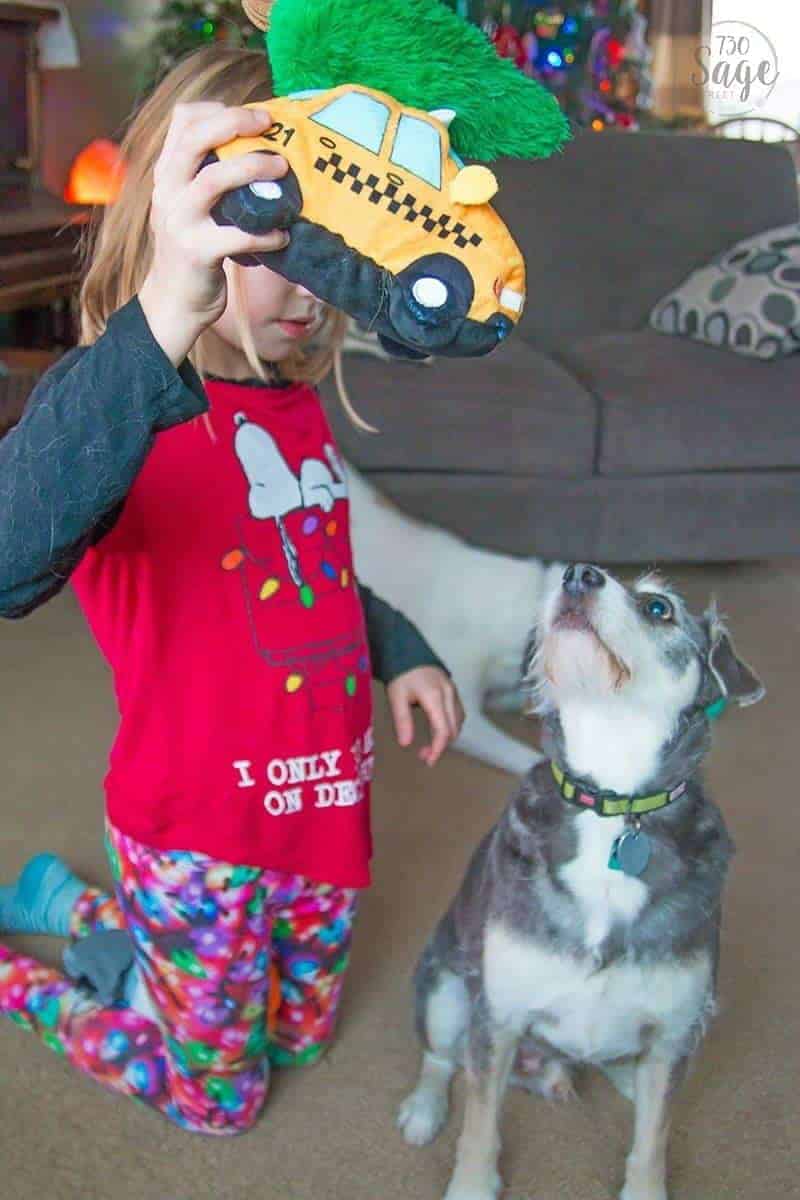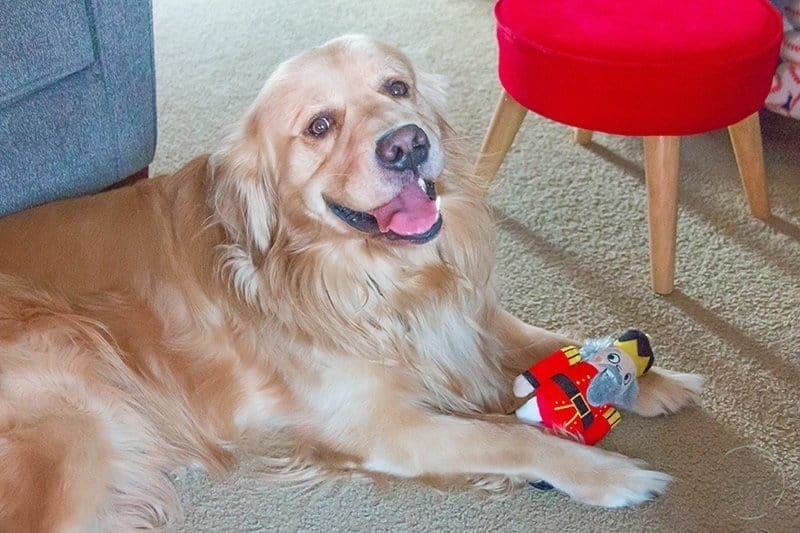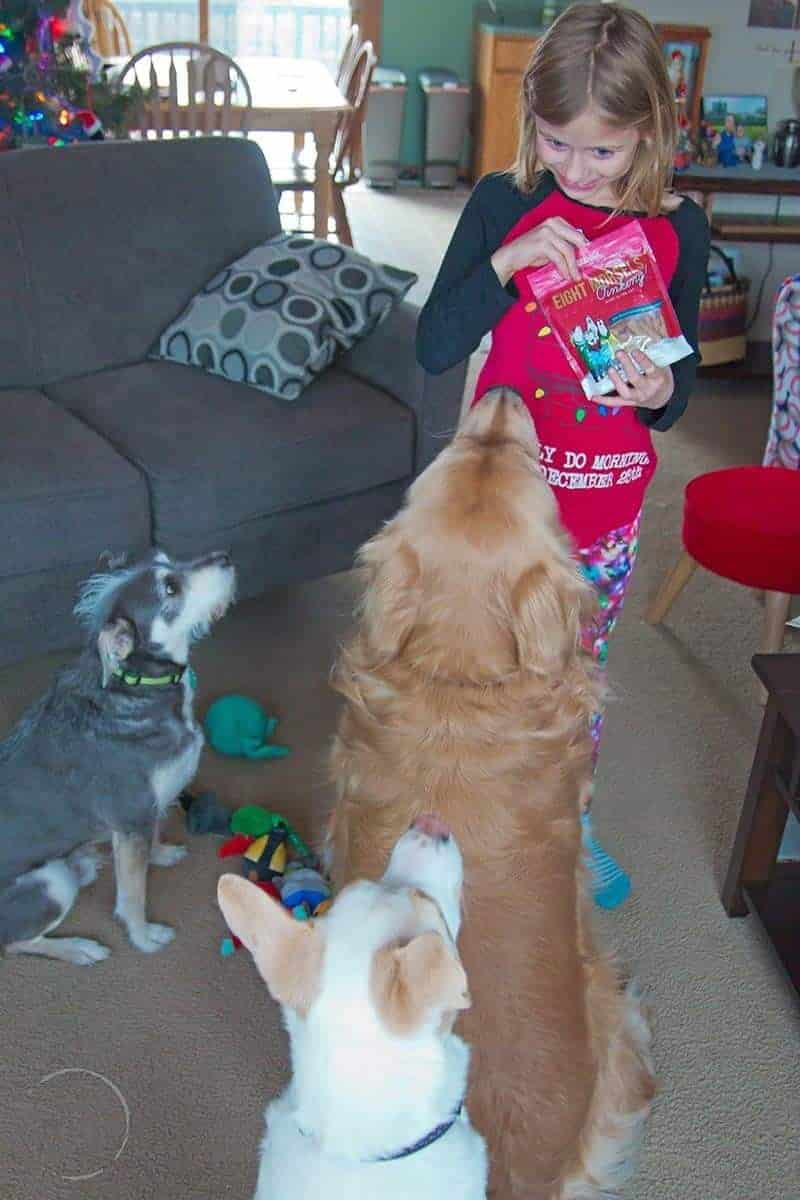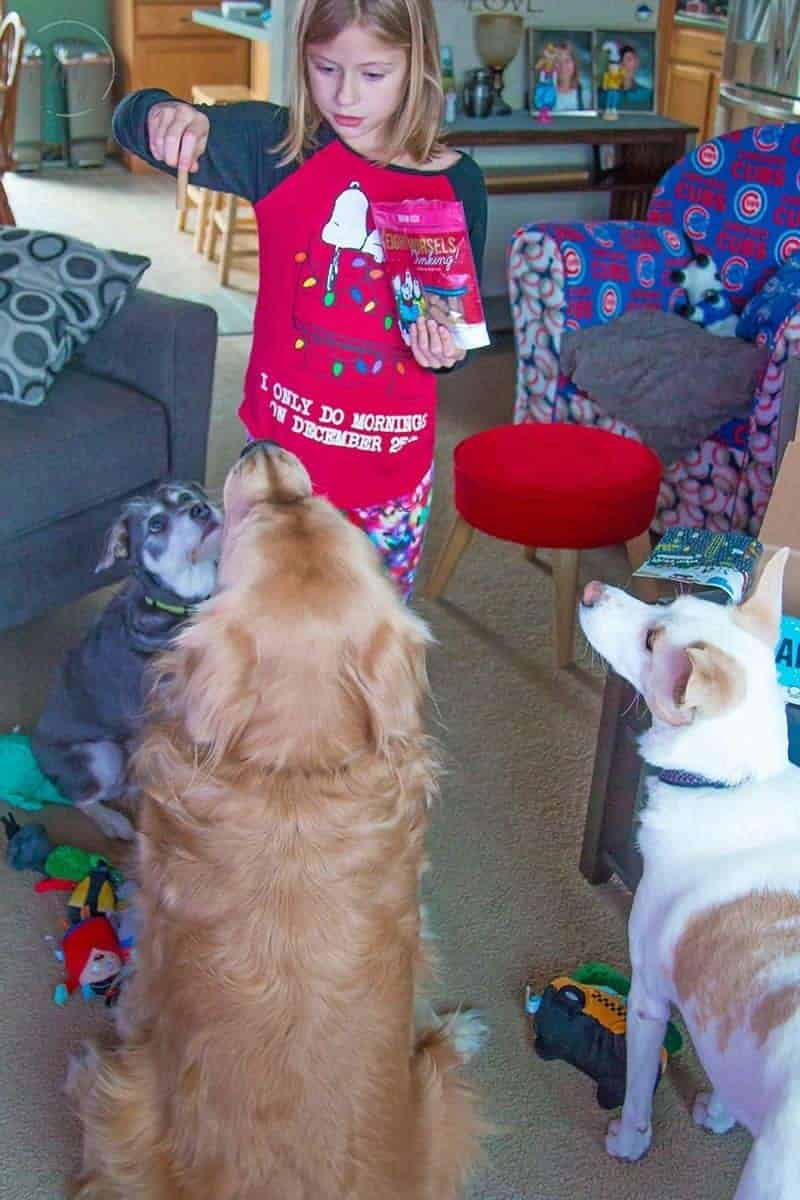 THE BARKBOX EXPERIENCE
My dogs devoured all of the different treats in their BarkBoxes. It was really strange because none of them are the type to just gobble up something without investigating it first. None of them hesitated with those treats. They even waited patiently, kinda. There was a lot of wiggling as they waited for the treats.
The toys were a super huge hit too. My daughter kept trying to steal them for herself, but now all of them are slimy from dog drool, especially the two little winter "egg people" as my daughter calls them. They are two little characters stuck together with a stretchy band.
It's so fun to see my dogs excitement over getting new toys every month. December is our second month of BarkBox, below is a little peek at what we had gotten in November's BarkBox "Pupstate Orchards".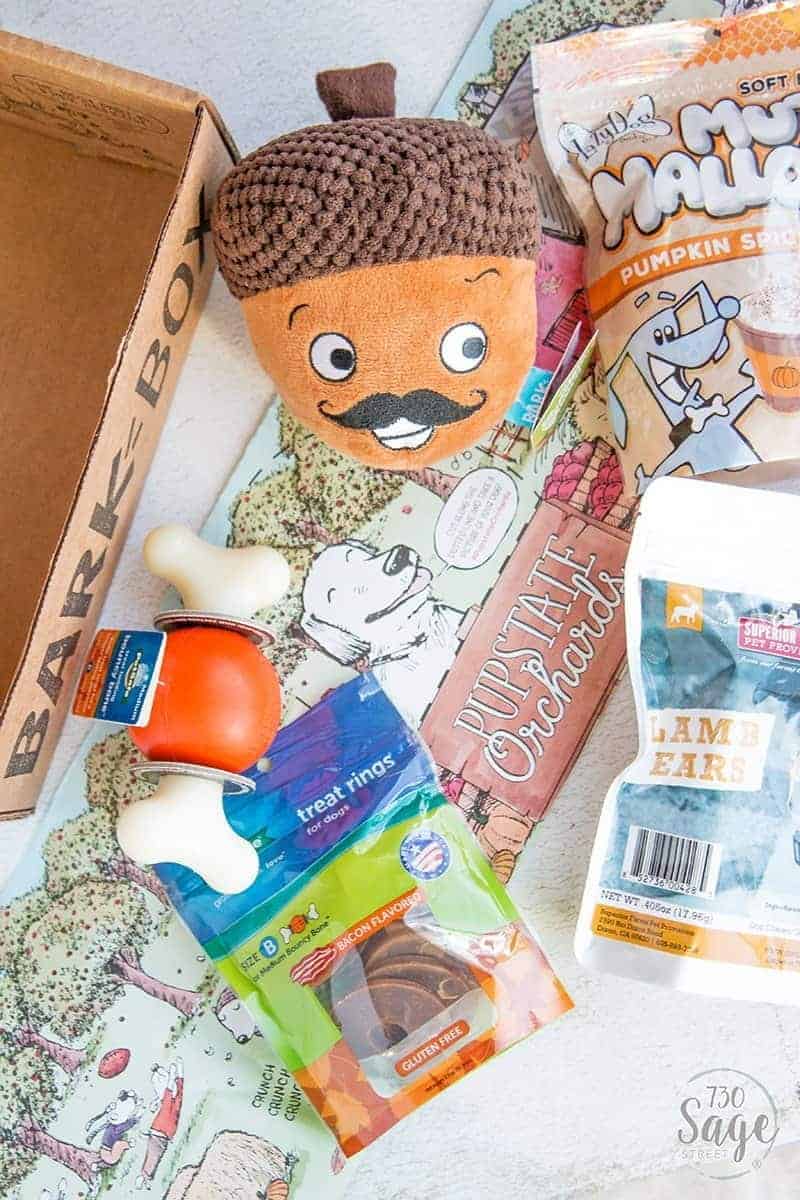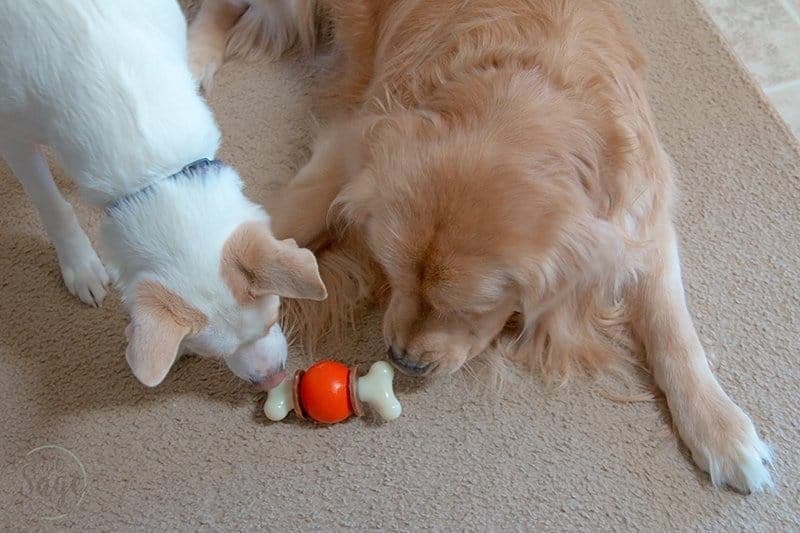 While Toby and Sadie seemed to enjoy the edibles and the chews the best in November, Rex found his new best friend in the "Pupstate Orchards" BarkBox – Monsieur Acorn, known around here as Mr. Walnut. My daughter gave it that name, and like she did with December's toys, has been seen stealing it from the dog to play with it herself.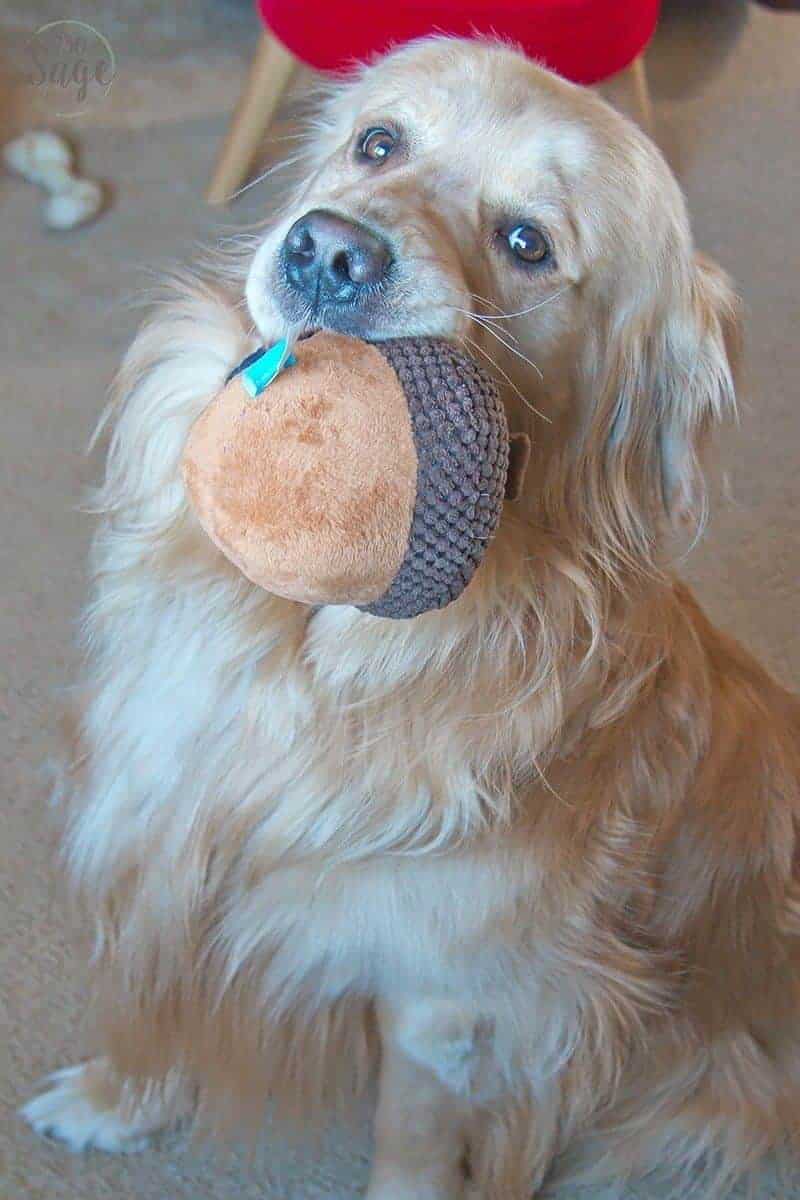 He has been carrying it around like a baby. I keep finding it in random places around the house, but usually he's laying next to it.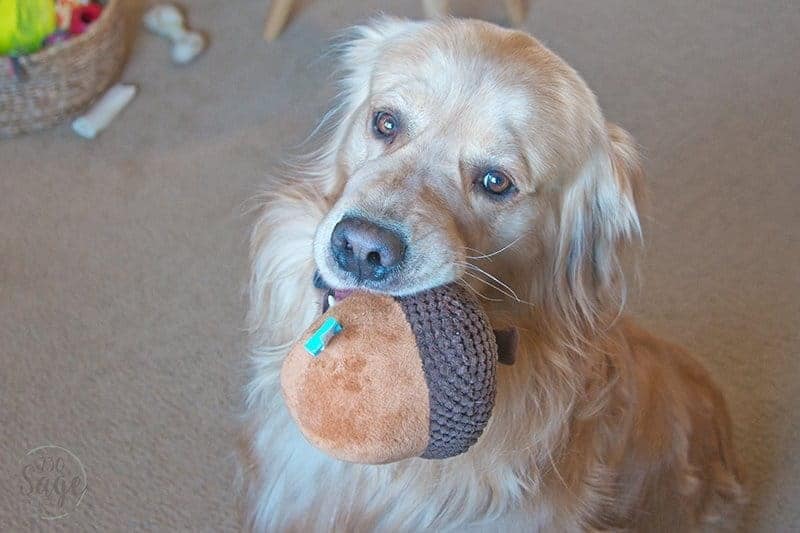 Stuffed things don't usually last very long around here, but so far Monsieur Acorn seems very durable and able to withstand all of the drool Rex has to offer. But should he decide to see what is inside Monsieur Acorn, there is actually a spiky ball "nut". What a fun surprise for him to discover!
We had such a great time opening each BarkBox. I know it is something that my dogs would love to receive every month. It's a great gift idea for the favorite dog in your life, but also for your favorite dog lover. Trust me when I say that a devoted dog person would love to get a gift during the holidays that their dog would enjoy. Dog people love seeing their dogs happy!
Learn more about how to spoil your pup with BarkBox.