Experience the culinary versatility of banana peppers with these 20 flavorful recipes. From tangy pepperoncini salads to zesty pepper-infused sauces, explore the countless ways to incorporate these mild yet vibrant peppers into your dishes.
Discover how banana peppers can add a delightful twist and enhance the flavors of your favorite recipes, taking your meals to a whole new level of taste.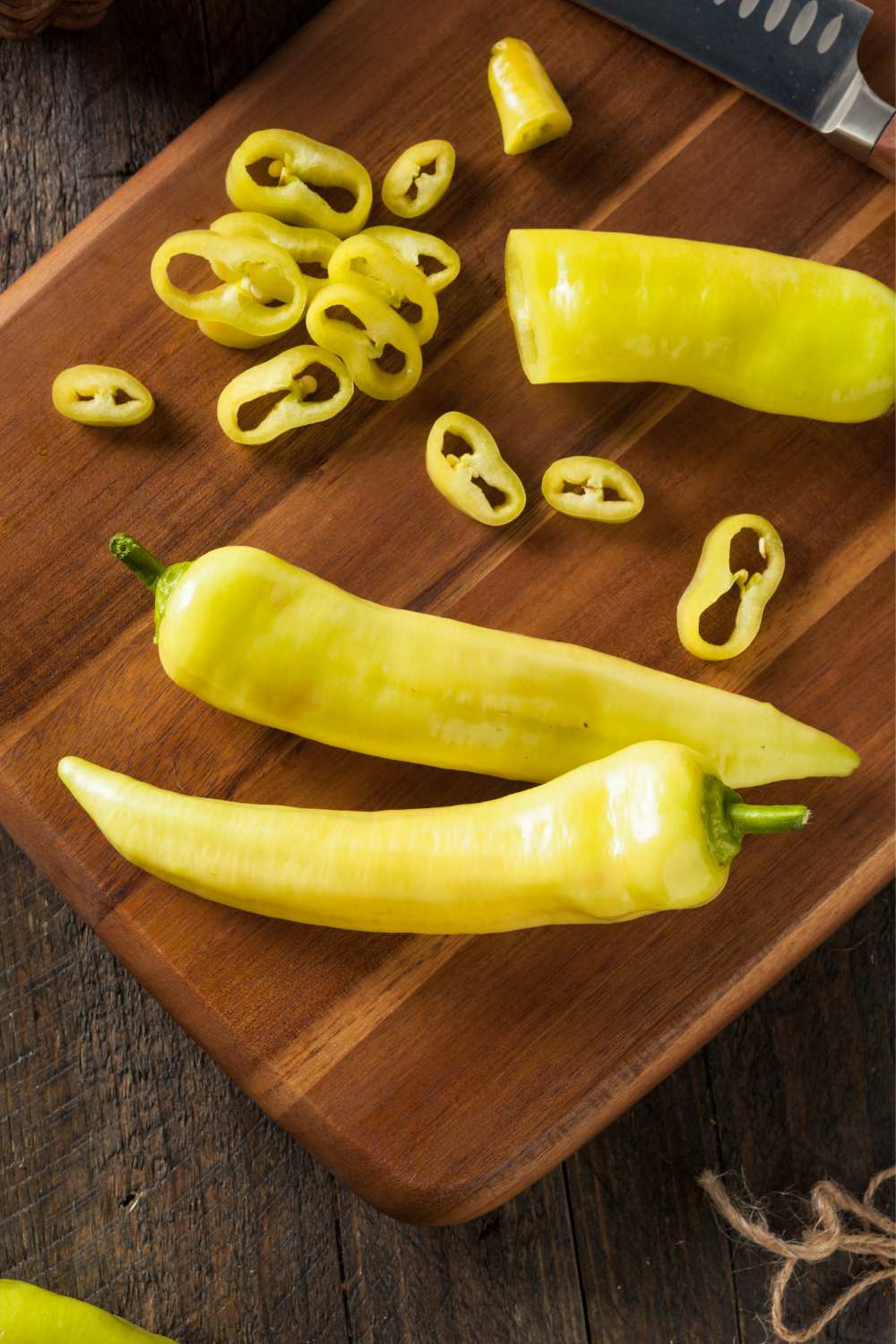 Discover 20 flavorful recipes showcasing the vibrant tang of banana peppers. From zesty salads to stuffed delights, each dish brings a burst of tanginess to your table:
You're off on an Italian culinary adventure with these Stuffed Banana Peppers! They're filled with a succulent combination of ground sausage and cream cheese, harmoniously married with diced tomatoes and fresh parsley.
Oh, and the cheese, yes, we've got a trio of delightful cheeses that gracefully melt to seal in all those robust flavors. Serving these cheesy treats alongside a crisp salad makes a simple weeknight dinner feel like a cozy trattoria meal in the heart of Rome!
Who says you can't take a dip with banana peppers? This Banana Pepper and Bacon Hot Dip brings together cream cheese, a delightful crunch of bacon, and the tangy bite of banana peppers to create a memorable spread for your crackers or tortilla chips.
The gentle kick of red pepper flakes adds a subtle heat, and trust us, one dip and you'll feel like you're in a bustling Tex-Mex diner, surrounded by the aroma of sizzling bacon and spicy peppers.
Prepare for a hearty Italian feast with this Easy Hot Sausage Bolognese Sauce featuring banana peppers! The lively spice of hot Italian sausage mingles with the sweet and tangy banana peppers to offer a symphony of flavors.
Paired with the humble goodness of diced tomatoes, onions, and aromatic herbs, this bolognese sauce can effortlessly transform your spaghetti dinner into a beautiful night in a Tuscan vineyard.
Take a detour down Mexico's vibrant culinary lanes with this Easy Banana Pepper Salsa. The lively banana peppers take center stage, dancing with juicy tomatoes and jalapeños.
The burst of fresh cilantro adds a refreshing touch, while the lime juice imparts a zesty twang. Pour this salsa over your favorite tacos or nachos, and you'll be instantly transported to a sunny Mexican street fair.
Welcome to comfort food paradise with this Bacon & Banana Peppers Grilled Cheese sandwich! The salty crunch of bacon meets the delightful tang of banana peppers, nestled between layers of gooey mozzarella cheese.
Each bite brings a satisfying crunch from the bread, lovingly spread with garlic margarine and perfectly toasted. A cup of tomato soup is the ideal companion, transforming a simple lunch into a quaint café experience.
Fancy a tangy twist? This Easy Pickled Banana Peppers recipe will take your love for pickles to the next level. These beautifully sliced banana peppers, soaked in a sweet yet tangy brine, can perk up your sandwich, pizza, or salads in a snap.
And oh, the patience! They need a week to marinate - trust me, it's worth the wait. And if you're a fan of home-canning, this recipe gives you that extra joy.
Picture this: tender chicken breasts, oozing with melty mozzarella, laced with vibrant banana peppers, and aromatic Italian spices. That's Italian Banana Pepper Chicken for you!
Not only does this dish bring a mouthful of flavors, but the cheesy goodness combined with zesty banana peppers will whisk you away to a rustic Italian trattoria. Perfect with some Bacon Roasted Potatoes and Creamy Lemon Asparagus Orzo.
Bring on the heat with this Spicy Three Meat Banana Pepper Meatballs. This dish perfectly marries beef, pork, and Italian hot sausage with the tangy kick of banana peppers.
Each bite will bring you a juicy burst of robust flavors, tingling your palate with spiciness and a cheesy melt-in-your-mouth experience. Serve with Spicy Banana Pepper Sauce or as a sizzling hot meatball sub - bellissimo!
Ever dreamt of biting into a chicken breast only to be greeted with a spicy rush of roasted banana peppers? This Spicy Roasted Banana Pepper Stuffed Chicken is the stuff of such delicious dreams!
The succulent chicken breasts, filled with zesty banana peppers, are an adventure for your senses. Seared to perfection, it's like a spicy surprise tucked into a juicy parcel.
Welcome to the medley of textures and flavors that is this Creamy Italiano Salad. This vibrant bowl of crisp romaine lettuce, crunchy cucumbers, and juicy cherry tomatoes dressed in a creamy Italiano sauce, will transport you to a sunny piazza.
But wait, there's a twist - the tangy banana pepper rings! They add that extra zing, making this salad nothing short of a delight for your senses.
Imagine the luscious, tender slices of chicken breast enveloped in the tangy pop of banana ring peppers, kissed by the earthy olive oil and topped off with the melting, smooth pepper jack cheese - that's this Lightened-Up Baked Mississippi Chicken for you.
The assorted herbs only enhance the beautiful symphony of flavors. Perfect for a light yet satisfying dinner, this dish is sure to transport you to Mississippi without leaving your kitchen!
This Potato and Olive Stuffed Banana Peppers are a delightful treat for your senses, a Mediterranean journey filled with flavorful spices and succulent veggies.
Each bite of the soft banana peppers, stuffed with crisp potatoes and flavorful olives, soaked in a rich tomato sauce will take you on a culinary trip around the Mediterranean Sea. Healthy and hearty, it's a dish that celebrates simplicity and taste in every mouthful.
The Tomato Salad with Banana Peppers and Burrata is a fantastic marriage of fresh flavors and textures. Imagine the juicy beef steak tomatoes, their sweetness complemented by the tangy banana peppers, all harmonized by the creamy richness of burrata cheese.
Topped with a light and flavorful dressing, this salad will make your summer days brighter and more enjoyable.
Set sail for the tropics with this Island Shrimp and Banana Peppers. The tender, crispy shrimp combined with the delightful zing of banana peppers, and the bold punch of red bell peppers, all glazed in a garlicky, buttery goodness.
The luxurious drizzle of garlic aioli is just the icing on the cake. This dish is like a fun, flavorful beach party in your mouth!
Dive into the creamy, spicy, and absolutely irresistible Stuffed Banana Pepper Dip. Imagine the fiery heat of charred banana peppers, mellowed by the richness of Italian sausage, married to the sweetness of sautéed onions, all smothered in a velvety marinara sauce and topped with melted cheese.
It's a hearty dip that's just perfect with a baguette, chips, or crackers - a true crowd-pleaser!
Picture yourself delving into the symphony of spices that comes alive in the Slow Cooker Pulled Banana Pepper Roast Beef. The zesty lime meets the tangy tomato paste and subtle undertones of cumin, creating a sizzle that pairs with the juicy beef.
A melody of onions, bell peppers, banana peppers and green chilis adds a vibrant pop of color and crunch. Cooked to perfection over 8 hours, this dish rewards patience with an explosion of flavors. The cilantro garnish provides a fresh, earthy contrast to the richness of the beef.
Craving a delicate balance of flavors? Then the Roasted Banana Pepper Pesto Crostini is your ticket to a tantalizing culinary experience. The mildly spicy banana peppers, freshly squeezed lemon juice, and creamy Chèvre cheese come together in a pesto that's a star in its own right.
Spread it over crispy ciabatta or French bread slices, add a sprinkle of toasted walnuts, and you've got a dish that invites you to experience crunch, creaminess, and zesty freshness all in one bite.
Oh, what a joy Fried Banana Peppers are! Imagine those fiery banana peppers, swathed in a seasoned flour mix and then fried to a delightful crispness. The peppery tang gets a hearty boost from the seasoned salt, creating an irresistible dance of flavors.
Popped in hot oil, these little wonders turn into golden morsels of crunch that make for a delightful snack, a splendid side, or a zingy topping.
The Pulled Pork Sliders will transport you straight to a sunny afternoon barbecue. Picture tender, slow-cooked pork that melts in your mouth, lovingly seasoned and smothered in a tangy-sweet Banana Pepper Sauce.
The little slider buns hold this flavorful fiesta, and every bite brings a harmonious blend of sweet, tangy, and spicy notes. Top it off with a crunchy dill pickle chip, and there you have it, a perfect little bundle of joy.
The Turkey Pepperoni Pizza with Banana Peppers is a celebration of flavors with a delightful spicy kick. A hot, crisp crust smeared with tomato sauce becomes a canvas for a delicious fusion of creamy mozzarella, zesty banana peppers, and savory turkey pepperoni.
A dash of red pepper flakes adds a spicy punch, while fresh basil leaves lend a herby note. Finished off with freshly grated Parmigiano-Reggiano, this pizza is a treat that combines tradition and innovation.
Can I adjust the heat level of banana peppers in recipes?
Yes, you can easily adjust the heat level of banana peppers in recipes. The heat of banana peppers can vary, but generally, they are milder compared to other chili peppers. To decrease the heat, you can remove the seeds and membranes, which contain most of the heat. By doing so, you can enjoy the tangy flavor of banana peppers without the intense spiciness.
However, if you prefer a spicier kick, you can leave the seeds and membranes intact or even add some crushed red pepper flakes or other spicy ingredients to enhance the heat. Adjusting the heat level allows you to customize the flavor profile of your dish to suit your preferences.