Bacon Chase
. All opinions are 100% mine.
Imagine if you will, an event where you are awarded for your participation with unlimited candy of the meat persuasion.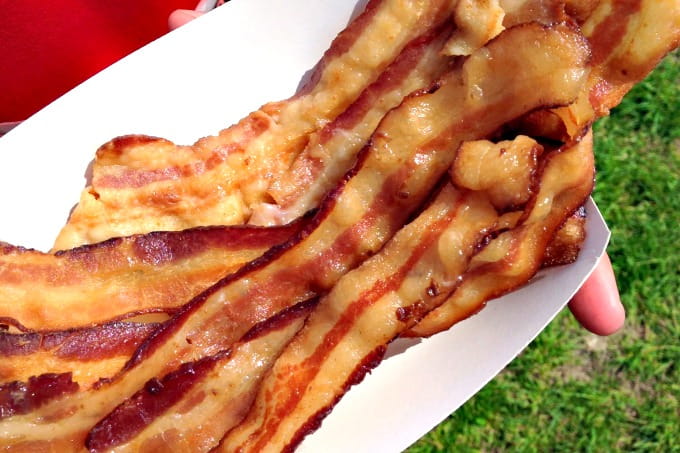 Sounds too good to be true, right?
Well such an event actually exists and it may be coming to a town near you!
Bacon Chase 5K & .05K
This past Saturday, June 7th, my son and I attended the Bacon Chase in Chicago and we had a blast. It was our first ever 5K and we both agree that the only 5K worth doing serves unlimited bacon.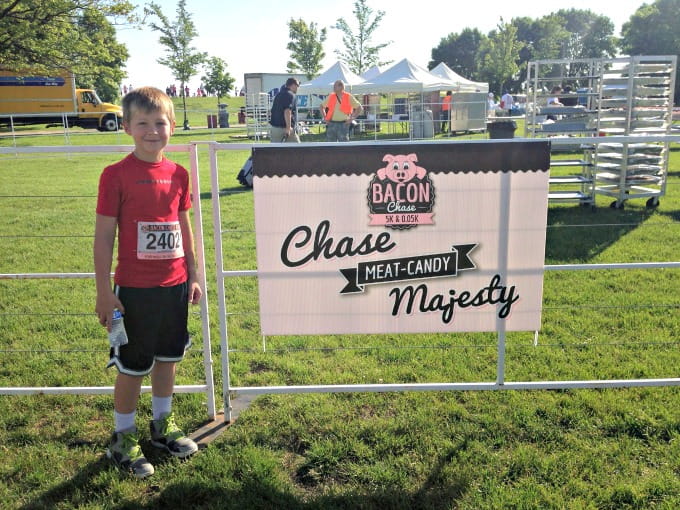 We arrived a bit early and got to wander around and check out the start and finish area. It was an impressive setup with plenty of room and clearly labelled tents for each event service such as registration, medical and gear check.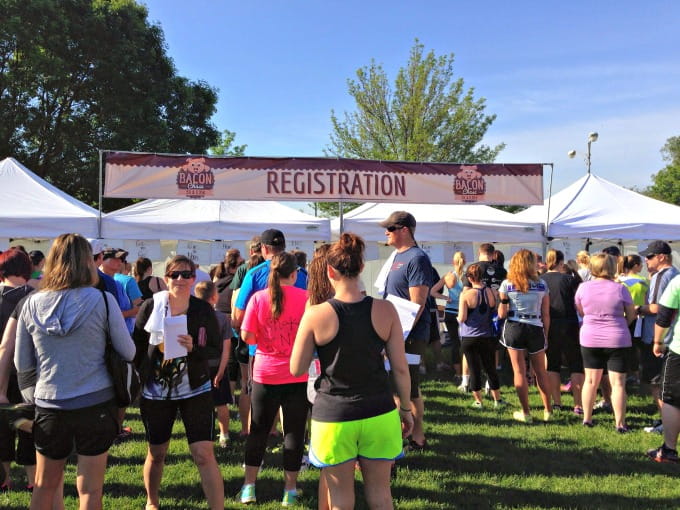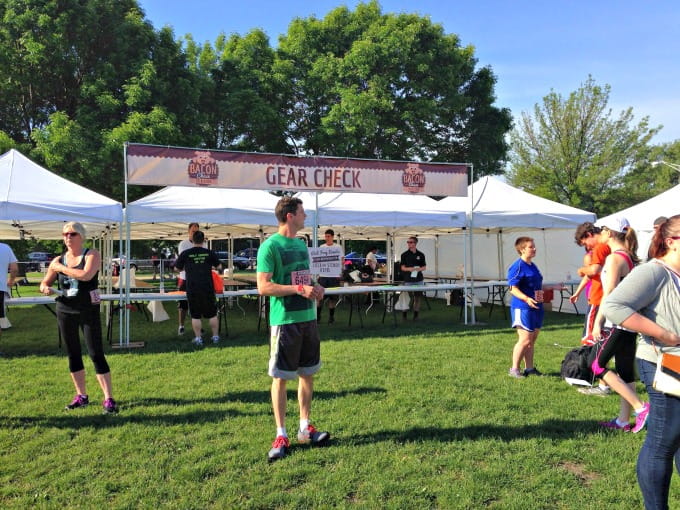 Before the race we received our Bacon Chase bacon-scented race bib and signature Bacon Chase t-shirt. My son was really excited about both of them!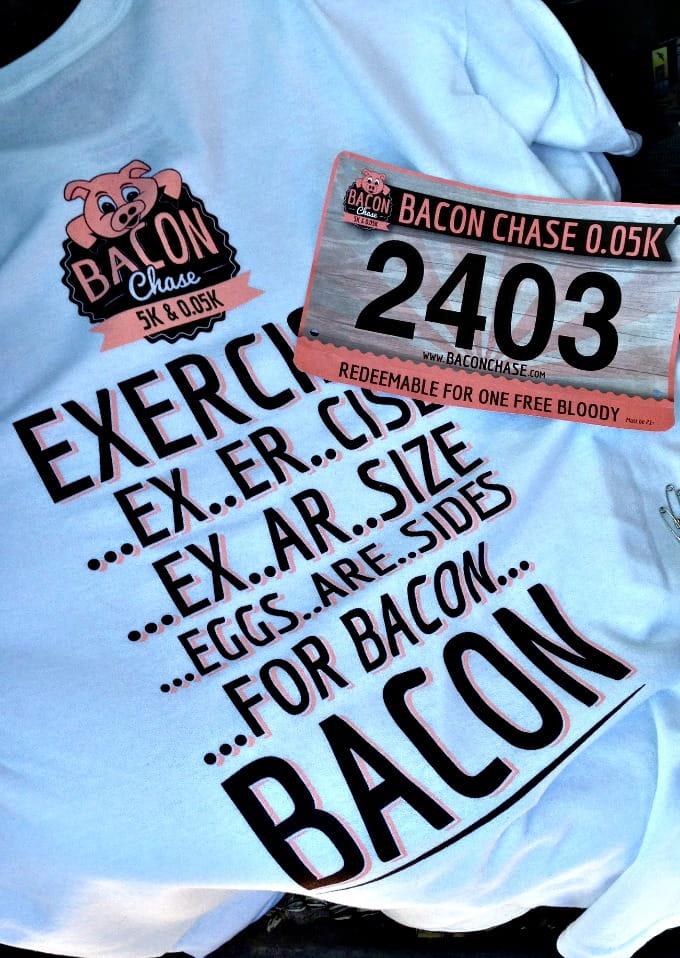 We didn't realize it at the time but they gave us the .05K race bib even though we intended to run the 5K. We realized it afterwards and they did give us 5K bibs so we had them as souvenirs since we did complete the 5K.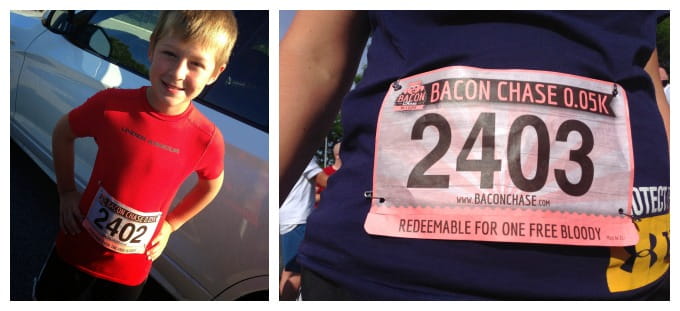 Waiting for the race to start was an interesting people watching experience. I was surprised at how many people wore unique and themed outfits.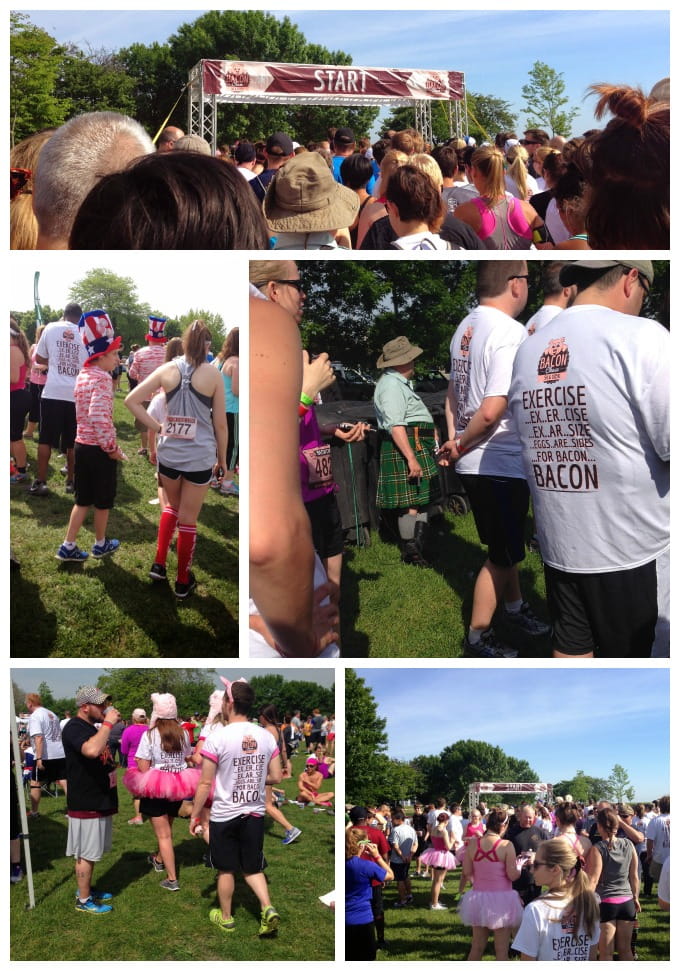 We ran most of the time, my son has allergies that have been causing a cough so we did have to walk some, but I think we did really well. We finished in about 40 minutes.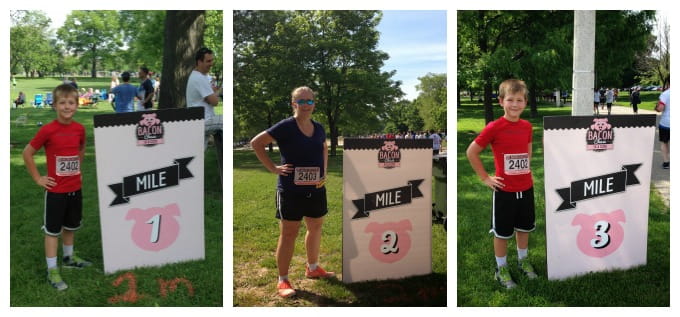 The course ran through Montrose Beach on the north end of the Gold Coast in Chicago. It was a great location! We ran past children playing soccer, plenty of people enjoying the park with their dogs, and of course, the beach.
On the course there were two stations where they served bacon bits and cups of water. My son was a little disappointed because he expected there would be more places to get bacon bits. It was enough considering the unlimited bacon when you get to the end, but I did want to point out that along the course there were only two refreshment stops.
But you can't complain about all-you-can-eat bacon bits no matter how often they appear!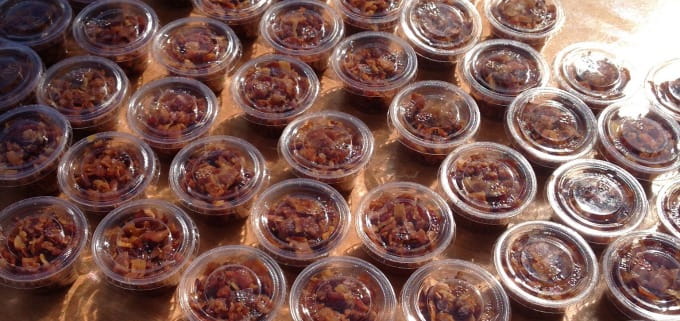 By the time we reached the finish line (with someone yelling at my son, "c'mon kid, don't let your momma beat you" – which made us laugh) we were sprinting to finish to get to the Holy Grail!
And if you are over 21, you can redeem your ticket for a free Bloody Mary!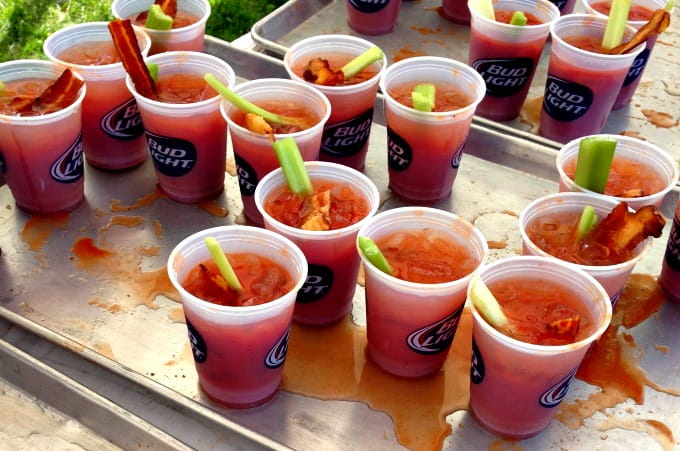 We had a great time and are absolutely planning on attending the next Bacon Chase that comes to Chicago!
More information about Bacon Chase
Bacon Chase is family friendly! Children of any age can sign up for the .05K, and the 5K is for ages 8 and up.
Bacon Chase has a free gear check available for participants.
Bacon Chase has partnered with St. Jude Research Hospital and racers can choose to fundraise to help find a cure for children with life-threatening illnesses. Fundraising is not required but there are prizes and race day incentives for those who do.
Bacon Chase is coming to Minneapolis!
On the heels of the super successful Chicago Bacon Chase, the next stop for the bacon lovers frenzy is the Minneapolis Bacon Chase on July 19, 2014! Don't miss out on unlimited meat candy.
Minneapolis, MN
Lake Nokomis Park,
4955 West Lake Nokomis Pkwy.
Minneapolis, MN 55417
July 19, 2014
Festival Start Time: 9am
Additional Bacon Chase Locations
Bacon Chase has numerous races planned across the USA – from Boston to San Francisco and are likely coming to a city near you. Don't miss out on this unique event. Unlimited bacon and a choice between a 5K or .05K make this a one-of-kind event that is part race, part food festival.
Is there a Bacon Chase coming to a city near you?
Join our newsletter!
Subscribe to get updates and great stuff via email including subscriber-only goodies like free printables and giveaways.

This post brought to you by