Avocados have almost 20 essential vitamins and minerals our bodies need. These include potassium, folic acid, vitamin B, vitamin K, B-vitamins and phytonutrients. Plus avocados help your body absorb more fat-soluble nutrients and are a great source of the antioxidant lutein which is said to help maintain eyesight.
Avocados from Mexico encourages you to include avocados as a part of your healthy diet by including them in your game day recipes this year. From appetizers and snacks to the main dish, you can incorporate healthy avocados into your game day - they taste great and no one will even know they are so good for you.
Their website has a wide range of different game day oriented recipes and the one that spoke to me the most was the Beef Chili with Avocado Recipe.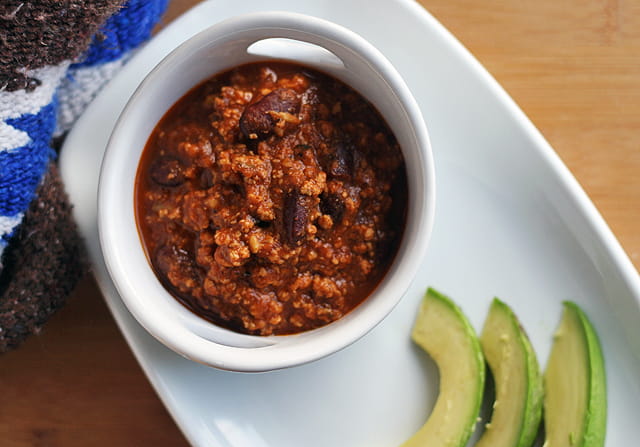 I modified the recipe slightly. We used ground chicken instead of ground beef and added 2 whole avocados into the chili itself as well. We also used minced onion instead of a whole onion because of what we had on hand. For the original recipe visit the game day recipes section on the Avocados from Mexico page.
My modified version is below: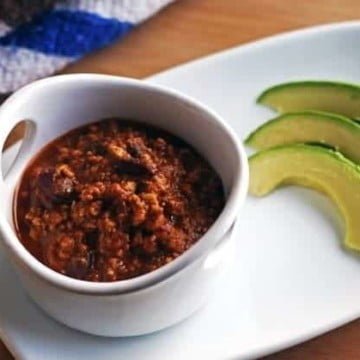 Ingredients 
1

tablespoon

olive oil

4

tablespoon

minced onion

1

tablespoon

minced garlic

1

pound

organic

-

free-range ground chicken

2 to 4

tablespoons

chili powder

2

tablespoons

ground cumin

1 15

oz

can tomato sauce

1

can

-

15 ounces kidney beans, rinsed and drained

½

teaspoon

salt

¼

cup

chopped cilantro

-

optional

Coarsely grated cheddar cheese

-

optional

3

fully ripened avocado from Mexico

-

halved, pitted, peeled and sliced
Instructions
In large saucepan over medium-high heat, heat olive oil. Add minced onions to saucepan; cook and stir until soft, about 5 minutes. Add garlic; cook and stir 1 minute. Add ground chicken, breaking into large chunks; cook and stir until no longer pink, about 10 minutes. Stir in 2 of the avocados and mix into chicken until smooth. Add chili powder and cumin; cook 1 minute. Stir in tomato sauce. kidney beans, cilantro and salt; heat to boiling, reduce heat to low; simmer 20-30 minutes, stirring occasionally.

To serve, ladle chili into bowls; sprinkle with cheese, if desired.

Top or serve with sliced avocados.
This turned out really good! I was skeptical because of my past experience with guacamole, but we all loved it. My son ate 4 bowls and ate it again for lunch the next day. The avocado chili recipe was definitely a big hit here!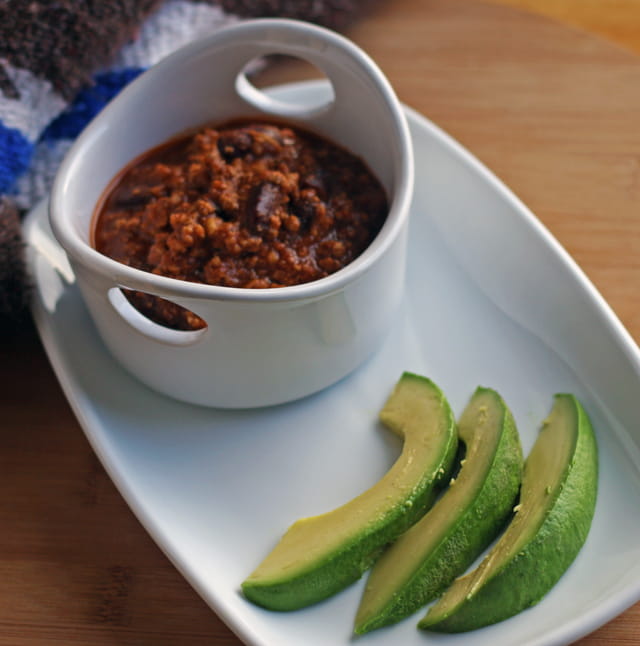 Which avocado recipe will you be including in your game day menu?