Introducing a delightful combination that blends the freshness of asparagus with the comforting essence of pasta.
Our compilation of 20 tantalizing asparagus recipes is here to elevate your culinary experience.
From creamy sauces to zesty accompaniments, explore a wide array of easy-to-follow recipes that celebrate the vibrant flavors of this nutritious vegetable.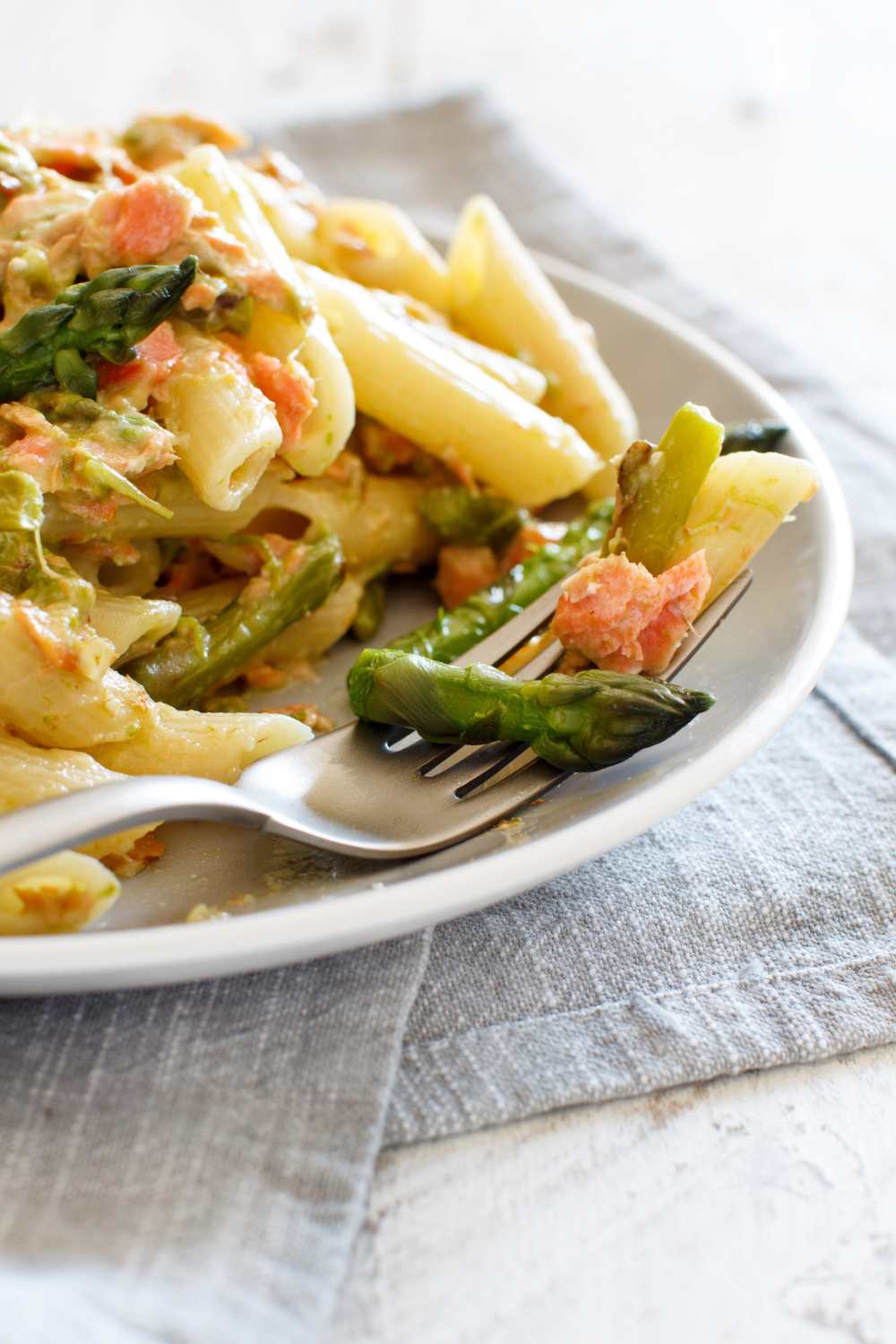 Embark on a flavorful journey with 20 pasta recipes featuring asparagus! From vibrant veggie-packed dishes to creamy delights:
Picture yourself in the Italian countryside, where the scent of Penne with Asparagus and Lemon Pesto wafts in the air. The zesty fragrance of fresh basil and parsley pairs delightfully with the sharpness of freshly grated parmesan.
The highlight of this dish is the blend of pine nuts and asparagus, each bite offering a mix of crunchy and tender textures. What sets this recipe apart is the little touch of pasta water that adds a unique silkiness to the pesto. Served with a side of crusty garlic bread, it's the perfect weeknight pasta!
Imagine a blend of vibrant asparagus and succulent shrimp tossed in creamy Fettuccine pasta. The garlic-infused olive oil gives a delectable aroma that intertwines with the hint of Old Bay Seasoning. When the parmesan cheese melts and amalgamates with the rest of the ingredients, it elevates the entire dish.
This Easy Shrimp and Asparagus Fettuccine recipe serves as a delightful midweek treat that leaves you longing for more. Partner this dish with a chilled glass of Sauvignon Blanc to complete your dining experience.
Transport yourself to a world where smoky bacon and crunchy asparagus become best friends. In this Asparagus Pasta with Bacon and Parmesan dish, the campanelle pasta beautifully holds the diced onion sautéed in bacon grease, creating an indulgent comfort food.
A sprinkle of fresh lemon juice balances the flavors and adds an unexpected zing. Pair this comforting pasta with a light, mixed greens salad to create a wholesome meal that sings of simplicity and sophistication.
Can you envision a creamy, dreamy pasta enriched with the tang of goat cheese and the spring freshness of asparagus and peas? That's what awaits you in this Creamy Goat Cheese Pasta with Asparagus and Peas recipe.
The heady combination of garlic, shallots, and red pepper flakes sautéed in butter and oil, followed by a splash of white wine and herbs, makes this dish irresistibly aromatic. The finish of lemon juice, black pepper, and more goat cheese will make your mouth water. Accompanied by a crisp baguette, this pasta is a hearty feast!
Take a flavor trip on a sunny day with the Lemon Asparagus Pasta with Grilled Chicken recipe. Imagine biting into succulent strips of grilled chicken, enhanced by the zesty lemon sauce. The pasta twirled with tender asparagus in a creamy sauce just amplifies the dish's appeal.
The sharp parmesan cheese adds a lovely contrast, and the optional garnishes of lemon slices and chopped parsley give the dish a visual pop. Paired with a light Chardonnay, this meal effortlessly brings the restaurant experience to your home.
Let's dive into Italy with this creamy Asparagus Mushroom Fettuccine Alfredo. Loaded with buttery mushrooms, zesty lemon, fresh basil, and sharp parmesan, it's an adventure in every bite.
The harmony of perfectly al dente pasta, crisp asparagus, and rich Alfredo sauce will make your kitchen feel like a cozy Italian ristorante. Do you love a dish that lingers in your memory long after the last bite? This might be your new favorite.
Are you ready for a picnic in the Italian countryside? This vibrant Pesto Pasta with Sun-Dried Tomatoes and Roasted Asparagus feels just like that! This dish invites you to savor tender pasta shells coated in zesty basil pesto, contrasting with the tangy punch of sun-dried tomatoes.
The star of the show - roasted asparagus - brings a unique texture and taste. And for extra delight, why not crown your creation with a perfectly fried egg?
You're off to Rome now with this Pancetta Asparagus Carbonara! Salty pancetta, crunchy asparagus, and al dente linguine swirl together in a tantalizing dance.
The magic ingredient? A creamy sauce made from freshly beaten eggs and a generous sprinkle of Parmesan and Romano cheese. This carbonara is the epitome of Italian comfort food, perfect for a cozy evening at home.
Pasta Primavera with Peas and Asparagus tastes like the first day of spring in the Italian countryside. Bright asparagus tips, sweet peas, and crunchy sugar snap peas bring a burst of freshness to your plate.
The grated parmesan and a touch of lemon zest lighten up the dish, making it an embodiment of the joyful spring season.
It's time for a journey to the seaside with this Creamy Salmon Asparagus Pasta. The succulent, flaky salmon combined with the crisp asparagus and robust spaghetti, transports you straight to a tranquil coastline.
The creamy sauce, a harmonious blend of milk, flour, and sharp parmesan cheese, adds an elegant touch. Top it with a sprinkle of fresh parsley for a splash of color, and you're all set for a seaside feast right at home.
Welcome the season of renewal with this vibrant dish that elevates asparagus to an exciting new level. Toasted walnuts, fresh herbs, and a lemony burst marry the asparagus stem pesto to create a flavorful union with the penne.
The generous toss of Mediterranean pantry favorites, like artichoke hearts, and a sprinkle of Parmesan cheese, brings a touch of the exotic. This a dish that will have you relishing the springtime air in every bite, all the while evoking the feeling of a leisurely alfresco lunch in an Italian garden.
Make a little magic in your kitchen with this alluring recipe that pairs perfectly cooked rigatoni with roasted asparagus. It's a symphony of flavors in every forkful, enhanced by the caramel notes of a balsamic reduction and a touch of honey for subtle sweetness.
Rounded off with a sprinkling of freshly grated Parmesan cheese, this dish will transport you to a chic outdoor café, basking in the warmth of a Tuscan sun.
A delightful blend of tangy, savory, and fresh, this salad takes you on a refreshing culinary journey. The combination of orzo with crunchy asparagus, tender spinach, and zesty lemon makes for a harmonious dance of flavors and textures.
The feta cheese adds a touch of indulgence, a creamy contrast to the light, citrusy notes. Whether you prefer it warm or cold, it's like a picnic in a Greek olive grove, right there in your kitchen.
Experience a gourmet dinner in the comfort of your home with this rich, decadent pasta recipe. Fresh salmon pairs wonderfully with the snap of asparagus, swimming in a luscious, creamy sauce.
With hints of citrus from lemon juice and zest, and a subtle warmth of Italian seasoning, this dish promises a cozy, comforting meal. Top it off with parmesan cheese for an irresistible, restaurant-worthy finish. It's like a warm, soothing hug on a cool evening.
Explore the heartiness of whole wheat penne pasta, tossed with asparagus and cherry tomatoes. Drizzled with a sweet-savory balsamic reduction and sprinkled with Parmesan cheese, this dish celebrates the joys of simple yet profound flavors.
It's a melody of textures, with the crispness of asparagus and the juiciness of cherry tomatoes. Just like a heartwarming gathering around the family dinner table, this recipe is all about the love for good food and great company.
Unveil your culinary prowess with the Lemon Ricotta Asparagus Pasta Salad with Bacon. A luscious blend of lemon zest, ricotta, and parmesan whisks you away to an Italian countryside as it melds with crunchy asparagus and hearty pasta.
Smoky bacon adds a delightful contrast, while scallions punctuate each bite with a bright finish. Whether served cold or at room temperature, this recipe promises an orchestra of flavors in your kitchen.
Savor the sophistication of Asparagus Pasta with Prosciutto. The delicate balance of crispy prosciutto, tender asparagus, and al-dente spaghetti, harmonizes with an aromatic medley of garlic and Italian seasoning.
Each bite is further invigorated by a fresh squeeze of lemon, a pinch of pepper, and a generous sprinkle of parmesan. Prepare yourself for an unforgettable trip to the heart of Italy with this delicious dish.
With the Lemon-Dijon Asparagus and Pea Macaroni Salad, experience a picnic in the French countryside. Zesty lemon and tangy Dijon mustard blend harmoniously with mayo to dress a medley of macaroni, crisp asparagus, and sweet peas.
Each forkful promises a crunch, with sun-dried tomatoes and fresh parsley adding an unexpected twist. One bite and you'll feel the summer breeze on your face.
Dive into coastal flavors with Asparagus & Crab Linguine. Delight in every strand of linguine enrobed in succulent crab meat, subtly spiced with red chili and fennel seeds.
Shaved asparagus adds a vibrant crunch, while a spritz of fresh lemon brings the dish to life. Finally, pea shoots or rockets provide a delightful finish, serving you a seaside sunset right on your plate.
Experience a summer evening on a rustic farm with Caramelized Corn and Asparagus Pasta. The pasta soaks up the buttery turmeric-garlic sauce, creating a creamy base for the caramelized corn and tender asparagus.
The symphony of flavors is brightened by a squeeze of fresh lemon, while ricotta provides a smooth, luxurious finish. This dish is nothing short of a warm, golden sunset in a bowl.
How to pick the best asparagus at the store?
When selecting asparagus, look for firm stalks with tight, compact tips. The stalks should be straight, without any signs of wilting or browning. Opt for vibrant green or purple hues, depending on the variety. Avoid asparagus with excessively thick or woody stems, as they may be tough to eat. Flexible stalks are a sign of freshness, indicating that the asparagus is still tender.
How to store asparagus?
To keep asparagus fresh, trim about an inch off the bottom of the stalks and place them in a glass or jar with an inch of water. Cover the asparagus loosely with a plastic bag and store it upright in the refrigerator. Alternatively, wrap the bottom ends with a damp paper towel and seal them in a plastic bag. Asparagus is best consumed within a few days of purchase, as it tends to lose its freshness over time.