Pork chops are a staple ingredient in many Asian cuisines, from savory stir-fries to sweet and tangy marinades.
In this roundup of 15 Asian-inspired pork chop recipes, you'll discover a variety of flavorful and easy-to-make dishes that are sure to satisfy your hunger and your love for bold and aromatic flavors.
From Korean-style scallion pork chops to Thai curry mango pork chops, these recipes are a delicious way to spice up your dinner routine.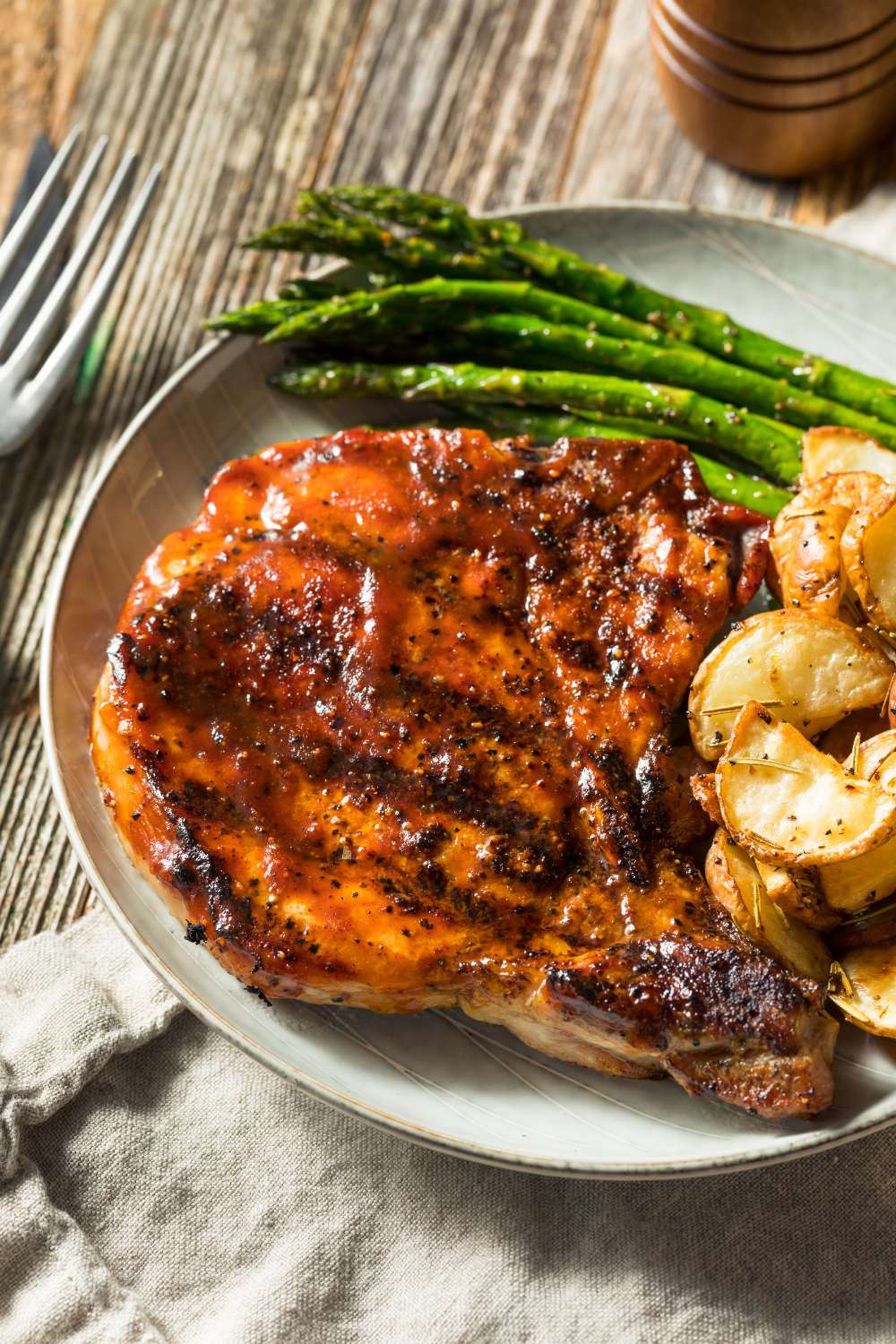 Can I Use Other Types Of Pork For These Recipes?
Yes, you can use other cuts of pork such as pork loin or pork tenderloin for these recipes. Just make sure to adjust the cooking time accordingly as they may cook faster or slower than pork chops. Using different cuts of pork can also make the dish healthier by reducing the amount of fat in the dish.
How Do I Make Sure My Pork Chops Are Cooked Through?
The best way to make sure your pork chops are cooked through is by using a meat thermometer. The internal temperature of pork should reach 145°F (63°C) to be considered safe to eat. Another way to check if the pork is cooked is by cutting into the thickest part of the meat and checking if the juices run clear.
Overcooked pork chops can become dry and tough, so it's important to monitor the temperature carefully while cooking to make sure the meat stays juicy and healthy.
15 Asian Recipes With Pork Chops
Prepare to wow your dinner guests with these 15 nutritious and tasty Asian-inspired pork chop dishes:
Savor the perfect harmony of sweet honey and savory soy sauce in these delectable Honey Soy Pork Chops. With tender, juicy pork enveloped in a luscious golden crust, this dish is a true masterpiece. The mingling of buttery garlic and rich chicken broth adds depth and warmth to the flavors.
By following a few simple steps, you'll have a delightful, restaurant-worthy meal that will leave everyone craving more. Pair these pork chops with your favorite side dish, and you'll have a complete, satisfying dinner in no time!
Experience a flavor explosion with these Tender Sweet 'n' Sour Pork Chops that boast a delightful balance of tangy and sweet notes. The combination of rich brown sugar, zesty cider vinegar, and savory soy sauce creates an exquisite sauce that envelops the tender, pepper-seasoned pork loin chops.
Thickened with cornstarch, the luscious sauce clings perfectly to each succulent chop. This easy-to-make dish is not only packed with flavor but will also satisfy your cravings in just a few simple steps. Serve alongside steamed rice or veggies for a wholesome, scrumptious meal.
Introducing the classic and irresistible Salt and Pepper Pork Chops, a dish that elevates simple ingredients to new heights. Tender, marinated pork pieces are coated with a delicate cornstarch layer and fried to golden perfection. Crispy, fragrant garlic, and jalapeños add a delightful kick, while the signature salt and pepper mix brings out the rich flavors.
This addictive dish will have you reaching for seconds as you enjoy the contrasting textures and bold taste. Serve with fluffy jasmine rice or a side of stir-fried vegetables to complete your scrumptious meal.
Transport your senses to the streets of Seoul with these lip-smacking Korean Pork Chops, featuring a perfect blend of sweet, savory, and spicy flavors. Marinated in a rich sauce of soy, honey, garlic, ginger, sesame oil, and sweet chili sauce, these thin boneless chops are cooked to perfection in a hot skillet.
The reserved marinade adds an extra burst of flavor as the chops are cooked, making each bite a memorable experience. Serve these tantalizing Korean Pork Chops with steamed rice and kimchi for a truly authentic and satisfying meal.
Honey Garlic Pork Chops are bone-in pork chops that are so soft and finely sliced that they melt in your mouth. After being covered in a cornstarch and flour combination, the pork is marinated in a fragrant blend of honey, soy sauce, garlic, and ginger.
Succulent pork chops are served in a rich, syrupy sauce of soy sauce, honey, garlic, and ginger. These succulent chops are the epitome of simple elegance with their garnish of green onions and garlic chips. Serve them over some steamed rice and your preferred veggie side dish for a hearty and filling meal.
Tonkatsu, a classic Japanese pork cutlet dish, is known for its robust flavor and crispy, juicy exterior. The pork chops are pounded till thin, then coated with flour, egg, and panko breadcrumbs before being deep-fried until golden brown and crispy.
The final result has a crunchy outside and a juicy inside, and its savory taste pairs well with a helping of shredded cabbage on the side. Enjoy this flavorful Tonkatsu as a main meal or as a lovely addition to your bento box, topped with a delicious sauce comprised of ketchup, Worcestershire sauce, oyster sauce, brown sugar, soy sauce, and garlic powder.
These luscious bone-in pork chops are marinated in a savory combination of soy sauce, vinegar, garlic, and bay leaf for an unforgettable flavor experience when grilled. These thick and meaty chops have been grilled to perfection and are bursting with flavor.
Meat eaters will find this meal irresistible because of the grilled smokiness and charred quality. Prepare to indulge in a wonderfully gratifying and unforgettable supper with these Adobo-marinated grilled pork chops, suitable for any occasion from backyard barbecues to family gatherings.
These mouthwatering Lemongrass Grilled Pork Chops will take your taste senses on a trip to the bustling streets of Vietnam. These bone-in pork chops have been marinated in a delicious mixture of lemongrass, shallots, garlic, brown sugar, fish sauce, and other wonderful ingredients and then grilled to perfection.
The hot rice and the soft, juicy beef make for a great and filling lunch. These Vietnamese Lemongrass Grilled Pork Chops are perfect for a summertime BBQ or as a quick and simple weeknight meal. For the best taste in this traditional Vietnamese meal, marinate the pork chops for at least 12 hours before cooking.
This plate of Taiwanese pork chops is an adventure in taste. Marinated in a flavorful blend of garlic, soy sauce, and spices, these juicy bone-in pork chops are coated in a crispy coating of potato starch before being fried to perfection. Add some color and protein with a half-tea egg and finish it off with sautéed mustard greens and crisp napa cabbage.
Your taste senses will thank you with every mouthful because of the explosion of delicious and umami tastes. If you're looking for a cuisine that will satisfy your hunger no matter the occasion, look no further.
Let's turn up the temperature with some pork chops seasoned with Indian spices, shall we? The pork chops in this recipe are given a tasty marinade consisting of yogurt, garlic, lime juice, and numerous aromatic spices including cumin, coriander, and garam masala.
The finished dish is a delectable supper that has a somewhat acidic flavor and is perfect for an outside summertime cookout or an intimate night in. Add some heat by chopping up some fresh chili peppers and some cilantro.
Get ready to experience a taste of China with this mouth-watering Chinese BBQ Pork recipe. Cubed pork shoulder is marinated in a flavorful blend of hoisin, soy, and oyster sauces, garlic, red pepper flakes, and black pepper for a minimum of 8 hours, and then roasted in the oven with a generous sprinkling of sugar.
The sugar caramelizes to create a crispy, sweet crust on the pork that perfectly balances the savory marinade. For an extra touch of freshness, garnish with sliced green onions and serve alongside some sticky rice.
Scallion pork chops will take your supper to a whole new flavor level. Light soy sauce, cornstarch, and white pepper provide a delightful marinade for the pork chops, which are pounded until soft. The meat gets a golden crust from the searing and stays soft and moist.
The beef is given more flavor by being braised in Shaoxing rice wine, dark soy sauce, light soy sauce, sugar, and boiling water while sitting on a bed of charred scallions. This popular Chinese dish is best enjoyed when served with hot rice or noodles and the sauce is diluted to make a flavorful soup.
Miso Shgayaki, or Miso Ginger Pork, is a well-liked Japanese dish that combines salty and sweet flavors. A combination of sake, miso, sugar, and freshly grated ginger is used to marinade thinly sliced pork chops, imparting a deep umami taste.
To finish, the pork is pan-fried on both sides until golden brown, creating a caramelized crust that goes well with the soft flesh. Delicious and filling, this dish is reminiscent of a traditional Japanese lunch when paired with steamed veggies, shredded cabbage, and rice.
These Thai Skillet Pork Chops are a taste of heaven! The juicy, flavorful pork is coated in a sweet and tangy sauce made with chili sauce, rice vinegar, coconut milk, and peanut butter. The aromatic blend of garlic and ginger, as well as the fresh lime juice, adds an irresistible zing.
The dish is then baked in the oven until perfectly tender and succulent. Served with a side of fragrant coconut jasmine rice, this is a complete meal that will transport you straight to the streets of Bangkok. Top it off with chopped peanuts and fresh cilantro, and a spritz of lime for the ultimate experience.
These Pork Chops with Curried Mango are bursting with the rich aromas of the East. Seared in olive oil, these pork chops are seasoned with a blend of smoky paprika, curry powder, salt, and pepper. The pork chops are cooked in the oven after being brushed with a pureed mango curry glaze and served with a curried mango sauce.
The pork chops are juicy and tasty, and the tropical taste of the sweet and spicy mango sauce sets them apart. Add some color and spice with some fresh cilantro and red pepper flakes.