Alcon
. All opinions are 100% mine.
Wearing glasses has never been something I disliked doing, albeit mostly while driving, but now more than ever they are almost more inconvenient at times than helpful. Sudden changes in focal depth aren't as instantaneous as they once were, leaving more things unseen than I would like. It's not a pleasant experience.
And the older I get, the more I notice changes in my vision.
Little things have become much more obvious to me now. Little things like flipping the car visor down and trying to focus on the text take just a moment or two longer than normal, or require just the perfect angle to be legible. It's one of those things I'm noticing, and I'm becoming more inspired to visit my doctor to see what can be done.
A common condition that I've been hearing a lot about from various friends and family members is Presbyopia, which often starts becoming noticeable in your early to mid 40's. If you recognize any of the symptoms I've mentioned before: taking longer to focus, objects needing to be in the perfect position, etc. That is what it is like with Presbyopia.
More reason for glasses–all the time. Unless you know what I know.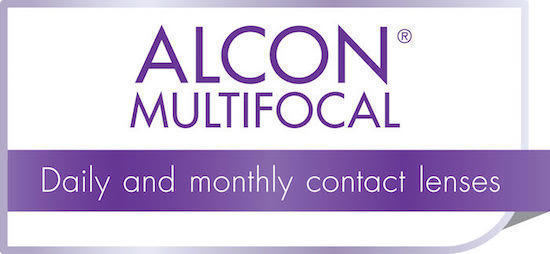 68% of adults put value into looking younger, yet 49% of adults do not feel younger than their current age. There are so many things we do to make ourselves look (and feel) younger, like dyeing our hair (42%) and wearing youthful clothing (whatever that means! 37%).
50% of adults wear Reading glasses, and among the Americans surveyed some very interesting facts came to light.
One in four adults feels glasses make you look at least 10 years older.
49% said they would avoid reading glasses if they knew it made them look older.
Thankfully Presbyopia doesn't have to mean we're all stuck with our glasses. The Alcon Multifocal contact lenses have caught my eye and are something I will be asking about the next time I visit my eye care facility.
*High oxygen transmissible lenses. Dk/t=138 @ -3.00D. †Eye exam may be required. Professional fees may apply. At participating offices.
Important Information for AIR OPTIX® AQUA Multifocal (lotrafilcon B) contact lenses: For daily wear or extended wear up to 6 nights for near/far-sightedness and/or presbyopia. Risk of serious eye problems (i.e., corneal ulcer) is greater for extended wear. In rare cases,loss of vision may result. Side effects like discomfort, mild burning or stinging may occur.
Ask your eye care professional for complete wear, care, and safety information.
Join our newsletter!
Subscribe to get updates and great stuff via email including subscriber-only goodies like free printables and giveaways.

This is a sponsored post written by me on behalf of