It was one of those days.
I woke up 20 minutes late to find out that my son's alarm clock had not gone off either. Or, more likely, that he never bothered to set it. We now had only 20 minutes to get him showered & dressed, have him eat breakfast, make his lunch, and do all of his morning chores. Something has to give. As I stared into the fridge trying to figure out how to get a healthy lunch together for him so quickly, my mind went to an easier option. Hot lunch. Thankfully his school has a salad bar and he does enjoy it.
Lunch is one of the most difficult meals for us to ensure our kids are getting quality, healthy food. Sometimes we are scrambling in the morning like I illustrated above and just don't always have time to put something together, and sometimes my kids just want something different and fun. And sometimes, I just want a break from making lunches.
Just because we focus on eating healthier, doesn't mean we should have to compromise quality if we need or want something convenient.
Which is why I am so excited to share the new Applegate HALF TIME™ lunches with you.
About Applegate HALF TIME™
Applegate HALF TIME™ lunch kits are a dream team of our favorite brands (America's most trusted Organic & Natural brands) that have come together to provide the first-ever pre-packed lunch kits with natural and organic ingredients. HALF TIME™ includes Applegate natural meats and cheeses (which have no artificial ingredients or preservatives, and are antibiotic- and hormone-free), Annie's Homegrown crackers and snacks, and Stonyfield Organic YoKids Squeezers.
Whatever your reason for needing a pre-packaged, convenient lunch, Applegate HALF TIME™ has got you covered.
HALF TIME™ comes in 2 varieties: Uncured Ham & American Cheese, Turkey Breast & American Cheese and Uncured Bologna & American Cheese.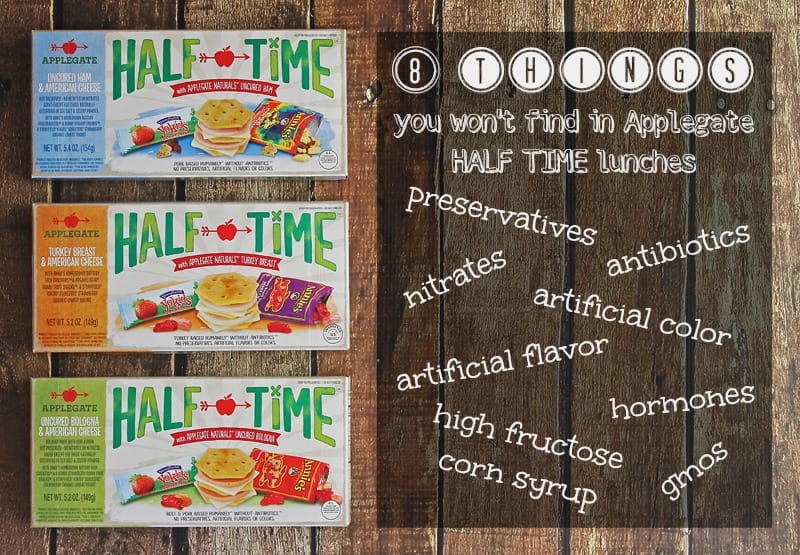 Applegate sent us an amazing product kit so we could try out their new lunches. My kids were over the moon to try these new lunches, finally a fun kid's lunch filled with the great products we love!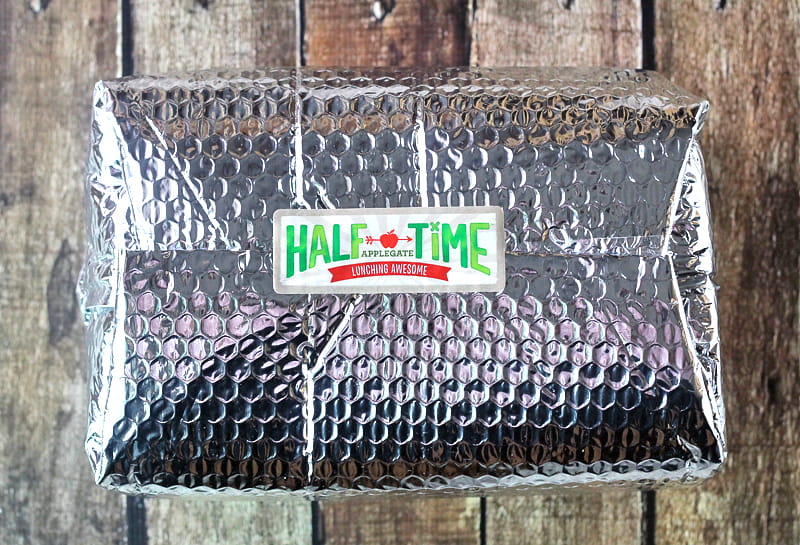 The kit included one of each of the 3 HALF TIME™ varieties, an Applegate bandana and button, a discount coupon and a HALF TIME™ activity book and "draw-your-own" lunch bag with markers.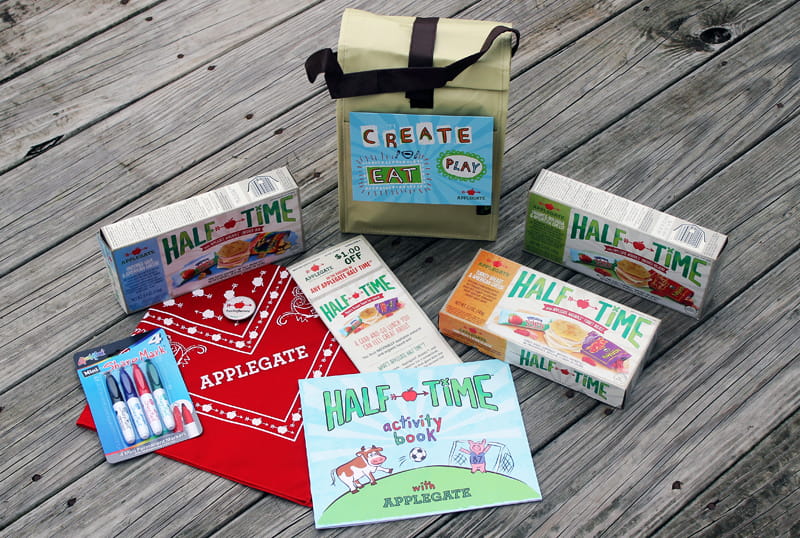 My daughter made quick work of designing her lunch bag.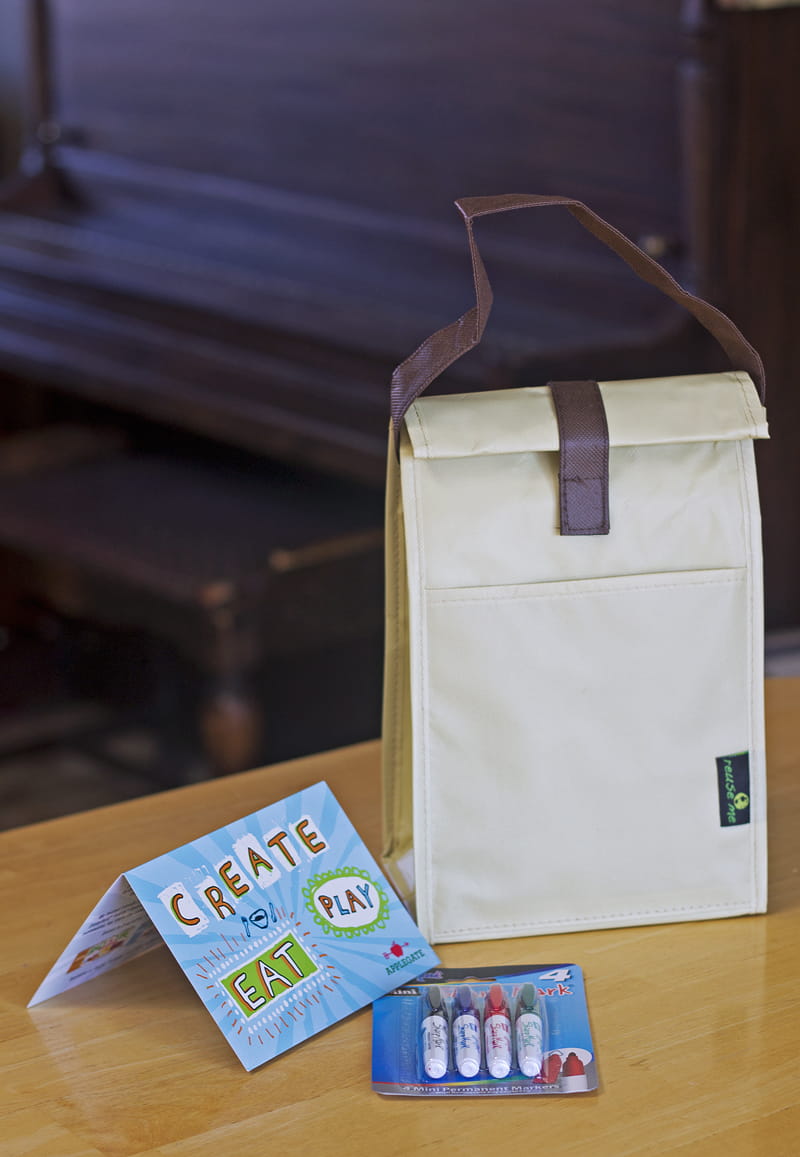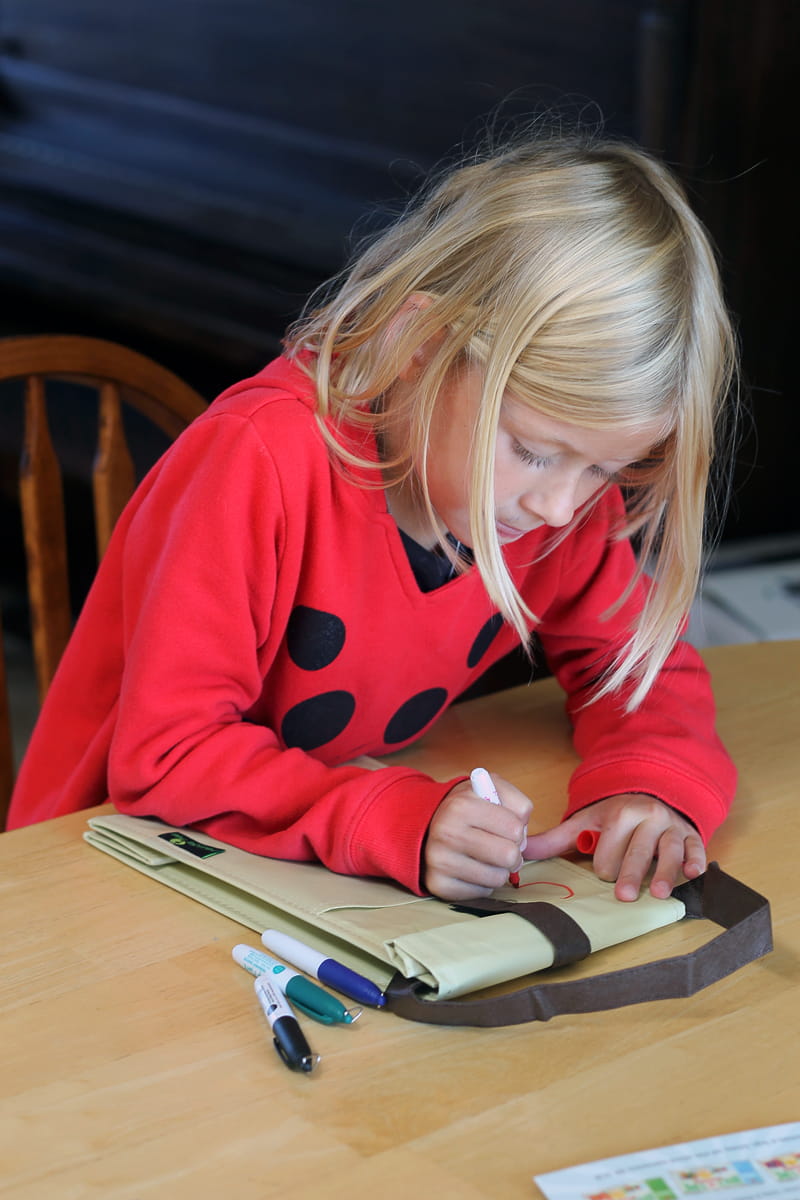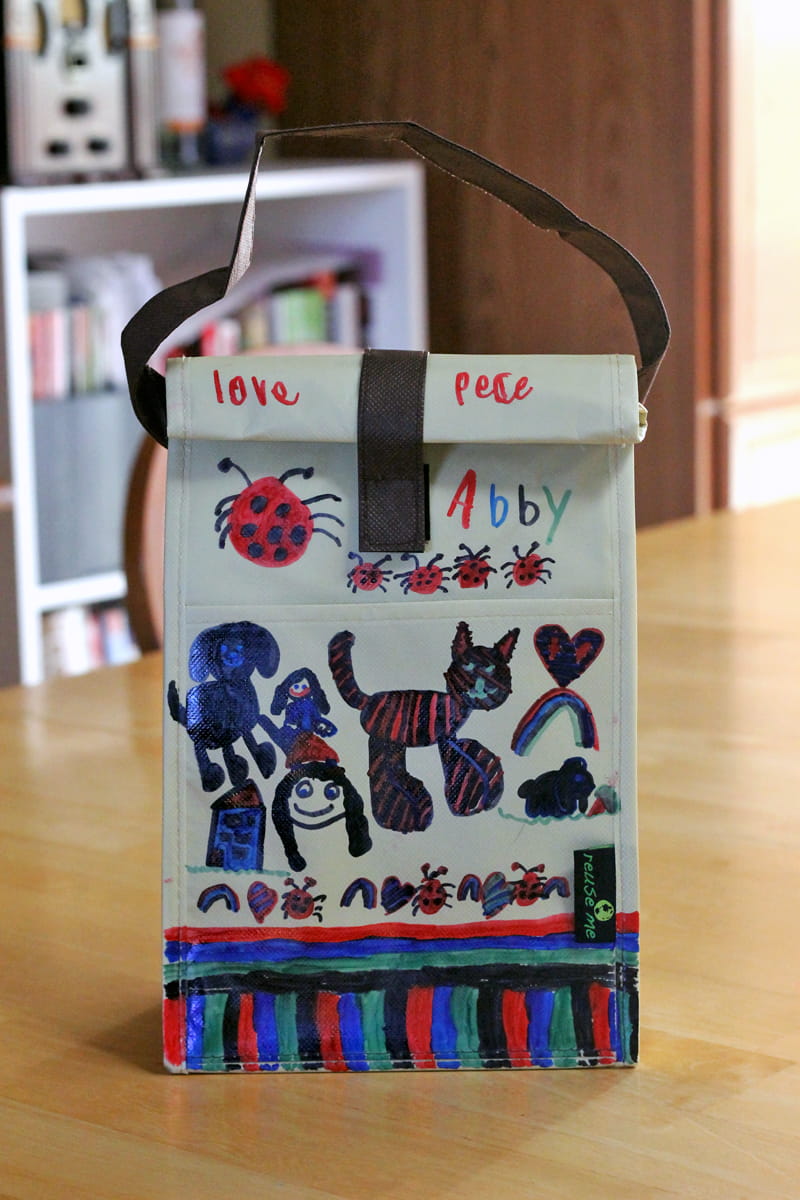 It says love and peace.
After completing her lunch bag, she was even more excited to actually enjoy a HALF TIME™ kit.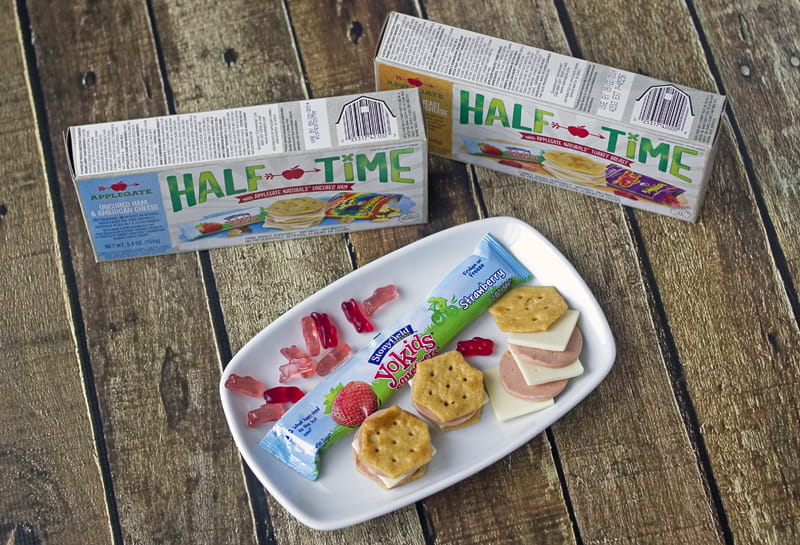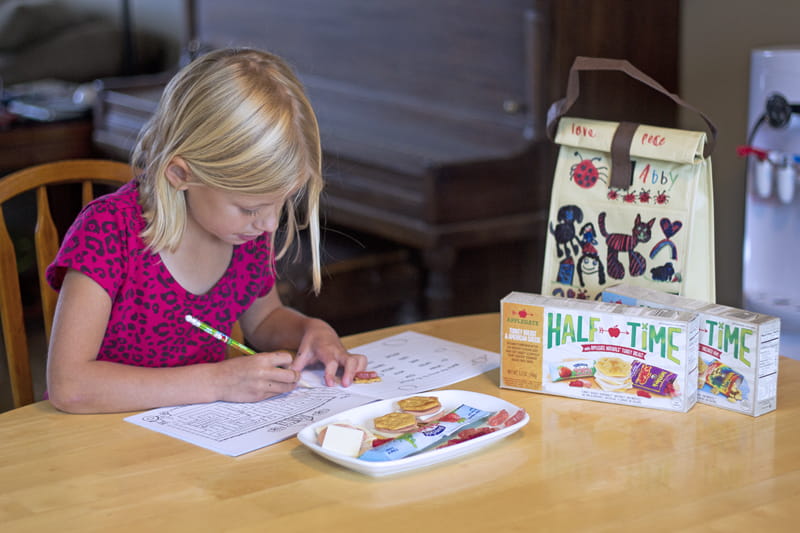 We are so excited to have our favorite, trusted brands in such a convenient lunch kit. My kids think they are cool (and me as well) and I get the satisfaction of knowing I didn't have to compromise their health in order to have something convienient.
Applegate conducted a survey of parents to find out their thoughts on kid's lunches:
The survey found that 33% of parents would spend their time sleeping if they didn't have to make their kids' lunches in the morning.
The survey also found that 88% of parents thought pre-packed lunch kits were convenient, but 79% of those parents were concerned about the nitrates, preservatives and artificial ingredients in those kits.
Apparently I'm not the only one!
Make sure you follow Applegate on Instagram and Facebook for news about all sorts of lunching awesome!
Enter to win an Applegate HALF TIME™ #LunchingAwesome Kit
One winner will receive an Applegate HALF TIME™ #LunchingAwesome kit identical to the one I received.
It contains:
All three varieties of HALF TIME™: Turkey & Cheese, Ham & Cheese, and Bologna & Cheese
A draw-your-own lunch bag
A set of permanent markers
Coupons
Activity book
Applegate HALF TIME
This is a sponsored conversation written by me on behalf of Applegate via Burst Media. The opinions and text are all mine.